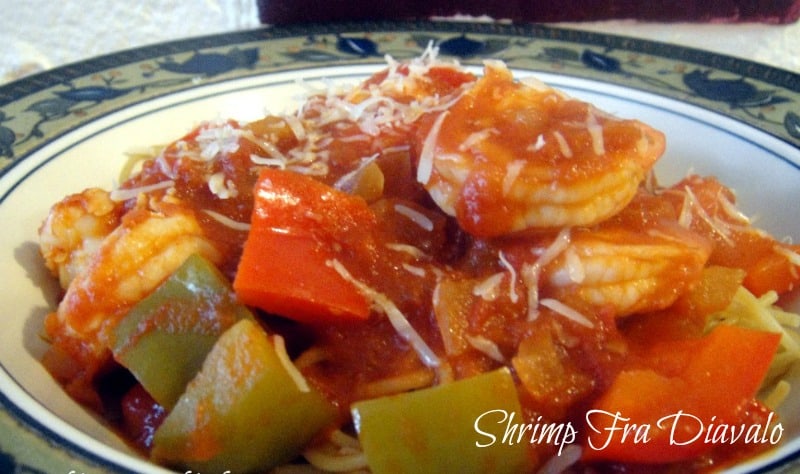 Shrimp Fra Diavalo, like my Chicken Alfredo Pizza, is another meal inspired by a dish I used to eat quite frequently when I worked at The Olive Garden over a decade ago. Did I just write over a decade ago? Yikes! Anyway, moving forward, this recipe is a very simple dish to prepare and perfect when you want something a little spicy with a dash of fancy. Additionally, this recipe freezes beautifully for a trouble-free weeknight dinner and also can be prepared into a grab and go lunchtime freezer meal. Instructions for both are listed below.

Shrimp Fra Diavalo
Author:
Organize Yourself Skinny
Ingredients
2 tablespoons of extra virgin olive oil
1 medium onion, chopped
3 cloves garlic, chopped
1 red bell pepper, chopped
1 green bell pepper, chopped
½ cup white wine
1 (28) ounce can crushed tomatoes
½ cup water
½ teaspoon - 1 teaspoon crushed red pepper flakes *start small with the crush red pepper then add more if you want more heat.
1 pound medium shrimp
Instructions
Heat oil and then add onion. Cook for about 2-3 minutes or until just translucent then add the garlic. Cook for another 2-3 minutes then add the bell peppers. Cook for another 5 minutes.
Add white wine cook for 3 minutes or until slightly reduced then add in the tomatoes, water, and crushed red pepper flakes.
Bring sauce to a boil then let simmer for about 20 – 25 minutes.
Add shrimp and cook until shrimp are done. Shrimp cook really fast so be careful not to overcook it.
Serve over pasta.
Nutrition Information
Calories:
434
Fat:
9
Carbohydrates:
61
WW Points +:
10
Fiber:
14
Protein:
25
Freezer cooking instructions
Follow steps 1-3, cool, then store in freezer containers and place in freezer. Shrimp should be added when reheating the sauce unless you are making it as a grab and go freezer meal.
Reheating instructions
Take sauce out night before or morning of and thaw in refrigerator. This sauce does not have to be fully thawed before you begin warming it up. Warm up on stove and once  heated add in the shrimp. Cook until shrimp are done.
Grab and Go Freezer Meal Instructions
Because of the shrimp and pasta I was a little worried about freezing this recipe fully prepared. I thought the shrimp would be rubbery and pasta mushy. However, I was pleasantly surprised to find that the freezer meal reheated nicely. The key with freezing pasta is to cook it al dente and not to put the sauce over it before freezing. Also, making sure you don't overcook the shrimp initially will help prevent it from tasting rubbery after reheating.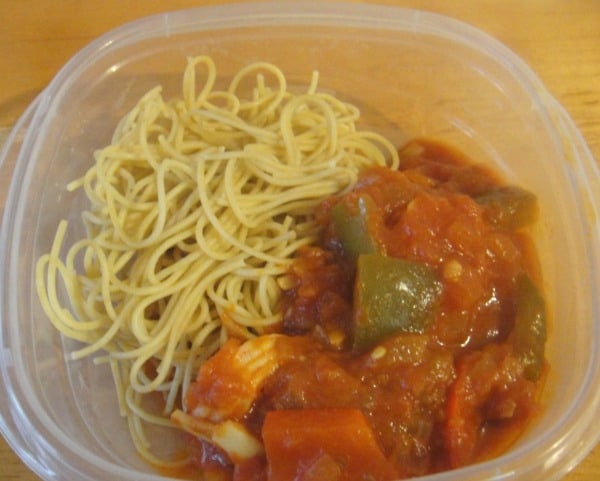 To reheat the freezer meal I took it out of the freezer in the morning, put it into my insulated lunch bag, and kept it in my office till lunchtime. I did not refrigerate it so it was slightly defrosted when it was reheated. You could keep it in the refrigerator just adjust the microwave heating times accordingly.
At lunchtime I took the cover off and place it loosely back on leaving some room for steam to come out. Next I put the meal in the microwave and set the time for 4 minutes. When done I took it out and stirred sauce and pasta together and put it back in the microwave for another 1 -2 minutes. Then I sat back and enjoyed my delicious homemade lunchtime freezer meal.
I found having this fully prepared individual meal in my freezer so helpful and I know you will to. This is the first of many grab and go freezer meal recipes I am going to put together.
Get Instant Access to My Best Meal Prep Tips & 20 Delicious Make-ahead Recipes!
Sign up now to receive your FREE ecookbook that I created exclusively for my email subscribers! That's you!