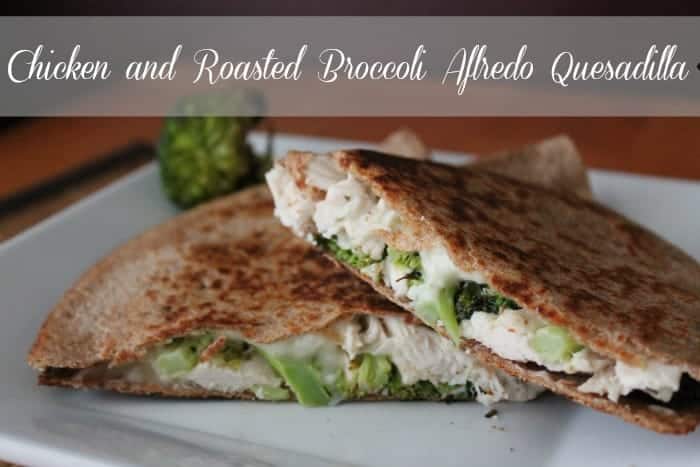 I have a confession. Well not really a confession but I want to tell you something. I love jarred alfredo sauce – sorry if you were expecting something a little more scandalous. Jarred alfredo sauce is one of my go to convenience items that I purchase. I am sure there are tons of homemade alfredo recipes I can make but for some reason I like being able to just buy it from the store. Reason being I never really eat it with pasta so I don't need an entire recipe. I just need a little bit at a time to use for pizza sauce. Yum!
Anyway, I decided to venture out a bit and use the alfredo sauce on something other than pizza. I had some leftover rotisserie chicken, broccoli, and tortillas so I thought I would play around with those ingredients.
I knew I couldn't just throw the broccoli in the tortilla with the other ingredients and cook it. Well I guess I could but I don't think the broccoli would have cooked and I did not want raw broccoli in this meal. I also did not want it mushy either. So I decided to roast it. Oh my have you ever had roasted broccoli? It is delicious. Super good. And super easy. Just toss it with some olive oil, salt and pepper, and then roast it in the oven at 400 degrees for 20 minutes or so. You can easily make roasted broccoli ahead of time.
After the broccoli was done I threw it in a bowl and mix it with ¼ alfredo sauce, and ½ cup of the chicken. Then I put it in the tortilla, sprinkle a little mozzarella cheese on it, and cooked on the stove. I thought about spreading the alfredo on the tortilla but the sauce was not thick enough so it would have just run off causing a big mess.
The final result was delicious and oh so comforting. How could anything with alfredo sauce NOT be comforting. It can't!
My only recommendation is to make sure you find a tortilla that is lower in calories. I aim for no more than 150 calories.
This is an easy throw together mid week kind of meal. It is also a great way to use up some leftover chicken and broccoli.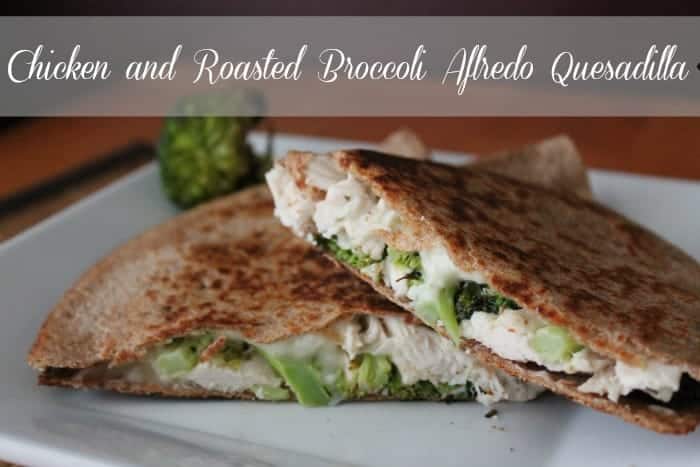 Ingredients
1/2

cup

roasted broccoli

cut into bite size pieces

1/4

cup

shredded chicken

1/4

cup

prepared alfredo sauce

2

tablespoons

part skim shredded mozzarella cheese

1

whole wheat tortilla
Instructions
In a medium bowl mix together broccoli, chicken, and alfredo sauce.

Spread mixture onto one half of the tortilla then sprinkle on cheese.

Fold tortilla in half.

Cook stuffed tortilla in medium pan sprayed with cooking spray over medium heat, turning once. Cook until completely heated through about 5 minutes or so. Serve hot.
Notes
Make Ahead Instructions
The filling can be made a day or two ahead of time. Warm filling up slightly in microwave before filling tortilla and cooking it.
Nutrition
Serving:
1
g
|
Calories:
456
kcal
|
Carbohydrates:
31
g
|
Protein:
20
g
|
Fat:
24
g
|
Fiber:
1
g