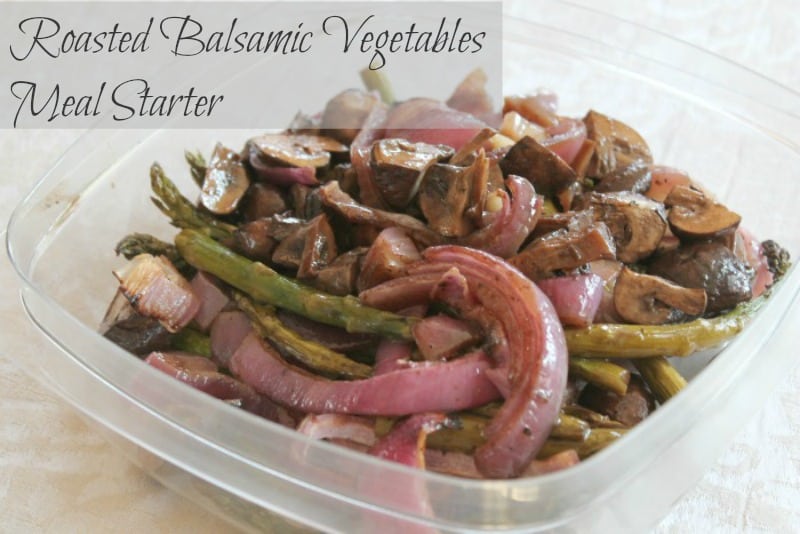 A common question I get from readers is "how do I get more vegetables in my diet?" Great question and one I have often struggled with myself. You see, I would not call myself a vegetable person. I like vegetables and feel good when I eat them but they often find their place as a side dish and not the main recipe. I am trying to change that.
One way I am doing this is by preparing a batch of roasted vegetables to use in recipes throughout the week. Again, it is easier to eat healthy when food is prepared ahead of time.  Roasted vegetables are amazing and easily my favorite way to eat them. They are also simple to prepare. You just toss them in olive oil, sprinkle with salt and pepper, put them on a pan and cook at a higher temp for about 25-30 minutes. The texture stays slightly crunchy and the flavor of the vegetables is sweetened a bit. Certain pieces will even caramelize and those are pure heaven. Delish! I usually marinate them in balsamic vinegar dressing before roasting and this just brings them to whole new level.
My favorite vegetables to roast are asparagus, red onion, mushrooms, and tomatoes. You can roast almost any vegetable but those are the ones I prefer. I then use the roasted vegetables in a variety of ways. I put them in wraps, on pizza, in risotto, toss with pasta, or I just eat straight out of the container. You can eat them cold or hot – either way they are delicious. Balsamic roasted vegetables are so versatile and can be used in many recipes.
So I guess my advice for getting more vegetables in your diet is to prepare them in a way you will enjoy and of course ahead of time.

Roasted Balsamic Vegetable Meal Starter
Author:
Organize Yourself Skinny
Ingredients
1 bunch asparagus, rough ends cut off
10 ounce package baby portobella mushrooms, quartered
1 large red onion, sliced into thick pieces
½ cup balsamic vinegar dressing
Instructions
In a large container mix together vegetables and dressing. Let marinate for 2 hours or overnight.
Preheat oven to 375 degrees.
Place marinated vegetables on a baking pan and cook for 25 – 30 minutes or until vegetables are slightly caramelized. For firmer vegetables cook less time, softer vegetables cook longer.
Notes
Make Ahead Instructions
These vegetables can be made up to 5 days ahead of time and stored in the refrigerator.
Nutrition Information
Serving size:
¼ of recipe
Calories:
121
Fat:
9
Carbohydrates:
9
Fiber:
2
Protein:
3
Get Instant Access to My Best Weight Loss Tips & Strategies!
Sign up now for a free step-by-step 7-day email course that I created exclusively for my email subscribers! That's you. I will teach the best habits, strategies, and insider tips so you can enjoy a lifestyle that encourages and supports weight loss! Stop relying on willpower and take control back over your life! You can do this. Let me help!