The classic flavors of a Reuban sandwich baked into comforting macaroni and cheese casserole.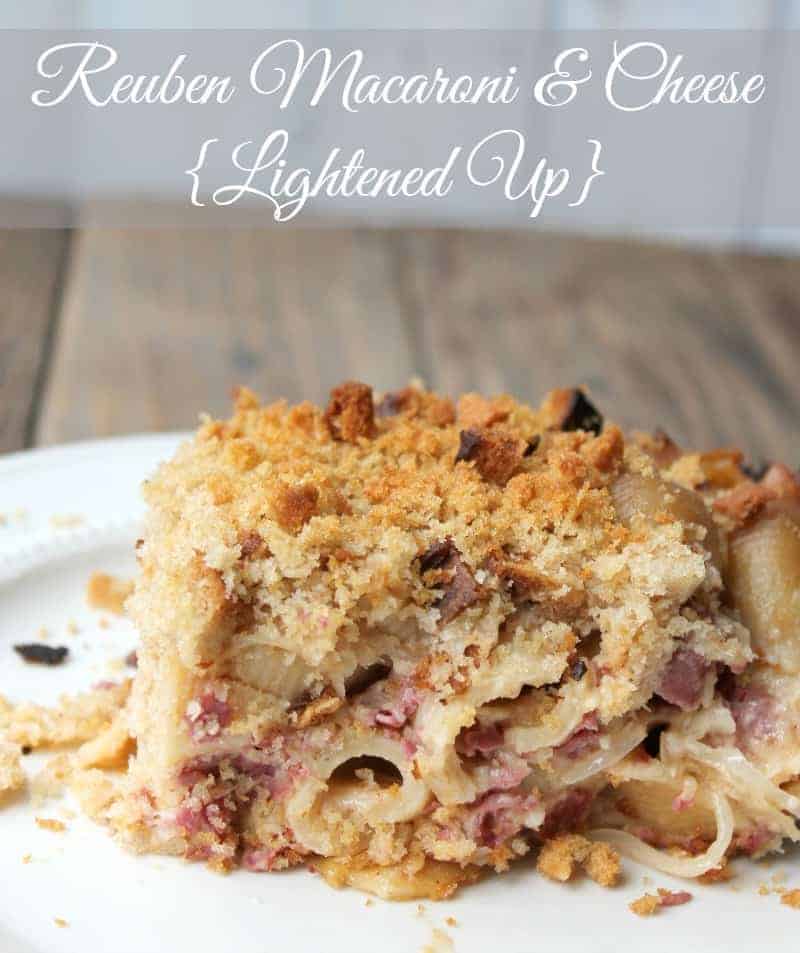 I hope you had a fun and safe St. Patty's Day! If you have some leftover corned beef then I have a treat for you! Reuben Macaroni and Cheese!!! Whoa! I did my absolute best to create a healthier version that's still big on flavor. According to my taste testers I succeeded. Yum yum yum!
I've been using Delallo Whole Wheat Shells in my macaroni and cheese recipes lately and my kids love it! This is the one whole wheat pasta my kids will eat without any complaints. In fact, when I first used it I didn't say anything and my oldest Emma said "Wow I love the noodles you used". That's all she talked about was "the noodles" Since then I always grab a bag to keep in my pantry. My local supermarket only carries the shells, and couple other varieties, but I'm thinking about purchasing their other pasta varieties right from their website. Anyway, using whole wheat instead of white is the first step in creating a healthier version of any macaroni and cheese.
Next, I chopped up 3/4 pound of corned beef that I bought from the deli counter. If you have leftover corned beef from your St. Patty's celebration then use that. I chopped the corned beef up fine because I like smaller pieces dispersed throughout the macaroni. But if you want chunkier pieces then go for it.
After the pasta was cooked (very al dente of course) I place it in a 9 x 13 casserole dish sprayed with cooking spray. I placed the drained sauerkraut and corned beef over top. I love the smell and taste of sauerkraut. I think that's my Dad's polish side coming out in me because I definitely perk up when I smell sauerkraut.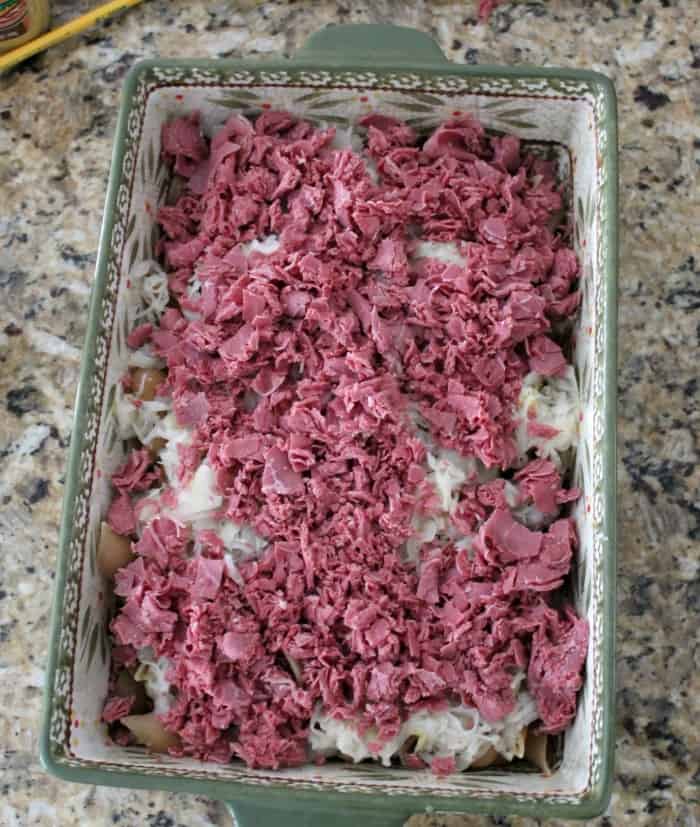 Then I got working on the sauce. I follow the base I use for most of my macaroni and cheese recipes with just a few changes and additions. Instead of chicken stock I used beef. After the stock and milk became hot and bubbly I stirred in thousand island dressing and spicy mustard. To lightened up this recipe I used a yogurt based dressing instead of a regular one. I purchase the Wegman's brand but there are other ones. You can find yogurt dressing in the produce section.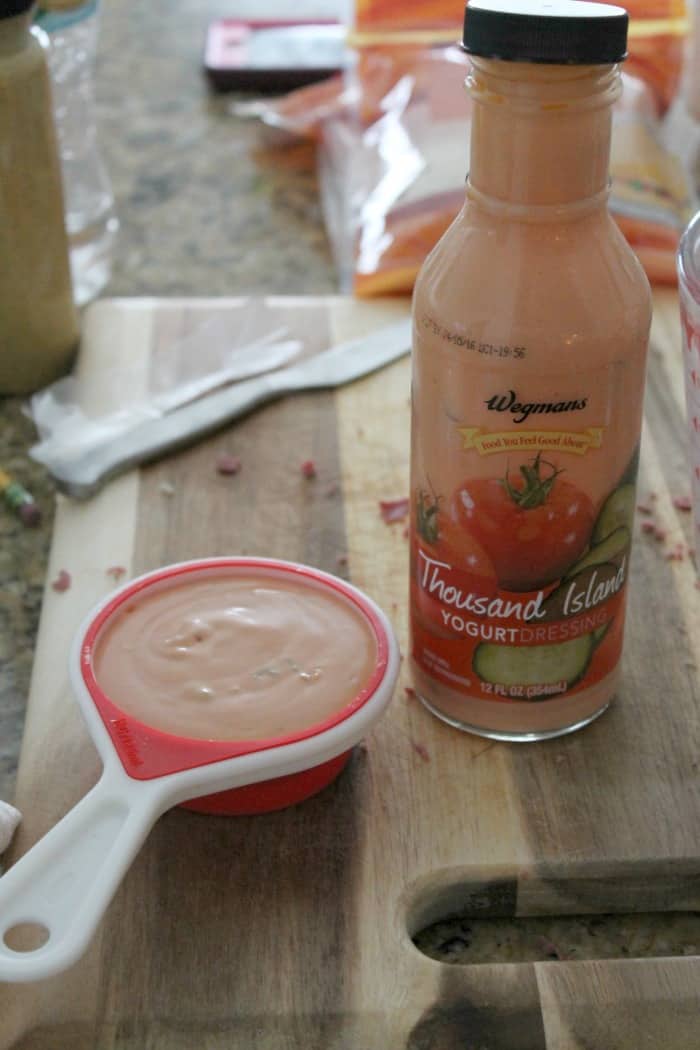 I let the sauce simmer for a couple more minutes until it heated back up then I stirred in the swiss cheese. I thought about adding a little cheddar but decided to keep it all swiss. I loved it and thought it kept the genuine flavors of a reuben but feel free to add a couple different cheeses.
After the cheese was melted I poured the sauce into the casserole dish, with the other ingredients, and stirred it up until everything was combined.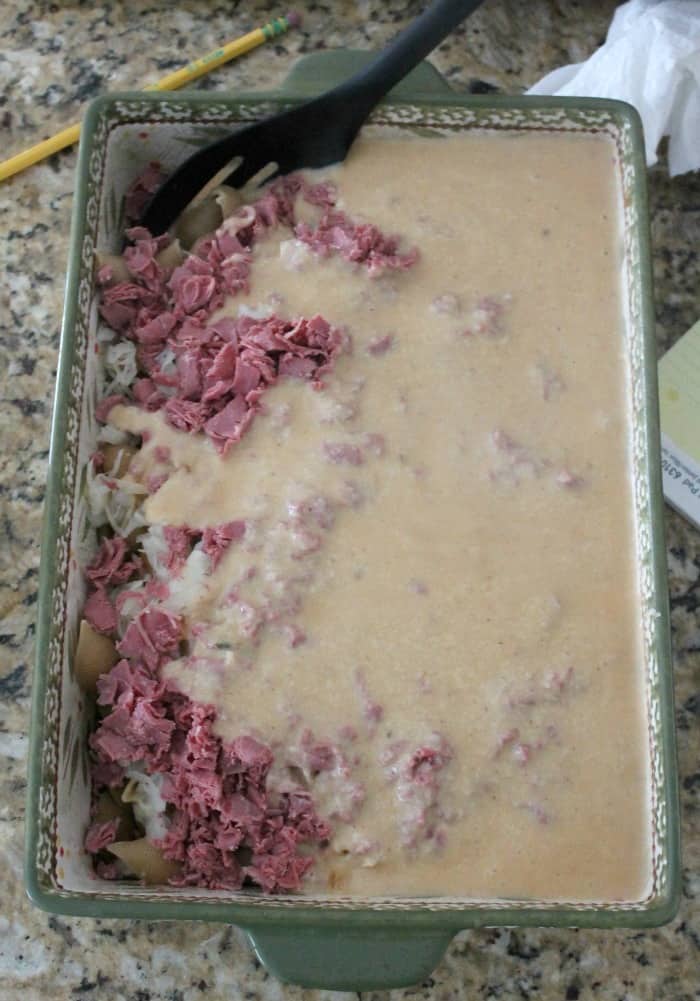 The last step I did before I baked the macaroni and cheese was I threw 3 pieces of rye bread into a food processor and made breadcrumbs. I added a little melted butter to the breadcrumbs. Oh mama! This was the kicker and a must. You need this rye breadcrumb topping in your life. Trust me.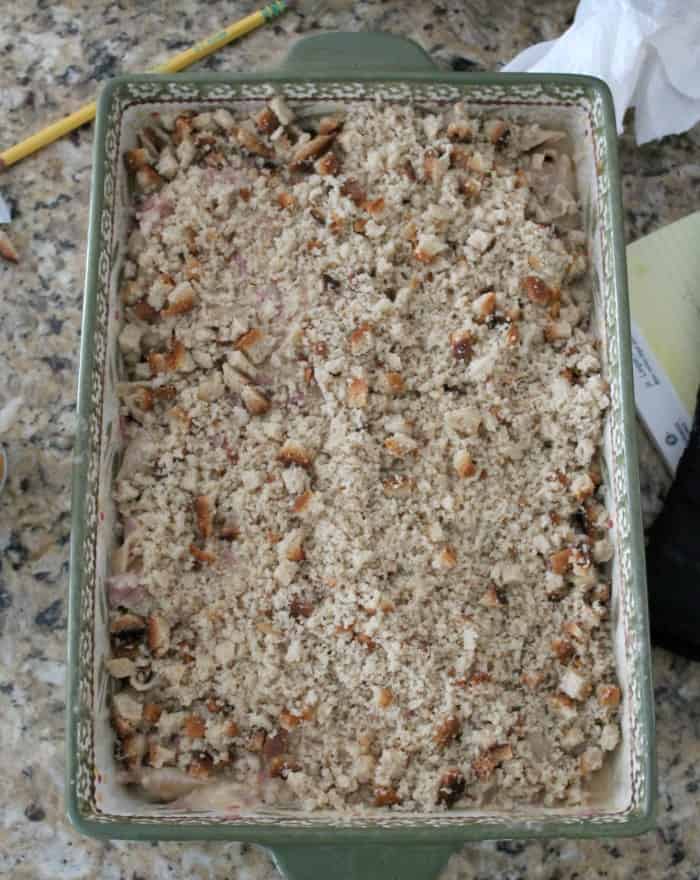 Then I baked the macaroni and cheese in a 350 oven for 50 minutes. My kitchen was all reuben! The smells were amazing.
If you are a reuben sandwich fan then there's nothing about this Reuben Macaroni and Cheese you won't obsess over. And it taste better the next day, and the day after that, so make this ahead of time to enjoy all week.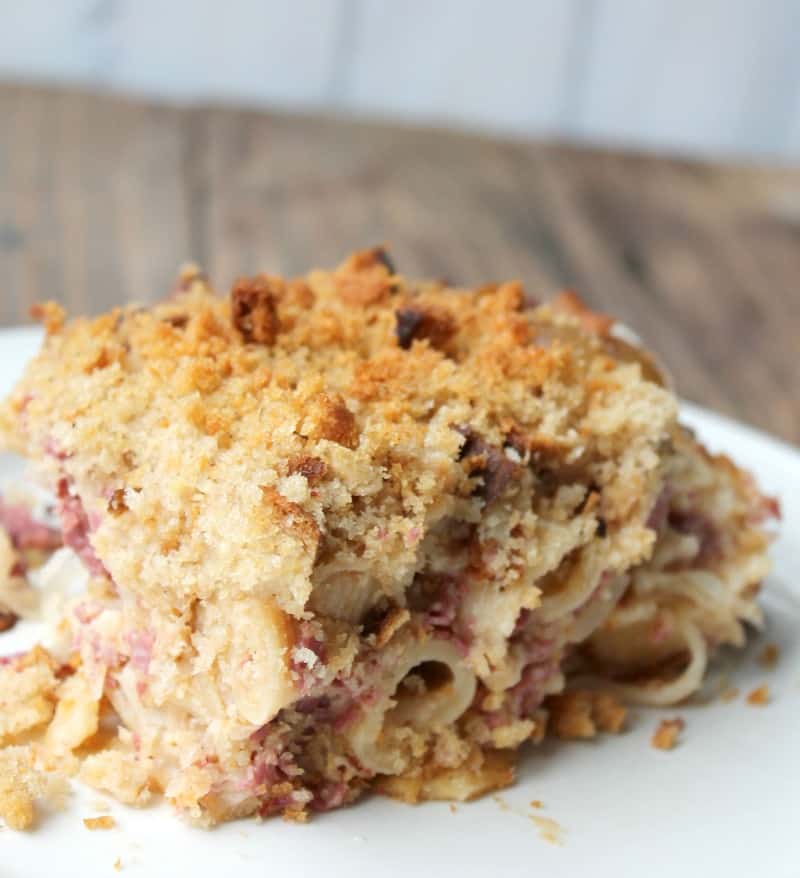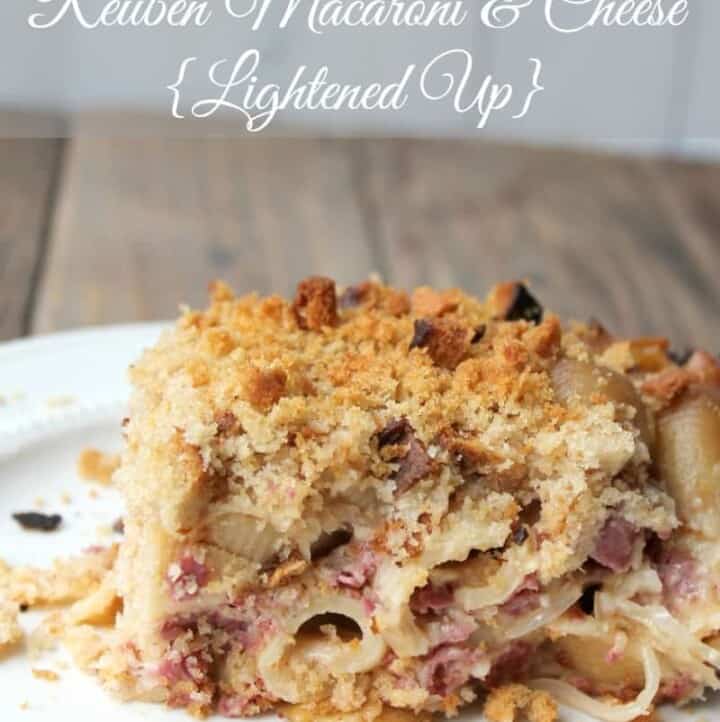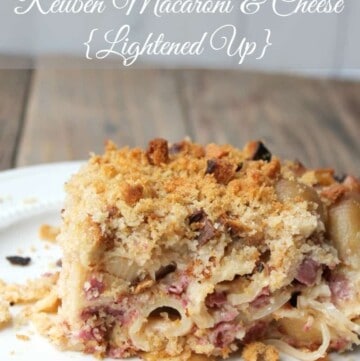 Ingredients
1

lb

Delallo Whole Wheat Pasta Shells

cooked very al dente

¾

lb

deli corned beef

thinly sliced and chopped

1

lb

package fresh sauerkraut

drained

2

cups

1% milk

1

cup

beef broth

2

tablespoon

white whole wheat flour

½

teaspoon

salt

½

teaspoon

pepper

½

cup

thousand island yogurt dressing

¼

cup

spicy mustard

3

cups

shredded swiss cheese

2-3

slices

rye bread

2

tablespoons

butter

melted
Instructions
Preheat 350 degrees.

Spray a 9 x13 casserole dish with cooking spray. Add the pasta, corned beef, and sauerkraut.

In a large sauce pan whisk together milk, beef stock, and flour. Over medium heat cook liquid until it is steamy and bubbly, about 7- 10 minutes

Stir in salt, pepper, thousand island dressing, and spicy mustard. Continue to cook until it's heated through.

Stir in swiss cheese and cook until the cheese is melted. Continue to stir as the sauce cooks so none of the ingredients stick the bottom and burn.

Pour sauce over the ingredients in the casserole dish and stir until everything is combined.

Place bread and melted butter into a food processor and pulse until the bread turns into breadcrumbs.

Sprinkle breadcrumbs over the top of the macaroni and cheese, place into the oven, and bake for 50 -55 minutes or until hot and bubbly.

Serve hot.
Notes
Sugars: 5
Make-ahead instructions
This recipe can be made completely ahead of time, portioned out, and stored in the refrigerator up to 5 days or frozen up to 3 months.
Nutrition
Serving:
1
g
|
Calories:
420
kcal
|
Carbohydrates:
46
g
|
Protein:
24
g
|
Fat:
16
g
|
Saturated Fat:
7
g
|
Fiber:
8
g