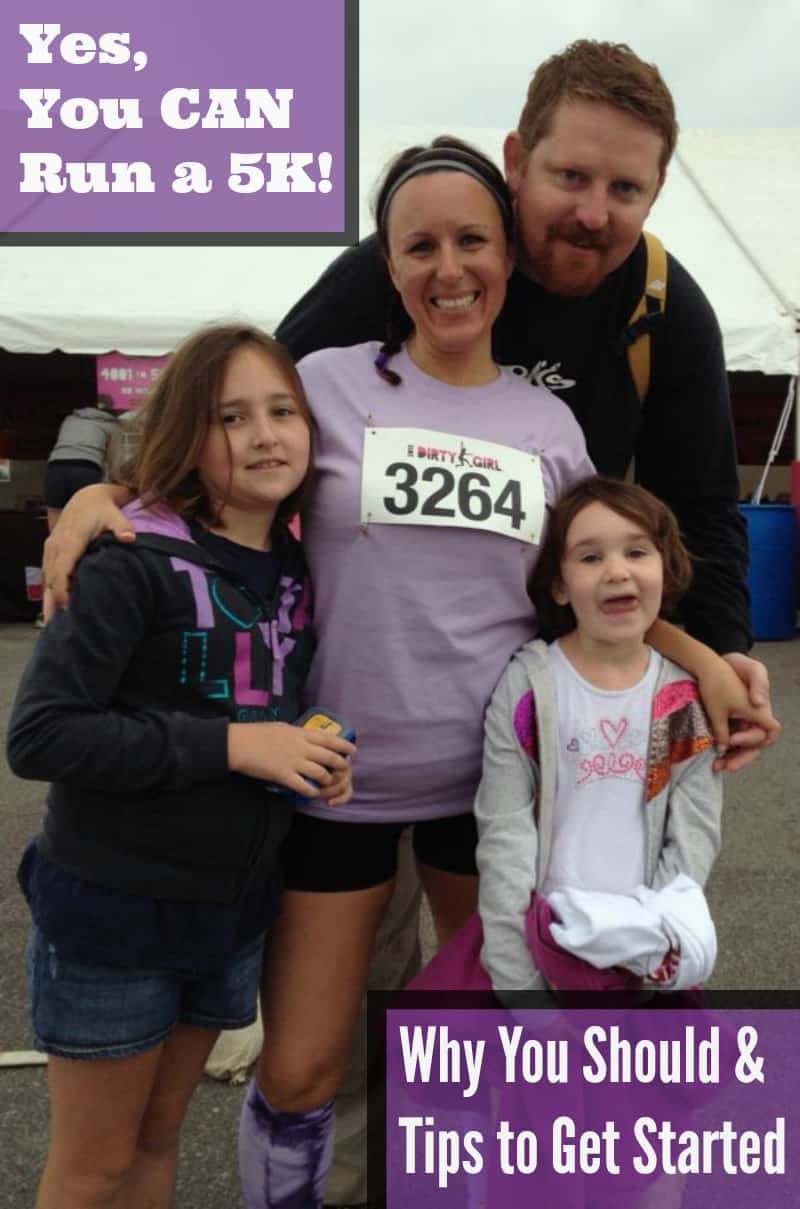 This post is by OYS writer Melissa. See her other posts here.
You probably see signs for 5K races all the time.  Most likely some of your Facebook friends post comments about running a 5K.  If you have never run a race because you think that you just can't, please read on.  These race events are not just for elite athletes and serious runners.  In fact, many are attended by people just like you who used to think running a 5K was out of their reach.  You can do this!
Reasons to run a 5K
One of the best ways to bust out of an exercise rut and make it exciting again is with a new challenge, like a 5K race.  Constantly hitting the gym, taking exercise classes, or running outside by yourself can become boring after a while.  When exercise becomes boring, it becomes easier to start slacking off.  If you don't feel excited about it anymore, you are less likely to keep doing it.  Signing up for a 5K race is a great way to set a new goal for yourself and keep those exercise fires burning.  Your workouts and training sessions will take on a whole new meaning, and you will also start to feel a mental positive attitude towards exercise again.  It also could be that you are seeing a weight loss plateau.  Again, a new facet of exercise like a race can help you overcome this plateau by challenging your body, which will help you start to see results again.  You can read more of my tips for overcoming a weight loss plateau here.
Another reason to run a 5K is that many are usually events that are organized to help some sort of worthwhile cause.  I have seen runs to help local schools, churches, hospitals and fire departments, as well as fundraising runs to benefit individuals with severe medical needs, and even memorial runs to honor individuals who have passed away.  Some races are just for fun, but are an excellent way to bring community members together.  Your registration fee is used to cover the cost of the event, which would include prizes, food, drinks, etc, and then whatever is left over usually goes to the specific cause the race is being held for.  Usually, the organizers and workers are donating their time and volunteering for free.
Lastly, the sense of accomplishment you get after completing one of these races is truly a unique feeling that cannot be described.  You just need to experience it.  I remember the first 5K race I ever ran.  I pushed my butt harder than I ever thought I could go.  I remember looking around at all of the people running with me and thinking, how cool is this.  I noticed every single volunteer along the course, shouting encouraging words, which helped more than they probably know.  Finally, when I crossed that finish line huffing and puffing, I felt on top of the world.  I had done it, and in less time than I ever thought I could.  There are so many goals you can set for running a 5K.  You can make it your goal just to complete the course, even if that means walking some of it.  You can make it your goal to run the whole thing, no matter how long it takes.  You can set a time for yourself, such as trying to run it in 30 minutes or under.  Whatever your goal is, make it realistic and achievable.  When you accomplish that goal, you will feel so great!  The totally unexpected part about my first race was that I won a medal for coming in third place in my age group.  I never even thought about medaling, and it added to my "runner's high."
How to Prepare for a 5K
You don't want to jump into your first 5K race never having run a mile in your life.  I always describe myself like this: I run, but I am not a runner.  If I know I am going to do a race, I have to train because it's not something I consistently do all the time.  A 5K is 3.1 miles, so you want to be able to actually run that much on race day.  A gradual, month-long training program is adequate.  I highly recommend doing your training outdoors whenever possible.  A treadmill is good, but you can't deny the face that the belt is doing some of the work for you.  You will just not get the same kind of training as you will outside, and since your race will be outside, you want to be prepared.  As a suggested training plan, I would recommend three days a week as running training days, one day a week as a cross-training day, one day a week as a strength training day, and two days a week as rest days.  On the running days, build slowly.  If you have to start by walking, then do it.  Each of your running days the first week should be a little farther in distance.  For example, your first running day could be one mile, the second could be two and the third could be three miles.  Then you would start over the next week with one mile, but trying to do it in less time.  Also try to keep the running days spread apart and not back-to-back days.  For the cross-training days, you should do any other cardio for 30-45 minutes except running, such as biking, swimming, or the elliptical.  For the strength training days, include exercises that hit all of the major muscle groups.  You can get ideas for strength-training moves here  or here or here.  The day before your race should be a rest day.
How to Find a Race
Most cities have a web site dedicated to local running events, but to help get you started you can check out Runner's World  or Running in the USA.
What 5k tips do you have? What has been your favorite 5k race?
On your mark, get set, go!  Good luck, runners!
Get Instant Access to My Best Weight Loss Tips & Strategies!
Sign up now for a free step-by-step 7-day email course that I created exclusively for my email subscribers! That's you. I will teach the best habits, strategies, and insider tips so you can enjoy a lifestyle that encourages and supports weight loss! Stop relying on willpower and take control back over your life! You can do this. Let me help!