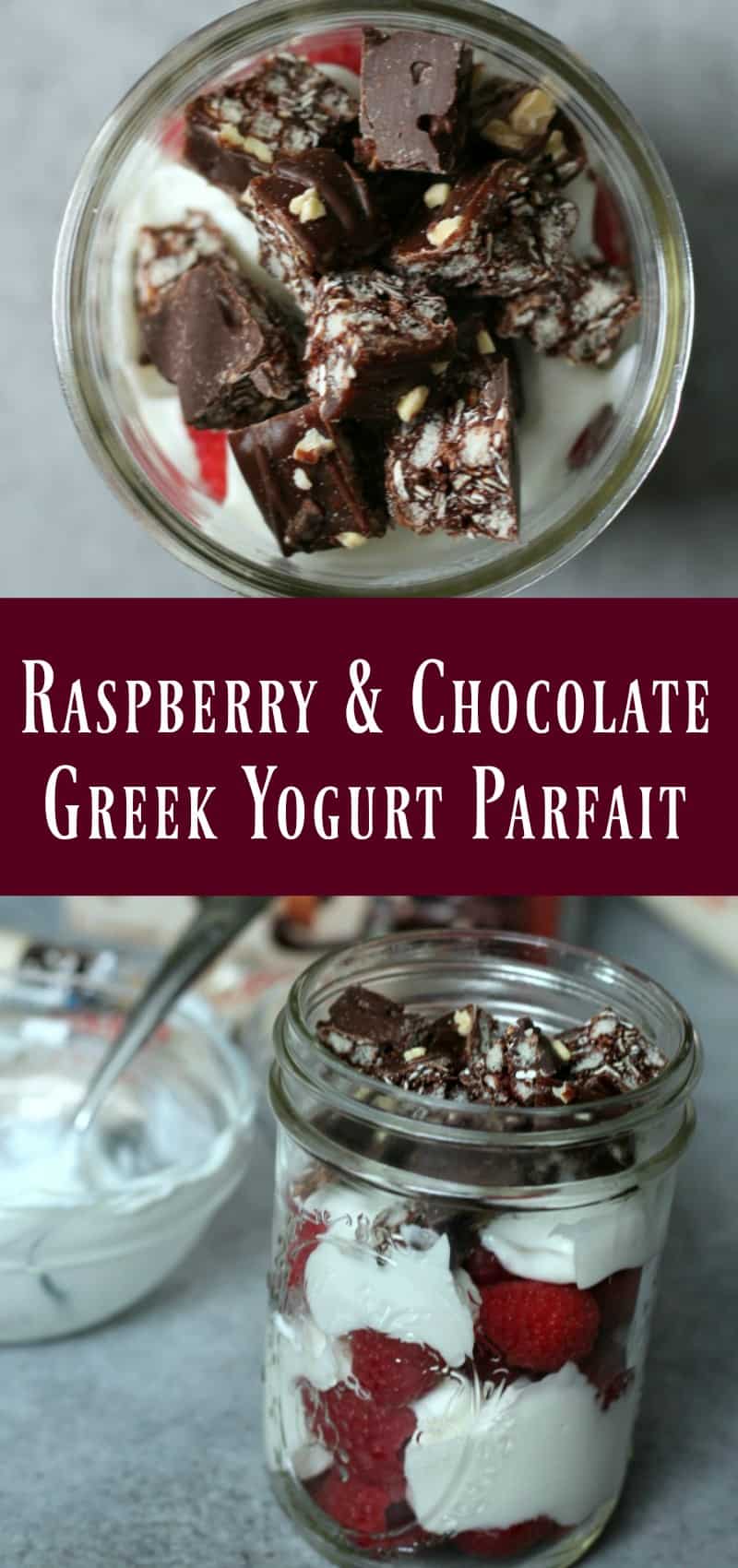 I just want to give a big shout out to my friends over at Fiber One™ for sponsoring this super tasty recipe today. Compensation was provided by Fiber One™ however all opinions and views in this post are mine all mine. You can learn more about their brand new Double Chocolate Almond and Salted Caramel & Dark Chocolate Layered Chewy Bars on the Fiber One™ website, Facebook Page, Instagram, Twitter, and Pinterest. 
---
Most days, around 3:00pm, I get hit was a major chocolate craving. I want chocolate. I NEED chocolate. It's almost like I can't function until chocolate enters my body. I know this sounds dramatic but this girl needs her chocolate. Did I say I like chocolate? 
In the past, I would try things like eating an apple, drinking a bunch of water, or waiting 20 minutes for the craving to subside. It didn't work. By 3:15pm I would be rocking back and forth trying to figure out ways to get my chocolate fix asap. It was a pretty sorry sight. Fortunately, I've learned a thing or two about having my chocolate and eating it too.
The trick is creating snacks where I can enjoy my beloved chocolate without feeling guilty. Yes, I know, earth-shattering information. However, back then I didn't realize it was so simple. Now I know and chocolate and I can share a mutual loving relationship.
One of my favorite mid-afternoon snacks are yogurt parfaits. I fill them with protein-rich Greek yogurt, nutritious fruit, and sprinkle some type of chocolate on top. Here's the thing, eating chocolate on its own is good, and makes me a happy girl, but I need more than that to get me through until dinner time so I add chocolate to recipes that already have bulk and nutrition.
For this new parfait recipe I used vanilla Greek yogurt, fresh raspberries, and a Fiber One™ Double Chocolate Almond Chewy Layered Bar. Easy peasy! Seriously, who doesn't smile when raspberry, chocolate, and almonds are stars in a recipe?
I'm in love with these new Fiber One™ Layered Bars. There's also a Salted Caramel & Dark Chocolate flavor but that'll be feature in a future snack recipe. However, here's a picture of both bars to get you excited 🙂
The Double Chocolate Almond Layered Chewy Bars have layers of chewy crisps, creamy chocolate, and almonds. Deeeelicious! As a bonus these bars provide 28% of your daily fiber, along with no artificial flavors, colors, or sweeteners. Perfecto!
Can you see why I decided to add this to a parfait recipe? Not only do I get my sweet chocolate fix but the chewy crisps add bulk and texture to my snack.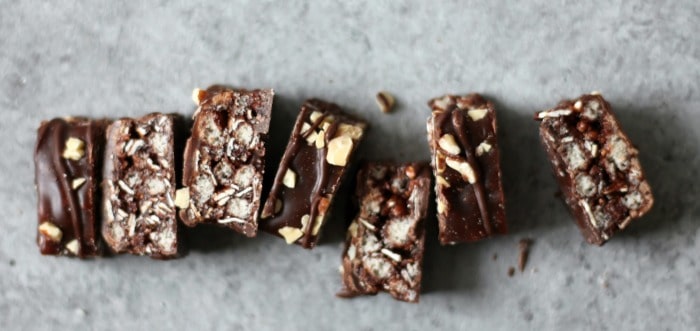 If you need a chocolate fix or in the mood to indulge in a chocolate treat then these bars are wonderful on their own. However, if you want to add chocolate and a boost of fiber to a snack recipe then this your answer.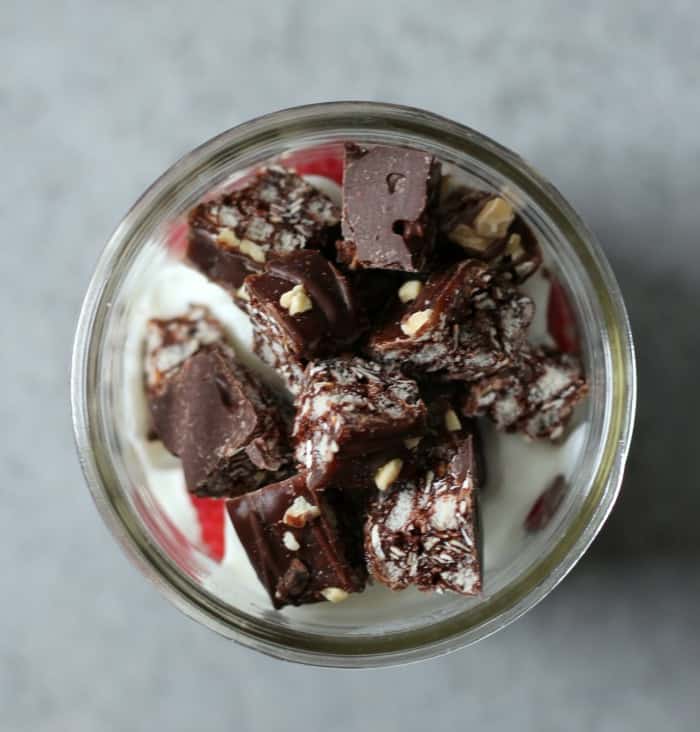 I layered vanilla Greek yogurt and raspberries into a 16-ounce mason jar container and topped with chopped up pieces of the Fiber One Double Chocolate Almond Bar. Let me touch a little on the mason jar container. Clearly if you're home and want to construct this snack using a simple bowl then that's fine. However, a mason jar is a busy parents best friend, especially if you want to transport tasty food to and from work. You can make a couple parfait jars on Sunday and have them ready to grab and go during the week.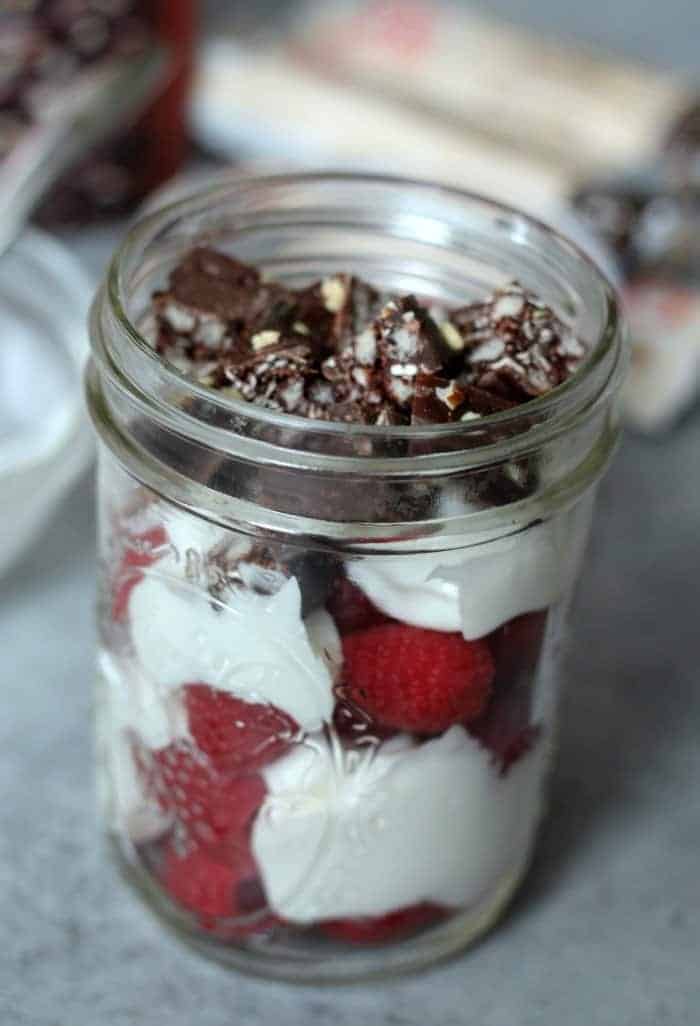 Of course, you might want to hide this jar because one glimpse at the delicious layers of raspberries, yogurt, and chocolate and this snack might go missing. Just saying, it could happen.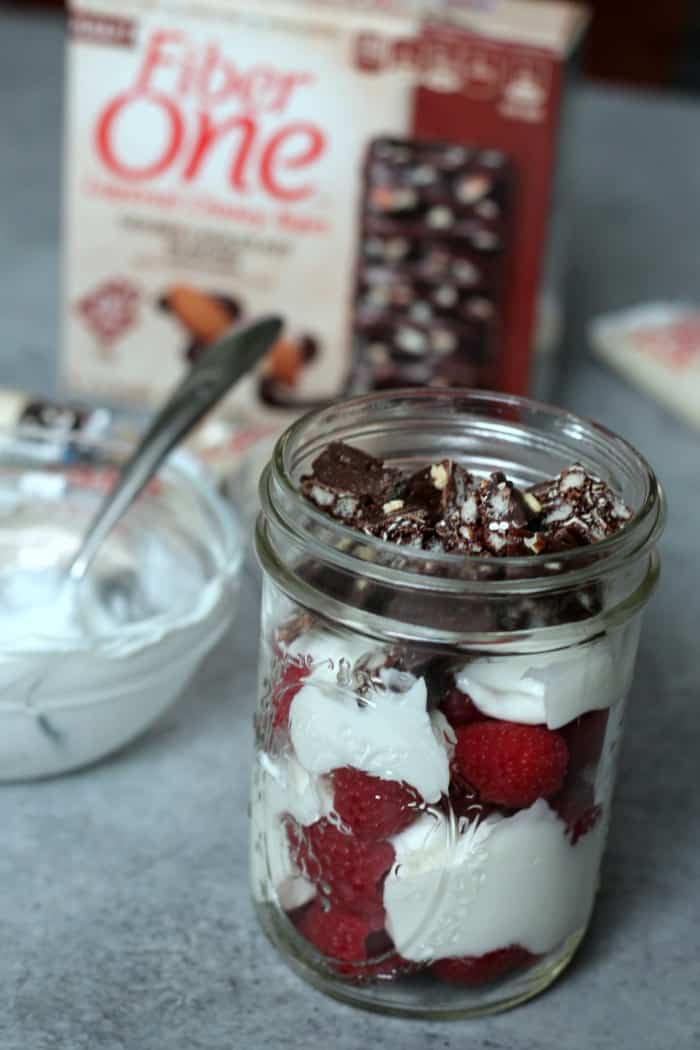 This Raspberry and Chocolate Greek Yogurt Parfait hit the spot! It curbs my chocolate craving and kept me focused and satisfied until dinner time. If you struggle with hunger and sweet tooth cravings at the 3 0'clock hour then I suggest giving this parfait a try. Of course, you can also keep a box of these Fiber One Double Chocolate Almond Layered Chewy Bars hidden in your desk too. You know, for chocolate emergencies.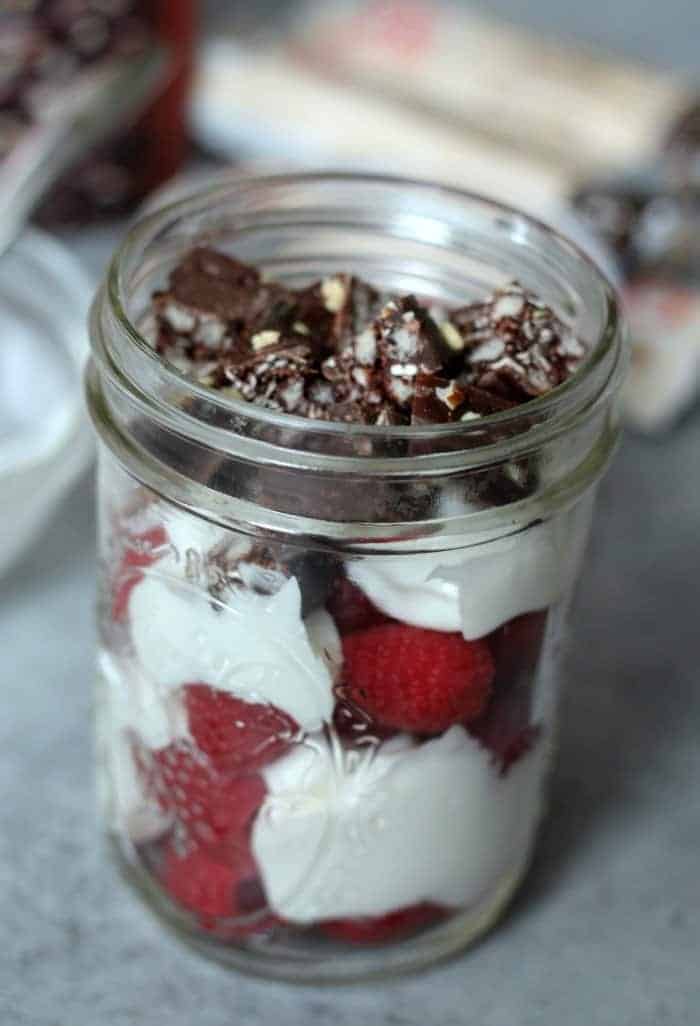 Raspberries and Dark Chocolate Almond Greek Yogurt Parfait
Print
Pin
Rate
Ingredients
1

cup

fresh raspberries

1

8-ounce container vanilla Greek yogurt

1

Fiber One Double Chocolate Almond Layered Chewy Bar

chopped
Instructions
Layer the raspberries and chocolate into a 16-ounce mason jar. Top with chopped Double Chocolate Almond Layered Chewy Bar.
Notes
Nutritional information for the Fiber One Double Chocolate Almond Layered Bars:
Calories: 140
Total fat: 4g
Carbs: 25g
Fiber: 7g
Protein: 2g
Nutrition
Serving:
1
g
|
Calories:
304
kcal
|
Carbohydrates:
52
g
|
Protein:
15
g
|
Fat:
8
g
|
Saturated Fat:
2
g
|
Fiber:
16
g
|
Sugar:
22
g