Trying to keep up with a daily toning routine isn't easy. These toning exercises can quickly be done before bedtime – the whole routine shouldn't take longer than 10 minutes.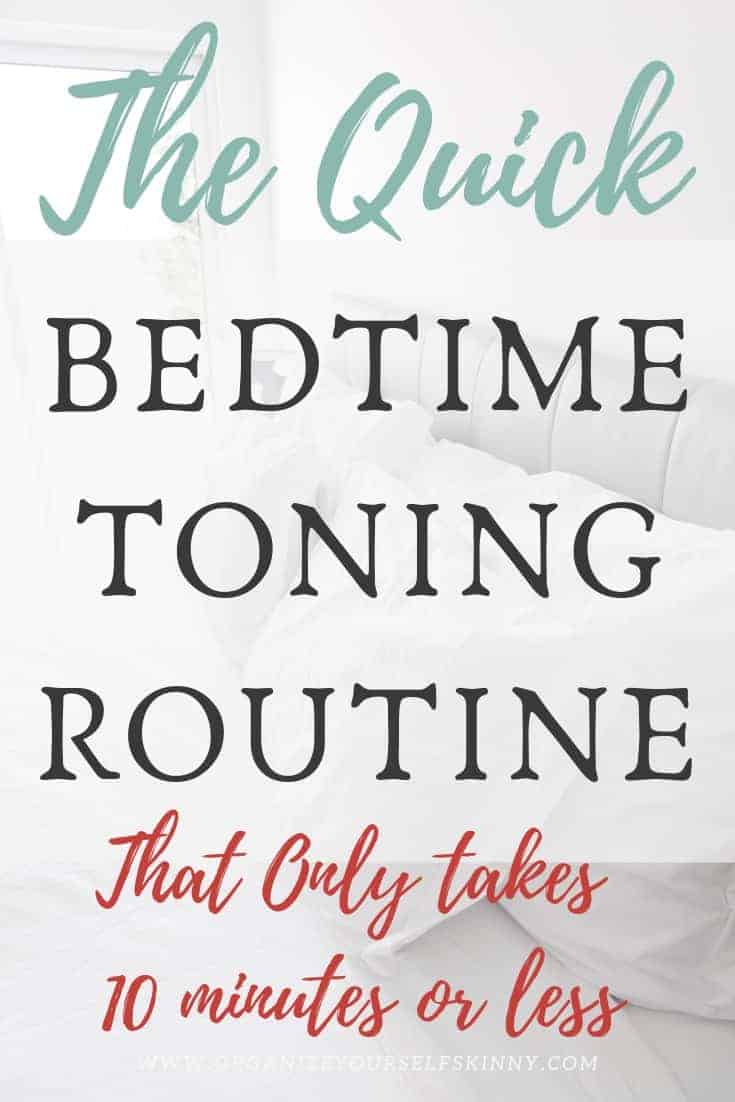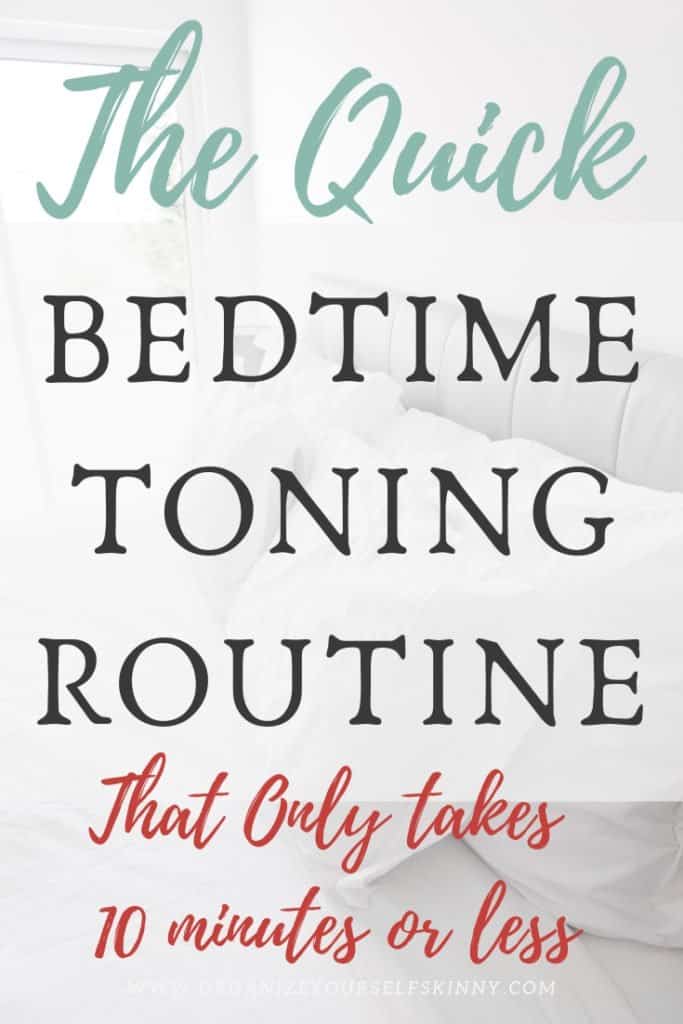 This exercise post idea came from Tammy's real-life daily exercise experiences. She confessed that sometimes her strength training routine doesn't happen and gets pushed to the back burner for any number of reasons.
After doing cardio, she sometimes finds that she is too tired to continue on to strength training. Or she doesn't have time to do it because there are a million other tasks that need to get done. I'm sure many of you can relate to these obstacles.
It's important to remember that you do NOT have to do all of your exercise, i.e. cardio and toning, all together at one time during the day. Yes, there are benefits to doing it together, but there are also benefits to breaking your daily exercise into smaller chunks throughout the day. Plus, if that's the only way you can get it done, then it's better than not doing it at all.
Tammy had this idea of doing some quick toning moves before bed at night to help her get the results she is looking for. So she asked me to put together a short bedtime toning routine that anyone can do anywhere, even literally right next to their beds. So here you go!
This routine should take ten minutes or less. These are not moves that are going to get your heart rate way up, which is a good thing since you are getting ready for bed. And hopefully you have squeezed in some cardio somewhere else in your day.
These moves are designed to be performed slowly and in a controlled way, in order to target your muscles and really help sculpt them. You can certainly modify the number of the moves, doing less to start if you are a beginner, or more if you are an advanced exerciser.
Also, you don't need to use weights but if you want to add some more resistance to your toning exercises then here's a great weight set from Amazon. It has a 3 sets of weights and can be easily stored in the corner. It's under $30 which I think is pretty good price.
Since you never want to do toning exercises with completely cold muscles, just make sure you have been moving around a bit before you do these. Don't just get up from the couch where you have been sitting for an hour and do them. Walk around a bit, straighten up your house, anything that lightly gets your body moving. After you do these moves, it's a good idea to briefly stretch. You can even do your stretches lying in your bed.
Quick Toning Exercises to Do Before Bed
25 squats
25 stationary lunges on right leg
25 stationary lunges on left leg
15 pushups
20 crunches
25 lying glute lifts (Lie on the floor on your back, lift and squeeze your butt)
15 side leg lifts with right leg
15 side leg lifts with left leg
30 second plank
30 second right side plank
30 second left side plank
The best way to fit in these toning exercises is to schedule them in your calendar. I know that might sound a little odd but it's easy to forget about a 10-minute routine. If you start with scheduling it in then it's harder to forget.
Of course these toning exercises can be done anytime throughout the day. Maybe do it as soon as you wake up or squeeze it in during lunch or do it as soon as you get home from work. Set your timer for 10-minutes and get to squatting!
I'd love to learn more about how you fit toning exercises into your daily routine? If you struggle to make exercise a priority then read this post.