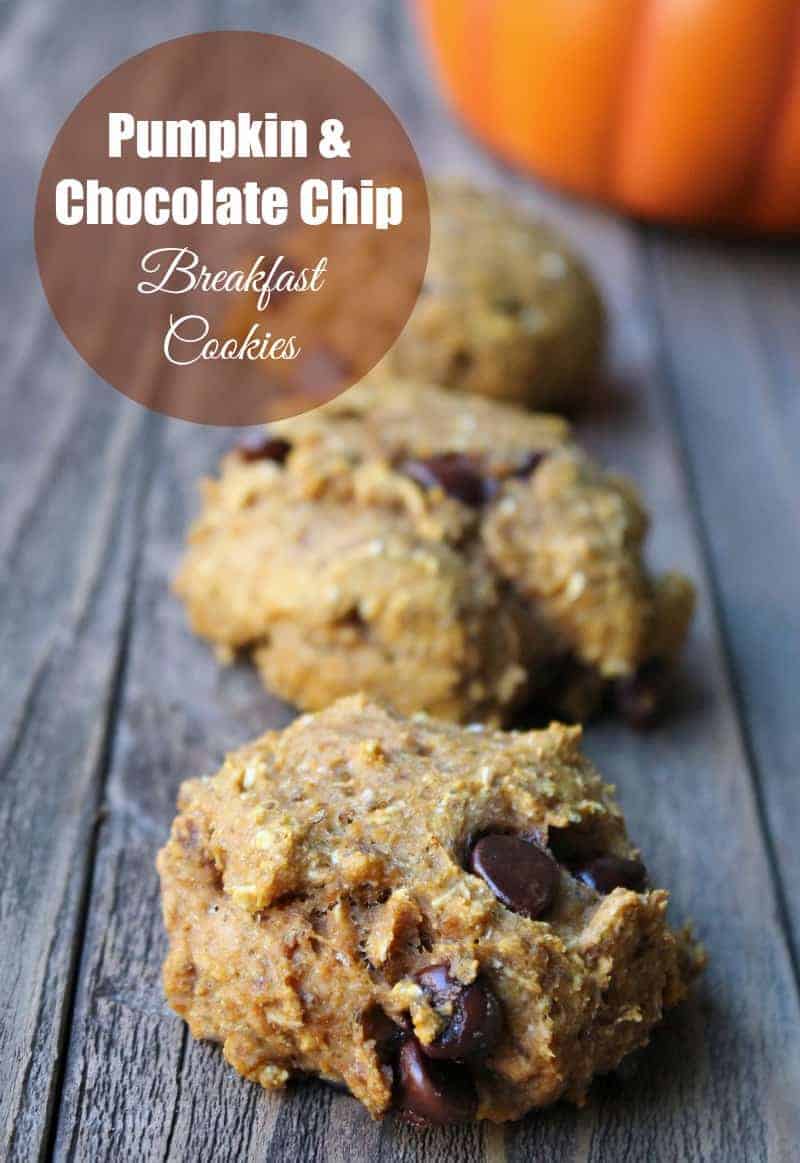 This post is sponsored and brought to you by Monk Fruit In The Raw®. Thank you so much for inspiring me to make these aaamazing Pumpkin and Chocolate Chip Breakfast Cookies. It's a great day when I can eat chocolate for breakfast and feel good about it! You can get a Monk Fruit In The Raw® coupon here. Check here to see where you can purchase Monk Fruit In The Raw®. See all other In The Raw® products here.
Halloween is tomorrow and my kids are obsessing about the enormous amount of candy they will acquire. A couple years ago, my girls discovered they could use pillowcases to collect candy and haven't looked back since. No cutesy pumpkin buckets for my kiddos. Nope these two are serious when it comes to candy collecting.
You might be wondering where I stand with Halloween candy? Here's the thing. I used to be a kid excited to fill my Halloween bag with lots and lots of candy. Personally, I would never take that away from my girls. However, as a grown adult I know bags and bags of chocolate just isn't good for the body. Boooo for being an adult. Life is so much better when chocolate and candy is considered a perfectly acceptable food group.
Soooo…what do I do? I am all about moderation. I allow my girls to get dressed up and go trick and tricking but afterwards they need to choose a small bowl of their favorites and donate the rest. Of course I pick out my favorites too. Come on now, you know I couldn't pass up free peanut butter and chocolate cups. I am human.
Another thing I try to do is create healthier versions of sweet treats and snacks. For example, breakfast cookies. Breakfast cookies are heartier cookies typically made with wholesome ingredients like oats, whole grain flour, bran, flax seed, nuts, dried fruit, and even some chocolate. Hello? It is a cookie. These cookies are dense, filling, and delicious. My kids enjoy breakfast cookies with a small smoothie and are satisfied until lunchtime.
When I started to put together this pumpkin and chocolate chip breakfast cookie recipe I wanted one that was sweet but not dominated by sugar. My girls will get plenty of sugar on Halloween. To keep the sugar under control I decided to replace some of it with Monk Fruit In The Raw®. I was sent a Monk Fruit In The Raw® Bakers Bag & Monk Fruit In The Raw® Packet to use for this recipe.
Have you heard of Monk Fruit In The Raw®? I wasn't aware of it until recently. Monk Fruit In The Raw® is a deliciously sweet, all natural zero-calorie sweetener that taste like sugar. It comes from vine-ripened monk fruit, also called luo han guo. Believe it or not it's actually been harvested since the 13th century. Wow! Where has this been my whole life? Honestly, sometimes I truly think I need to get out more. You can learn a ton more about Monk Fruit In The Raw® on their website, Facebook Page, Twitter, Pinterest, and YouTube.
Anyway, I thought Monk Fruit In The Raw® tasted very similar to sugar and it worked great in my new pumpkin and chocolate chip breakfast cookie recipe. As with some other sweeteners, I did not experience an aftertaste.
The packets are nice to have around for guests to use in tea or coffee but I LOVED the bakers bag. The bag stands on it's own and makes it very easy to scoop out the amount you need for recipes.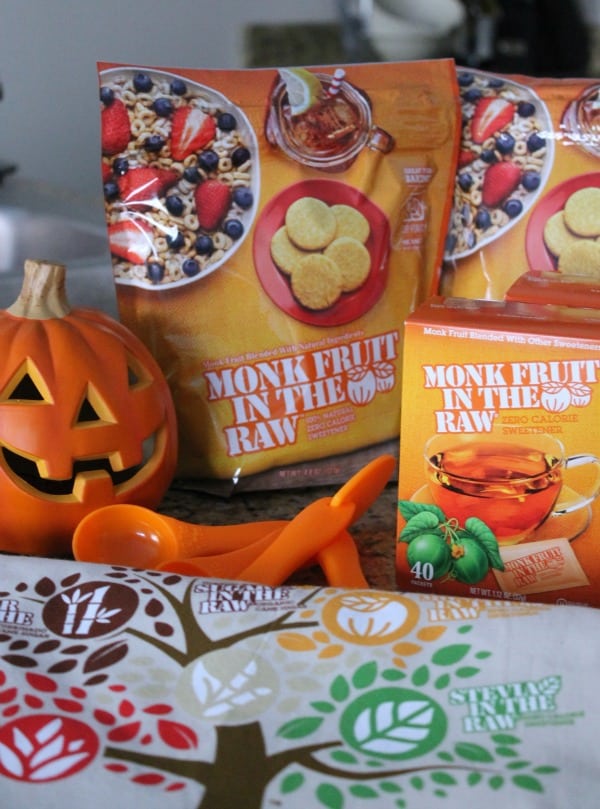 Speaking of recipe let's talk about my new pumpkin and chocolate chip breakfast cookie. Because it is goooood.
I started with white whole-wheat flour, 1-minute oats, and ground flax seed. Sometimes, I use rolled oats but I like the texture of minute oats better in cookie recipes. You can also use bran flakes for added fiber.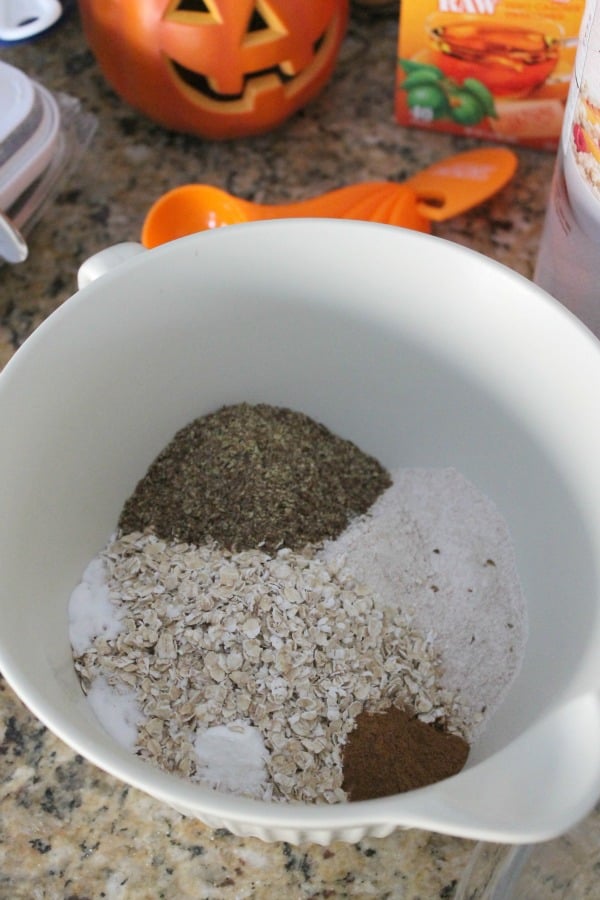 Next I whisked together the eggs, Monk Fruit In The Raw®, brown sugar, and pure vanilla extract.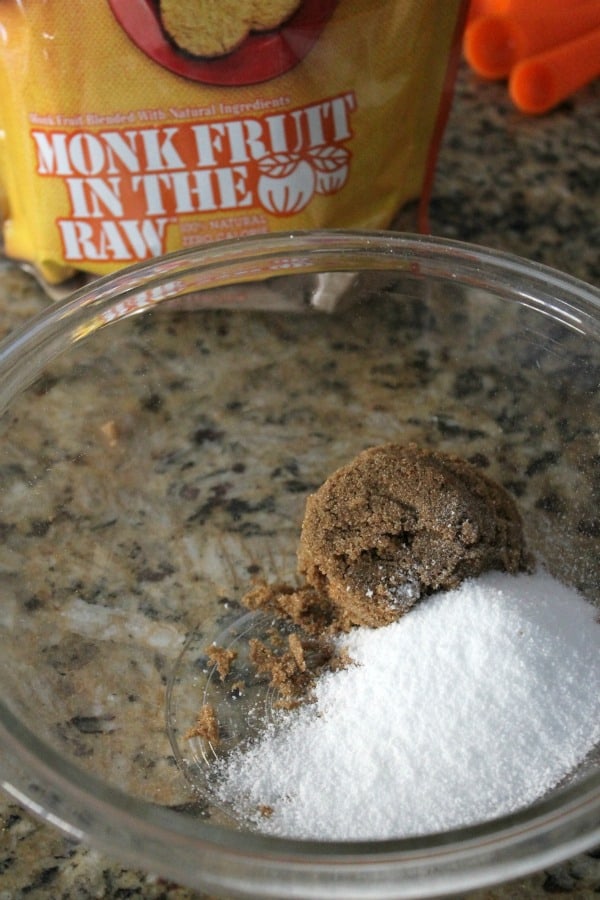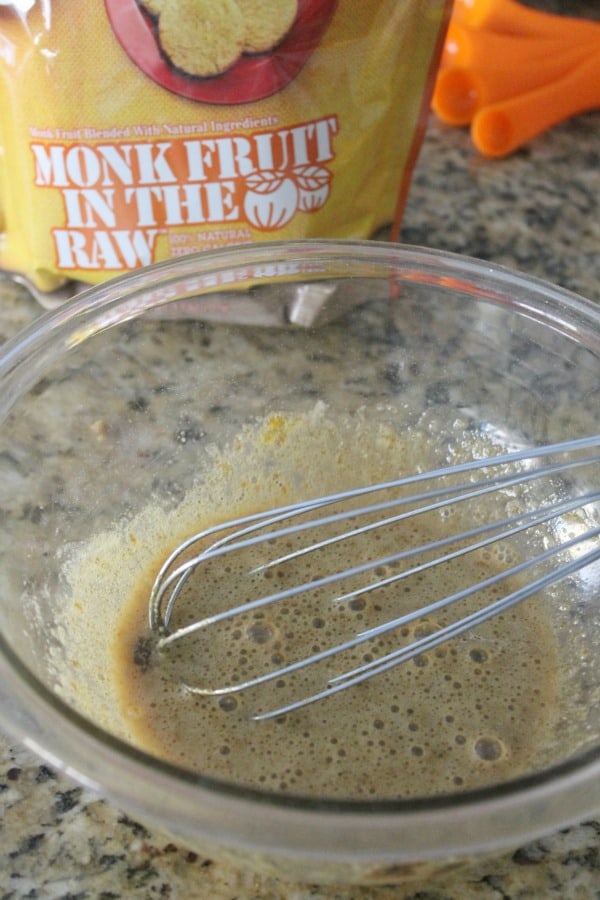 After those ingredients where blended I whisked in the pumpkin and coconut oil.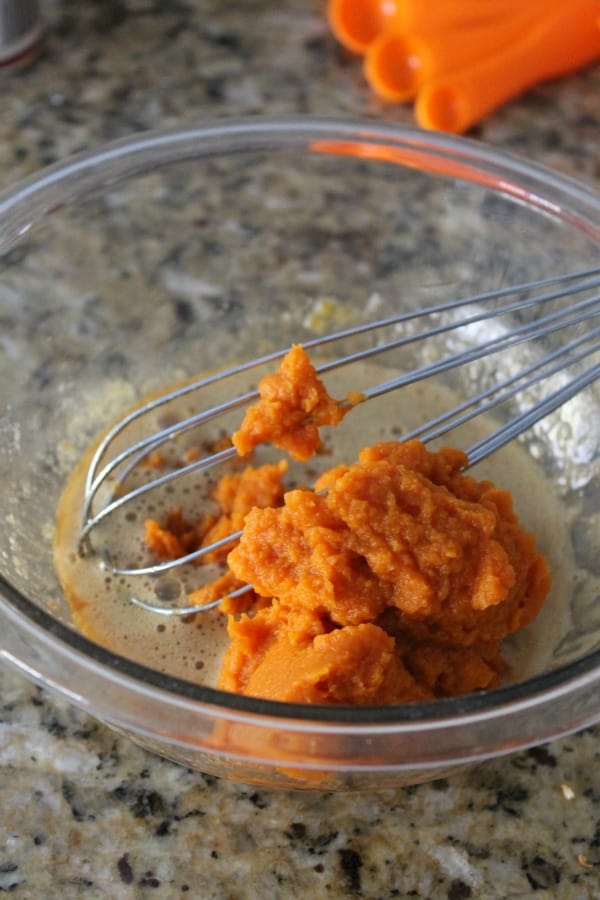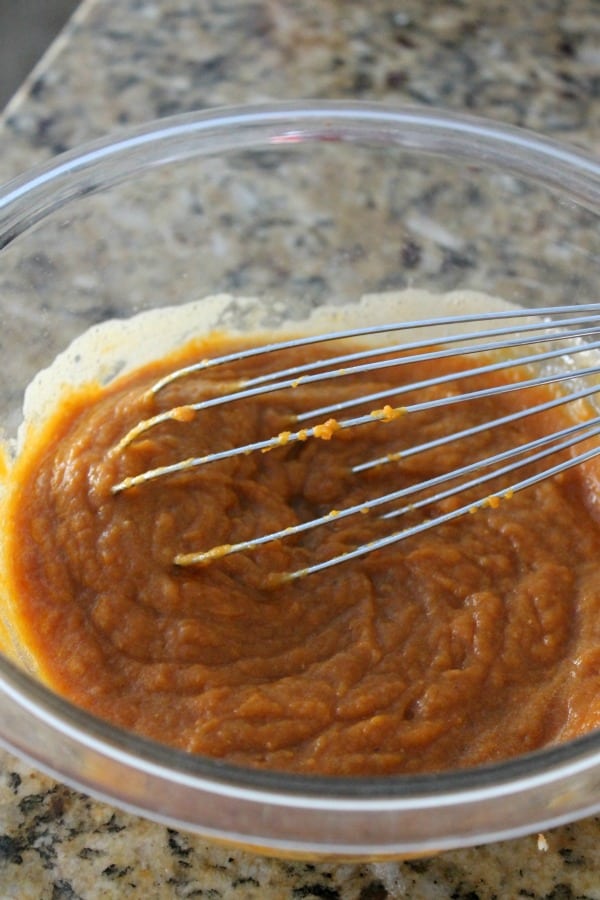 Then I stirred the wet ingredients into the dry ingredients.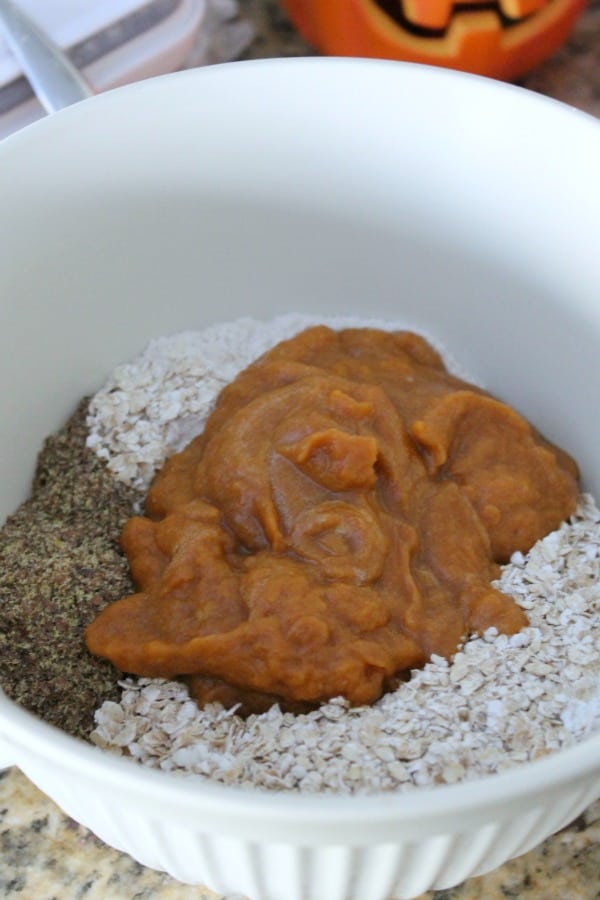 As you can see it is a thick batter. Very thick. But…it's tasty!
A cookie is not a cookie without the sweet add ins. I am obsessed with cranberry and pumpkin. I think these two flavors where made for each other. Of course, I threw in some chocolate chips. Again, it is a cookie.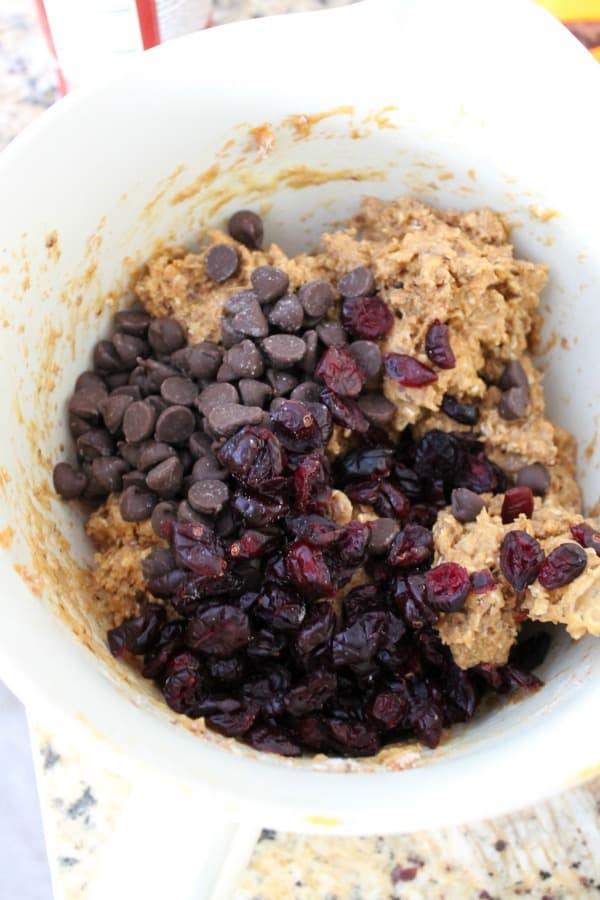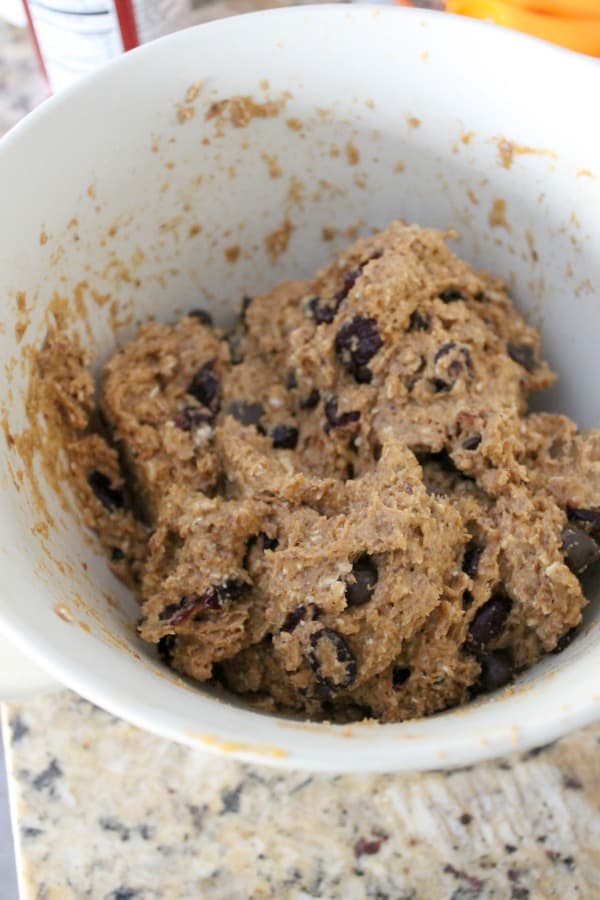 Each cookie is about 2 tablespoons of batter. I used a cookie scoop. Keep in mind that these cookies don't spread. Basically, they cook exactly the way you set them up on the cookie sheet. My advice is to press them down slightly so they look like a cookie.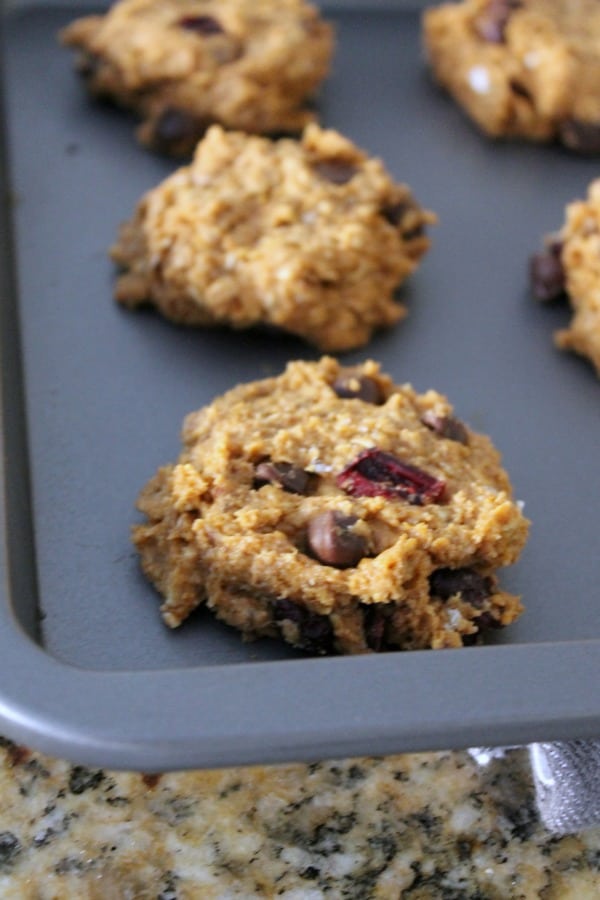 Bake for about 10 – 12 minutes. You definitely don't want to overcook these cookies. If you do they will be dry. Mine cooked perfectly at 10 minutes.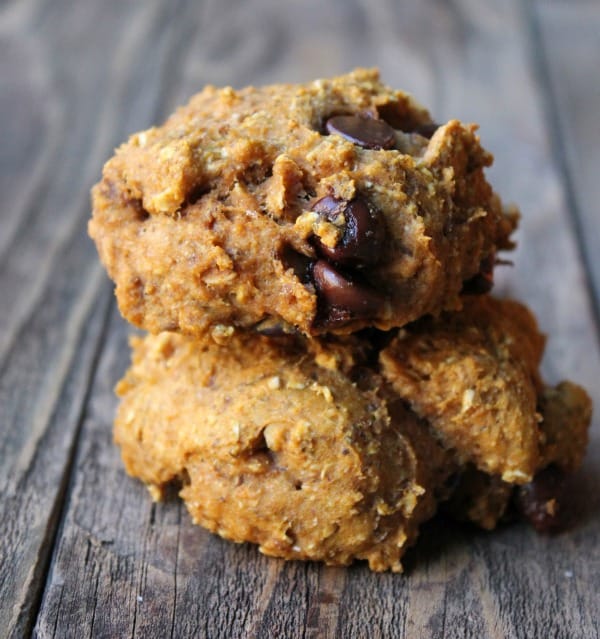 Let them cool and then store in a plastic container for 3-4 days or stick in the freezer for a month or so.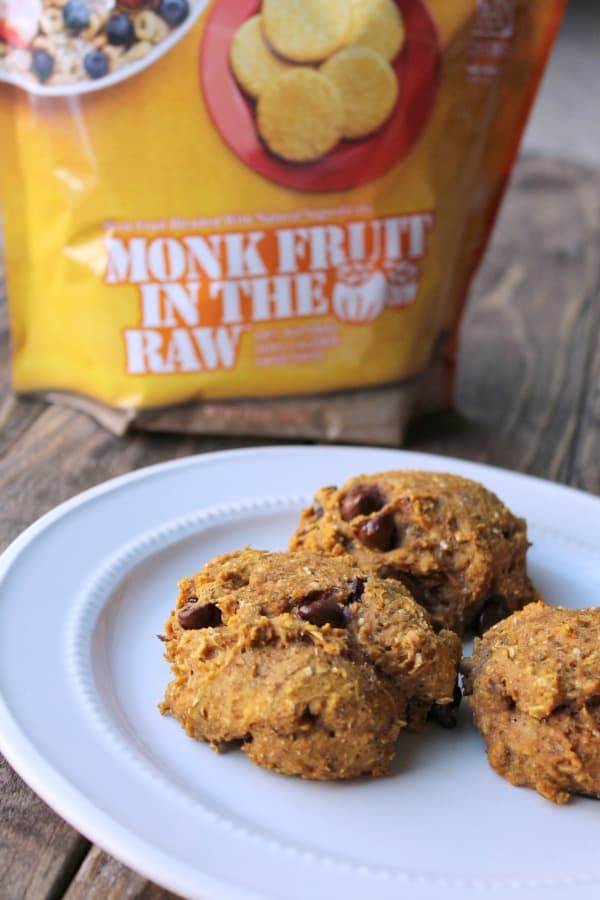 My kids LOVED these cookies and couldn't believe I let them eat the cookies breakfast. I feel like a got a #momwin award for these delicious, hearty, and healthy pumpkin and chocolate chip breakfast cookies. Win all around!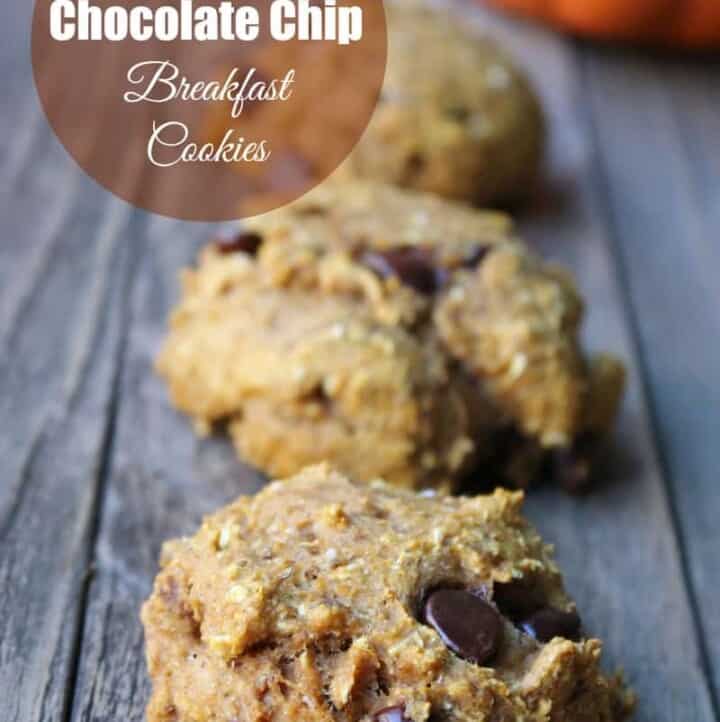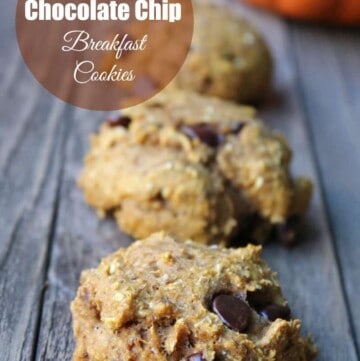 Ingredients
1 ½

cups

white whole-wheat flour

1

cup

1-minute oats

¼

cup

flaxseed meal

1

teaspoon

cinnamon

½

teaspoon

baking soda

¼

teaspoon

baking powder

¼

teaspoon

salt

¼

cup

Monk Fruit In The Raw®

¼

cup

packed dark brown sugar

2

large eggs

1

teaspoon

pure vanilla extract

¾

cup

pure canned pumpkin

¼

cup

melted coconut oil

½

cup

dried unsweetened cranberries

½

cup

semi-sweet chocolate chips
Instructions
Preheat oven to 350 degrees.

In a large bowl, combine flour, oats, flaxseed meal, cinnamon, baking powder, baking soda, and salt. Whisk together until the ingredients are evenly distributed.

In another medium bowl, whisk together Monk Fruit In The Raw®, brown sugar, eggs, and vanilla extract until blended.

Whisk the pumpkin and coconut oil into the sugar mixture until blended.

Add the wet mixture into the dry mixture and stir until all the ingredients are combined and a batter forms.

Stir in the cranberries and chocolate chips.

Spray a cookie sheet with cooking spray. Measure out 2 heaping tablespoons of batter per cookie. Form into a ball and then press down to give it a cookie shape.

Bake for 10 – 12 minutes. Let cool for about 3 minutes on the cookie sheet then place onto a wire rack to cool completely.
This is a sponsored conversation written by me on behalf of In The Raw via RhythmOne. The opinions and text are all mine.