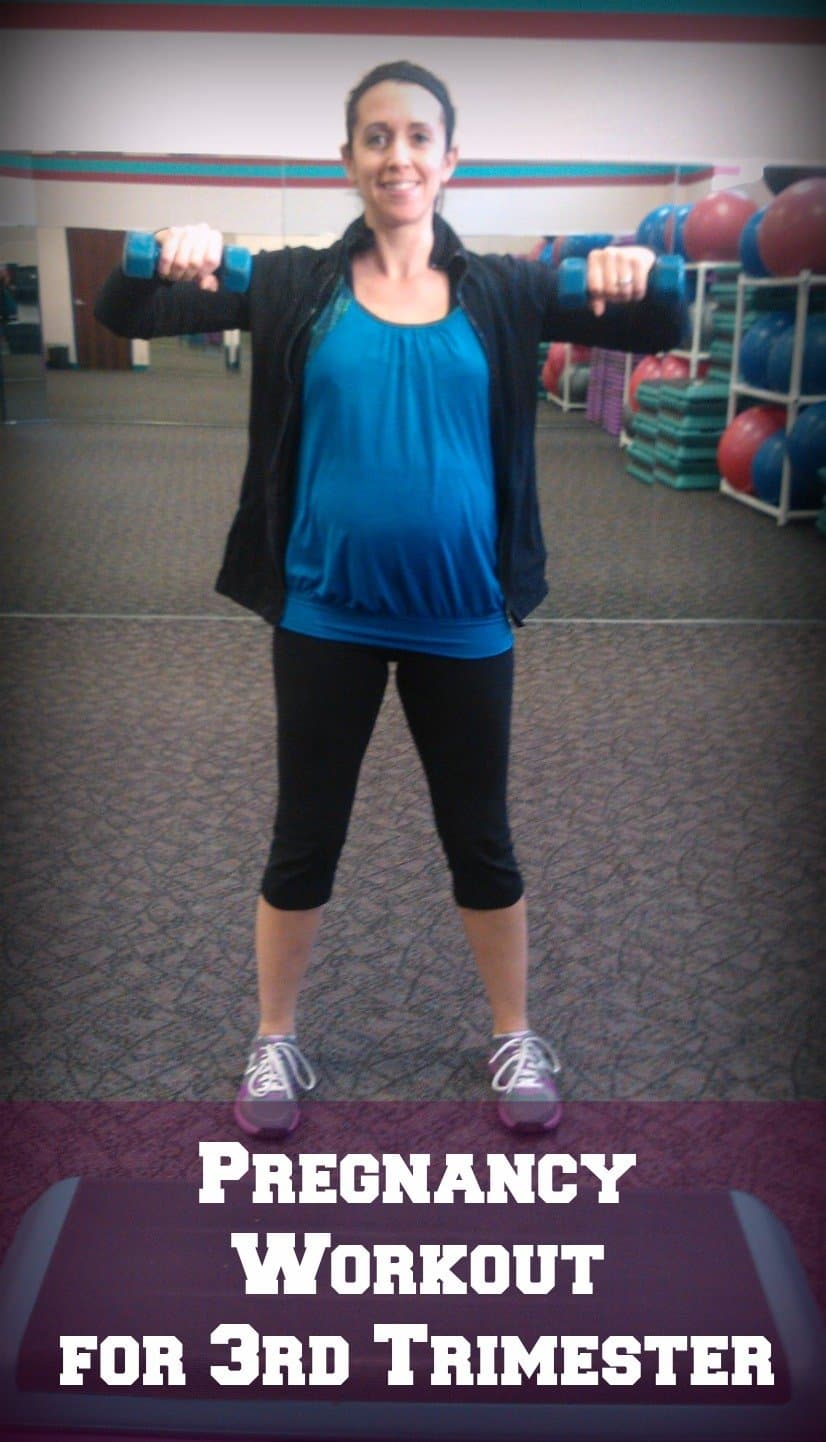 This post is by OYS writer Melissa. See more of her posts here.
If you read my last two posts on working out during your first and second trimesters, then you already know that I am expecting my second child right now. If not, please read them here and here. This month I am coming to you with my thoughts and suggestions on exercise during the third trimester.
The third trimester…the home stretch! Your body is no doubt completely different than it was seven months ago, and that's okay. You are creating a life, after all. However, you can and should still keep up with some sort of regular exercise if you can, right until the end. Now as you are growing bigger, you will probably want and need to change your exercise routine a bit. You are likely slowing down a little, feeling more tired again, and have aches in your legs and back that were not there before. This third trimester workout is all about keeping your body moving, but easily. You need to fit in plenty of relaxing time as well.
Benefits of Continuing to Exercise
Your body is still working hard to help your baby grow into a healthy little creature, so you need to treat yourself the same way. Keep eating right and moving your body in order to keep up your strength for delivery day, as well as for the many sleepless nights that will come after. As I said in my first post, it is also much easier to bounce back post-delivery when you have been exercising all along. It still takes work, but if your body has been continuing to move all along, it will be easier to drop the pounds you gained and get your figure back into shape.
Concerns
As always, please consult a doctor before exercising during pregnancy. If you have been a regular exerciser, then your doctor will probably tell you that you can continue whatever you are doing, but please double check before doing any of the suggested moves. I have heard such a variety of responses that different women get from their doctors about exercise. Some suggest keeping your heart rate under 140, while others say this is an outdated recommendation. My doctor suggests using the rate of perceived exertion. Make sure you can breathe, your body temperature is not getting too high, and lower the intensity if anything feels uncomfortable. I think this is pretty sound advice. Another concern I have heard women share is that they are afraid of doing something to hurt the baby. Again, if your doctor gives you the okay, then rest assured that you will not hurt the baby. There is again a variety of different responses about any movements that should not be done. Some doctors say not to lie on your back after the first trimester, others say as long as it's for a short period of time it's okay. Some doctors say go ahead and do abdominal work, even though it's pointless. Others say not to do any at all. My best advice here is to talk to your own doctor and do what feels right to you.
In the third trimester, you will want to be aware of your heart rate, body temperature, and center of gravity as you exercise. It is perfectly okay to take things down a notch…or five. If you try to push too hard, you could end up injuring yourself. I know personally that my back and knees are getting very achy right about now, so I know that I can't squat as low or work as hard as before. Listen to your body!
For this routine, start by doing 20 minutes of your favorite light cardio – walking, swimming, dancing, elliptical, etc. Then perform the simple strength-training moves. I go back to non-combination strength-training in the third trimester, to help myself really focus on the movements and take my time. You will need a set of light dumbbells, and a step or stair. Do 8-12 reps of each move. If you feel up to it, do 2-3 sets, going back through the moves again. Always cool down and stretch.
Move #1 – Hammer Curls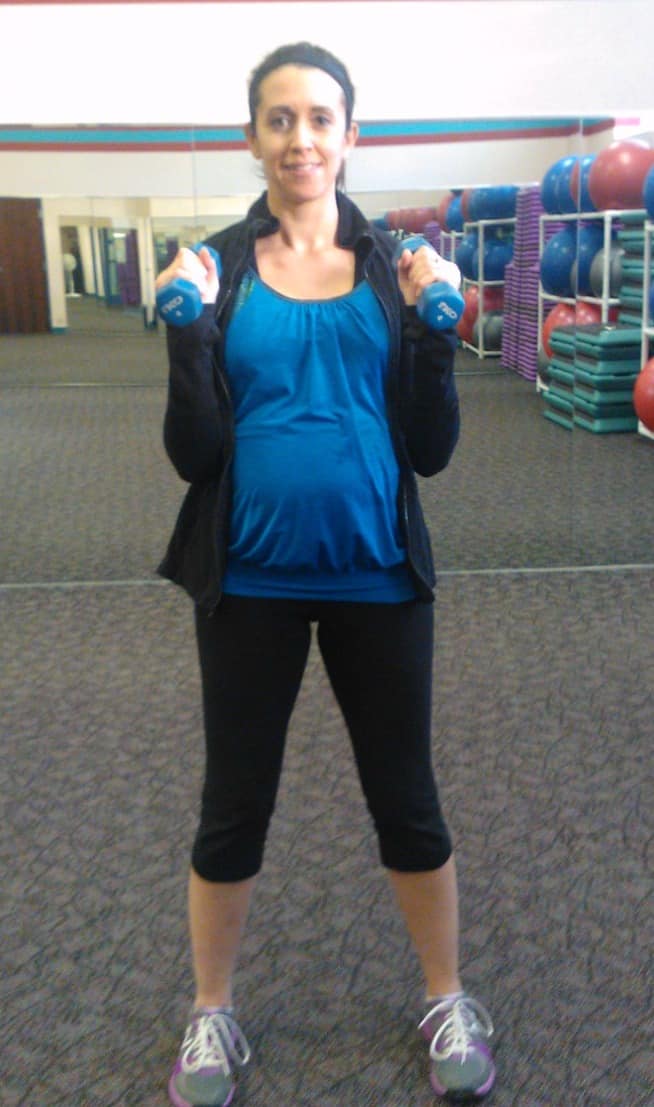 Move #2 – Reverse Lunges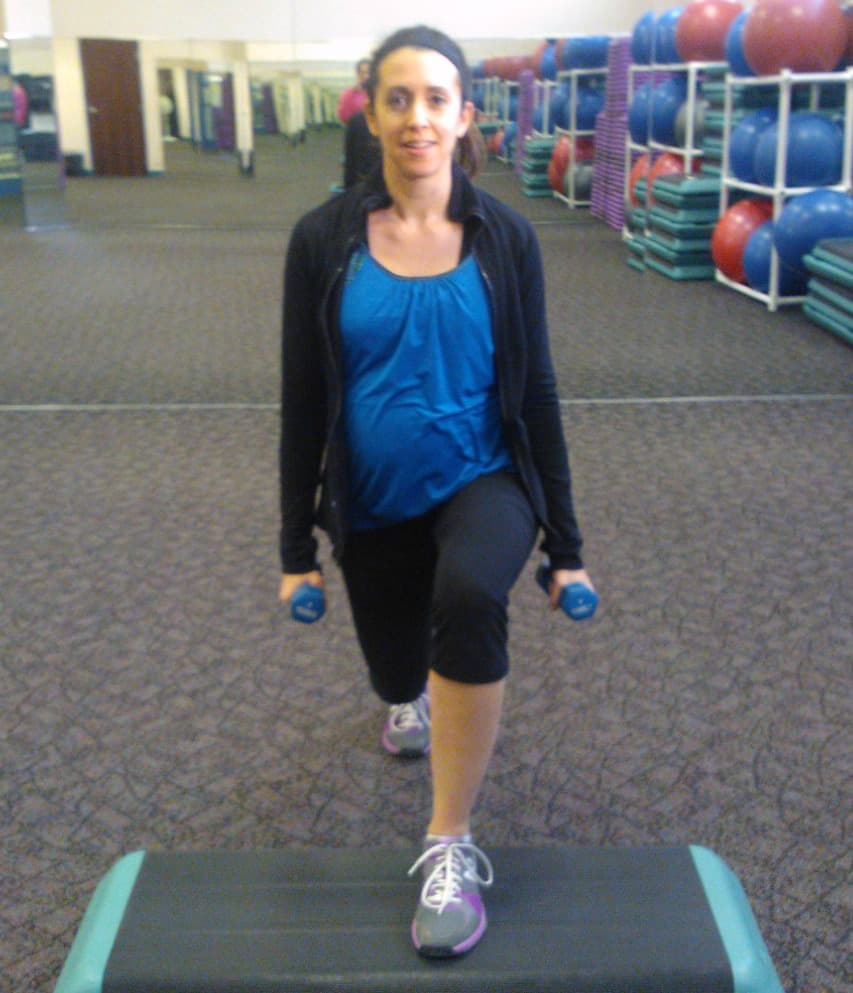 Move #3 – Triceps Extensions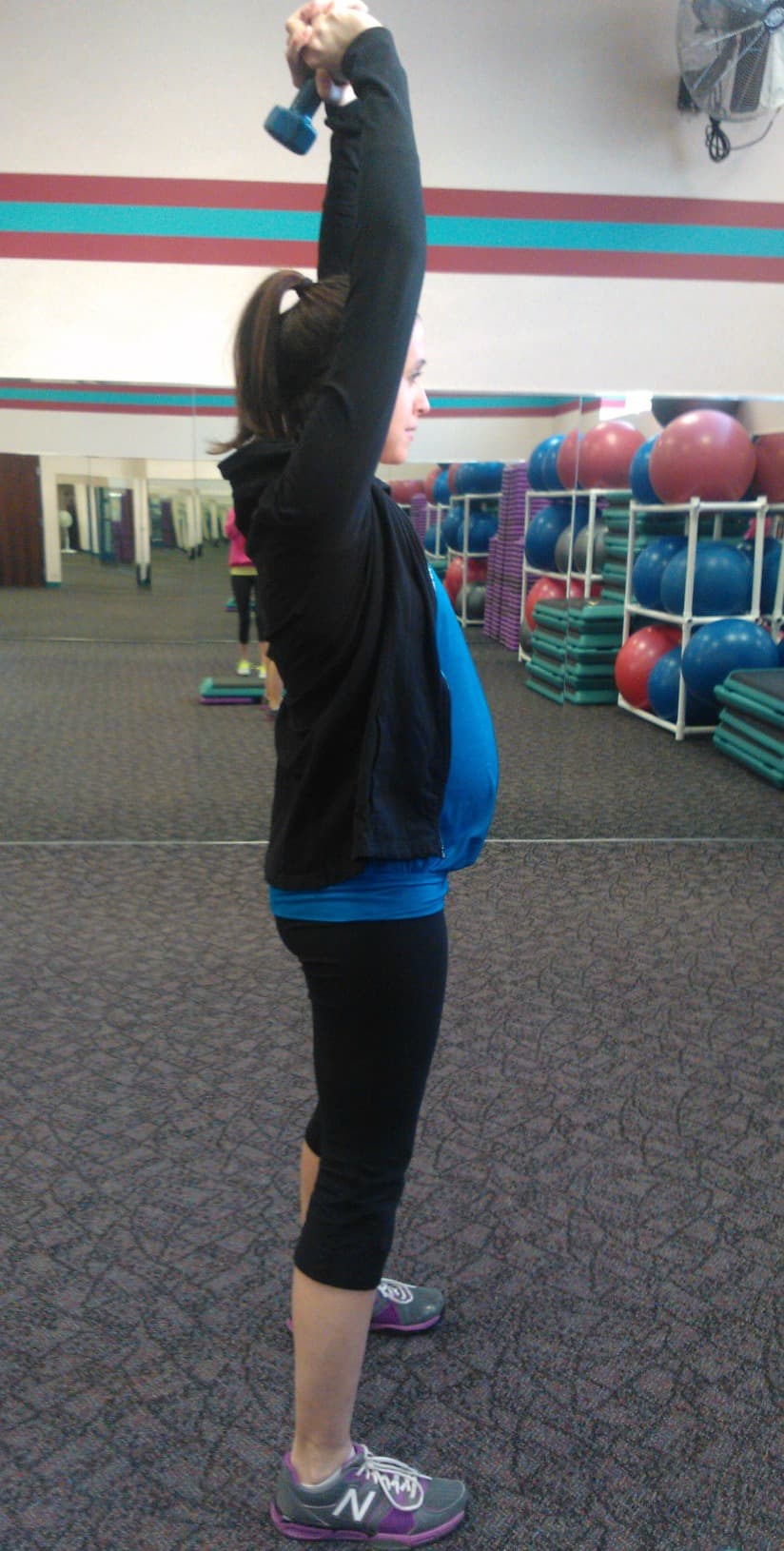 Move #4 – Split Squats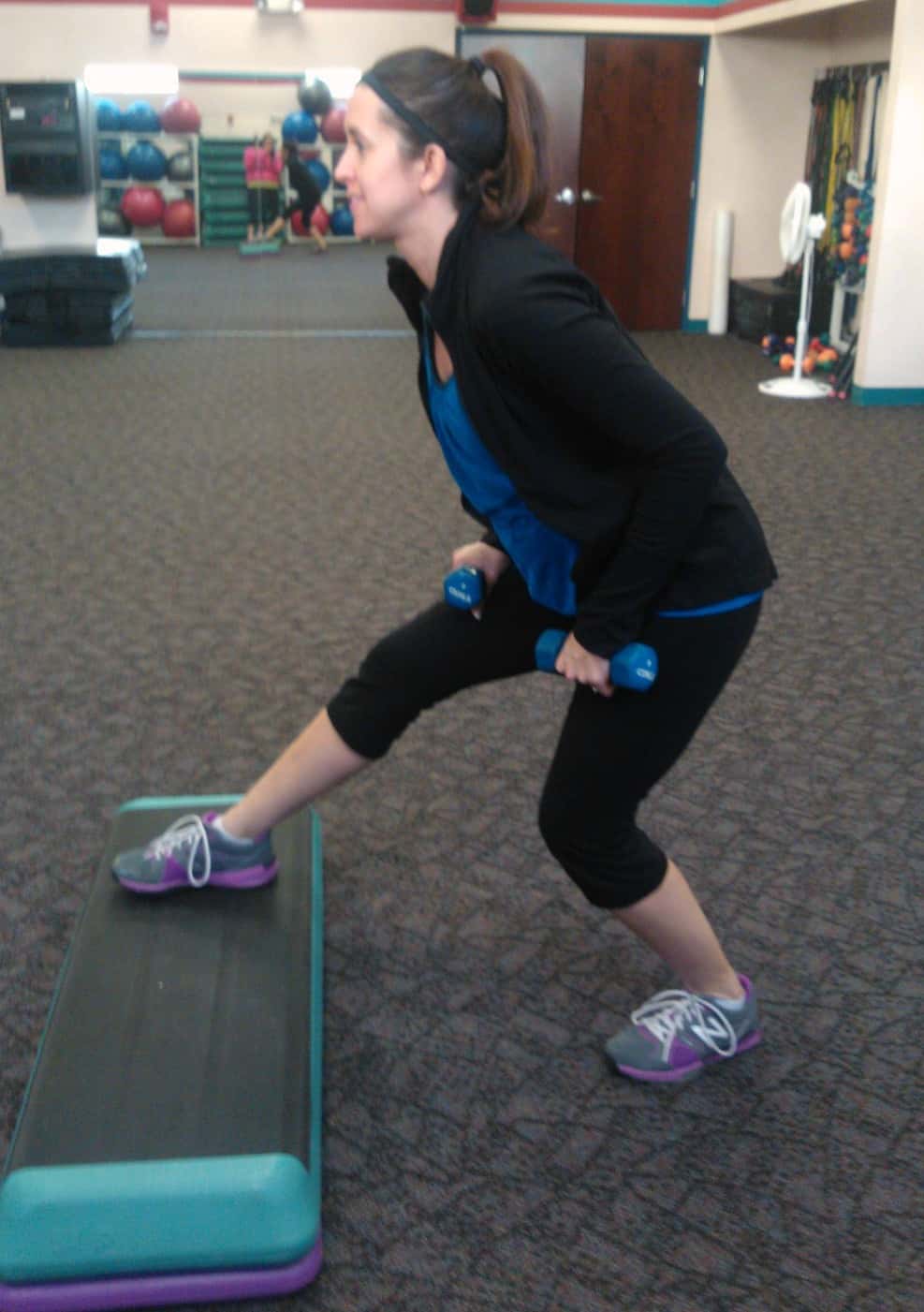 Move #5 – Side Delt Lifts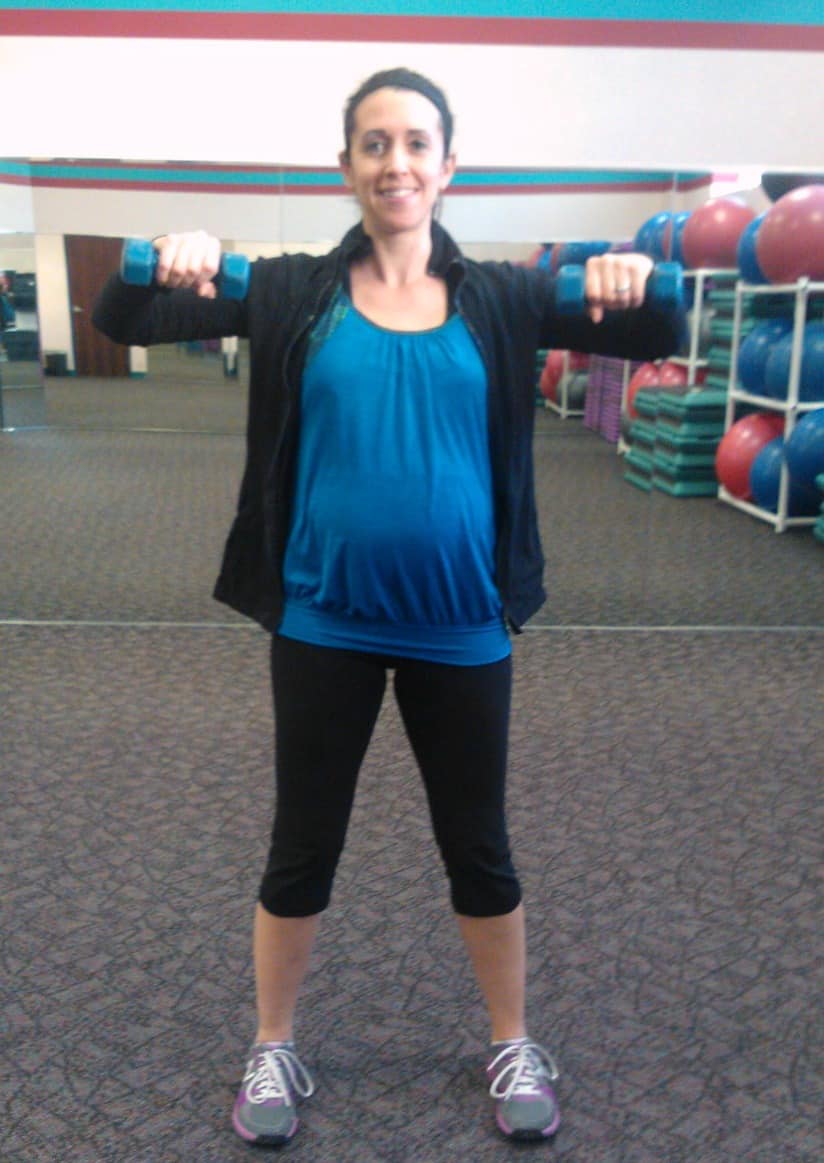 Move #6 – Curtsy Lunges
Move #7 – Lying Chest Presses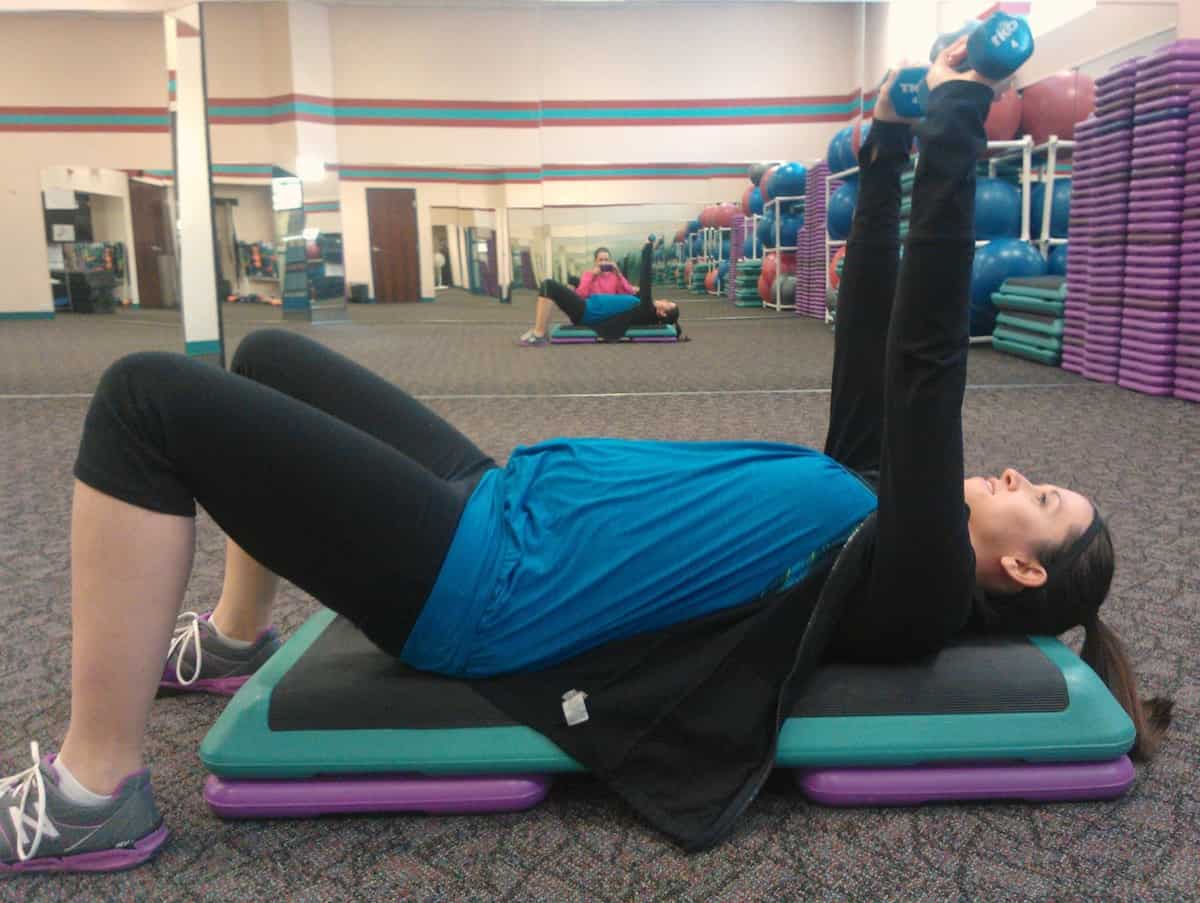 Move #8– Side Leg Lifts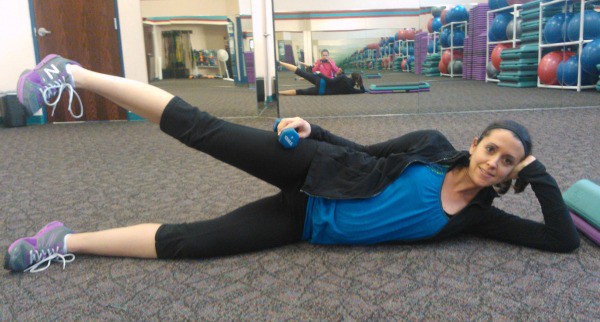 Did you exercise during pregnancy? Any thoughts or tips to share? 
Get Instant Access to My Best Weight Loss Tips & Strategies!
Sign up now for a free step-by-step 7-day email course that I created exclusively for my email subscribers! That's you. I will teach the best habits, strategies, and insider tips so you can enjoy a lifestyle that encourages and supports weight loss! Stop relying on willpower and take control back over your life! You can do this. Let me help!