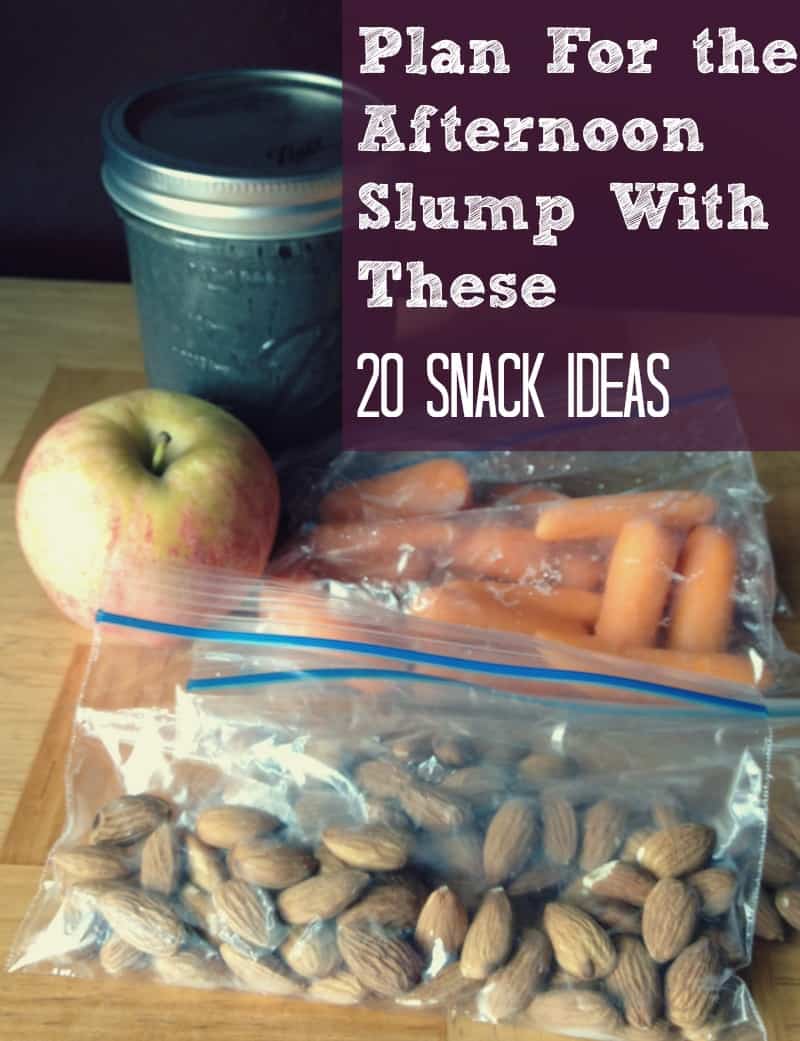 Here is the scene.
It is 3:00pm and you are starting to feel tired and slightly hungry. You just ate lunch a few hours ago but you know it is still going to be a couple more until dinner time. However, if you do not eat something soon the rest of your day will be filled with blank stares and a growling stomach – not exactly the productive afternoon you had in mind. You look around and realize there is no food in sight except the leftover tray of ooey gooey donuts from the morning meeting – which by the way you so courageously avoided. But now you are starving – STARVING – and not sure you will be able to disciplined yourself against the glazed sprinkled delights.
Sound familiar?
I think everyone can relate to the mid afternoon slump. Personally, there were many times that I would find myself in this exact situation – sometimes I still do.  My mid afternoon slump time is between 2:00pm and 4:00pm. During this time, in the past, I would find myself scrounging for anything to keep me going until dinner time. Unfortunately, most of the food I would grab would be high in sugar and low in nutrients. The end result would be a little buzz for about an hour but then crash even harder – not good.
Many OYS readers tell me their weight loss struggles center more around keeping snacks under control rather than eating nutritious meals. Snacks can be very misleading because of their size. Most snacks are small (think chips) but can quickly add up to a lot of unnecessary calories if not paid attention to.
The afternoon slump unfortunately will never completely go away. Therefore, it is important to embrace it and more importantly to plan for it. The best way to plan for the mid-afternoon slump is to have healthy snacks ready and available. Planning ahead of time is so important to successful weight loss and management. If you already know that you will be hungry at around 3:00pm everyday then you need to make it a priority to have something healthy within arms reach at that time. If not, I guarantee you will be heading to the vending machines or to your colleauges famous chocolate jar – not that I ever did that.
Healthy Mid Afternoon Snack Ideas
Green smoothies – make an extra batch in the morning and bring one in a mason jar salad for a snack.
no mayo chicken salad with crackers
no mayo tuna salad with crackers
SkinnyTaste's Chewy Granola Bars
Eat Yourself Skinny Chocolate and Granola Apple Wedges
Feel Good About Dinner Healthy Granola Bars
Luna Bar Chocolate Dipped Coconut
 – my favorite
Kashi Tlc Chewy Granola Bar-Honey Almond Flax
homemade mixed berry sauce stirred into plain greek yogurt
Apple peanut butter sandwiches 
Cheese and crackers
Hummus and vegetables –> learn to make your own hummus here.
Pecan and Chocolate Chip Breakfast cookie
Check out my recipe section for more make ahead recipe ideas.
You should avoid processed foods that are high in sugar, fat, and carbs. These foods are filled with empty calories that will actually make you feel worse. Stick to healthy snacks that are packed with protein and fiber which will fill you up and provide the energy to get you to dinner time.
Remember THE KEY is to have these snacks ready and available ahead of time.
What are your favorite snacks to beat the afternoon slump.
Get Instant Access to My Best Weight Loss Tips & Strategies!
Sign up now for a free step-by-step 7-day email course that I created exclusively for my email subscribers! That's you. I will teach the best habits, strategies, and insider tips so you can enjoy a lifestyle that encourages and supports weight loss! Stop relying on willpower and take control back over your life! You can do this. Let me help!