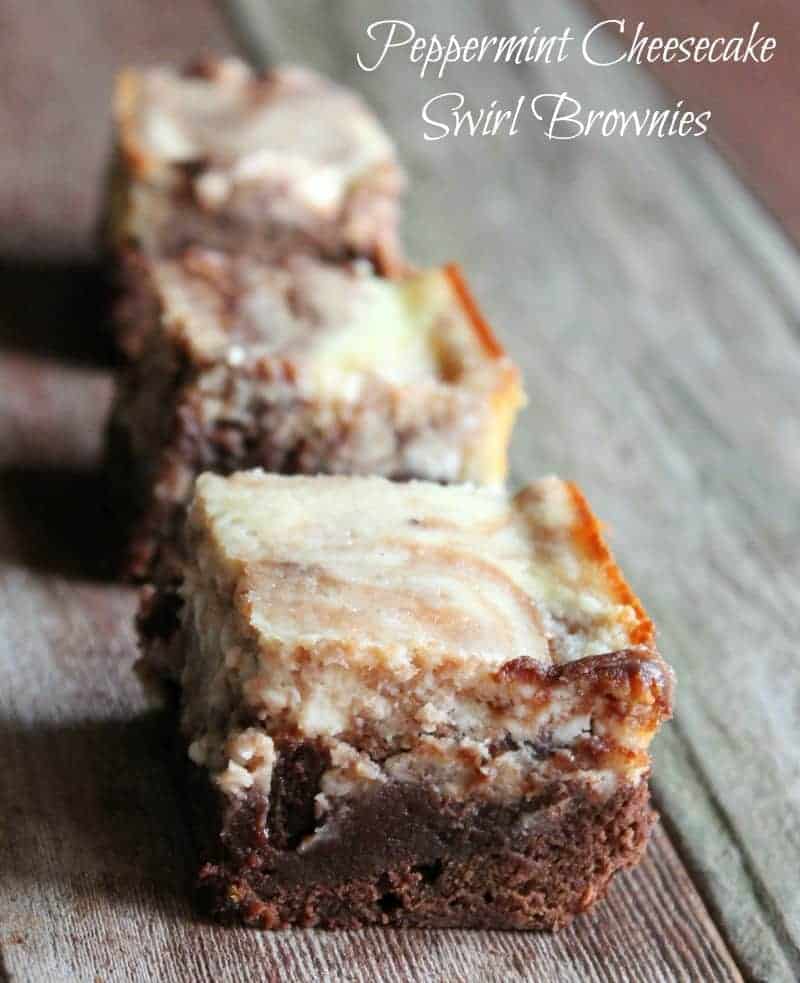 I think I am going to make brownies. No, I want to make cheesecake. But I am in the mood for brownies. But I am also in the mood for cheesecake. What is a girl to do? If you find yourself in this delicious dilemma then try making this new Peppermint Cheesecake Swirl Brownie recipe. I found the original recipe in my Cooking Light Way to Bake Cookbook and adapted it slightly.
This recipe takes two of my favorite desserts and combines it into one rich sinful bite of "oh my god did I just eat that?" Sooo good. I also love the hint of peppermint in the cheesecake layer. Gives it a festive twist.
Just like with my Chocolate Peppermint Layered Brownies this recipe is a little more high maintenance than what I usually make. I get kind of nervous when I need to swirl things and prepare more than one layer. But I have been feeling extra confident with my cooking lately and wanted to push myself out of my comfort zone a bit. The only way to advance with anything in life is to try something new.
These Peppermint Cheesecake Swirl Brownies are quite easy to make. All you need to do is make the brownie layer, save ½ cup of the batter, then pour remaining batter into an 8-inch pan. I only have an 8- inch pan. If you use a 9-inch pan then you will have to reduce your cooking time a little. Then make the cheesecake batter, pour that on top of the brownie batter, drop the leftover brownie batter on to the cheesecake batter, and then swirl your little heart out. Don't be shy with the swirling. At first, I was a little worried because the brownie batter is so much thicker than the cheesecake batter. However, once you start swirling it all starts to blend together nicely. Almost, like they were meant to be.
After the swirling is complete bake it in the oven for about 31 minutes or until the cheesecake is set. If you use a 9-inch pan you might only need about 26 minutes. Keep an eye on it because you don't want it to overcook. After it is done, let it cool in the pan on a wire rack. Then place in the refrigerator for a couple hours or overnight for the cheesecake to completely set.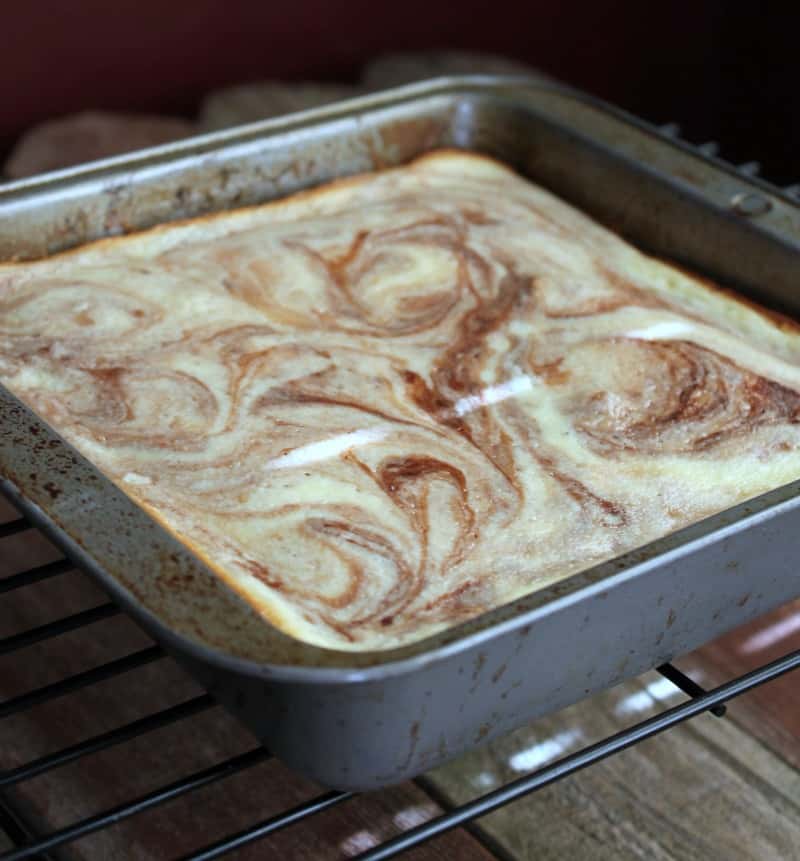 Each serving is 210 calories and 6 weight watchers points.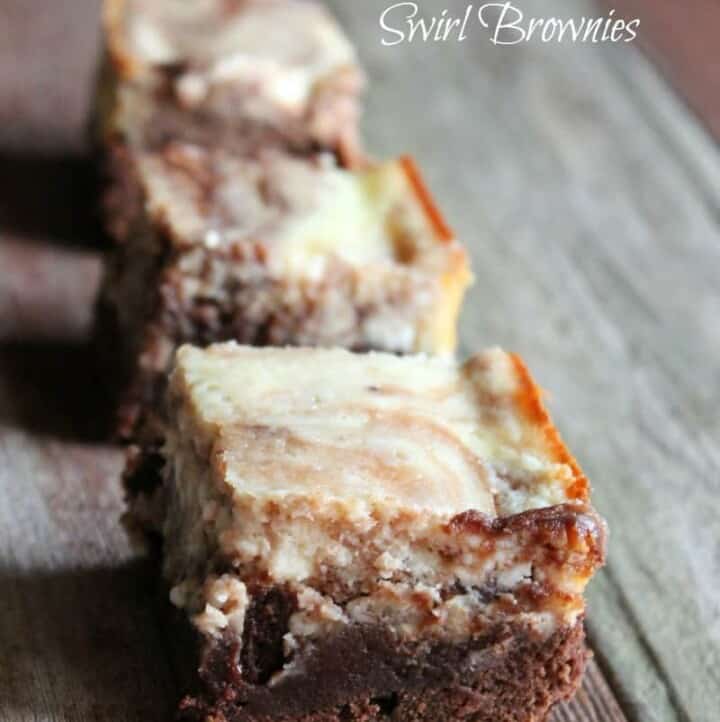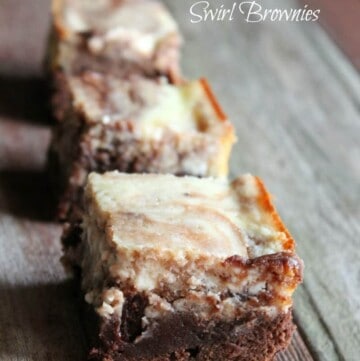 Ingredients
Brownie batter

1

cup

flour

½

cup

unsweetened cocoa

½

teaspoon

salt

1 ½

cups

packed brown sugar

¼

cup

melted coconut oil

you can also use canola or vegetable oil

¼

cup

buttermilk

2

teaspoons

vanilla

2

eggs

beaten

Cheesecake layer

1

8 ounce block cream cheese, softened

1/3

cup

granulated sugar

¼

teaspoon

peppermint extract

1

egg

1

egg white

1

tablespoon

flour
Instructions
Preheat oven to 350 degrees

In a medium bowl, whisk together flour, unsweetened cocoa, salt, and brown sugar.

Stir in coconut oil, buttermilk, vanilla, and eggs. Stir until everything is combined. Reserve ½ cup of the brownie batter.

Pour the rest of the batter into an 8-inch square-baking dish coated with cooking spray.

For the cheese cake batter place the cream cheese, sugar, peppermint extract, egg, and egg white into a medium bowl. Beat with a hand mixer, at medium speed, until smooth. Add flour and beat on low until combined.

Pour cheesecake batter over the brownie batter, spread evenly to the edges. Dot the cheesecake batter with the reserved brownie batter. Using a butter knife swirl the brownie batter into the cheesecake batter.

Bake for 31 minutes or until the cheesecake is set in the middle. Again, if you are using a 9-inch pan you might need to reduce cooking time.

Let cool in the pan on a wire rack. Then place in the refrigerator for a couple hours or overnight. Cut into 16 squares.
Notes
Make ahead tips
For best results make this recipe 1 to 2 days ahead of time.
Nutrition
Serving:
1
g
|
Calories:
210
kcal
|
Carbohydrates:
21
g
|
Protein:
3
g
|
Fat:
9
g
|
Fiber:
1
g
|
Sugar:
6
g