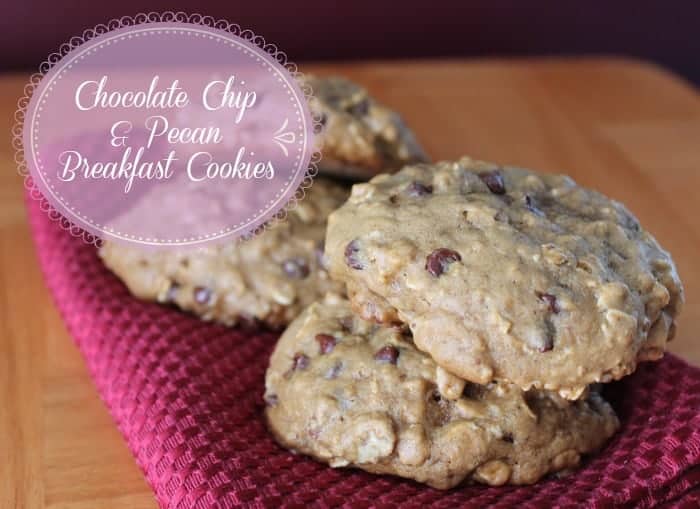 Let's talk about breakfast cookies. I first came across breakfast cookies a few years ago when I saw them on the shelves at my grocery store. The two brands that I bought were Kashi and Quaker Oats. Both were good but…expensive and of course filled with ingredients I could not say. Then 2 years ago I made a breakfast cookie recipe I found from Cooking Light and I never bought a box from the store again.
The only issue with breakfast cookies is…well..they are cookies. And just like with all cookies it is hard to practice self control when faced with…well…cookies. Also, I prefer to eat things like steel cut oats, eggs, or smoothies for breakfast. I feel more satisfied. However, I do like to have breakfast cookies on hand for mornings that I don't even have time to warm something up in the microwave. They also work nicely for mid morning and after school snacks. Therefore, breakfast cookies serve their purpose but be careful because well…they are cookies.
What makes a breakfast cookie different from a regular cookie? With the way I make them the difference is I always use white whole wheat or whole wheat flour, oats or bran, and reduced sugar. If I have it available I will also throw in ground flaxmeal. For add ins I typically use just raw nuts and of course chocolate chips. I guess you could leave the chocolate chip out but then would it even be considered a cookie? Also, you could use dried fruit but for some reason my kids are not dried fruit fans. Because of all these factors the texture of a breakfast cookie is much more scone like than cookie like. Another difference is in the size. Breakfast cookies, because their meant to eat like a meal, are bigger than regular cookies. Regular cookie batter is measure out using a teaspoon or tablespoon, breakfast cookies us a ¼ cup.
For this recipe, I originally had every intention to make the fig and nut breakfast cookies I usually make. However, I forgot to buy figs, almonds, and bran. Considering those are key ingredients to the recipe I needed to get creative. I had rolled oats, pecans, and mini chocolate chips available. Perfect! That is what I used and they turned out delicious. Better than the original.
I ended up tripling the recipe because I made these to stock my freezer for back to school. I figured I would give you the large batch recipe because 1 batch only makes 10 cookies and with a family of 4 that does not last very long. I should also mention that it is easy to make these cookies bigger than they are supposed to be so try to measure out as accurately as possible.
After these cook make sure you freeze right away. If not, I guarantee these cookies will not last long – meaning you will eat all of them.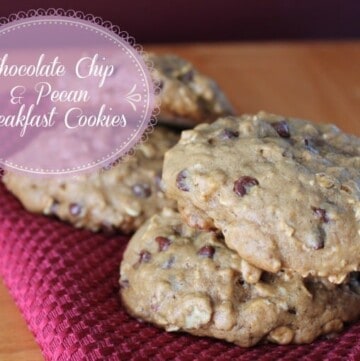 Ingredients
3

cups

white whole wheat flour

1 1/2

cups

rolled oats

1 1/2

teaspoon

baking soda

1

teaspoon

ground cinnamon

1/2

teaspoon

salt

1 1/2

sticks unsalted butter

softened

1 1/4

cup

Sucanat sugar or brown sugar

1

tablespoon

pure vanilla extract

6

large eggs

1

cups

chopped pecans

1

cup

mini chocolate chips
Instructions
Preheat oven to 350 degrees.

In a large bowl mix together the flour, oats, baking soda, cinnamon, and salt. Set aside.

In your mixer or using a hand mixer cream together butter and sugar in a large bowl. Add in vanilla extract and eggs one at a time.

Slowly add flour mixture in 1/2 cup at a time.

Stir in pecans and chocolate chips.

Using a 1/4 cup, drop cookie dough onto lightly sprayed cookie sheet. Using your hands shape and slightly flatten the cookie dough down.

Bake for 11 - 13 minutes. *Mine cooked perfectly at 12 minutes. Don't overcook because these taste better a little chewy.

Let cool for 5 minutes on cookie sheet then move to wire rack to finish cooling.
Notes
Make Ahead Instructions
These cookies freeze perfectly. After they cool, wrap in plastic wrap, then place in large freezer bag and label. To thaw take out and place on the counter for 1/2 hour or so.
Nutrition
Serving:
1
g
|
Calories:
205
kcal
|
Carbohydrates:
24
g
|
Protein:
4
g
|
Fat:
11
g
|
Fiber:
2
g
|
Sugar:
6
g