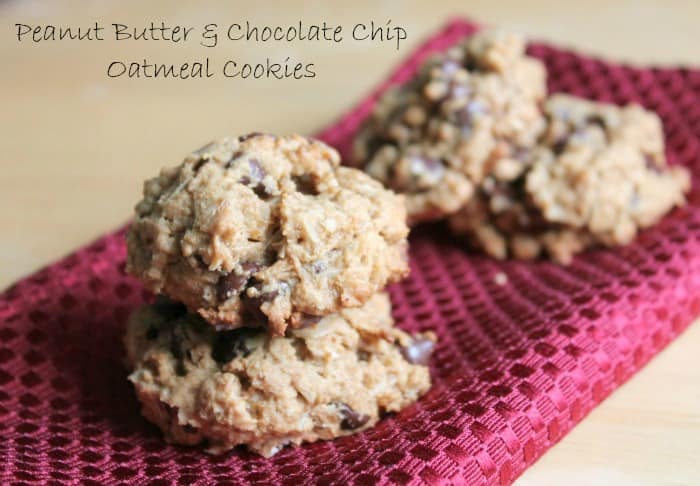 There is something so relaxing and comforting about baking cookies. I don't make cookies often because if I make them them I will eat them – all of them. Honestly, when it comes to baked goods (and cheez its) I really have no will power. Believe me I have tried but I am just better off not having them in the house.
Keeping cookies out of my house is not always an option. Why? Because my kids are kids and they want cookies darn it. So does my husband – who I think most wives would agree can count as a third child 😉 Anyway, this makes me out numbered. And because my husband has money and a car (unlike my 2 other kids) if I do not make them he will go to the store and buy the jumbo, double stuffed, dipped in chocolate cookies. Yeah you know the kind. So instead of depriving (yes they would feel deprived) my loved ones of beloved cookies I will make a batch when the begging becomes no longer bearable.
This time around I opted to make Peanut Butter Chocolate Chip Oatmeal cookies. Now they are not double stuffed or chocolate dipped but these hearty cookies are good and will easily satisfy your cookie craving. In fact, you can leave some of the guilt behind because these cookies are made with lots of wholesome goodness. For starters, there is no white flour only white whole grain flour and rolled oats. Second, I used real peanut butter and instead of white sugar I used sucanat. Just in case you are wondering Sucanat is an unrefined sugar. It is still sugar but it just has not been processed like the white stuff. Katie from Kitchen Stewardship does a really nice job explaining Sucanat so head over there if you would like to read more.
This was my first time using sucanat and I have to say I was really happy with the results. The taste has more of a brown sugar than white sugar taste and I felt it went nicely with cookies. I can see this sugar working with bake goods that would include brown sugar and warm flavors like cinnamon and nutmeg. Do use sucanat? What is your experience?
Now for the results. I thought the cookies were great but the real question is what did my family think – because at the end of the day if they don't like something then most likely it will not be made again nor make it onto this blog. Well my kids and hubby loved them!! I popped a couple in Matt's lunch every day and the kids enjoyed eating 1 (or 2) for an after school snack. These cookies are definitely a keeper.
I was able to get about 30 cookies out of this batch which brought the calories to 138 each. Next time I will make them a little smaller so I can get the calories under 100 😉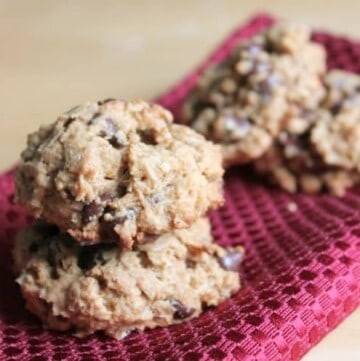 Ingredients
1

stick unsalted butter

softened

½

cup

natural creamy peanut butter

1

cup

sucanat

2

eggs

1

teaspoon

vanilla

1 ¼

cups

white whole wheat flour

1

teaspoon

baking powder

½

teaspoon

baking soda

2

cups

rolled oats

9

ounces

semi-sweet chocolate chips

about 1 cup
Instructions
Preheat oven to 375.

In a large bowl cream together butter, peanut butter, and sucanat.

Add in eggs, one at a time, blending together after each one.

Add in vanilla.

In a separate bowl mix together flour, baking powder, and baking soda. Add flour mixture slowly to the wet mixture.

Slowly stir in rolled oats then chocolate chips.

Drop cookies by the tablespoon about 1 inch apart. Bake for 10 minutes. You do not want to over bake these cookies because they will dry out.

Let cool for 1-2 minutes on the pan then place cookies on wire rack to finish cooling.
Nutrition
Calories:
138
kcal
|
Carbohydrates:
16
g
|
Protein:
3
g
|
Fat:
8
g
|
Fiber:
1
g
|
Sugar:
4
g