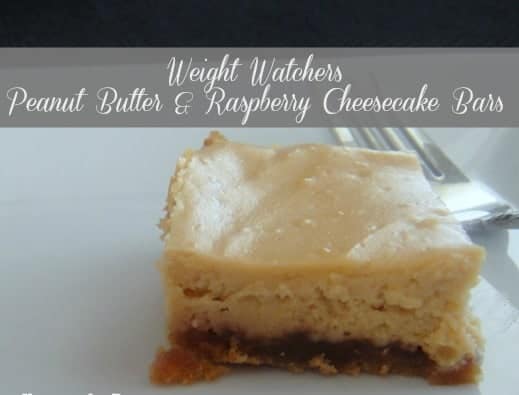 I know you are thinking "Tammy, seriously I am trying to eat healthy and you are posting about cheesecake bars?" This is the thing; desserts (even cheesecake) can be part of healthy diet and weight loss plan. I think it is important to understand just because you are trying to lose weight does not mean you have to deprive yourself of the foods you enjoy and love. In fact, fitting in dessert or other snacks regularly, and in moderation, can actually help you lose weight. The reason being, you don't feel deprive or that you are sacrificing so you are less likely to binge and get off track. As long as you keep track of what you are eating and hold yourself accountable you can enjoy many, if not all, of the foods, you thought you would have to give up.
Let's get to the cheesecake.
This recipe is adapted from the 2003 Weight Watchers Annual Recipes for Success
 cookbook. You see even Weight Watchers understands we want cheesecake. I used raspberry all fruit spread but you can use whatever you have on hand.
These Peanut Butter and Raspberry Cheesecake Bars are deliciously sinful tasting. They are rich and creamy just like a cheesecake should taste. However, each bar is only 138 calories so you can easily fit one in to enjoy after a nice dinner.
Enjoy!

Peanut Butter and Raspberry Cheesecake Bars
Author:
Organize Yourself Skinny
Ingredients
22 vanilla wafers (I used Country Choice Organic Vanilla Wafers Snacking Cookies)
3 tablespoons unsalted butter, melted
1 teaspoon sugar
Cooking spray
1 (8-ounce block) low fat cream cheese (also called Neufchatel), softened
¼ cup creamy natural peanut butter, room temperature
⅓ cup sugar
1 large egg
1 teaspoon pure vanilla extract
¼ cup all natural raspberry fruit spread
Instructions
Preheat oven to 350 degrees
Add the vanilla wafers and 1 teaspoon sugar to a food processor and pulse until ground. Add in the butter and pulse until well combined.
Press vanilla wafer mixture into an 8 x 8 baking pan sprayed with cooking spray. This part is a little tricky. It helps to keep a little dish of water next to you to dip your fingers in while working the crust into the pan. Bake for 6-8 minutes or until the crust is slightly brown on the edges. Set aside.
In a large bowl, beat the cream cheese and peanut butter, with a hand mixer, until smooth and creamy. Add the sugar, egg, and vanilla. Continue to beat well until combined. The mixture will look silky and very creamy.
Spread raspberry fruit spread evenly over the crust. This part is also a little tricky. I used my hands a little bit to work the spread to the edges.
Pour and spread cream cheese mixture evenly over fruit spread.
Bake for 20 minutes or until cheesecake is just about set. Let it cool for 30 – 40 minutes on the counter then cover and put it in the refrigerator to chill for 2- 3 hours before serving.
Nutrition Information
Serving size:
1 square
Calories:
138
Fat:
8
Carbohydrates:
14
WW Points +:
4
Fiber:
0
Protein:
2
Get Instant Access to My Best Weight Loss Tips & Strategies!
Sign up now for a free step-by-step 7-day email course that I created exclusively for my email subscribers! That's you. I will teach the best habits, strategies, and insider tips so you can enjoy a lifestyle that encourages and supports weight loss! Stop relying on willpower and take control back over your life! You can do this. Let me help!