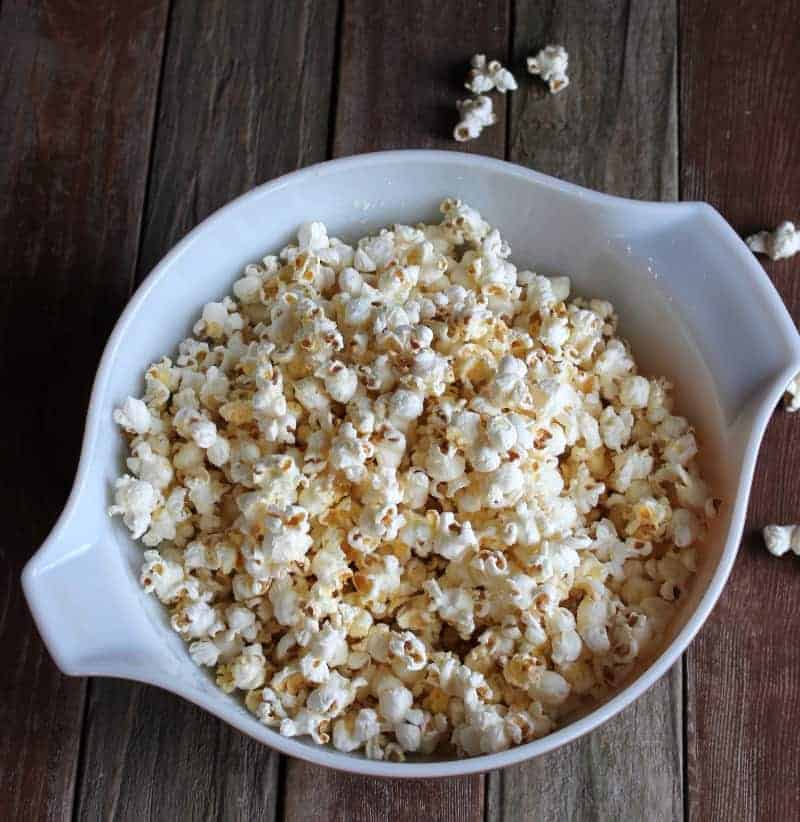 Compensation for this post was provided by Unilever via AOL Media. The opinions expressed herein are those of the author and are not indicative of the opinions or positions of Unilever or AOL.
Cheesy popcorn is something that holds a special place in my heart – white cheddar popcorn from a bag to be exact. This was one of my pregnancy craving snacks. I loved it and could eat a whole bag for lunch without any shame, regret, or the need to justify. Nope…I was pregnant and if I wanted to eat a large "family size" bag of popcorn then I was going to eat it. If someone tried to stop me or offer me "when I was pregnant" advice, well, then they would have to deal with the repercussions of taking food away from a pregnant lady. Just saying…I loved my popcorn.
Of course, today I know better and most of the time I do better. Instead of eating popcorn out of a bag, I make my own. It takes more effort but, in my opinion, it tastes better. Plus, one of my "treat" rules is if I want the treat badly enough, then I need to make it instead of buy it. Make sense? It's easy to go to the store and buy a bag of cookies. However, if I take the time to make cookies, then I regain control over the urge for instant cookie gratification and I also control the ingredients. In the end, I still get my cookie and everyone is happy.
Let's get back to the popcorn.
Besides white cheddar popcorn, I used to LOVE extra extra butter popcorn. You know, the microwave kind where you can take a spoon and scrape out the delicious butter from the sides when done. Did I just admit to that? Hey, if I don't acknowledge the past, how can I create nutritious changes moving forward? That's right, let's learn from our "did I really do that" eating habits. It makes us better.
Well just because I don't eat white cheddar popcorn or extra extra butter microwave popcorn anymore, does not mean I don't crave it. Of course I do. But just like with cookies, if I want it badly enough, I will make it myself.
Homemade popcorn is actually a nutritious snack. I cook the popcorn kernels right on the stove in peanut or olive oil. Both oils provide good fats which are a source of energy. I used to shy away from good fats before I knew they were good fats. But now that I know better, I try to incorporate good fats everyday.
For example, I eat almonds for snacks almost daily. These are packed with good fats, fiber, and protein.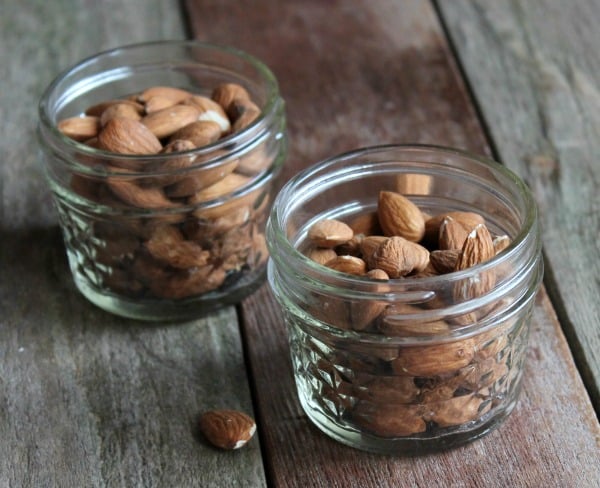 I am also a huge avocado fan, which provides good fat- monounsaturated fat. I use avocado in a variety of ways. Sometimes I throw them in a smoothie and other times I mash it up with a little salsa and lime and eat with crackers. Delish!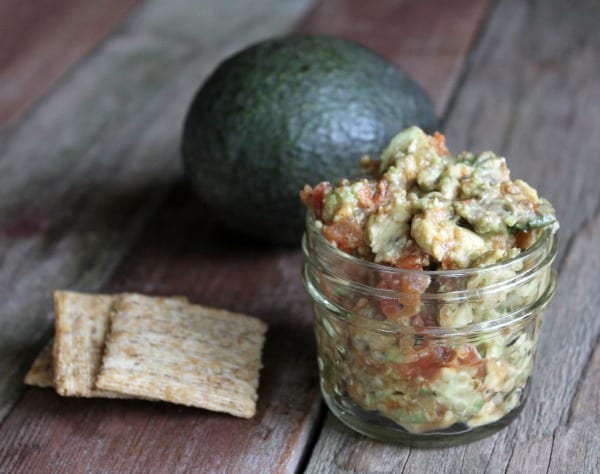 Back to my popcorn…
After it was cooked, I poured the popcorn into a bowl. Then I melted a couple tablespoons of I Can't Believe It's Not Butter buttery spread and tossed it in with the popcorn. Then I sprinkled a mix of some grated Parmesan cheese and granulated garlic on top. Oh mama, this was so good. It seriously tasted like white cheddar popcorn. My entire family loved it! If you want to leave off the cheese for a lighter option and just use garlic, you will still have a tasty popcorn treat.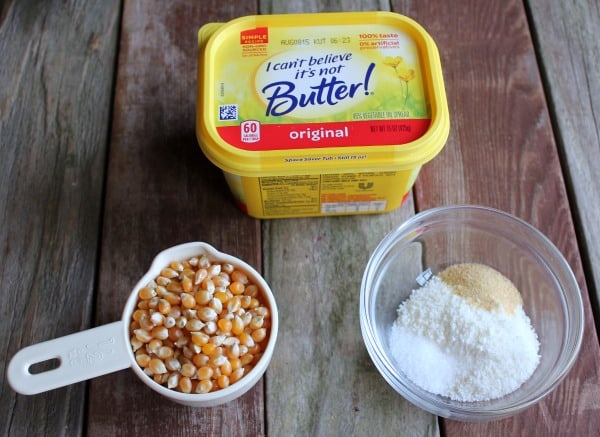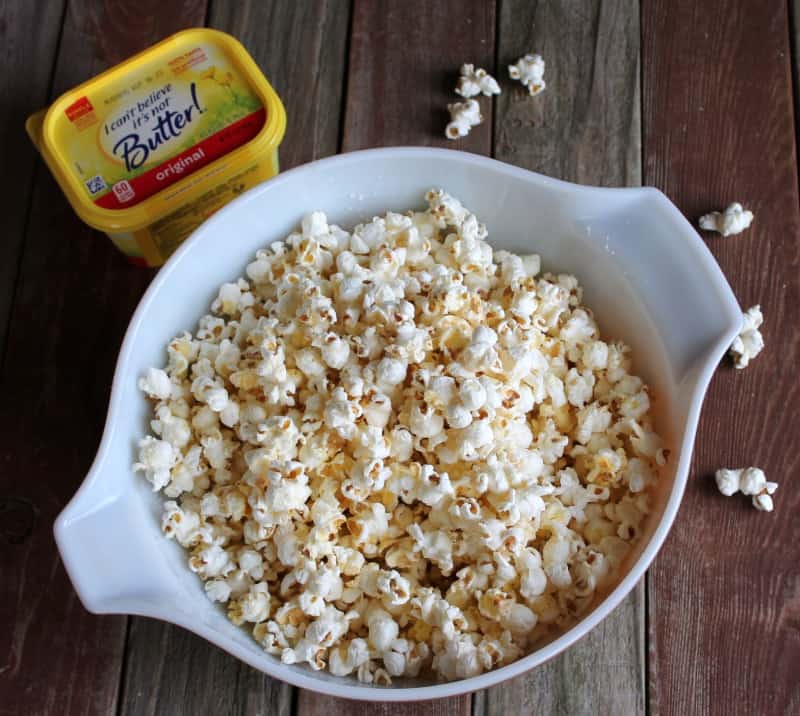 Did you know I Can't Believe It's Not Butter buttery spread is made with delicious plant-based oils? I was not aware of this before, but I am now. They created a new recipe that uses simple non-GMO sourced ingredients.* I know this is important to me as it is to many of you too. I like to have options with my foods and when a company decides to listen to what people want and make their recipes better based on that information, then that gives us more options.
My Parmesan garlic popcorn had all the fresh butter taste but without all the saturated fat and calories. I Can't Believe It's Not Butter has 70% less saturated fat than butter, 40% fewer calories, 0g trans fat per serving, and 0% artificial preservatives.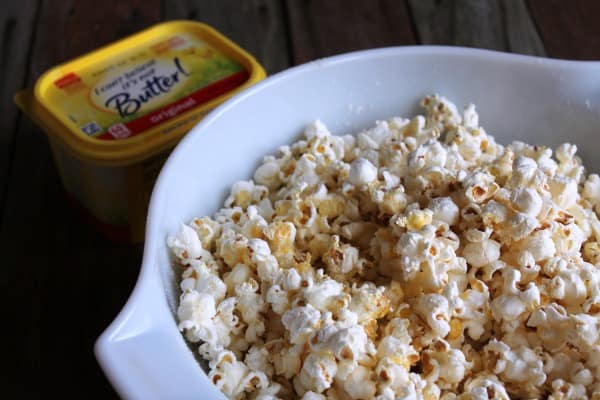 I thought it tasted great on my popcorn and I even spread some on my toast in the morning. Personally, I think this is a great option for someone that enjoys butter but for whatever reason prefers not to consume animal products or wants to easily increase the amount of good fats in their diet.
You can learn more about good fats and find more delicious good fats recipes on http://www.icantbelieveitsnotbutter.com/.
For more recipe ideas please see this great recipe round up.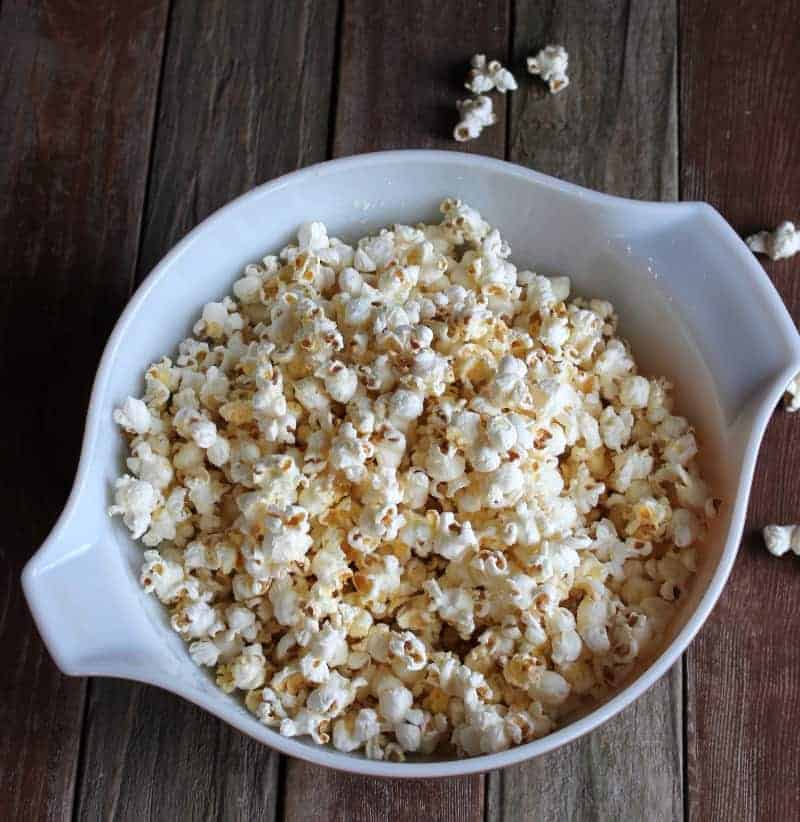 Ingredients
½

cup

popcorn kernels

¼

cup

peanut or olive oil

2

tablespoons

I Can Believe It's Not Butter

melted

2

tablespoons

grated Parmesan cheese

1

teaspoon

granulated garlic

½

teaspoon

salt
Instructions
Heat the oil in a large pot covered with a clear lid. Place one kernel in the pot as it heats. When that kernel pops carefully pour in the rest of the kernels. Give the pot a couple shakes as it cooks. The popcorn with pop quickly so keep an eye on it. After the kernels pop pour the popcorn into a large bowl. Drizzle the melted I Can't Believe It's Not Butter on top. Mix together the Parmesan, granulated garlic, and salt. Sprinkle and toss it together with the popcorn. Enjoy.
Please note..
"One serving (1 Tbsp.) of I can contains 295mg of omega-3 ALA, which is 18% of the 1.6g daily value for ALA"
"One serving (1 Tbsp.) contains 2400mg of omega-6 LA, which is 14% of the 17g daily value for LA"
"I Can't Believe It's Not Butter! sources ingredients that are not genetically modified. However, in the field-to-tub journey of making our buttery spread there is some contact with genetically modified vegetable oils, resulting in a small amount in this product."
Compensation for this post was provided by Unilever via AOL Media. The opinions expressed herein are those of the author and are not indicative of the opinions or positions of Unilever or AOL.