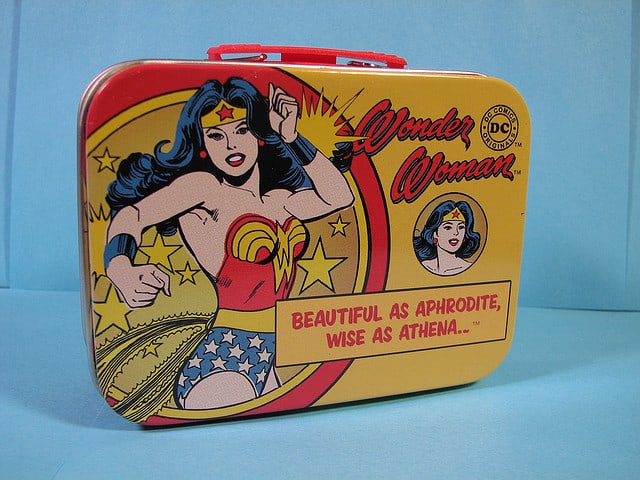 I work in a school, so if I don't pack my lunch, I would be stuck eating the "Wildcat porkchop." Even if your lunch-buying options are not as abysmal as mine, there are so many health benefits to packing your own lunch versus buying. You know all of the ingredients that are going into your food, and you can control the amount of salt, sugar and fat you are eating. Yes, it does take time, but by doing a little bit of weekend preparation, you can easily be eating delicious, healthy lunches all week, and saving money on top of it all.
Stocking up
When you grocery shop, stock up on some basic staples that will make it easy to create weekly lunches. Here are the items needed for my week-long suggestions below:
boneless, skinless chicken breast
ground turkey breast
frozen peas
salmon pouches
canned garbanzo beans
feta cheese
whole wheat hamburger buns
whole wheat pita bread
Greek yogurt
low-fat cheese sticks
low-fat cottage cheese
fruit that requires no prep and holds up in packing – apples, pears, grapes
veggies – bell peppers, baby carrots, broccoli, cucumbers, tomatoes
avocado
hummus
dark chocolate squares
Healthy Choice frozen meal
Weekend Prep
Carve out some time on the weekend when you can do these preparation steps. Then during the week, all you have to do is pop everything in your lunch bag.
Make a batch of turkey burgers. I really don't have a "recipe" for these. I just mix the ground turkey breast, a small amount of whole wheat panko bread crumbs, a little splash of egg substitute and then season to taste. My choices are black pepper, salt, garlic powder, grated Parmesan and fresh chopped parsley. Form them into burgers and cook on a grill pan for 5 minutes on each side. Once they are cooled, wrap each individually in plastic wrap and then put them all in a large freezer bag.
Bake a few chicken breasts seasoned with salt and pepper. Once they are cooled, wrap each individually in plastic wrap and then put them all in a large freezer bag. You can use these for the lunch ideas, but also to throw a quick dinner together (bonus!).
Make a batch of whole wheat cous cous. Simply follow the 5-minute directions on the box and store in an air-tight container in the refrigerator. Just like the chicken, you can use this for the lunch ideas, but also for side dishes for dinner.
Cut up veggies, such as bell pepper strips, broccoli florets, and carrot sticks.
Suggested lunch plan for the week:
Monday – Mix a salmon pouch with 1/2 cup of cous cous and 1/3 cup frozen peas. Season with black pepper. This may sound like a strange combination, but it is delicious and full of protein. Enjoy with carrot sticks dipped in Ranch dressing, an apple, and a Greek yogurt.
Tuesday – Have a turkey burger on a whole wheat bun with lettuce, tomato and sliced avocado. Add red bell pepper strips dipped in hummus, grapes and a low-fat cheese stick and you will be satisfied.
Wednesday – Chop half of a chicken breast and mix with a little lite mayo, lemon juice, salt and pepper. I sometimes add chopped celery for crunch and Craisins for chewiness. Stuff into a whole wheat pita. Enjoy with broccoli florets dipped in Ranch dressing, a pear and Greek yogurt.
Thursday – Mix 1/2 cup of the whole wheat cous cous with half of a chopped chicken breast, chopped cucumber, chopped tomatoes, 1/3 cup of garbanzo beans and 1/4 cup feta cheese. Season with salt and pepper and drizzle with olive oil. Enjoy with carrot sticks dipped in hummus, a banana and 1/3 cup low-fat cottage cheese.
Friday – This one is easy – have a frozen Healthy Choice meal. I love the Café Steamers. You can add some cut up veggies and a piece of fruit to round it out.
Finally, always, ALWAYS end your lunch with a small treat. For me it's a square of Dove dark chocolate. I hold it in my mouth for a minute and enjoy the rich taste. It's like a little reward for working hard all day. Even better, Dove wrappers have those uplifting little messages inside that just make your day!
What are some of your favorite lunch ideas?
Get Instant Access to My Best Weight Loss Tips & Strategies!
Sign up now for a free step-by-step 7-day email course that I created exclusively for my email subscribers! That's you. I will teach the best habits, strategies, and insider tips so you can enjoy a lifestyle that encourages and supports weight loss! Stop relying on willpower and take control back over your life! You can do this. Let me help!