My daughter is five.  Which means she thinks she has an opinion.  Which also means she thinks she knows what is good for her.  It is my never ending, tireless battle to convince her otherwise.  During a conversation amongst friends, at work, I shared that my daughter is the pickiest eater and refuses to consider anything remotely healthy in her diet.  My parenting skills consist of bribery and sneak attacks.    And I am not ashamed to say, I am ok with that.  Someday, I just know my daughter is going to thank me for all my trickery as I have the best of intentions.  Today is not that day.  So today, I will continue to turn to my sneak attacks.   
After that conversation I had at work, a friend lent me "Deceptively Delicious" by Jessica Seinfeld.  She uses every day run of the mill recipes that can be found in all of our recipe repertories and amps them up by slyly using common fruits and veggies as the basis for each recipe.  In this cookbook, Jessica also explains how to get started with stocking your freezer with fruit and vegetable purees.  At the stage I am at in my life, being a mom of a five year old, I find this cookbook to be the most helpful of all helpfuls in a ginormous selection of cookbooks.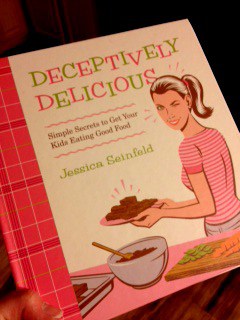 To test out my theory that this cookbook is the most inventiveness of its kind, I was inspired by her Quesadilla recipe.  I did tweak it a bit to make the prep fit my busy lifestyle.
Deceptively Delicious Quesadillas
Dash of olive oil
½ lb of boneless, skinless chicken breast
½ tsp salt
1/8 tsp pepper
1/8 tsp chili pepper
2 tablespoons hummus
½ c. mashed butternut squash  (I used frozen)
½ c. shredded cheddar cheese
4-10 inch whole wheat tortillas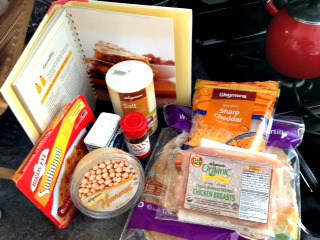 Preheat the oven to 400°F.  Line a cookie sheet with parchment paper.
In a small bowl, mix together salt, pepper and chili pepper.  Sprinkle on both sides of chicken.
Warm a large non-stick skillet on stovetop.  Add dash of olive oil.  Add chicken and cook until chicken is no longer pink.  (For chicken breast, typically, 5 minutes of each side, reduce heat to low, cover and cook for 9-10 minutes more)  Once chicken is cooked, remove from skillet and cut into slices.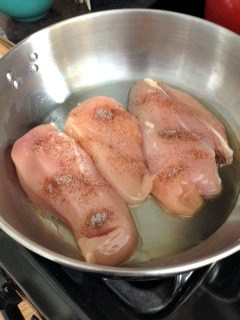 4. In another small bowl, mix together mashed butternut squash and shredded cheese.
5. Spread the hummus over two of the tortillas, place chicken on top of hummus.  On the other two tortillas, spread the mashed butternut squash and cheese mixture.  Place on top of the other two tortillas to form the quesadilla.  Place on cookie sheet and bake for 7-8 minutes or until edges of the quesadilla are browned.  Cut into wedges and serve!
As a last minute addition, I decided to serve these with a salsa/greek yogurt mixture.   I used a few spoonful's of salsa and mixed it with a dab of greek yogurt.  De-lish!!  One additional note, the quesadillas freeze great!  I wrapped each quesadilla individually in parchment paper and placed them in a freezer bag. When we had decided to eat them, I thawed them during the day and heated them in the oven on our pizza stone.
Finally.  A winner.  A bona-fide winner.  My daughter, the most fault finding critic of them all, enjoyed these!!  I am proud to claim this small success.  Now, the bigger debate, do I spill the beans and let her in on my little secrets?  Nah…it's way more fun this way!
Get Instant Access to My Best Weight Loss Tips & Strategies!
Sign up now for a free step-by-step 7-day email course that I created exclusively for my email subscribers! That's you. I will teach the best habits, strategies, and insider tips so you can enjoy a lifestyle that encourages and supports weight loss! Stop relying on willpower and take control back over your life! You can do this. Let me help!