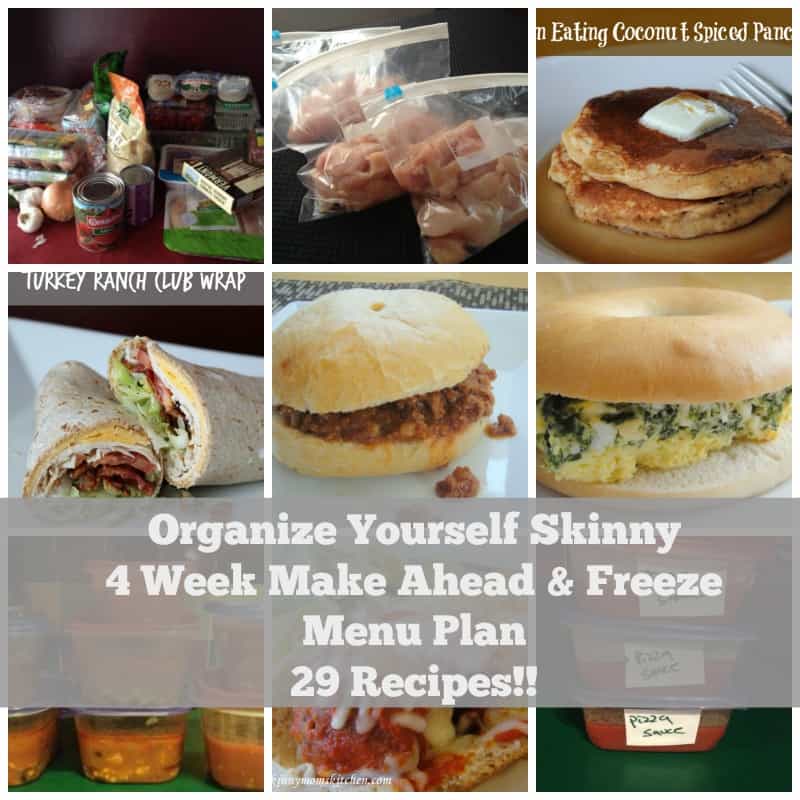 THIS MENU PLAN HAS BEEN RETIRED! But no worries a new one is coming very very soon!!!
In the past, when it came to planning out my meals, I frequently used the "fly by the seat of my pants" method – you know the method. Well, this "method" led me to eating lots of take out and prepackaged food which eventually resulted in an extra 50 pounds on my 5ft 3in frame. Not good.
I started menu planning and making ahead my meals over 2 years ago and I can honestly say these two methods completely changed my life. These methods help me become intentional with my foods and because of this I am now down 32 pounds. I still have another 18 pounds to go but I feel confident that it can be done with the systems I put in place.
Creating a menu plan is one of the first strategies I suggest to people when being asked for tips on eating healthy and losing weight. A menu plan essentially organizes your meals and becomes a road map to the foods you are going to eat each week. This gives you better control over your portions, calories, and nutrition. Not to mention, it reduces the stress of figuring out what to eat every day.
Most menu plans available just provide you with recipes. While this works for some people I have found that for a menu plan to be functional and successful – especially for busy parents – it needs to provide information on prepping the recipes ahead of time. The Organize Yourself Skinny 4 Week Menu Plan does just that! I will provide you not only with delicious recipes but I will also give you the instructions to make each one of them ahead of time.
Even though you can find many recipes and simple menu plans on my blog Organize Yourself Skinny I know a lot of you want (and need) something more comprehensive and detailed. This is why I created a 4 week Make Ahead Menu Plan that completely walks you through the process. I feel that these menu plans are the next best thing to having me right alongside you in the kitchen.
Feedback from readers who purchased my menu plan:
"So I pretty much fell in love with your 4 Week Freezer Meal plan that I purchased over the weekend. I seriously DO NOT like to cook, but I totally enjoyed the process with your easy plan… don't I sound like a commercial? Ha! I was wondering if you were planning on making additional 4 week plans? I love the easy shopping list and directions and the ENTIRE thing!!!!
Plus my family loved the meals and my fat pants are giving a huge sigh of relief!" 
— Deedee from Mrs. Wills Kindergarten
Here is what you can expect with my 4 week make ahead menu plans:
4 weeks of family friendly recipes, nutritional information, grocery lists, and tips and suggestions for making ahead each of the menu plans. Each week has 1 breakfast recipe, 1 lunch recipe, and 5 dinner recipes. This keeps preparation simple and also leaves room for flexibility, changes, and your family favorite recipes.
Make ahead instructions for individual recipes along with instructions to prepare the entire menu ahead of time.
Recipes include wholesome, delicious, and minimally (if at all) processed ingredients.
All of the recipes, in this menu plan, I have personally used (and continue to use) to lose weight and sustain my weight loss. I feel very strongly that to succeed in a healthy lifestyle we need to eat foods we enjoy – feeling deprived is not of this menu plan.
I have originally created these menu plans for my own family to use. Therefore, they will feed a family of 4 comfortably. Recipes can be adapted to meet the size of your family.
Additional menu planning and make ahead tips, snack ideas, and weight loss tips are included.
Purchase the 4 week Make Ahead and Freeze Menu Plan now for $6.97

Recipes included in this menu plan are:
Breakfast
Spinach and Feta Egg Sandwich
White Whole Wheat Pancakes *bonus recipe
Egg and Sausage Burritos
Chicken Sausage and Egg Sandwiches
Coconut Steel Cut Oats
Lunch
Mason Jar Cobb Salads
Mason Jar Balsamic Chicken Salad
Mason Jar Greek Salads
Turkey Ranch Club Wraps
Dinner
Double Batch Hamburger Mac n Cheeses
Spinach and Feta Stuffed Shells
Slow Cooker Sloppy Joes
Salsa Chicken Quesadillas
Homemade Pizza
Chicken "Fried" Rice
Meatball Subs
Black Bean and Rice Quesadillas
Cheeseburger Wraps
Greek Pizza
Tacos
Red Clam Sauce
BLT with Avocado Sandwiches
Leftover Taco Pizza
Turkey Bacon Cheeseburgers
Chicken and Spinach Alfredo Pita Pizza
Open Faced Chicken Salad Melts
Slow Cooker Beef Fajitas
Balsamic Vegetable Wraps
Slow Cooker Thai Pork
You get all of those recipes in this menu plan!
The Organize Yourself  Skinny 4 Week Make Ahead and Freeze Menu Plan is priced at $6.97 which equals to .25 a recipe! I am so excited to offer these to you because I know this menu plan will make a huge difference in helping you organize and create a healthier lifestyle for you and your family!
**After you complete your purchase you will be emailed a link to download the Organize Yourself Skinny Make Ahead and Freeze Menu Plan. Make sure to check you spam or junk mail box if you don't see it right away. If you decide to pay with e-check please note that the menu plan will note be sent until the e-check clears which takes 3-5 business days. Email me with questions [email protected]
Get Instant Access to My Best Weight Loss Tips & Strategies!
Sign up now for a free step-by-step 7-day email course that I created exclusively for my email subscribers! That's you. I will teach the best habits, strategies, and insider tips so you can enjoy a lifestyle that encourages and supports weight loss! Stop relying on willpower and take control back over your life! You can do this. Let me help!