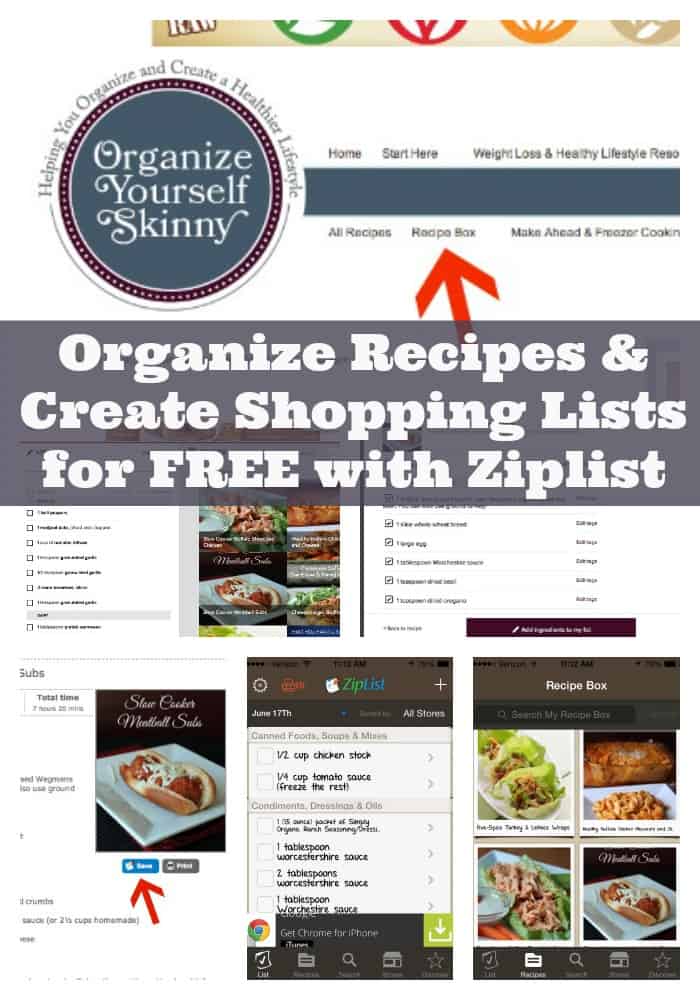 Weekly meal planning is essential to keeping my weight in check. When I take the time to plan out my meals I know what I am cooking for the week, ingredients I need to buy, and even when I will eat. Without this eating structure I most likely would end up grazing the refrigerator desperately looking for something to eat, then ordering a pizza when I came up short. Trust me, been there done that many times.
I must admit, even though I am fully aware that meal planning is important to losing weight; it is one of my least favorite things to do. It seems that the days fly by and before I know it I need to plan out AGAIN my food for the week. Sure pinning a bunch of recipes is fun and easy but actually planning to cook them is a whole different story. Sometimes I get motivated enough to create a few rotating menu plans but again that only lasts so long before my family and I want something different.
Well I have a recipe organizing solution that can help us all out. Have you heard of Ziplist? I am sure you have since millions of people use it. If not, let me explain. Ziplist is a FREE website and app that lets you save recipes from all over the web. Once those recipes are saved you can then create grocery lists from those recipes. You can choose to print off the lists or view from the Ziplist app on your phone. Seriously, this website is pretty amazing and a real game changer for those of us that dread the meal planning process.
I am proud to announce that Organize Yourself Skinny (OYS) now offers ZipList. YAY!!! You can now add the ingredients for any recipe from OYS to your shopping list with just one click. Or just save recipes that you know you want to make later to the ZipList recipe box.
Let me give you a quick tutorial.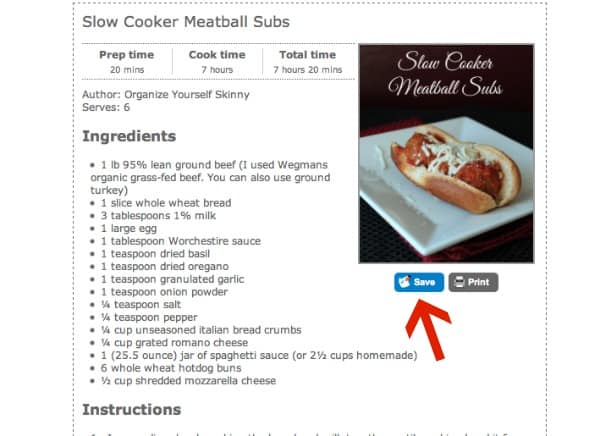 Pick a recipe. See that blue "save" button? When you click that button the recipe will be save into your Ziplist recipe box. If you have not signed up for Ziplist they will ask you to at that time.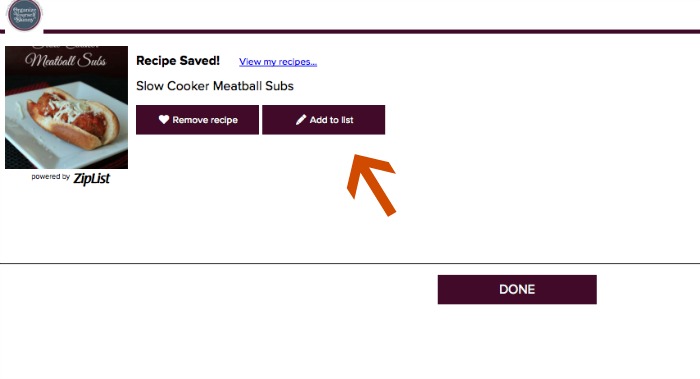 If you want make this recipe and need to purchase ingredients then click "add to list". This will automatically add all the recipe ingredients to your list. If not, just click done. Or if you added the wrong recipe, click remove recipe.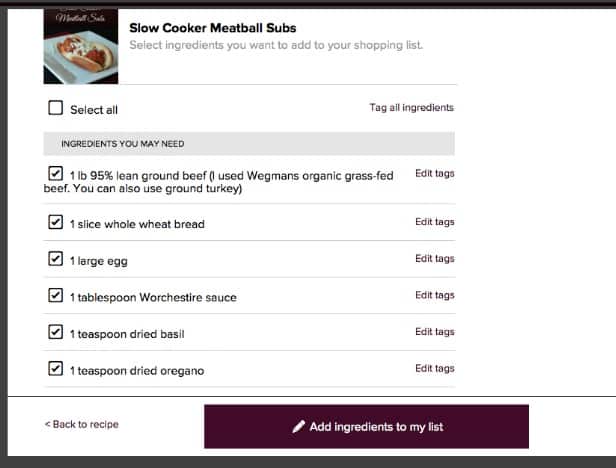 This is what it looks like after you click "add to list". At this time you can remove checks from any ingredient you already have.
This is what your full grocery list looks like. All your saved recipes are on the right.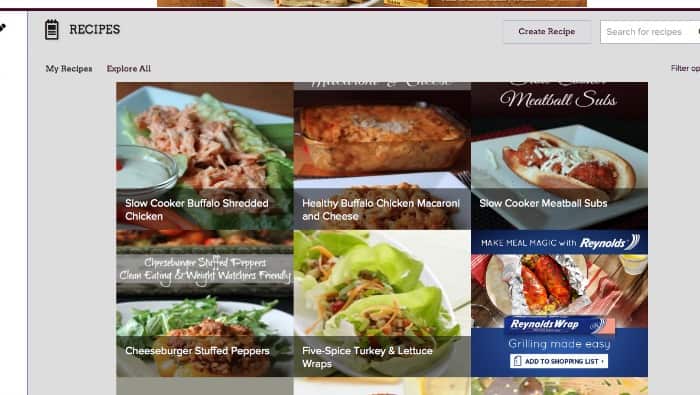 If you just want to view recipes then click on the list icon next to recipes and it will remove the shopping list. Don't worry the list comes right back by clicking the list icon again.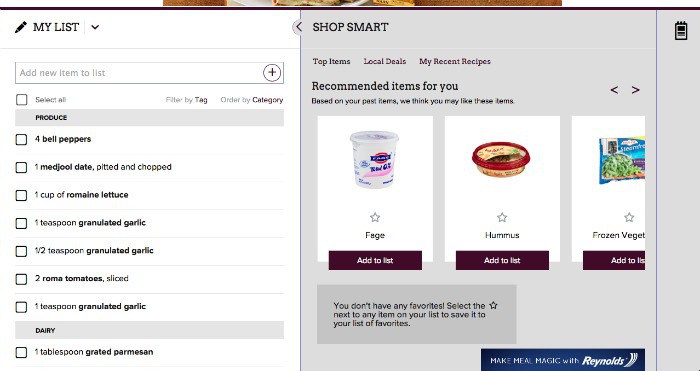 Ziplist also has a "shop smart" feature that recommends products you used in the past and even helps you find local deals. This is great for all us deal seeking ladies!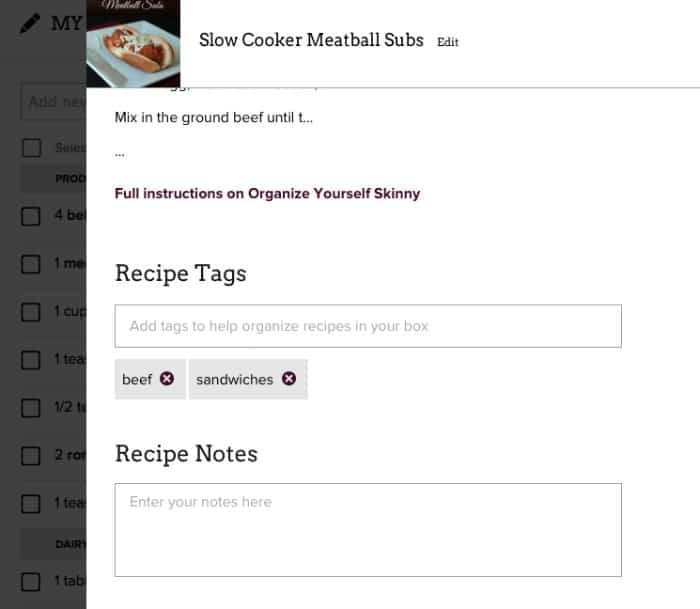 You can even tag recipes. This helps you to better organize the recipes you save better. For example, if you want to see all the green smoothie recipes you saved and you tagged them with "green smoothie" then you would be able to filter you recipe by tags. I can see this being very helpful for those with dietary restrictions or even people on weight watchers. If you tag each recipe you save by the weight watchers points just think how easy it will be to put together a quick weight watchers menu plan. Oh the possibilities!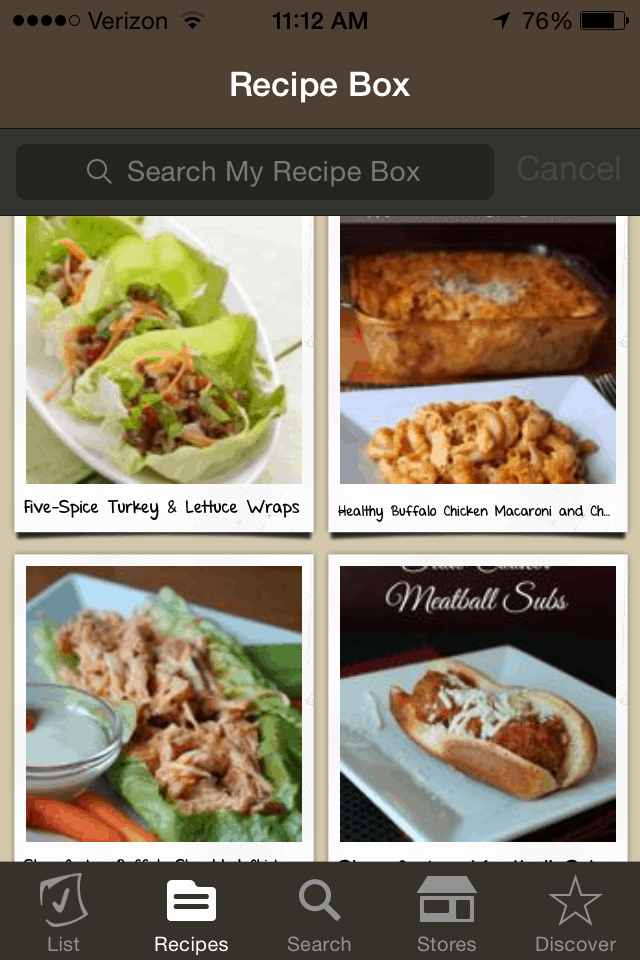 All the recipes you save can also be viewed on your iPhone  or Android apps.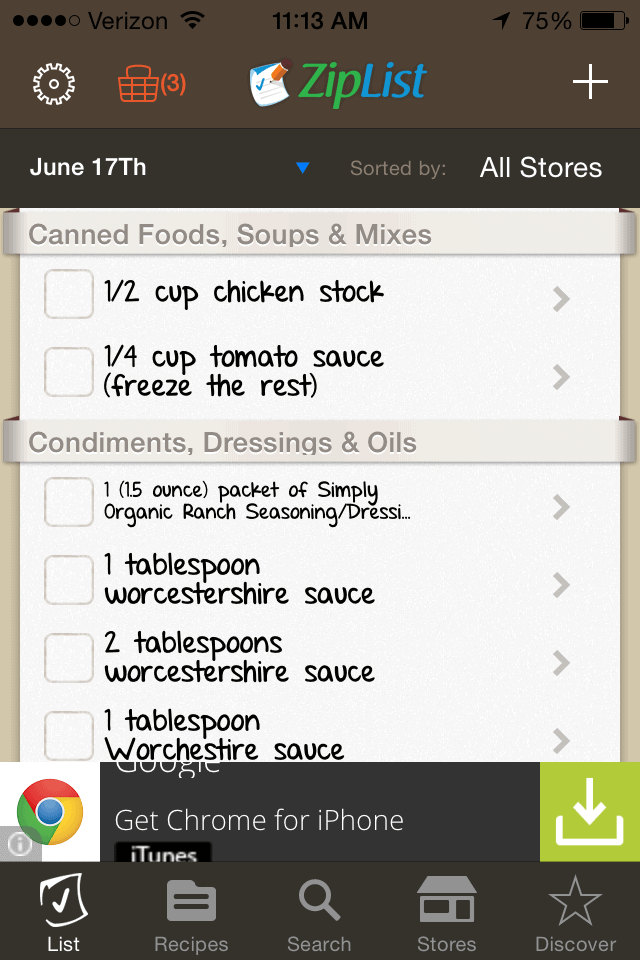 And my favorite feature is being able to view your shopping list right on your phone. So if you forget your printed out list at home (which I have done many times) no problem. Just get your phone out. I love that once you check an item it gets removed from the list and put into the "grocery bag" at the top. This is so helpful.

You can view your recipe box at any time by clicking the "recipe box" link in my menu bar. This will bring you right to ziplist and all your saved recipes.
I think Ziplist is a wonderful tool for organizing and simplifying the meal planning process. Again, it is completely free so I highly recommend at least giving it a shot and see if it would for you.
I would love to hear from some of you that use Ziplist? What has been your experience?