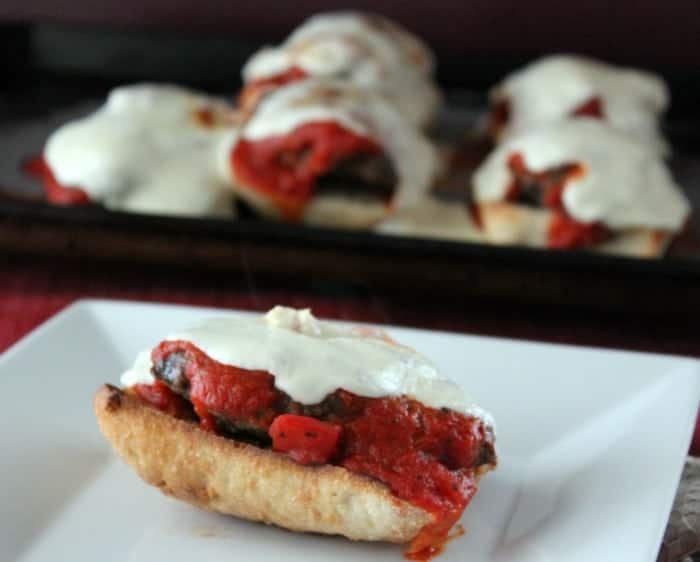 Believe it or not but I actually got the idea for this sandwich while watching Diners, Drive ins, and Dives. I know that show is so totally not Organize Yourself Skinny but….you have to admit the food looks awesome. Plus, one of the things that I like to do is create healthier versions of not so healthy favorites. So I get lots of inspirational watching Triple D. Yep, I know this makes my hubs very happy too.
What I like in particular about the meatball sandwich I saw on Triple D is the meatball was shaped into a patty instead of leaving in its usual round shape. This way it fits on the roll without rolling off. Um…so simple yet so smart. I guess someone had one two many meatballs slip out of the bun. I decided to give it a test and create my meatball patty melt.
One of my favorite ways to enjoy sandwiches and melts is to make them open faced. This means leaving the top bread piece off the sandwich. By doing this you still get the chewy bread satisfaction but cut about 100 calories from the meal. Turning the meatball into a patty made it very easy to put together an open faced melt without worrying about the meatball staying in place.
This meatball patty melt was DELICIOUSNESS! Tasty, comforting, satisfying, and does not break the bank on calories. Not to mention it was simple to make since I had the patty made ahead of time. All I needed to do was put together the rest of sandwich and broil it up. Perfect sandwich for during the week. Quick note – if you are going to make the patties ahead of time you will need to warm them up for about 2 minutes in the microwave before putting under the broiler. I found that when I put them under the broiler cold the cheese melted but the insides were still a little cold. So just an FYI.
You can use any meatball recipe for this sandwich so dig out your favorite. Also, if you prefer ground turkey then that would work great too. Have fun experimenting.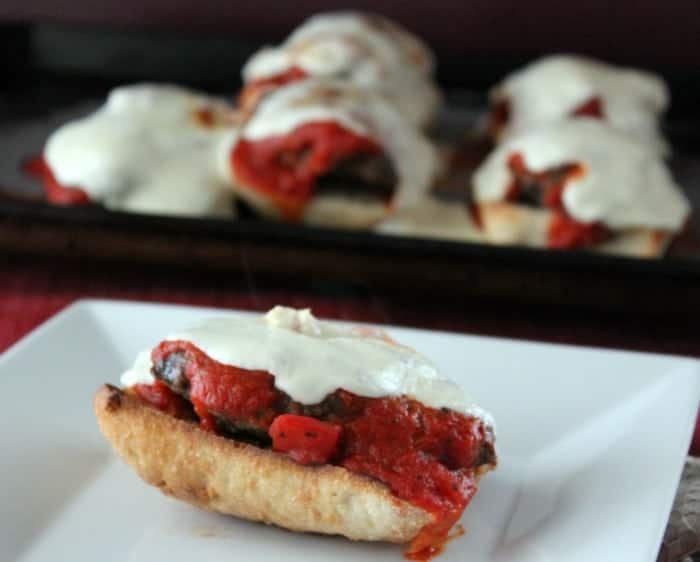 Ingredients
1

slice

of bread

2

tablespoons

milk

1

pound

ground beef

1

egg

1

teaspoon

onion powder

½

teaspoon

garlic salt

½

tablespoon

dried oregano

½

tablespoon

dried basil

1/4

cup

grated parmesan

2

teaspoons

worchestire sauce

1/4

panko bread crumbs

1 ½

cups

marinara sauce

6

1 ounce slices fresh mozzarella 1 1/2 cups shredded mozzarella

3

ciabatta rolls or Italian style rolls
Instructions
Preheat oven to 350 degrees

In a medium bowl, mash together the milk and bread until it forms a paste. **this paste helps to keep the patty super moist.

Add to the bowl the ground beef along with the egg, onion powder, garlic salt, oregano, basil, grated parmesan, worchestire sauce, and panko bread crumb. Mix with hands until combined.

Divide into 6 portions and form into patties. The patty shape should match the shape of the roll you are using.

Place on baking sheet, coated with cooking spray, and bake for 20 -25 minutes or until cooked through.

Turn broiler on

Toast rolls using a toaster. Place patties on roll, with 1/4 cup sauce, and top with 1 ounce slice of fresh mozzarella or 1/4 cup shredded mozzarella.

Broil until cheese is melted, about 5 -7 minutes. Serve hot.
Notes
Make Ahead and Freeze Instructions
Meatball patties can be made ahead of time and frozen and/or kept in the refrigerator. Thaw and warm up in the microwave then continue with recipe.
Nutrition
Serving:
1
g
|
Calories:
392
kcal
|
Carbohydrates:
37
g
|
Protein:
29
g
|
Fat:
14
g
|
Fiber:
3
g