Fitting a hearty omelette isn't typically in the cards during the busy week. However, with these omelette meal prep jars you can easily enjoy a delicious omelette every morning filled with lean protein and lots of vegetables.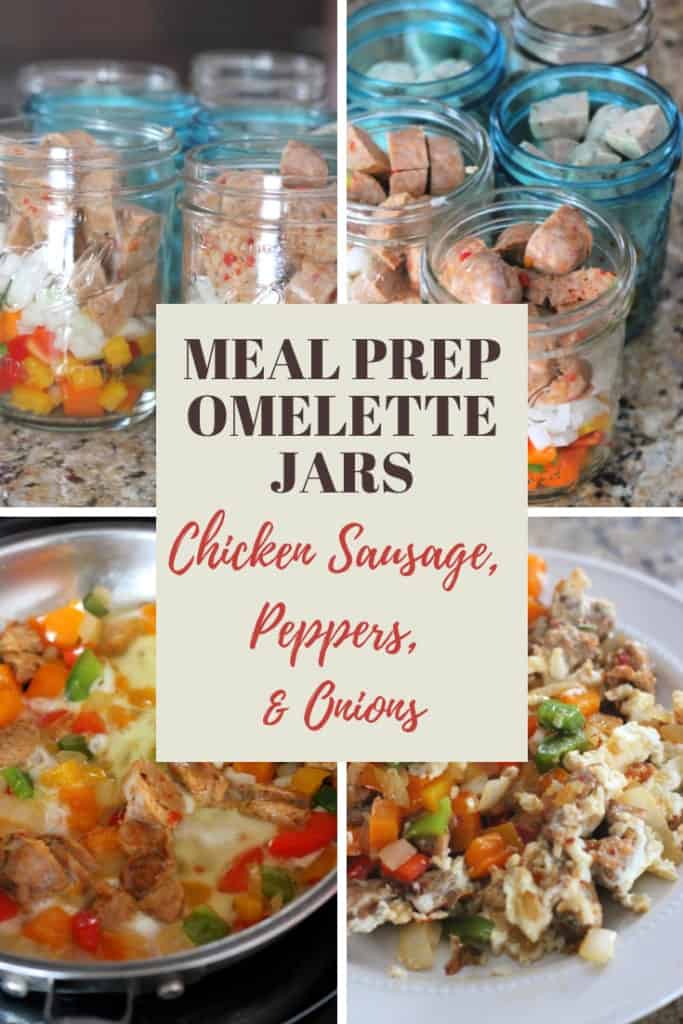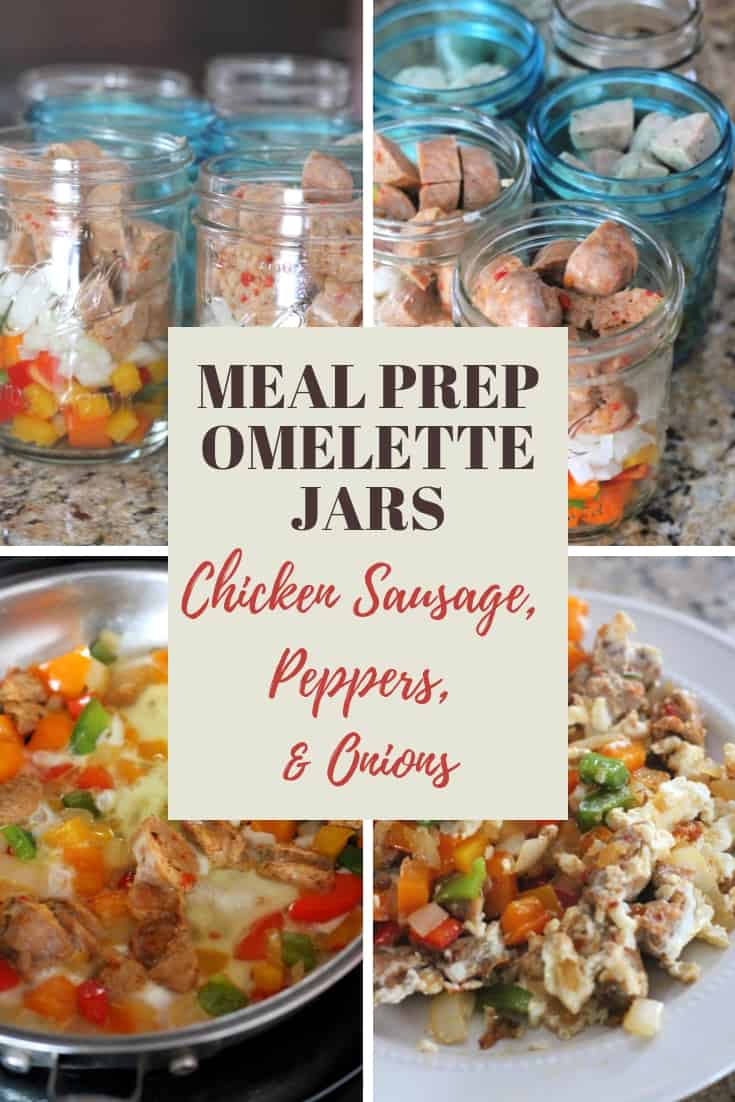 Thanks to al fresco for sponsoring this recipe and blog post today. I was compensated for my time however all opinions and thoughts are my own. You can visit the al fresco website for more recipes and product information.
Meal prep has been a part of my life for over 7 years. Honestly, it's hard for me to imagine life without having meals (in some shape or form) ready to eat in the refrigerator and/or freezer. This makes life easier, less stressful, and assures there's healthy food available. Trust me, I'd never eat healthy if I didn't meal prep.
This past Sunday I decided to make some Chicken Sausage, Peppers, and Onions omelette jars. Omelette jars are so helpful, especially if you like eating eggs in the morning but run short on time. They are also great for those that want to make food fresh but don't necessarily want to chop vegetables everyday. 
With omelette jars you simply need to take time once a week and prepare all your omelette ingredients and then layer them into individual 16-ounce mason jars. When you're ready to cook up the omelette just dump the ingredients into a pan, cook until vegetables are soften, and then add your eggs. Easy peasy.
The omelette jars I made this week are low carb and filled with protein and fiber. I plan to keep them low-fat by using only egg whites when preparing the omelette.
One of my absolute favorite ingredients to use in any egg dish is al fresco chicken sausage. There are so many reasons I love this chicken sausage but here are my top 3:
al fresco chicken is fully cooked. This makes my life easy! All I need to do is slice it up and warm it up. I don't need to worry about internal temperatures or anything like that. Not only does this make it easy to prepare omelette jars but any recipe comes together quickly with al fresco chicken sausage.
al fresco chicken is low fat, gluten-free, and high-protein. This means I get a lot of bang for my buck! I know when I add this to a recipe I'm going to be full and satisfied.
al fresco chicken is super tasty! My favorite flavor is spinach and feta but I love them all. No matter whether you stir this chicken sausage into eggs, pasta, rice, or serve on a bun it will create a super flavorful meal. You can check out many different recipe ideas on their website.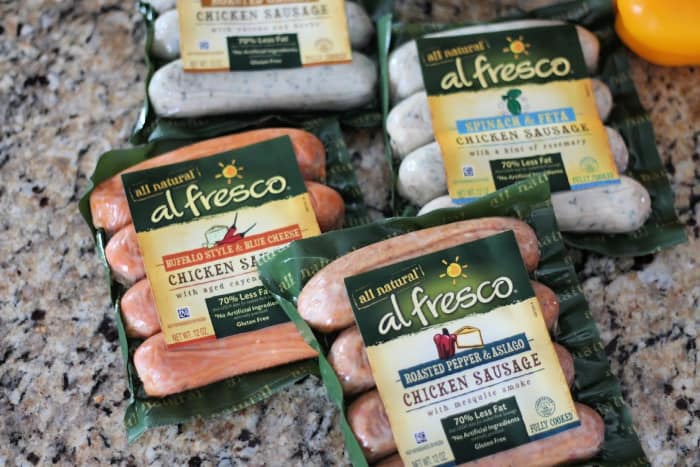 For these chicken sausage, peppers, and onions omelette jars I decided to use the al fresco spinach and feta sausages along with the roasted red pepper and asiago sausages. I'll save the other ones for dinner next week!
Okay, let me show you just how easy it is to prepare these meal prep omelette jars. These come together in less than 25 minutes!
The first thing you need to do is chop up some peppers. I used 4 large bell peppers for 6 omelette jars. Of course, you can use any type of bell pepper. I opted to use a colorful variety.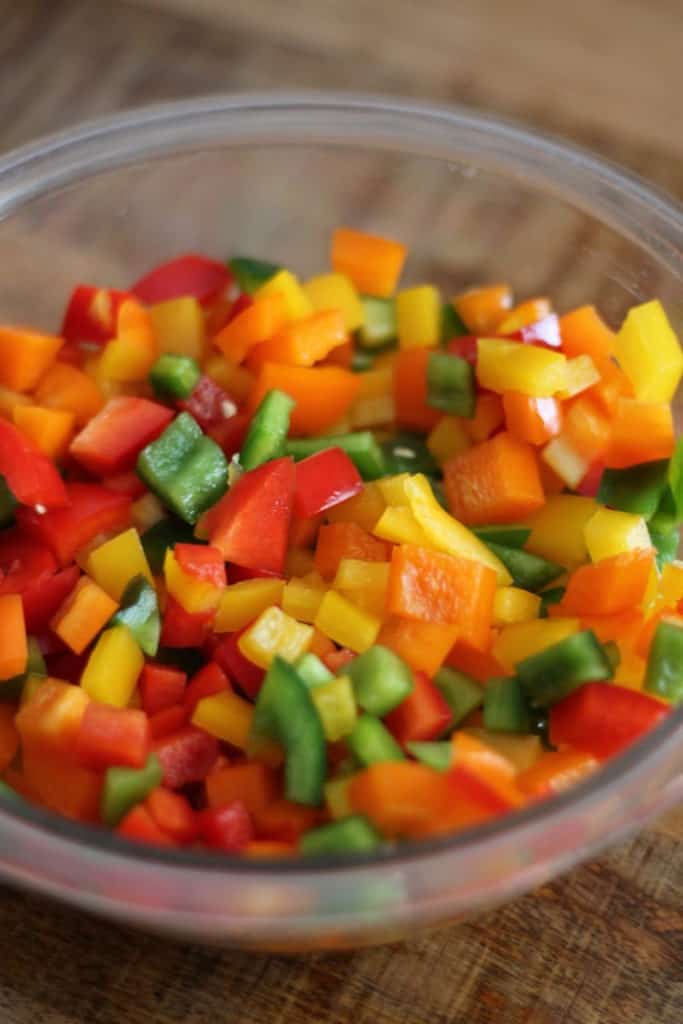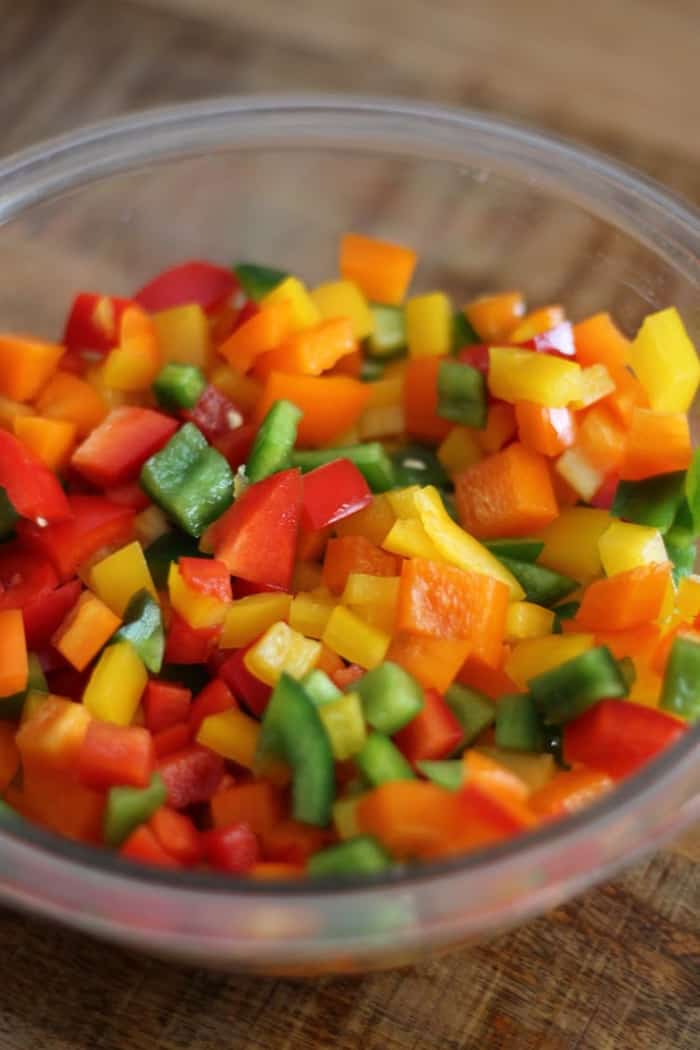 Divide the peppers between 6 jars.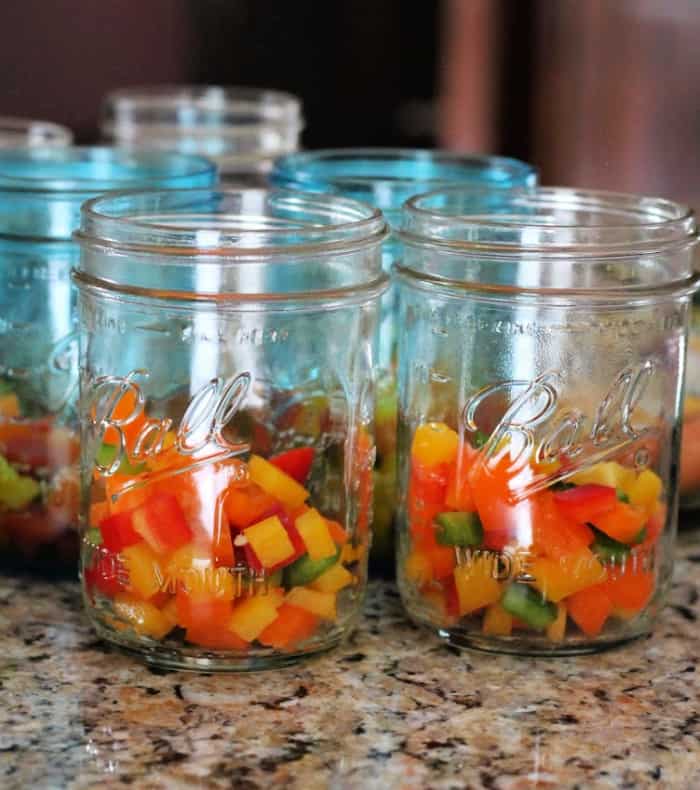 Next chop up the onions. I like to chop the vegetables small so everything fits nicely in the jars. I also find the vegetables cook faster when chopped small.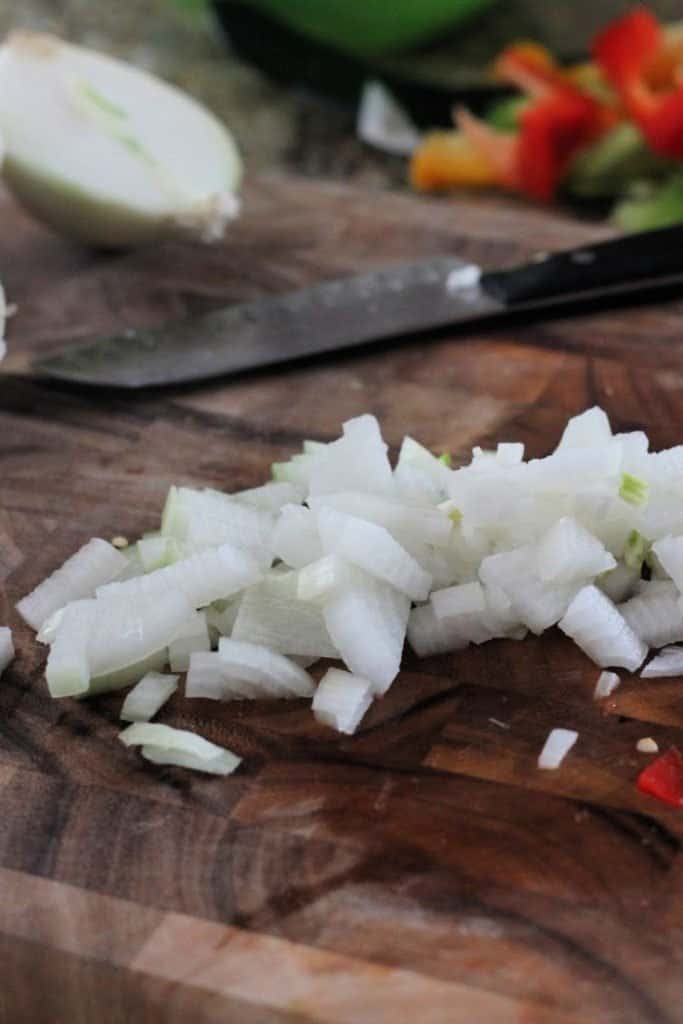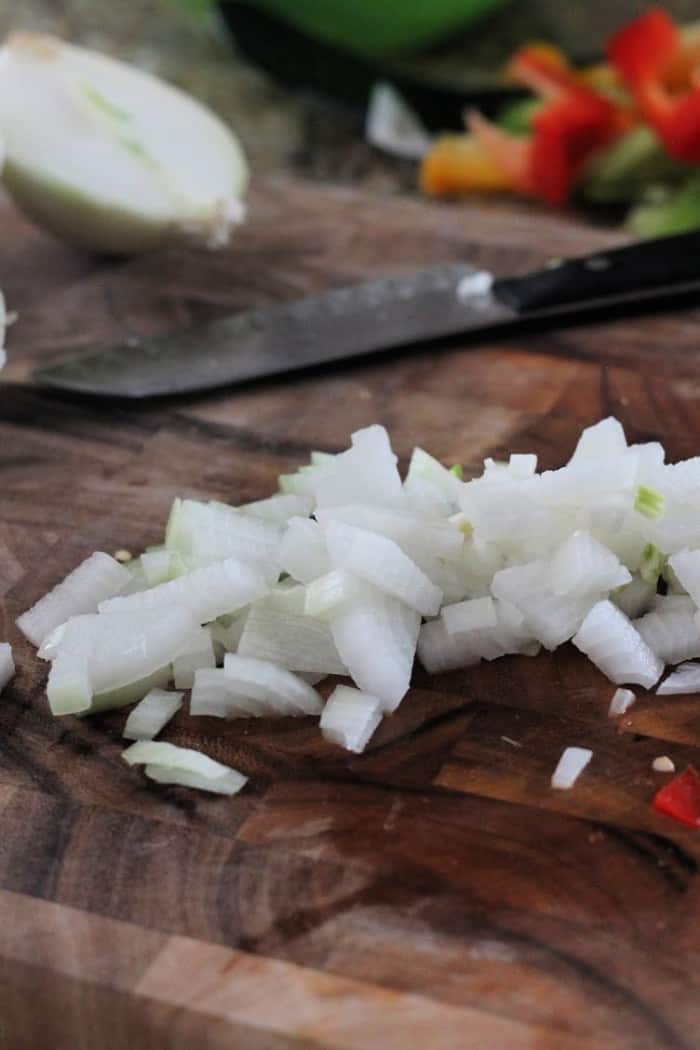 Layer the onions on top of the peppers.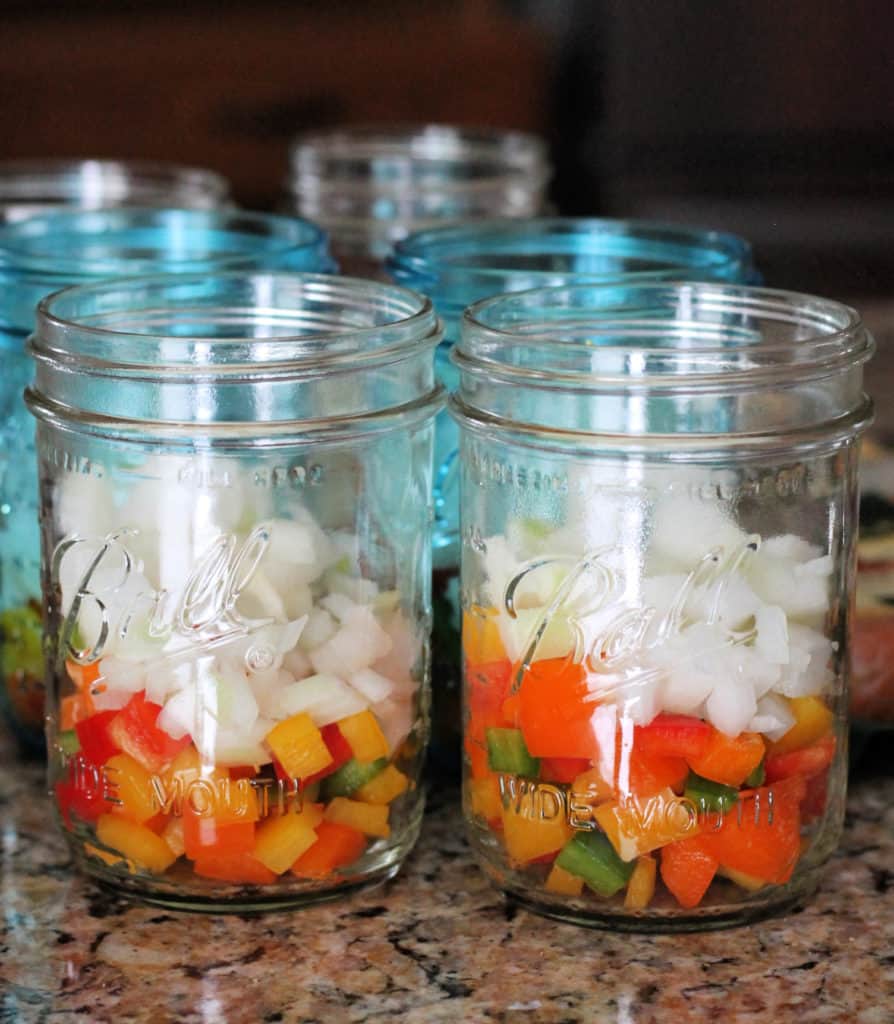 Now for the tasty part! I sliced the sausages into small pieces. Like I said earlier al fresco chicken sausages are fully cooked so all you need to do is warm them up and brown a little bit. Slicing the sausages into smaller pieces helps get this done faster. See, easy peasy!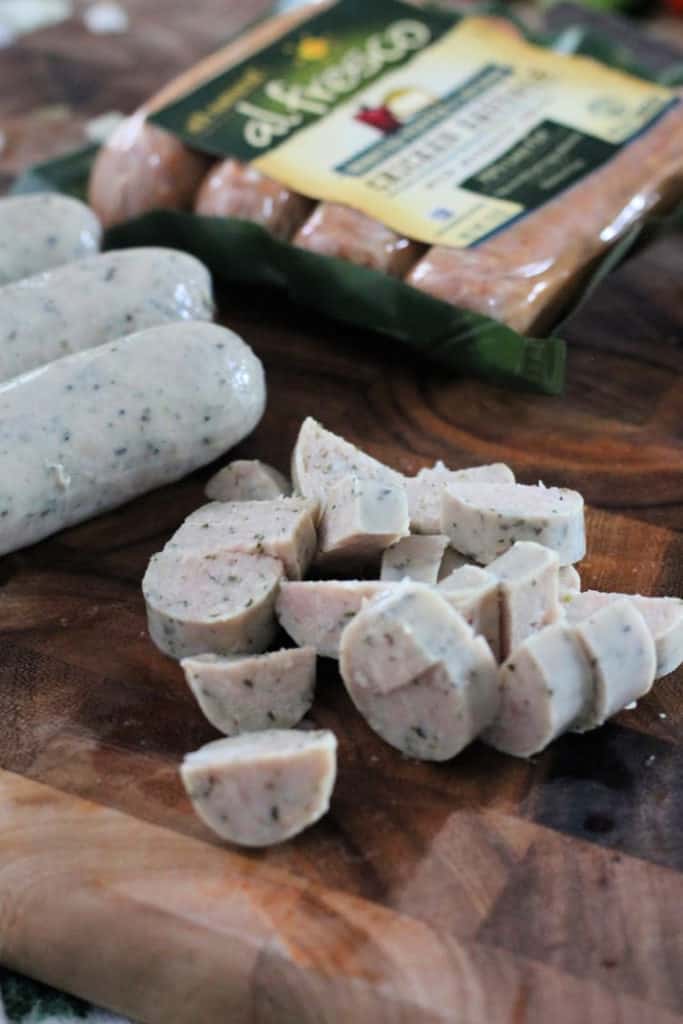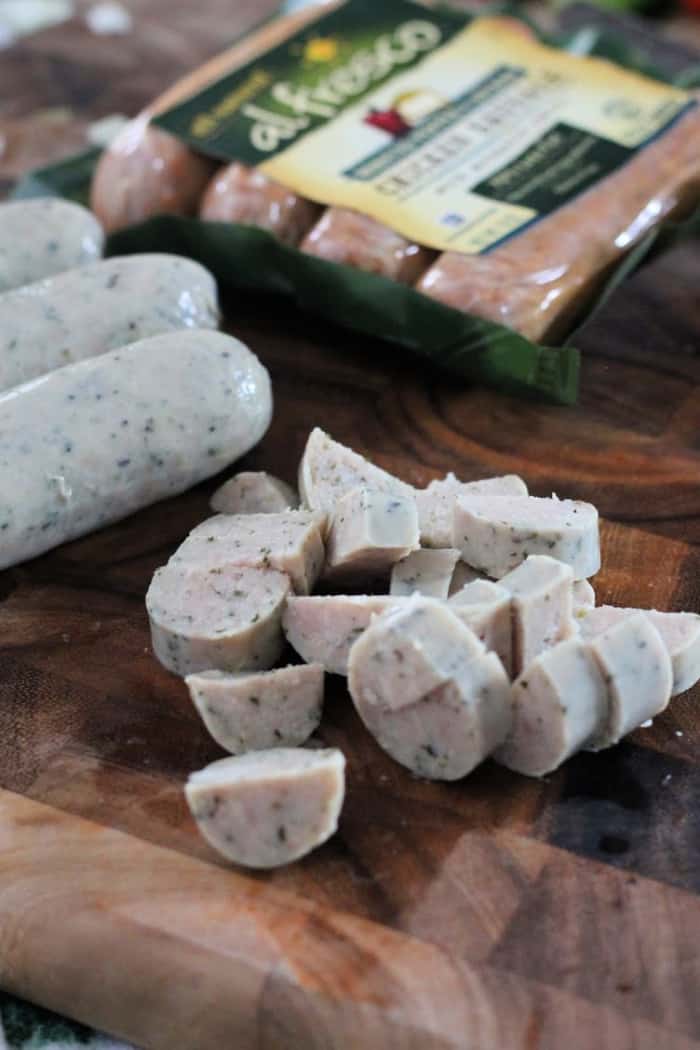 Layer the sausages on top of the vegetables. The reason I add the sausages last is so you can add them first to the pan. You really don't need to cook the sausages separately but if you want to get a little extra brown on the sausages then having them on top will help.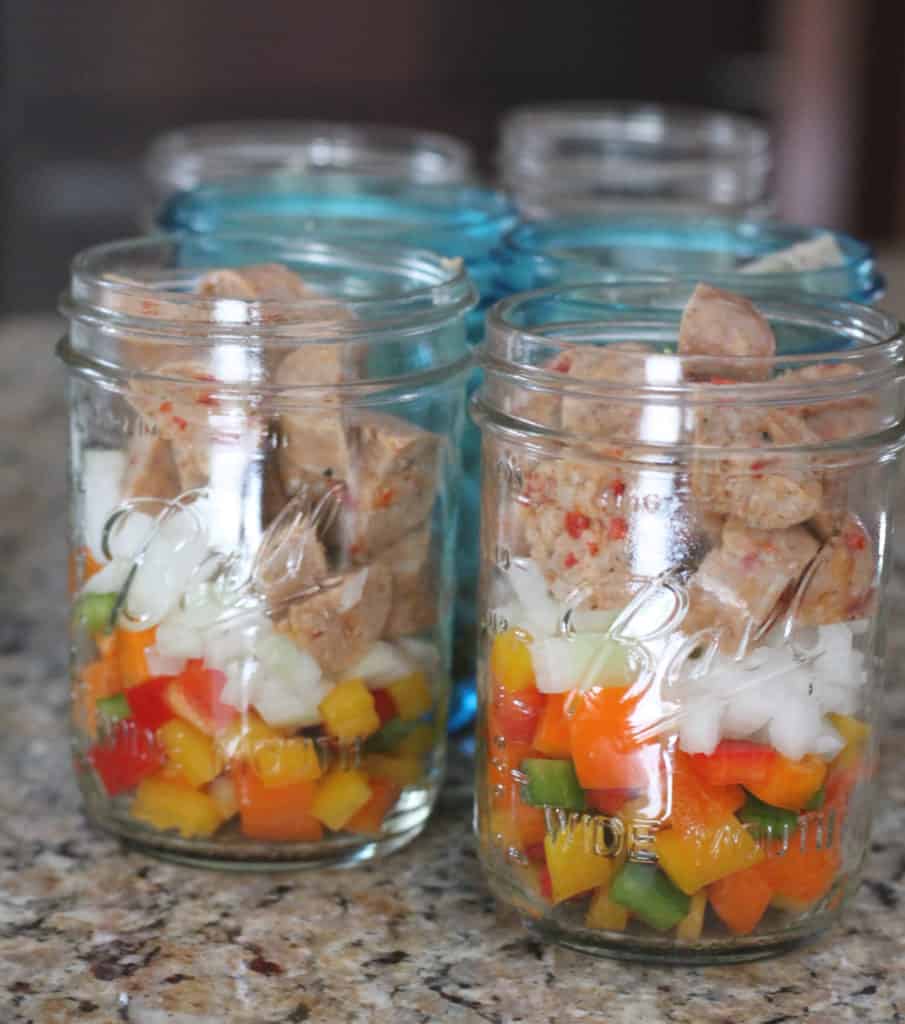 I throw everything into the pan at once. I'm all about quick and easy. Also, I spray the pan with cooking spray and add about 1 teaspoon of olive oil.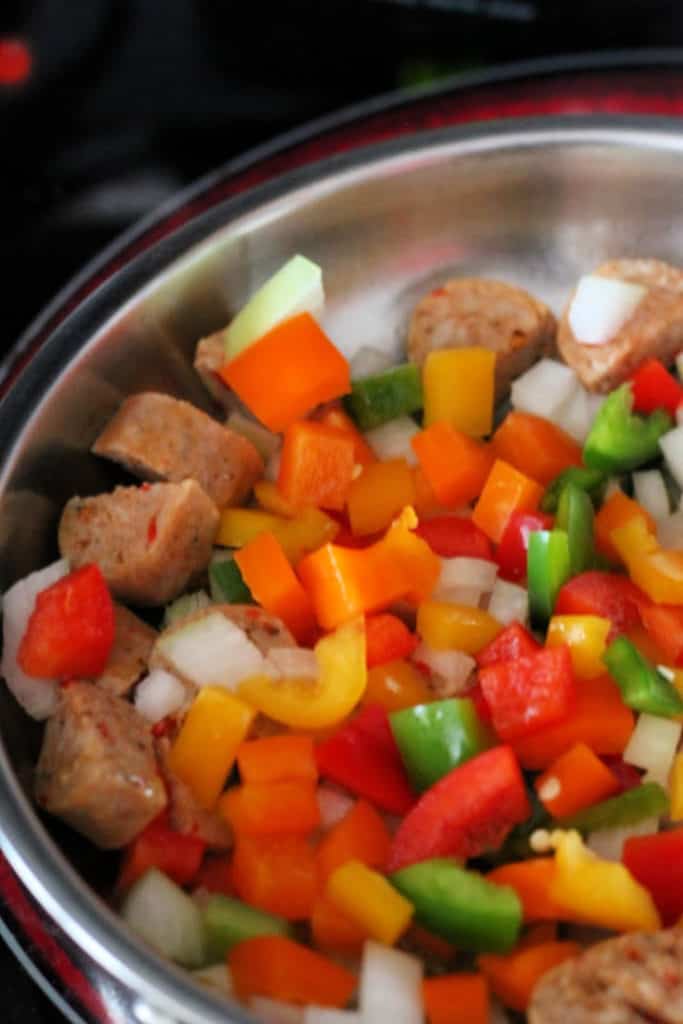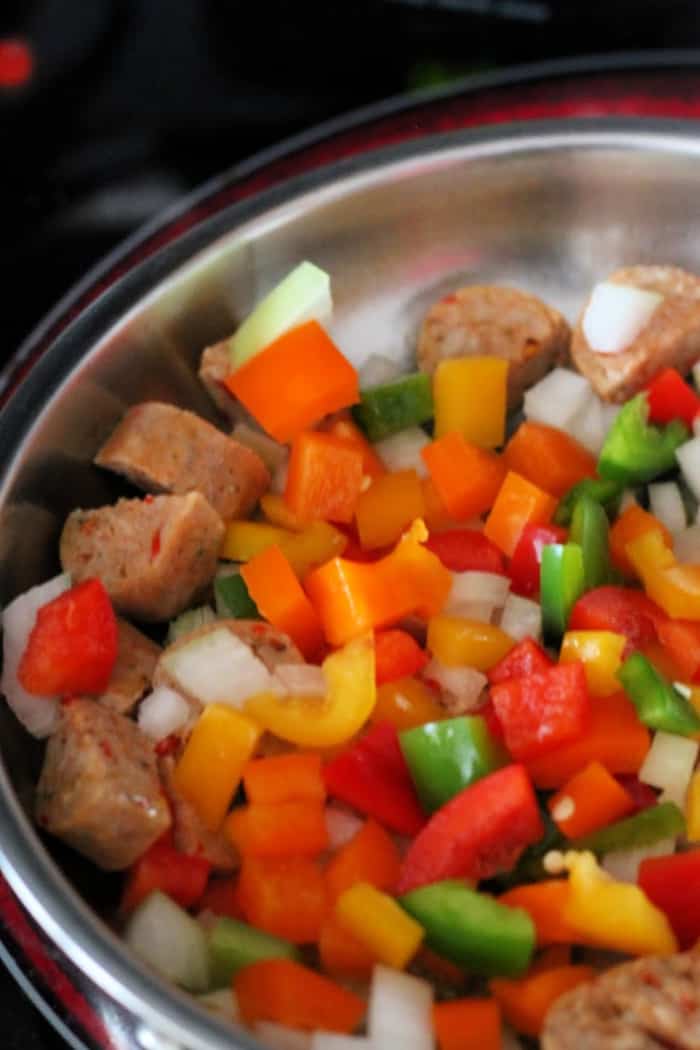 I cook everything until the vegetables are softened and the sausages are heated through and browned a bit.
Now there are two ways you can add the eggs. First, you can add the eggs straight to the veggies and sausage. Most likely you'll get more of a scramble than an omelette but it's still very tasty.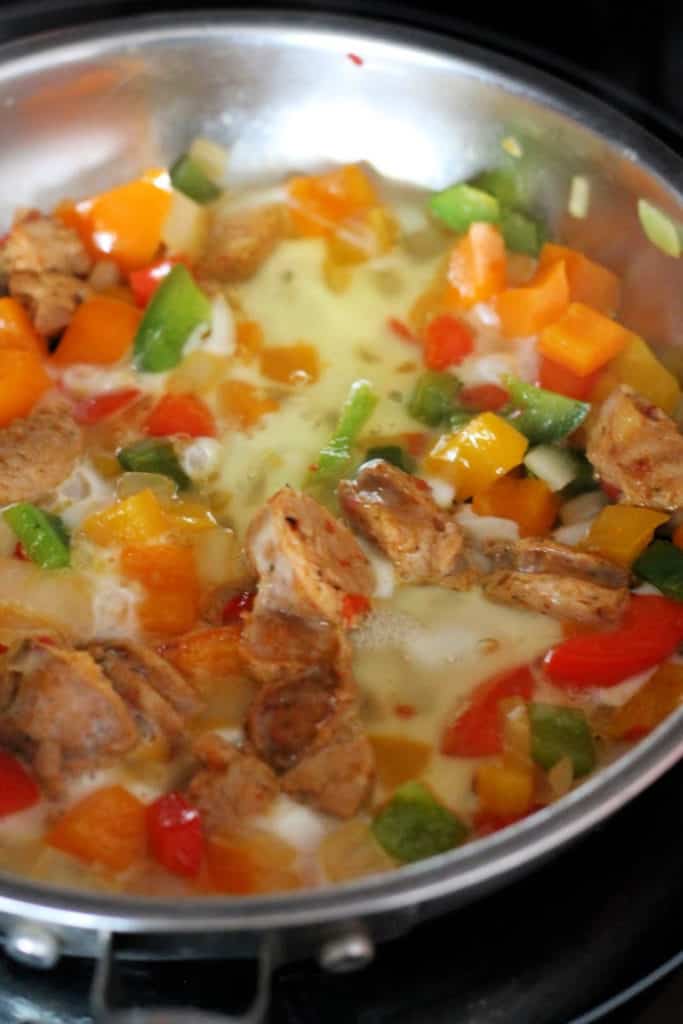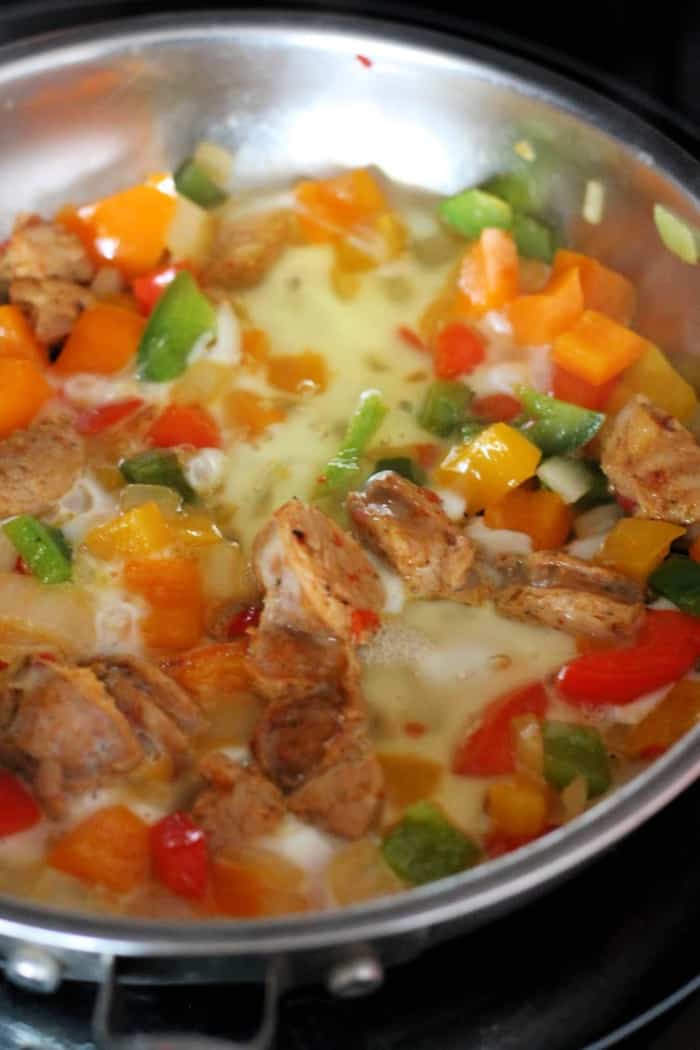 Doesn't that look amazing! It was sooo good. To keep this low-fat I used egg whites and no cheese. If you want to use whole eggs that'll certainly work. You could add cheese to the jars too, I reccomend putting the cheese in first so it's on the bottom and you can add it to the omelette last. Make sense?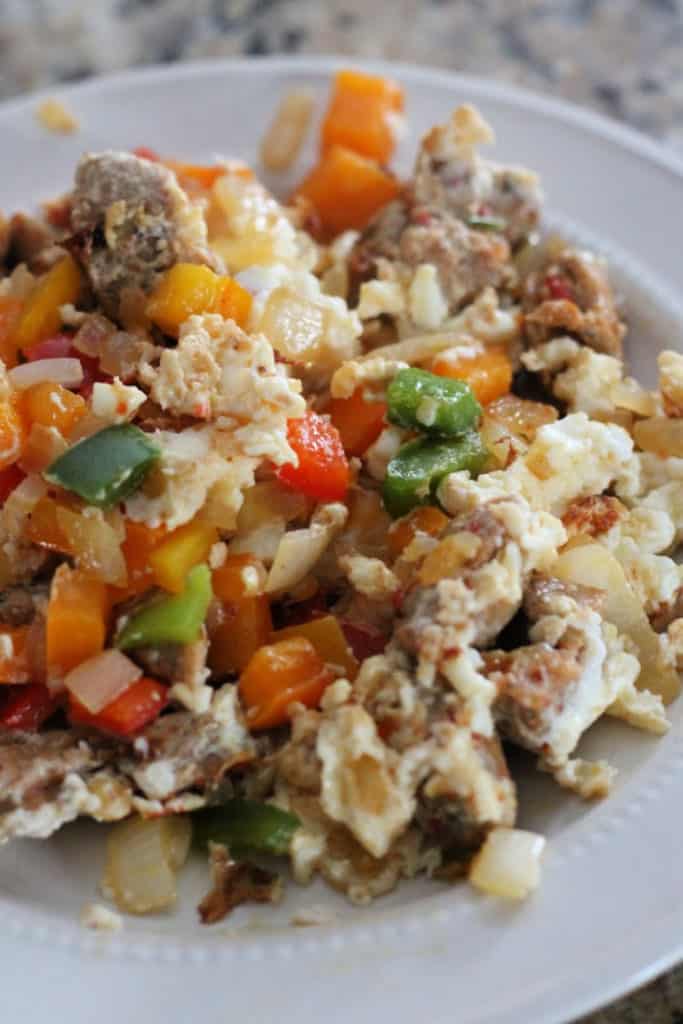 The second way to to make this recipe is to cook the al fresco sausage and vegetables and then remove from pan. Cook the eggs, flip, add back in the sausage and vegetables, and then fold over the egg. Voila!! You have a delicious omelette with minimal effort.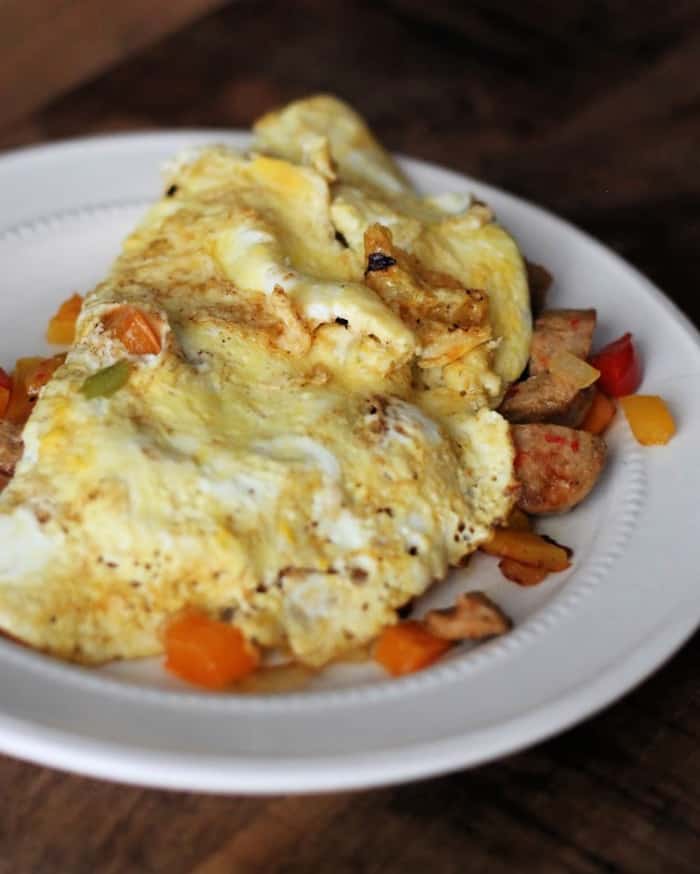 These omelette jars will last all week in the refrigerator making it a perfect breakfast meal prep recipe.
I also want to point out that these jars can be used for more than omelettes. As I was preparing this recipe I started thinking about how these ingredients could be stirred into some pasta or served with potatoes or rice. Honestly, you can even put this on top of a pizza.
Regardless of the meal, any recipe will come together within 20 – 30 minutes using fully cooke alfresco sausage and all the other ingredients prepped ahead of time.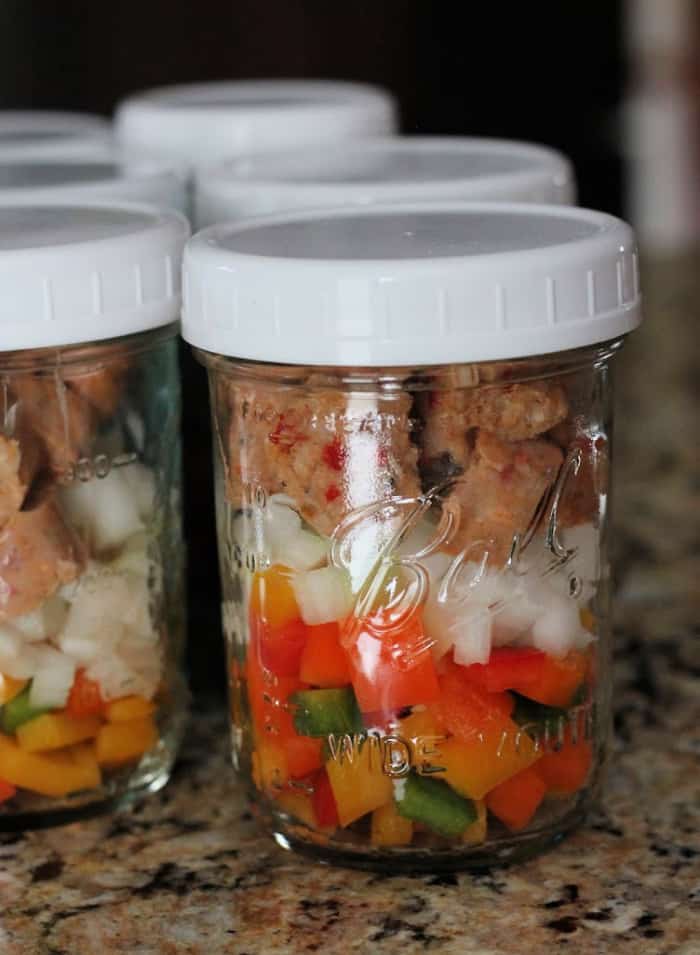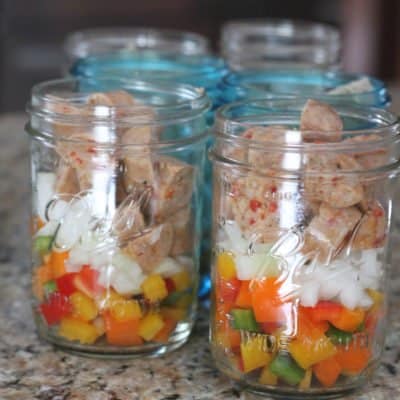 Instructions
In the mason jars layer the bell peppers, onions, and sausage. Tightly place the lid on each mason jar and store in the refrigerator for 5-6 days.

When you're ready to cook, dump one of the omelette jars into a pan coated with cooking spray and olive oil. Cook until vegetables are softened and sausage is warmed through and slightly brown.

Add 2 beaten eggs and cook until set. Or remove vegetables and sausage from pan and set aside. Add in 2 beaten eggs and cook until set. Add back to the eggs the vegetables and sausage and fold eggs over making an omelette.

Enjoy hot.
Notes
These omelette jars can be made 5-6 days ahead of time.
Thank you again to al fresco for sponsoring this recipe and blog post today. I was compensated for my time however all opinions and thoughts are my own. You can visit the al fresco website for more recipes and product information.