This post is by SMK contributing writer Danielle. Read more about her here.
Have you guys heard of "farm shares"? And do you know what a farm share is? Up until recently I had some knowledge of farm sharing but nothing real in-depth. However, after hearing others talk about it I became much more interested.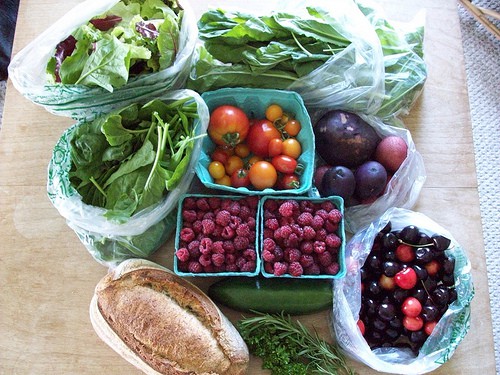 What is a Farm Share?
A farm share means that a member (me and you) purchases a share of the farmer's harvest at the beginning of the growing season and when it is ready the member goes to the farm or a designated delivery spot to pick up their share for the week. A farm share can be fruits, vegetables, and/or meats. Depending on the farm there are different options.
A farm share is also referred to as Community Supported Agriculture. So essentially, it is a partnership between you, the consumer, and the farmer. Neat, huh?
This sounded like something I wanted to try so I hopped on the computer to see if and what types of shares are available in my area; how much it costs to participate; and ultimately if it is worthwhile for my family. Please don't judge me but I am not the best at getting my recommended servings of vegetables for the day so I was hesitant to think that a farm share would make sense for me. As I started my research on the computer I quickly became pleasantly surprised! Farm shares are not as obscure as I thought. This definitely looked like something that would work for my family. And the good news for me, farm shares are not exclusive to vegetables as I had originally thought. Many farms offer fruit shares and a couple of them even offer meat shares!
If you are interested in finding a farm share in your area check out the website localharvest.org. All you need to do is pop in your zip code and you will get a list of all the farm shares in your local area.
Benefits of a Farm Share
I was attracted to the idea of a fruit share immediately. And here is why. I spend well over $25 a week just on fruit from my local grocery store. After researching farm shares I settled on two reasons it would work for me, cost effective and organic. In my local area, to participate in a fruit share, which is a 21 week program, it costs approximately $350-$375, which equals $16-$18/week. Right there, it is a savings in my pocket.
Another benefit to farm shares is purchasing local and I really like the idea of supporting farmers in my community. I feel good about my purchase when I know it's coming from right here in my own backyard. How many times do our grocery stores offer produce from Mexico…I can assure you, Mexico is not in my backyard!
One of my concerns with a farm share was the distance I would need to drive to pick up my share. If I had to drive an hour out of my way each week to pick up my share then count me out. Turns out that the farm share is only about 20 minutes from my house and my husband was willing to pick up our share. It turns out that farm shares are a lot more accessible that what I originally thought.
Participating in farm shares will actually allow me to feed my family organic produce, save money, and support my local community. And it is easily accessible! Win for everyone!
Challenges With a Farm Share
Farm shares are not without challenges. Turns out, the farm share that best suited my needs was sold out. That's right sold out. After I filled out and submitted the online registration form to become a farm share member "sold out" popped up. Uh oh. I called to check and see what this "sold out" was all about? Apparently, in the midst of my fruit share ignorance, I did not realize that you need to sign up mid-winter to make sure that the particular farm has enough to offer each member. I filed that little tid-bit away and I will be prepared with my completed application next winter! Next year, I will be a member of a fruit share! I will also be researching ahead of time the fruit and vegetable shares I can participate in for the fall and when those applications are due. I am also looking into my options for organic meat shares. As I learn more I will share my experiences with all of you.
Another challenge to farm sharing (veggies, fruits, or meats) is you might be intimidated by the thought of jumping into a farm share and not really knowing what to expect. My plan all along was to "share" my share with my mom & dad and split the cost. I suggest trying this approach first so that you don't feel guilty if you choose to supplement from the grocery store every so often.
Now, I know the other challenge you are probably thinking might surface is…what in the world do I do with a bushel of vegetables I have never even heard of. Or better yet how the heck do I prepare and serve them? Well don't worry these farm share websites got you covered. Most of the ones I looked at, showed a picture of the produce they harvest along with a few recipes that you can prepare with that particular vegetable and/or fruit. Genius! Even though I am not a member just yet, I still plan to take advantage of some of these recipes so I can take myself out of this comfort zone of traditional vegetables.
Stay tuned my friends because I am about to take my family on a culinary adventure with farm shares, new recipes, and whatever else happens along the way. I can't wait to share all my share experiences with all of you 🙂
So tell me. Have any of you tried farm shares before? Did you like them? What has your experience been?
Get Instant Access to My Best Weight Loss Tips & Strategies!
Sign up now for a free step-by-step 7-day email course that I created exclusively for my email subscribers! That's you. I will teach the best habits, strategies, and insider tips so you can enjoy a lifestyle that encourages and supports weight loss! Stop relying on willpower and take control back over your life! You can do this. Let me help!