This post is by SMK Contributing Writer Paula. See more of her posts here.
I remember the first SMK recipe I tried was the grilled cheeseburger wraps. Mostly because they looked delicious and I didn't have to start the grill…the bonus was that I still enjoyed a "healthier cheeseburger". I loved how simple the recipe was and I didn't mess it up (which I have done in the past)! Then, I decided to try some more recipes, this time my goal was to stock my fridge a little bit. Maybe even save me some very precious and valuable time.
Even though my first SMK freezer cooking session was August 2011, I didn't do anything consistently until later in 2012. I tried some recipes here and there, cooked a batch of this and that, but didn't get serious for a while. I just didn't have the SMK attitude; yet. During my first session I made 2lbs chicken parm, 2lbs chicken curry, 1lb buffalo chicken (for the wraps) and 9 breakfast sandwiches, (I think we did some taste testing 🙂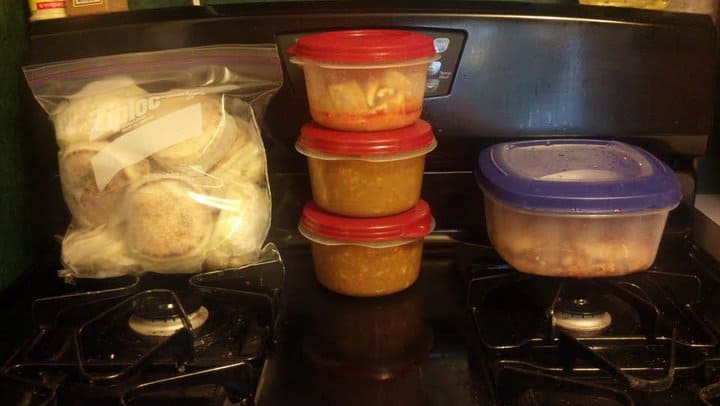 The breakfast sandwiches looked simple enough and might possibly help me save some money that I was spending at the local coffee shop. After a few days, I realized one of my unhealthy habits was how often I was buying greasy, very processed and unhealthy fast food in the morning. I would start almost every day by visiting the closest drive through (for me, it was a local coffee chain) and buy a breakfast sandwich, tea and a few little doughnuts which I would give to my son. (Yes, I thought this would help me win mother-of-the year…) As I write my first official post, I realized that I have come a long way in the past year.
Anyways, the breakfast sandwiches that I made were amazing, and soon replaced my morning drive through runs. I'm sure this is also a better influence for my little one as well. I did find that sometimes the muffins got a little soggy, but it never stopped anyone from eating them (sometimes all of them, ahem)! And, SMK had an easy fix for that, naturally (just package the cooked eggs separately and assemble the rest during the morning/day of).
My struggle was/is that as much as I tried to "menu plan", I just have such a hard time keeping to it! While I am busy planning, cooking and stocking…my boys are usually busy enjoying my new dishes. Or as they may call it "quality control".
Another new habit that I have noticed, in addition to reducing my drive through trips, is that I always have at least 1 SMK batch, recipe, or food in my freezer/fridge, if not more. Right now I have:
pre-cut/packages carrots
yellow peppers (for snacking)
almonds
hard-boiled and peeled eggs
breakfast smoothie kits (more info. coming soon!)
marinated chicken
10. beans (regular & re-fried)
So, if you're looking to start a new habit, begin with a baby step. I suggest trying to have at least 1 thing in your freezer/fridge for a week or month. Remember, it takes 21 days to form a new habit (and much less to break it).
So, how many (and what) SMK items do you have in stock?
Get Instant Access to My Best Weight Loss Tips & Strategies!
Sign up now for a free step-by-step 7-day email course that I created exclusively for my email subscribers! That's you. I will teach the best habits, strategies, and insider tips so you can enjoy a lifestyle that encourages and supports weight loss! Stop relying on willpower and take control back over your life! You can do this. Let me help!