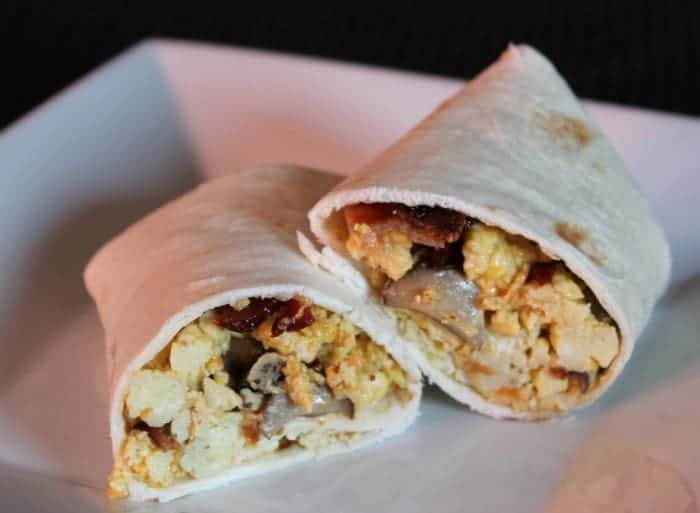 Breakfast is my favorite meal of the day. As you know I stop eating at 7:00pm every night so by the time breakfast comes around I am ready for a delicious and satisfying meal. Most mornings you can find me eating steel cut oatmeal or a breakfast sandwich/burrito. It really depends on my mood which one I grab but regardless both fill me up and give me the energy I need to get through till mid-morning snack.
I try to keep variety with both the oatmeal and breakfast sandwiches/burritos by switching up the ingredients. For example, over the last couple weeks I have made coconut oatmeal, blueberry lemon oatmeal, and apple pie oatmeal. All three are awesome! You can also find a bunch of different breakfast sandwich and burritos recipes. My favorites are the spinach and feta bagel sandwich, sausage and cheese burritos, egg and chicken sausage muffins, greek breakfast pita, and many more.
A couple weekends ago I decided to add another recipe to the repertoire and create a breakfast burrito using my husband's two favorite foods – mushrooms and bacon. Well ice cream is really his favorite food but I have not figured out how to make that into a nutritious breakfast yet. For this breakfast burrito I decided to use baby portobello mushrooms. I feel they have a meatier texture and stronger flavor that go nice with cheddar cheese and bacon. If you want to use another type of mushroom any will do.
If you follow me on facebook you might remember that I originally made this into an oven omelet then cut it into squares for breakfast sandwiches. Well for some reason they did not freeze well with that method. They became very spongy and the taste was off a bit. Hubs did not like them at all so when that happens the recipe is no longer blog worthy. I actually think I may have overcooked but who knows.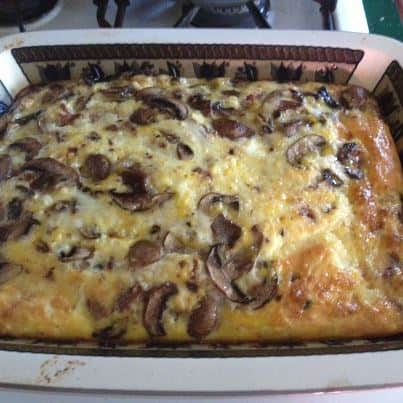 I was really bummed when this happened, but as you know you can't always have a winner. I did not want to dump the filling all together because it was good. So next time I made it I decided to prepare the filling in a pan then roll into burritos. This was a much better choice because they still tasted great and were now freezer friendly. Perfect!
You can reduce the fat of this recipe by cutting down on the cheese or using turkey bacon.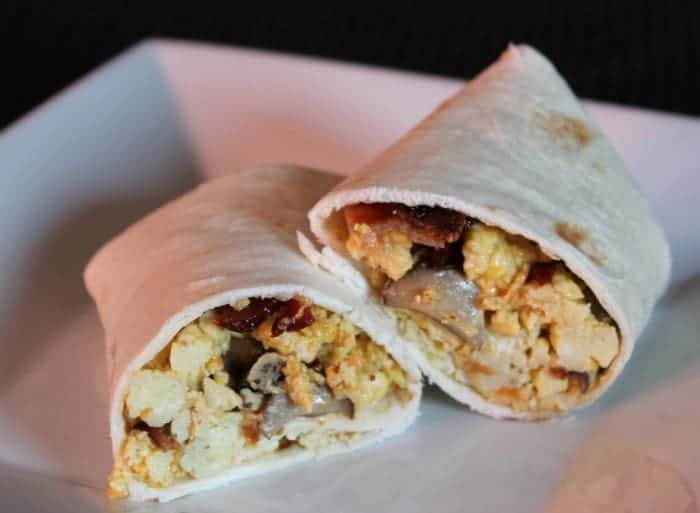 Ingredients
12

eggs

1/3

cup

milk

10

ounce

package sliced baby portobello mushrooms

1

cup

shredded cheddar

10

slices

package bacon

cooked and crumbled

salt and pepper

cooking spray
Instructions
In a medium to large bowl whisk together the eggs and milk. Set aside

In a large pan, coated with cooking spray, cook the baby portobello mushrooms over medium high heat until softened. Break up into smaller pieces while they are cooking. Remove mushrooms from pan and set aside.

Lightly spray pan again with cooking spray. Cook egg and milk mixture over medium heat. Stir as it cooks to scramble the eggs. Once the eggs are set stir in the cheese, crumbled bacon, and mushrooms. Give it a taste then add salt and pepper.

Let mixture cool slightly then add 1/3 egg mixture to tortilla and roll up. Serve hot.
Notes
Make Ahead and Freeze Instruction
These can be made completely ahead of time and frozen. After you roll up the burritos, wrap in plastic wrap, then stick in the freezer. When ready to eat heat up in the microwave for 2 1/2 - 3 minutes on high or until heated through. I find these heat up better when taken out the night before to thaw slightly in the refrigerator.
Nutrition
Serving:
1
g
|
Calories:
306
kcal
|
Carbohydrates:
25
g
|
Protein:
17
g
|
Fat:
15
g
|
Fiber:
1
g