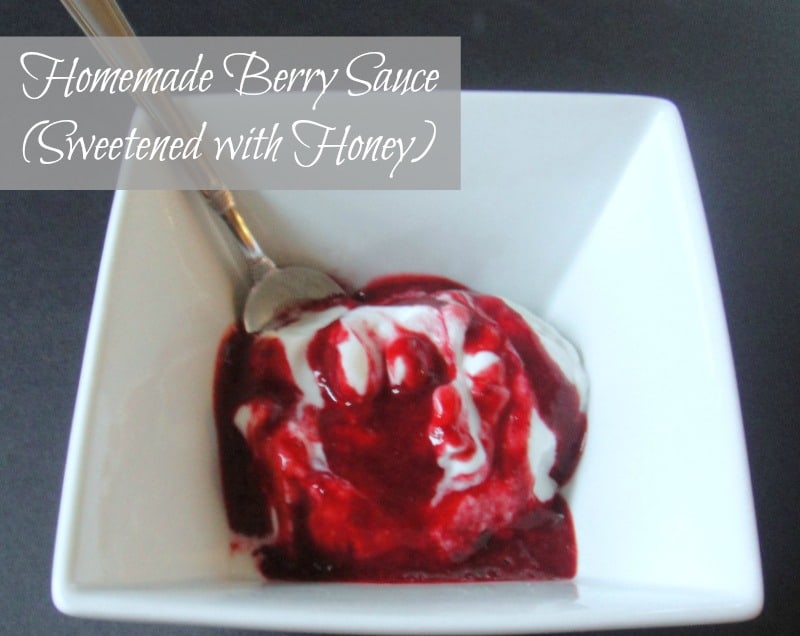 One of my current goals is to reduce my sugar intake, I would not say that I consume an obscene amount of sugar but I decided to just pay a little closer attention to the added sugar in the foods I eat.
Everyday around 3:30pm I have a Greek yogurt for a snack. It is super satisfying and keeps me going usually till around dinner time. My favorite flavors are raspberry and blueberry – they are so yummy. However, the other day I took a peak at the label and noticed there is added sugar in my creamy gems – not over the top in my opinion – but added sugar nonetheless. So I decided to purchase plain yogurt and make my own berry sauce. I figured it couldn't hurt to give it a try plus I love the challenge of recreating real clean eating versions of store bought favorites.
This recipe is adapted from a berry sauce recipe I found on 100 Days of Real Food – which by the way is one of my new favorite blogs to follow. Amazing information over there friends!
The original recipe called for maple syrup but I was out so I used honey and a little vanilla. I got that idea from another berry sauce recipe found in one of my Weight Watchers cookbooks. It was really good – not overly sweet – but just enough to make my plain yogurt taste delish. You can always add a little more honey if you like it sweeter.
This berry sauce was even approved by my girls. They did make mention of it not being as sweet as the flavored yogurt, but they still gobbled it right up.
The recipe I am providing makes about 1 cup of sauce. Next time I make this I will make a double or triple batch because it is a little messy. Just an FYI if you make this – I found it better to use a regular blender rather than a hand blender. The hand blender caused the sauce to splatter EVERYWHERE.
You can use this in yogurt, smoothies, over ice cream, or any other way you would use a sauce.
Ingredients
1 1/2

cups

frozen berries

1/4

cup

water

1/2

teaspoon

vanilla

1 - 2

tablespoons

honey
Instructions
Bring berries and water to a simmer in a small pan. When then begin to soften add honey and vanilla. Start with 1 tablespoon of honey and add more depending on the amount of sweetness you like. Cook until fruit is very soft. Let cool slight then, using a blender, blend until pureed. If you don't want seeds then pour sauce through a mesh strainer. This will be messy.

Serve over yogurt or any way you use a sauce.
Notes
Make ahead tips
Store in a container for up to 5 days or freeze for up to 6 months.
Nutrition
Calories:
56
kcal
|
Carbohydrates:
16
g
|
Protein:
2
g
|
Fiber:
1
g