Hi everyone! Miss me? Not sure if you noticed but I have not posted in a while. My wonderful Organize Yourself Skinny Writers have been working hard getting great content up on the site but me I have been a busy bee doing a lot of behind the scenes work. If you have been a reader for longer than a few months then you know my website has gone through a name change. We used to be Skinny Mom's Kitchen and now have transformed into Organize Yourself Skinny. I absolutely love the name change (and apparently you all do to) as I feel it better represents the healthy lifestyle message I am trying to get across with my website.
Anyway, a lot goes into a name change so over the last few weeks my time and attention was focused on all things going smoothly. There may be quirks to work out here and there but for the most part we should be good to go. Yay!
So, between my website name change, the holidays, and getting some type of weird stomach bug thing I was happy to see December go.
I know it has also been a while since I last posted a menu plan. See excuses above. I don't know why I let my menu planning slip because I am fully aware of the benefits it brings to my life. But I guess when life gets busy and I tend to let the stress get the best of me menu planning seems to be the first to go out the window. I really need to find a way to work on that because in times of stress is when a menu plan comes in most handy. I think one of my strategies is to create more rotating menus. That way they are done ahead of time and all I need to do is shop. Hmmmm.. now that might work.
Okay lets get to my menu plan. This week I am going heavy of the fruits and veggies. Why? Well… 1. I definitely ate to many cookies around the holidays and 2. I always feel better when I eat more roughage.
Here is what I am eating this week
Breakfast
Make ahead tips
You can make these into freezer kits if you like. I am just going to make these each morning.
Lunch
Make ahead tips
I made these ahead of time. They will last all week. See my mason jar tips here.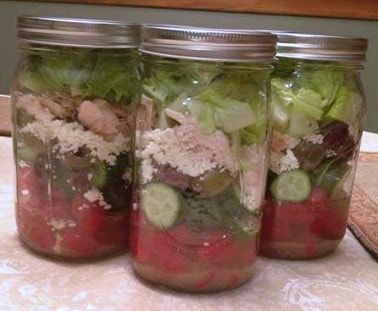 Dinner
Smokey Sloppy Joes
Chicken Tortilla Soup
Linguini and Clam Sauce
Naan Pizzas
Balsamic Roasted Vegetable and Hummus Wraps
Make ahead tips
Yesterday I made ahead the sloppy joes, soup, and clam sauce. There was a lot of the sauce and soup so I put dinner for this week in the fridge. The rest I froze.
Vegetables I will roast tonight and keep in the fridge.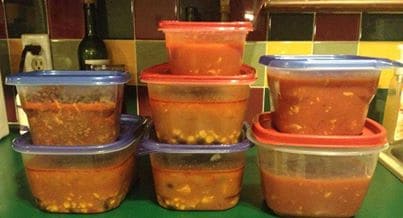 Snacks
Cheese stick for midmorning snack
Greek yogurt for midafternoon snack
What is on your menu this week.