Every week I share my 1500 calorie meal plan, meal prep pictures, exercise schedule, along with the progress (or not) I've made on my weight loss journey. My goal with these posts is to give a little glimpse into my week and for you to see I'm human and have good and bad weeks just like everyone else.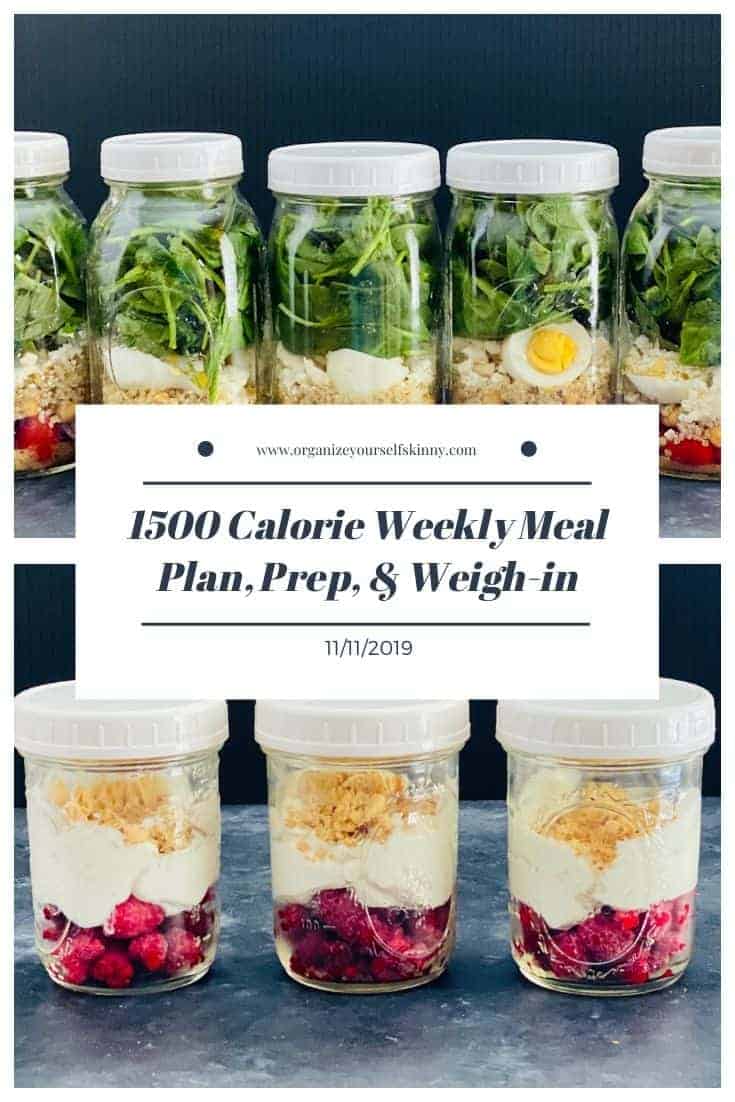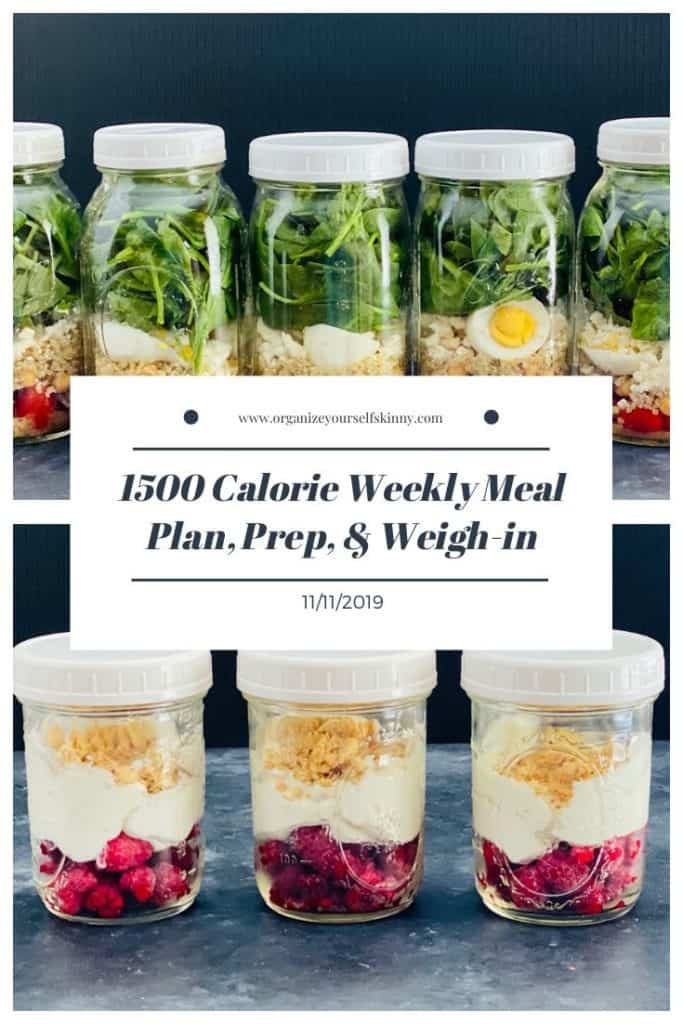 Hey there! Can you believe we're only a couple weeks away from Thanksgiving?! Absolutely insane. We host Thanksgiving, and it's what Thanksgiving dreams are made of. We have about 40+ family and friends and it's awesome. However, if I don't start planning NOW I'll be a crazy lunatic. Trust me, nobody likes crazy Tammy. So, this weekend I'm going to put together a plan of action.
On top of planning for Thanksgiving, I'm getting the Organize Yourself Skinny eCourse ready for Black Friday. Meaning, it's going to be on sale!! I might even put it on sale early….so stay tuned. I'm also putting together some Black Friday bonuses. Woot woot! You can read about the Organize Yourself Skinny eCourse here.
Hmmm, what else?
In case you missed it, over the last couple weeks, I've shared some new recipes on the blog.
Okay, let's get to my weigh-in, exercise plan, and meal plan.
My Weekly Weigh-in
Starting weight (October 2010) : 177 lbs
Goal weight: 145lbs
Last week's weight: 154.8
Current weight: 154.8
Pounds lost: 0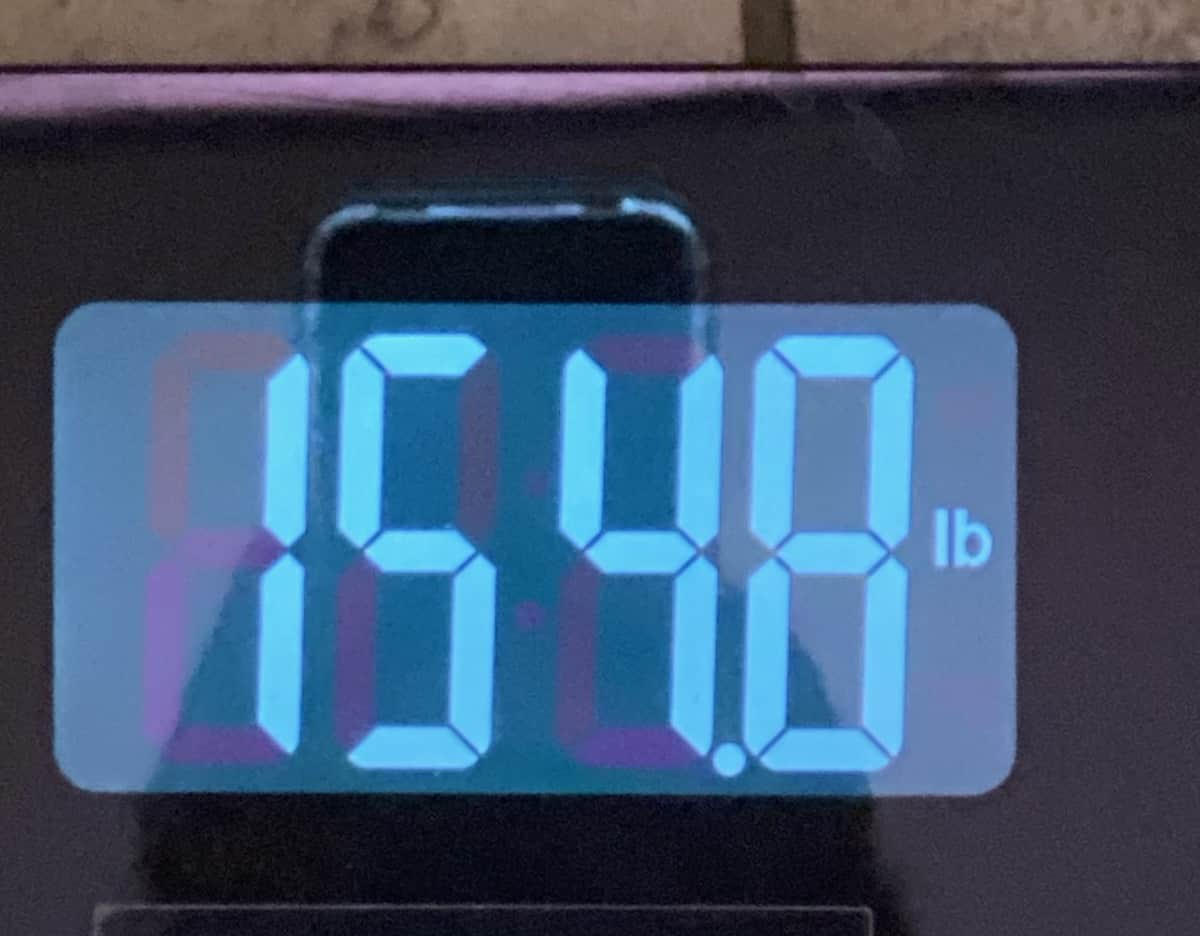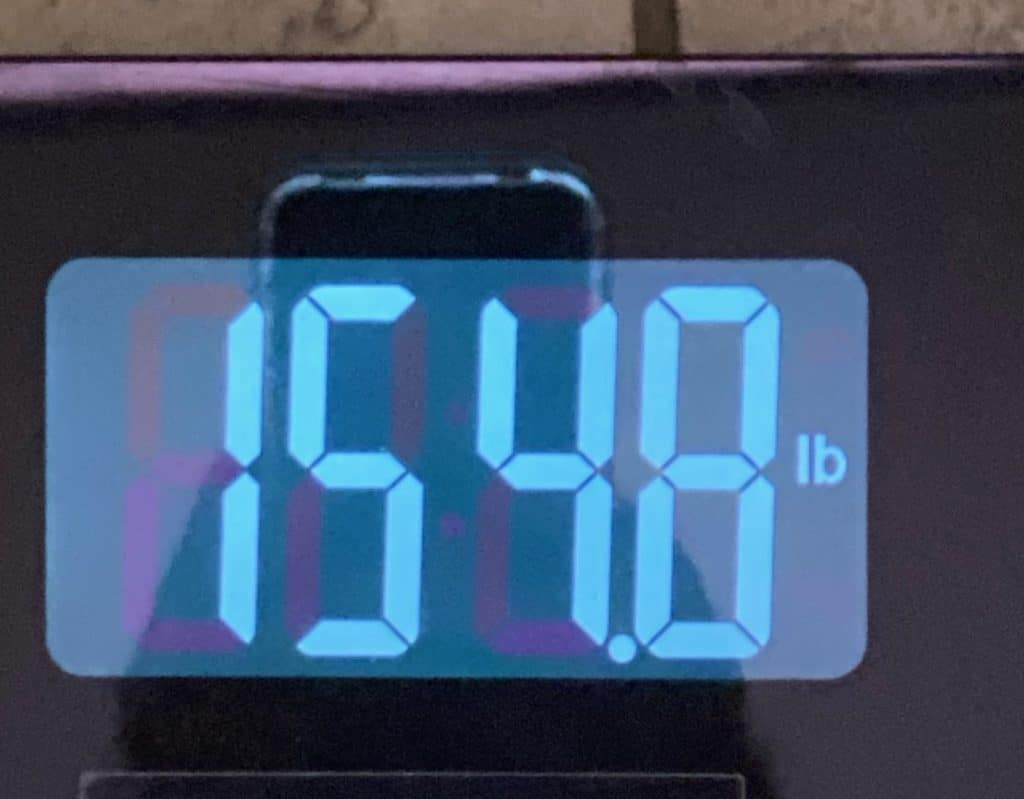 I actually had to do a double take when I uploaded my weigh-in picture. I weigh exactly the same – meaning I didn't lose or gain. Ugh.
So what happened….
I was only able to get in 3 days of exercise. I feel so much better when I can get in a solid workout on Saturdays and Sundays but this weekend we had a lot going on in the morning and it just didn't happen. Also, I felt a little under the weather so the workouts I did manage to do weren't my best. So, as far as exercise goes, I could've done way better.
My "no alcohol" challenge hit a snag this weekend. I had 1 glass of wine and 1 Truly. Now, do I think this is going to make or break my weight loss? Not really, but I just want to account for it.
I drank 64 ounces of water 4 out of the 7 days. It's not like I didn't drink water the other days but I didn't track 100% so I don't know 100% if I did this. One of my favorite sayings is you don't know what you don't know. So, if I want to make sure to drink enough water then I need to track.
Speaking of tracking, I stuck to my meal plan but I did let some extra bites slip in (that I didn't track completely) and I know that's where the problem happened. If I want to drop weight then I need to stay focused on the food and drink I'm consuming. This means I need to get back into ninja tracking. Tracking keeps me accountable and intentional with the calories I consume.
The one thing I did well, and has really stuck as a habit over the years, is not eating past 6:00pm. During the week this is very easy for me to do. My brain is programmed to stop eating by 6pm and, to be honest, I don't even feel that hungry afterwards. I stop eating at 6pm 4 nights and 7pm the other nights.
Okay, so that's the good and bad from last week. Here's to another week. Thanks for letting me share.
Here's my exercise schedule
Monday, Tuesday, Wednesday, Saturday, and Sunday
45 minutes – power-walk on treadmill with inclines.
Arms (M, W and Sat)
24 bicep curls with 5lb resistance bands
12 bicep curls with 8lb hand weight
24 lateral raises with 3lb weight
24 tricep extensions with 5lb hand weight
Core (every workout day)
100 crunches
3 (30 second) planks
50 Bicycle Crunches
Combo Strength-training (every workout day)
30 Squats with overhead raises using 8lb weight
Legs (Tues, Sunday)
50 squats
50 plie squats
25 lounges on each leg
Here's the exercise equipment I use:
3, 5, and 8lb hand weights. 
Make-ahead Meal Plan and Prep
Breakfast – 292 – 409
Blueberry Detox Smoothie – 339 calories
Mixed Berry Detox Smoothie – 222 calories
coffee and 2 tablespoons creamer – 70 calories
Meal prep tips
Luckily, I still have a bunch of smoothie kits leftover so that saved me a bunch of time this week.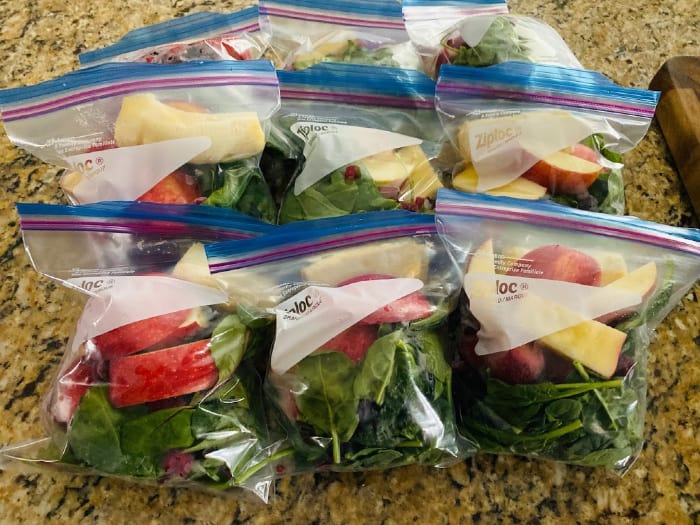 Morning Snack – 130 calories
Cottage Cheese and Strawberries – 130 calories
Meal prep tips
This was an easy snack to meal prep. All I did was divide the cottage cheese between 4 glass pyrex containers and then added a handful of organic frozen strawberries to each one.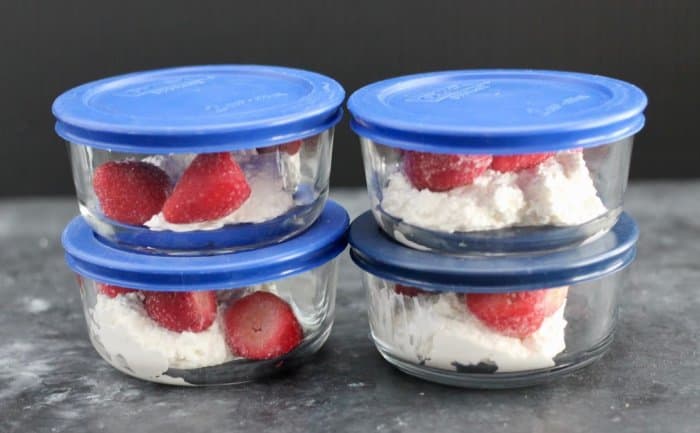 Lunch – 415 calories
Protein Power Mason Jar Salad – 415 calories
Meal prep tips
I made 5 mason jar salads for the week. Unfortunately, I forgot to buy cucumbers. Grrr I hate when I do that. Oh well, if I have time I'll grab some to slice up during the week for my salads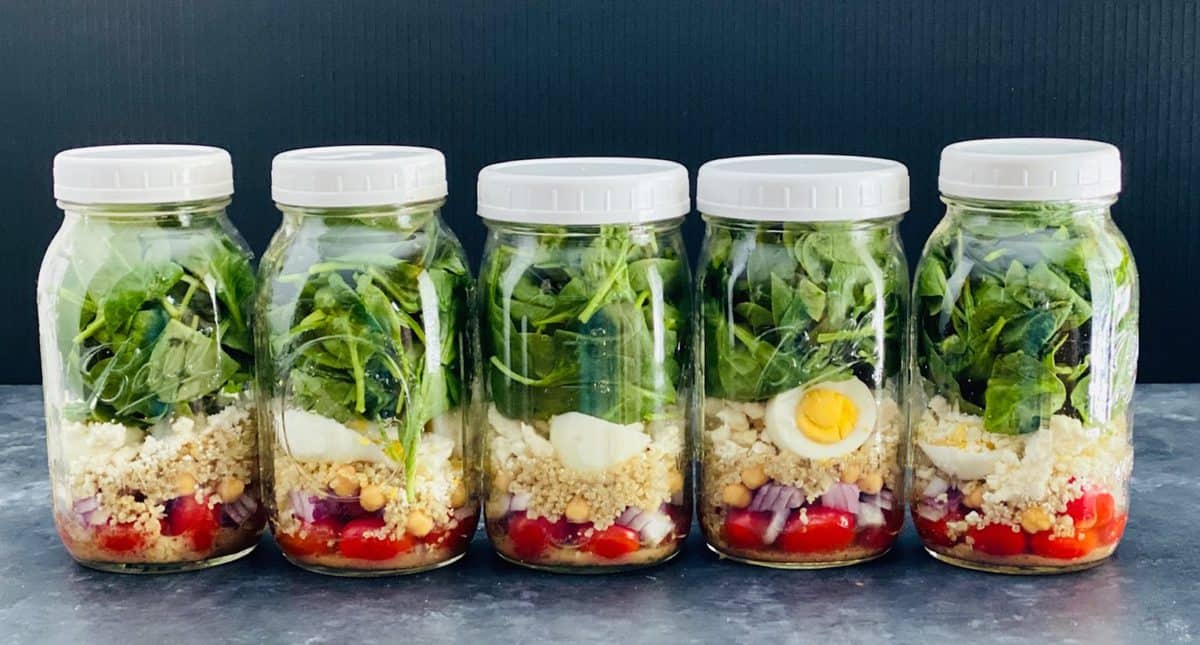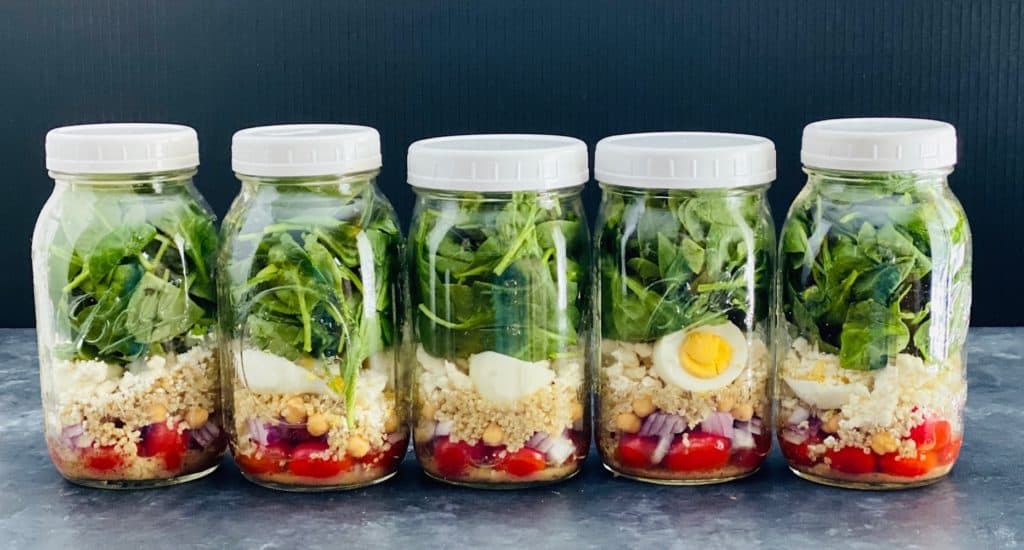 Dinner – 410 – 550 calories
Italian Parmesan Meatloaf and Roasted Broccoli x 2 nights – 410 calories
Green Chef Maple Glazed Chicken – 540 calories
Green Chef Cheesy Pasta with pesto – 600 calories
Dinnerly Greek Lemon Oregano Chicken – 550 calories
Dinnerly Barbecue Cheeseburger (no bun) – 550 calories
Meal prep tips
This week I'm testing out Green Chef and Dinnerly again so that's on our menu for dinner. Those dinners will be made the night we eat them because the boxes get delivered during the week.
I made the meatloaf and broccoli on Monday then stored both in the refrigerator in glass meal prep containers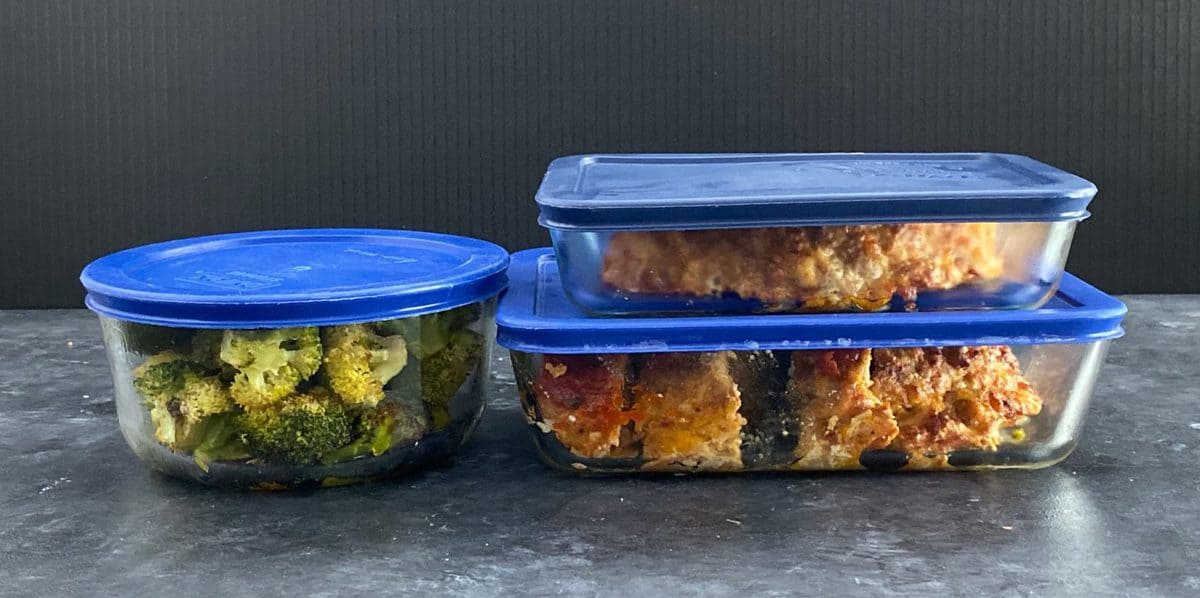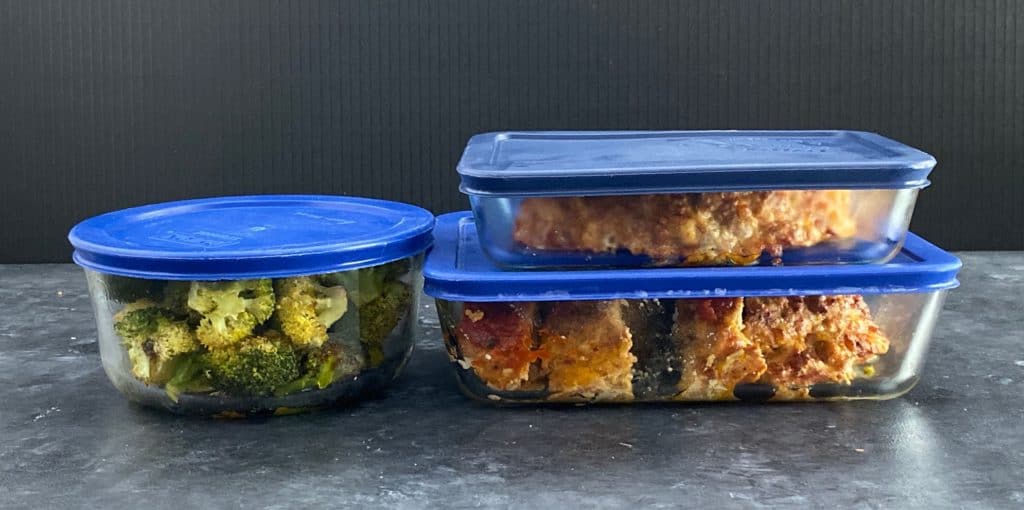 Meal prep supplies I used this week
32 ounce Wide Mouth Mason Jars – I use these for salads, keep track of water, and to store my smoothies. You can get these just about anywhere but if you don't feel like leaving the house then grab some from Amazon.
36 ounce rectangle glass containers with snap lids -These have quickly become my favorite meal prep container. I use them to store everything from salad ingredients to macaroni and cheese.
Pyrex Simply Store containers – I use these for just about everything too.
If you're looking for meal planning guidance then check out my free ultimate healthy meal planning guide.
Other meal planning resources:
Sun Basket – Sun Basket is the original organic meal kit delivery service. In the last few months, it's become a full-service meal company offering just about everything to help you sustain a healthy lifestyle. See my Sun Basket Review for all of their latest offerings.
Hello Fresh – The best meal kit to feed the whole family. See my Hello Fresh Review.
Purple Carrot – The only vegan meal kit service. See my Purple Carrot review
Daily Harvest – vegan grab n go meals in a cup. See my Daily Harvest review.
Hungryroot – This isn't a meal kit company but more of a grocery delivery service that offers organic ingredients to stock your kitchen with so you can create quick healthy meals. See my Hungryroot review.