This meal prep idea will help you take control back over snack time. This easy snack box is perfectly portioned out so you can enjoy your favorite cheese, fruit, and cracker platter without the guilt.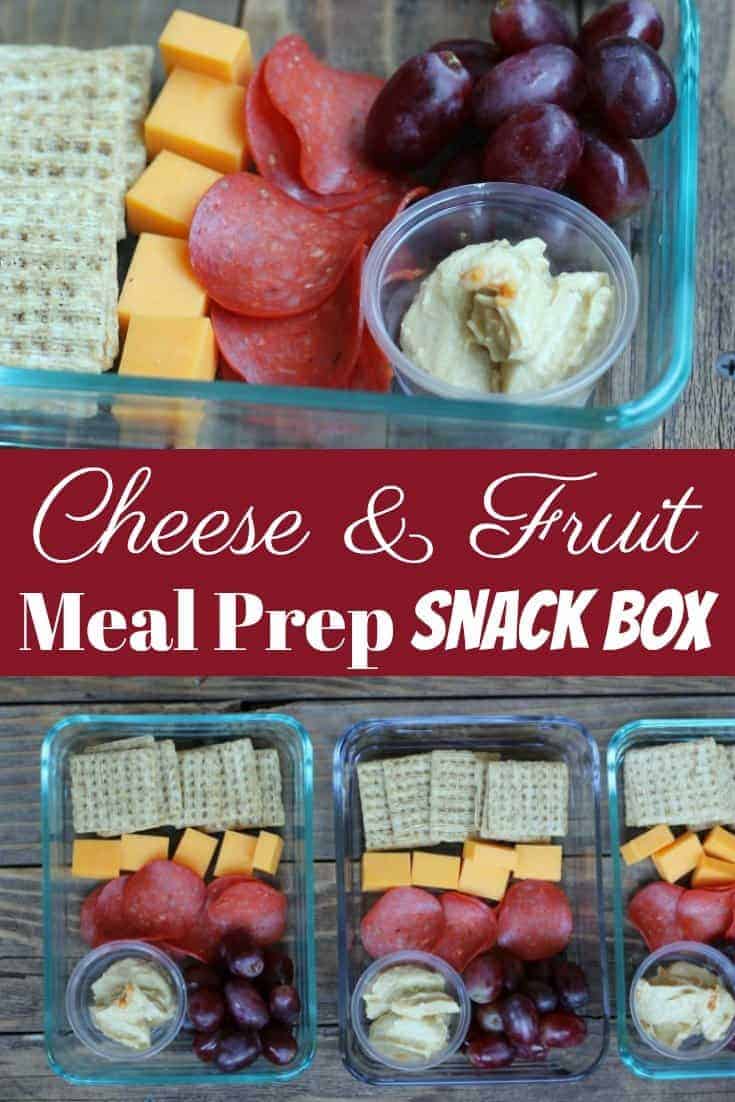 I have a couple weaknesses when it comes to losing weight. The first one is coffee creamer. Oh lordy, it's amazing the control french vanilla has over my life. I'm telling you it's a daily struggle to keep creamer from taking over all of my calories.
Another weakness that comes in at a close second is cheese, crackers, and hummus. LOVE LOVE LOVE to sit back and enjoy these snacks before dinner. Honestly, this might be my favorite food.
Anyway, just like with creamer I think I can eyeball calories and come out on top. Well, just like with creamer, that's not the case. If I don't measure creamer out then it's a guarantee I'll put too much in. And let me tell you, it doesn't take much to drink well over 200-300 calories a day in creamer if not paying attention.
The same goes with cheese, crackers, hummus, and all the other yummy stuff that makes life worth living.
I thought I was doing fine eyeballing my snacks. Ummmm…no. After putting these snack boxes together it's pretty clear why the scale has been so stubborn. These boxes I put together has 1 serving of cheese, crackers, hummus, turkey pepperoni, and grapes. Can you guess the calories? 411 calories per box. Embarrassingly, I've most likely ate double that while chatting it up with Mike after work. So just in case you're not doing the math that's about 800 calories (some nights) before we even ate dinner. Just writing that out has light bulbs going off.
Again, it's no wonder why I've been struggling to see results on the scale. I can exercise till the cows come home but I can't exercise an extra 800 calories away.
This is the reason it's so important to track every lick, bite, and sip. You might think you're eating within your calorie (or point) range but if you're not tracking then you don't really know.
Okay, let's go back to my new meal prep idea.
I know myself – I can't give up cheese. Cheese is life. So instead of trying to torcher myself with removing cheese, and all my other beloved snacks, from my world I decided to create portion-controlled snack boxes. At least now I can eat the snacks I love while keeping the calories under control.
Obviously, the calories on these snack boxes are still on the high side but at least now I know. I mean, I was eating double that plus my other snacks prior to this revelation. So, if I'm going to enjoy these meal prep cheese and fruit boxes then I'll just need to fit them within my calorie range.
Let's go over what I put in these snack boxes.
Each box contains 6 Triscuits (olive oil and black pepper), 1 ounce of sharp cheddar cheese, 8 slices turkey pepperoni, 2 tablespoons of garlic hummus, and 10 grapes. I made 5 boxes all together so I can get through the week. Although I'm going to make more for the weekend because Friday – Sunday are hot zones for cheese consumption.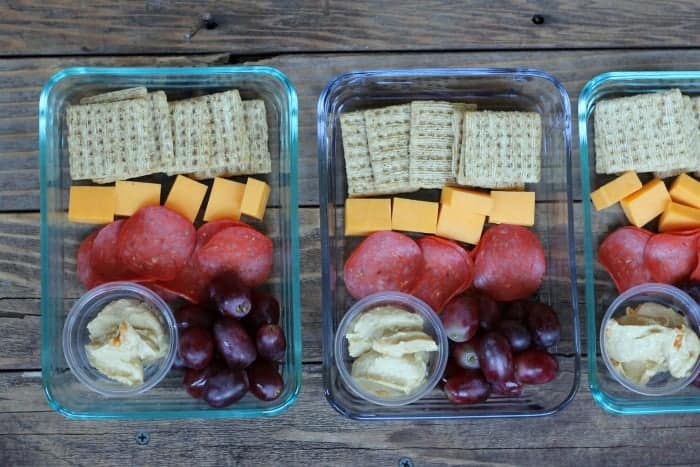 I opted to put the ingredients into glass Pyrex containers to keep everything fresh all week. However, next time I make these I'll put the pepperoni and crackers into seperate plastic snack bags before placing all the ingredients into the containers. This will keep the crackers crisp. Also, I used 2-ounce plastic containers for the hummus. These worked great.
You can find all the meal prep containers I use here on Amazon.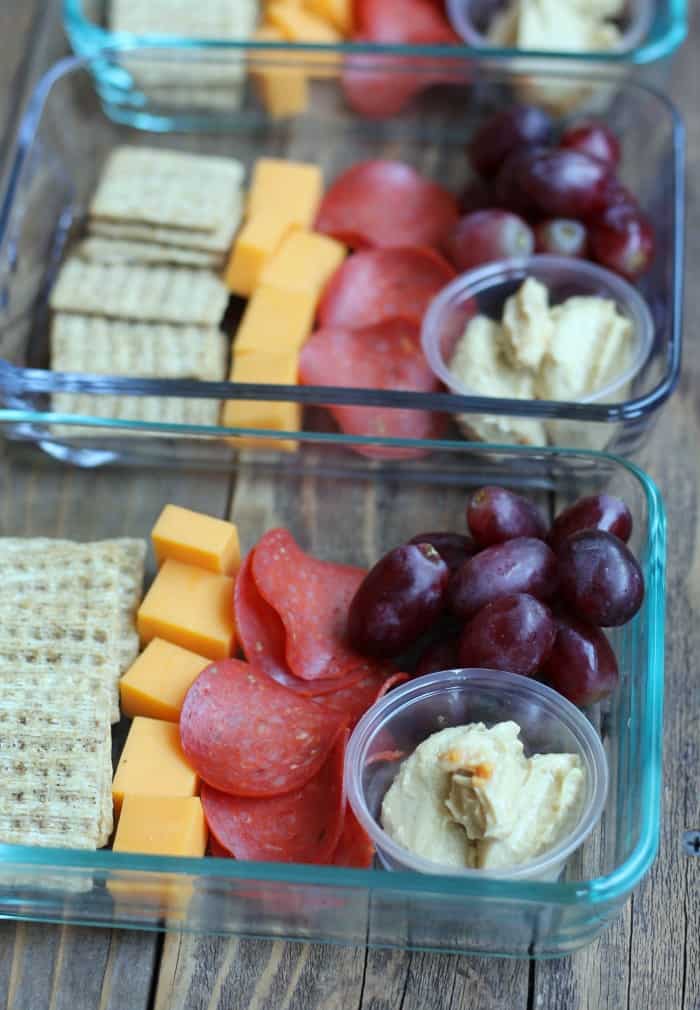 I ate these cheese and fruit meal prep snack boxes all week! I loved them. Seriously, why didn't I do this years ago?! Honestly, I looked forward to having one everyday. It felt really good knowing I could still enjoy the snacks I love but without breaking my daily calorie bank.
These meal prep snack boxes, and others like it, will certainly find their way into my weekly meal plan every week.
I know all of you like new meal prep ideas so I plan to share more snack boxes in the future. If you have any ideas for me to try let me know in the comments.
Here are some other meal prep ideas I've shared in the past:
Chicken Burrito Meal Prep Bowls
Check out this page for all of my meal prep posts.
Or sign up for my free 7-day Meal Prep email series <— lots of good information here!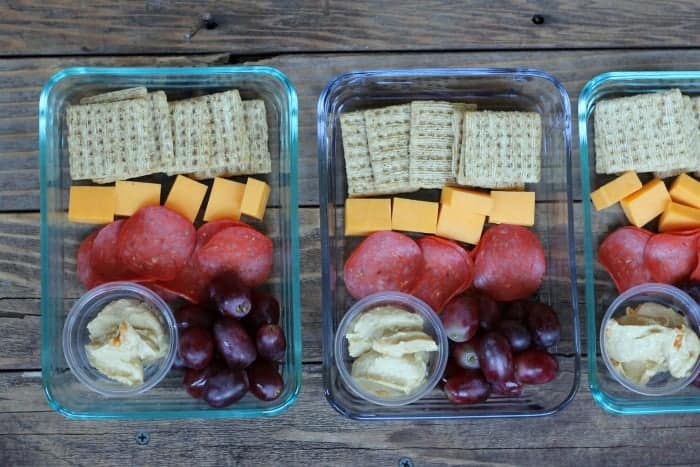 Meal Prep Idea: Cheese & Fruit Snack Box
This meal prep idea will help you take control back over snack time. This easy snack box is perfectly portioned out so you can enjoy your favorite cheese, fruit, and cracker platter without the guilt.
Print
Pin
Rate
Ingredients
5

meal prep containers

10

snack-size plastic bags

5

2-ounce plastic containers

30

Triscuit Olive Oil and Black Pepper Crackers

5

ounces

of sharp cheddar cheese

cut into 1 ounce portions

40

slices

of turkey pepperoni

10

tablespoons

of garlic hummus

50

grapes
Instructions
Place Triscuits and pepperoni into seperate plastic snack-size bags.

Place 2 tablespoons of hummus into each of the 2-ounce plastic containers.

Take all of the ingredients and divide among the 5 meal prep containers.

Store in the refrigerator.
Notes
Sugar: 16
Make-ahead tips
These snack boxes can be made ahead of time on Sunday for the week.
Nutrition
Serving:
1
g
|
Calories:
411
kcal
|
Carbohydrates:
43
g
|
Protein:
16
g
|
Fat:
20
g
|
Saturated Fat:
8
g
|
Fiber:
4
g