If the thought of meal planning is daunting then I recommend checking out these 3 online meal planning services and seeing if one fits your lifestyle and needs. These meal plan services are VERY affordable and, in my opinion, worth every penny. Each offers something a little different so depending on what you are looking for one might be better for you that the others. I subscribe to each of these meal planning services and find them very beneficial.
This is the meal planning service I use most often. You input your own recipes or upload recipes from the Internet. Then you can drag and drop those recipes into their meal-planning calendar. There is also the option to enter nutritional information. This is key for creating a weight loss meal plan that is customized to your needs. You can view what that looks like in one of my weekly meal plans.
After you drag in the recipes you can generate a grocery list based on the recipe's ingredients. You can also "friend" other members and share recipes. If you choose to join, friend me at organizeyourselfskinny.
Plan to Eat offers a 30 day free trial. If you decide to continue your membership you can pay $4.95 a month or $39 a year. Join Plan to Eat here.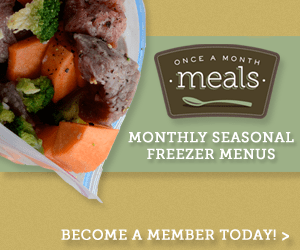 Once a Month Meals is a membership website that offers monthly seasonal freezer cooking meal plans. You know I am HUGE fan of freezer cooking. This website does ALL the planning work for you. They put together recipes, grocery lists, and explain step by step how to freeze those recipes. It is such a wonderful resource for those of us who like to make our meals ahead of time.
You can currently choose from 8 different meal plans including gluten & dairy free, paleo, diet, vegetarian, and others. Having a membership to Once a Month Meals provides you access to serving size customizable recipe cards, freezer directions, organized grocery lists, step-by-step cooking day instructions, and printable labels. Everything you need to cook a month worth of meals in one day.
Like I said, I am a huge fan of make ahead meals and freezer cooking so I love and highly recommend this meal planning service.
At the time of this writing the current basic membership was $10 a month or $99 a year and current pro membership is $16 a month or $170 a year. You can read more about Once a Month Meals here.
Emeals is a membership website that offers weekly dinner, lunch, breakfast, and dessert meal plans. You can choose from clean eating, organic, paleo, vegetarian, vegetarian, low calorie menu plans, and many others.
Once you pick the plan that best meets your needs then a meal plan will be sent via email each week via. You can also download it off their website.
The cost for emeals is $58 dollars a year. This breaks down to only $5 a month.
Meal planning is such a powerful tool with losing weight, budgeting, and general life organization. Again, there is no right or wrong way to meal plan. Find the method or service that works for your lifestyle and soon you will experience all the benefits meal planning has to offer.