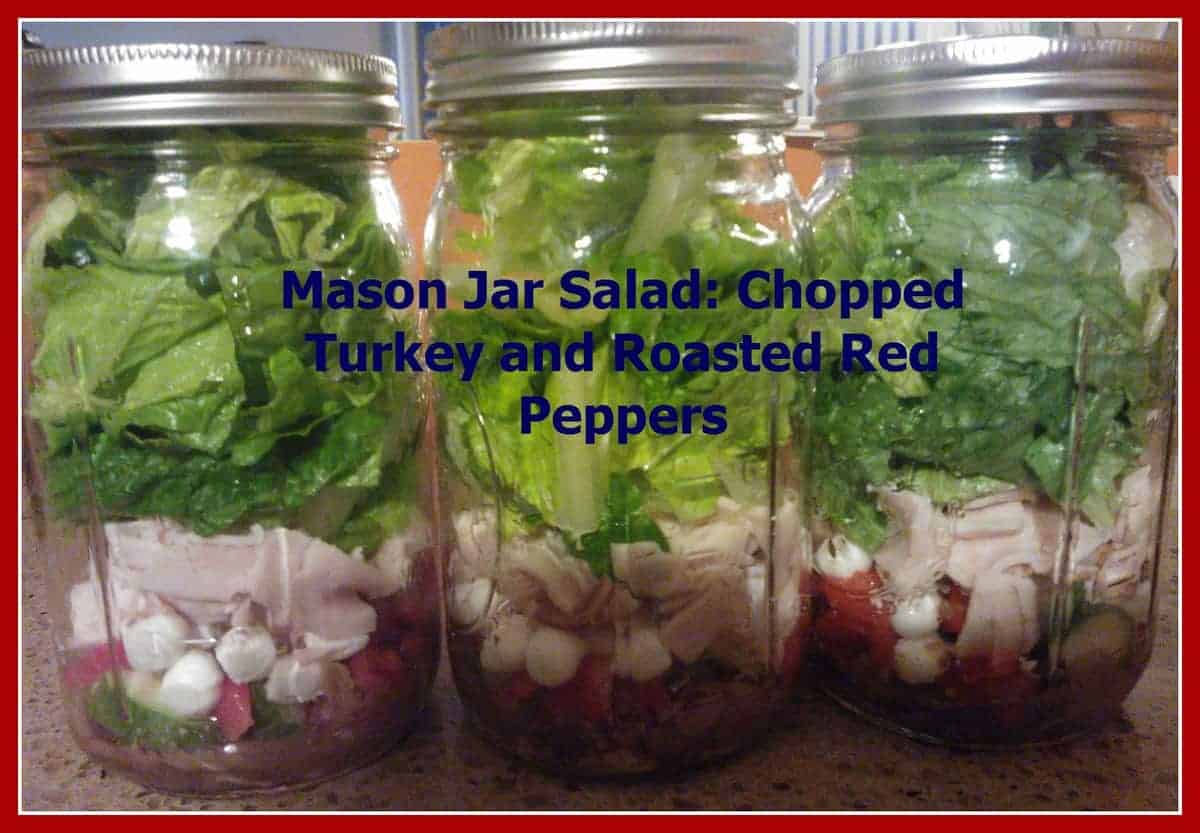 Mason jar salads are all the rage right now.  OYS has several different recipes for these clever, delicious creations already, and I am offering you a new option today that combines some of my favorite foods.
If you are new to the whole mason jar salad idea, let me explain.  A lot of people ask why we are making our salads in glass jars.  First of all, the glass jars keep your veggies fresher and crisper than a plastic container can.  Secondly, the glass jars will keep your salad fresh for up to five days, meaning you can make them ahead of time for the whole week.  I don't know about you, but I hate having to make my lunch every night.  For further reading, Tammy did a great post detailing her thoughts on mason jar salads that you can read here.

The key to making mason jar salads successfully is proper layering of ingredients.  The wet ingredients must be on the bottom, and the lettuce must be on the top, far away from the dressing.  Also, it helps to make sure your lettuce is very dry when you assemble these.  You are also free to alter the ingredients to match your likes and dislikes.
One of the questions we get about these salads is, "Don't you get bored eating the same thing for lunch every day?"  Well, yes, which is why I don't eat the same thing every day.  You have two options here: you can only make three salads for the week instead of five so you can have something else the other two days, or you can make five different salads for the week.  With the second option, you will have more to prep, but it might be worth it if you need variety in your diet.
Deli turkey is a staple in my diet, but we all know that lunch meats can sometimes be diet disasters.  You need to really watch the sodium and preservatives in your deli meat.  I have a great little deli near me that slices everything fresh, and they carry Boar's Head products, which are about as healthy as deli meat can get.  For this salad, I ask them to slice the turkey a little thicker so it is more like chunks, rather than the thin slices I like for sandwiches.  For the roasted red peppers, I make my own, but jarred peppers work too.  I bought perlini fresh mozzarella balls, which are tiny, but you could also purchase one big ball and chop it up.  I love the flavors in this salad, as the balsamic vinegar and Greek yogurt mix to make a creamy dressing, and it always tastes fresh!
Mason Jar Salad: Chopped Turkey and Roasted Red Peppers
Author:
Organize Yourself Skinny
Recipe type:
mason jar salad
Ingredients
3 tsp. balsamic vinegar
3 T. plain nonfat Greek yogurt
roasted red peppers (I roasted one whole red bell pepper and chopped it up for the 3 salads.)
12 cherry tomatoes, cut in half
18 slices cucumber, cut in half
¾ cup perlini fresh mozzarella balls
9 slices chopped deli turkey
3 cups romaine lettuce
Instructions
Divide the ingredients equally three ways, and assemble the ingredients in the bottom of each quart mason jar in this order: balsamic vinegar, yogurt, red peppers, tomatoes, cucumbers, mozzarella, turkey, and lettuce. Put the lid on and refrigerate.
When it's lunch time, pour it all into a bowl, and enjoy!
Notes
This can be made up to 5 days ahead of time