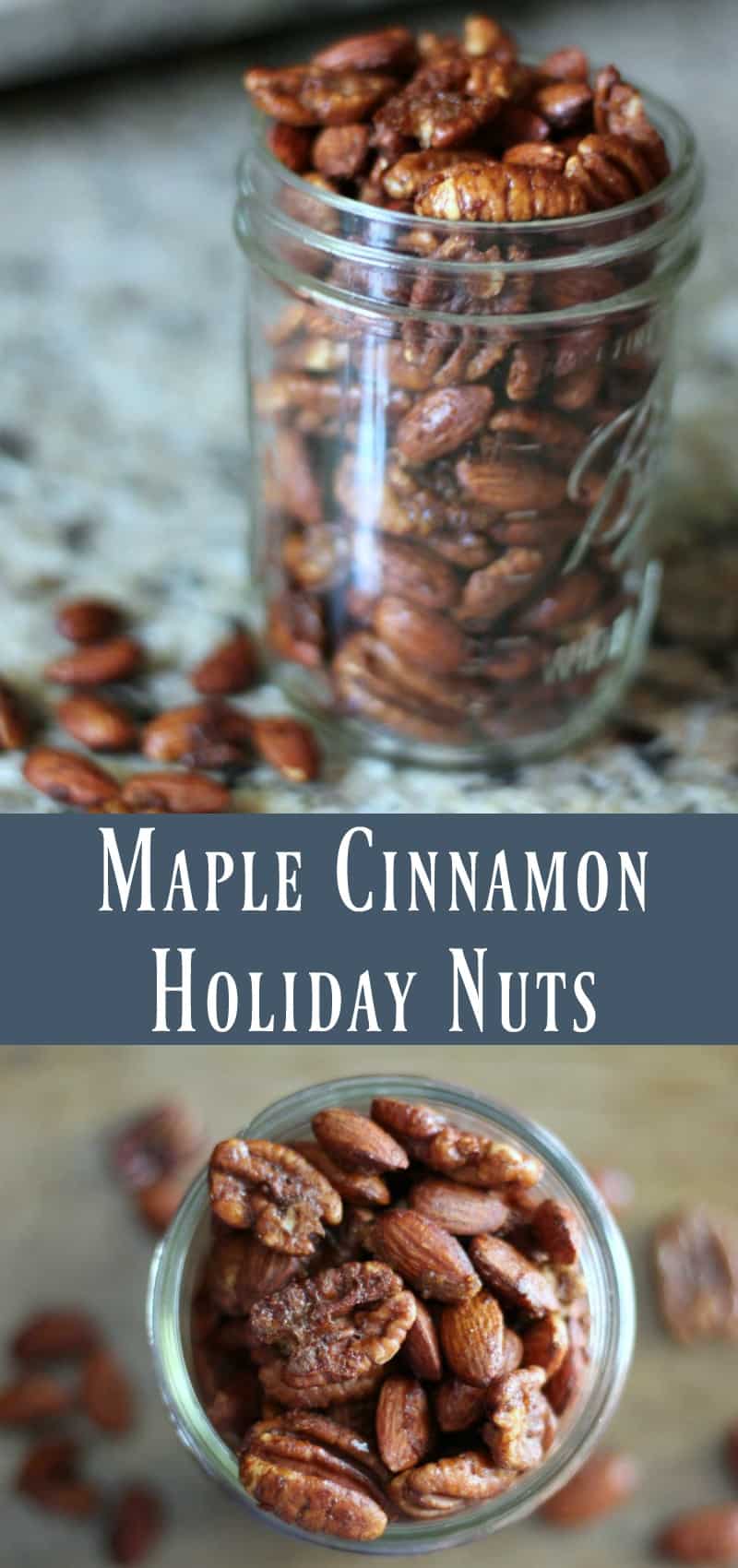 Thank you to De'Longhi for sponsoring this post today. I was provided with one of their amazing convection ovens along with compensation for my time. However, all opinions are my own. You can learn more about the De'Longhi Livenza Convection Oven by checking out their website.
---
The holidays are here! Well, almost. Before we know it our weekends will be filled with baking and preparing for parties – if they're not already. I'm especially excited for the holidays this year. We just moved into our new home and it's perfect for entertaining. I already have 2 holiday parties planned for November and expect to attend a bunch in December. Needless to say I'm going to be a busy girl!
When I have a lot of cooking to do or want to keep it easy it's helpful to have a convection oven. Originally, I discovered convection ovens about 6-7 years ago when my oven broke. I purchased one to use while we saved up for a new oven and in that time I totally fell in love with having one. Honestly, I didn't think I would ever use it again once I got a new oven but I was wrong. Having a convection oven is a total life savor when trying to meal prep a bunch of recipes for the week, warming up a freezer meal, cooking a pizza, or even for baking cookies or bread. It's also great to have during the holidays when you need more than one oven.
Anyway, since I'm a true blue believer in convection ovens I was thrilled when De'Longhi ask me to test out and review their new Livenza Stainless Steel Digital True Convection Oven.
Yay, mama has a new convection oven!
Let's chat about this work of art! The Livenza Stainless Steel Digital True Convection Oven is gorgeous. The first thing I noticed was the beautiful stainless steel and sleek compact design. It fit perfectly into the corner of my new kitchen. It wasn't bulky nor did it look completely out of place. In fact, I think it looked sharp.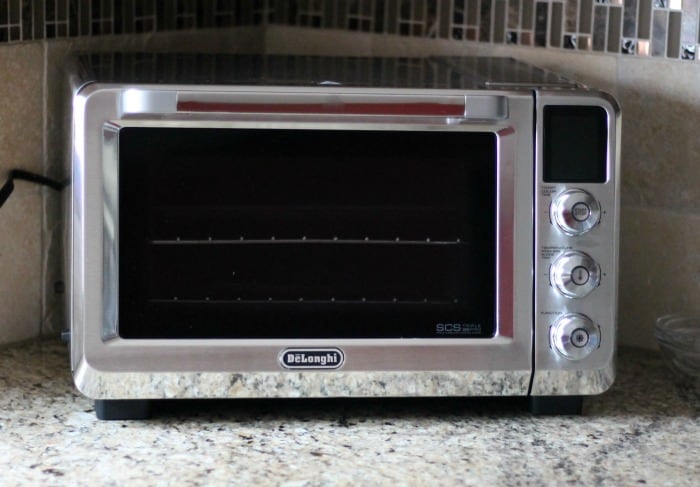 The Livenza Stainless Steel Digital True Convection Oven comes with 3 heating areas, convection cooking capabilities, digital display, and auto shut off. It has 7 cooking functions: toast, bake, convention bake, broil/grill, defrost, pizza, and cookies. There are also 8 preset programs. Seriously, this is quite the machine. But don't worry, it's super easy to use.
The Livenza Stainless Steel Digital True Convection Oven comes with a non-stick pizza and baking pan. I was excited to see this because you do need a smaller size pan to use these type of ovens, it's nice they include it.
If you want to learn more about the Livenza Stainless Steel Digital True Convection Oven then go to their website.
Now, let's talk about my experience using this convection oven.
Since we are in the holiday season I decided to make a simple Maple Cinnamon Nut recipe. This is a huge hit with my family and friends – I plan to make large batches to give out as gifts or party favorites this year.
This recipe is so easy to make. I used pecans and almonds but any nut will do, so use your favorite. I mixed the nuts together in a large bowl.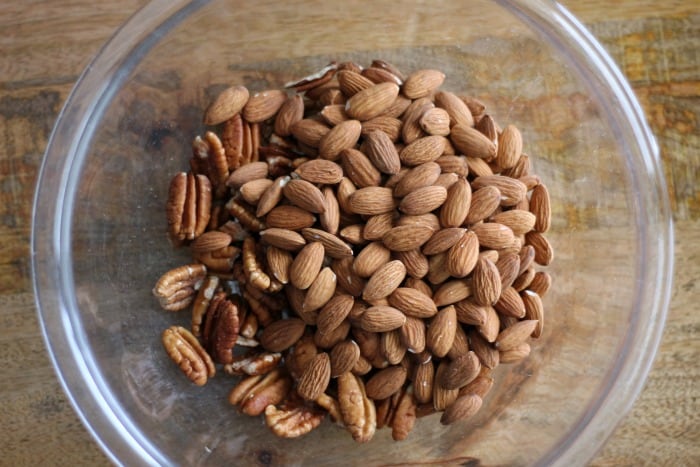 Then I mixed together the pure maple syrup, brown sugar, egg white, cinnamon, and salt. I love the sweet and salty flavor of these nuts. This is a great base recipe so if you want to add other spices then play around with it. Ground ginger would taste great or a dash of cloves would give it some nice spice.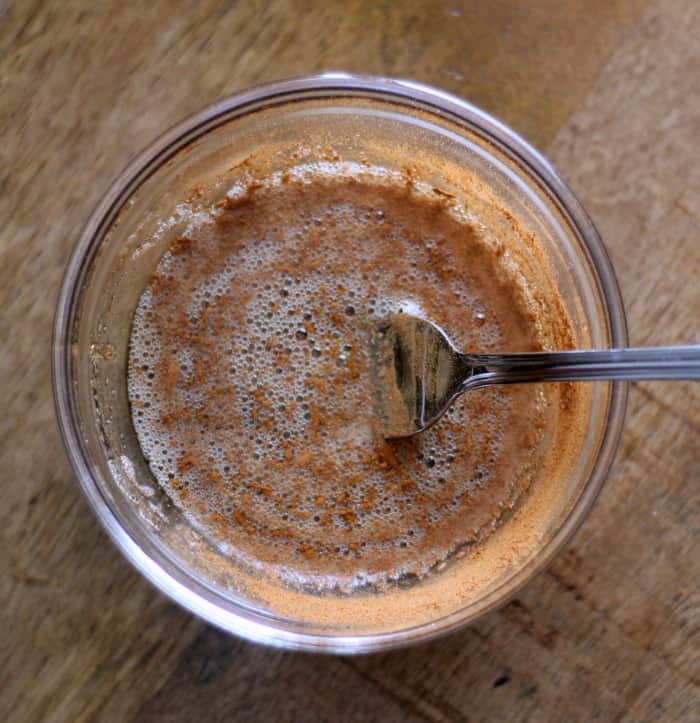 I poured the liquid over the nuts and mixed it around until all the nuts were coated.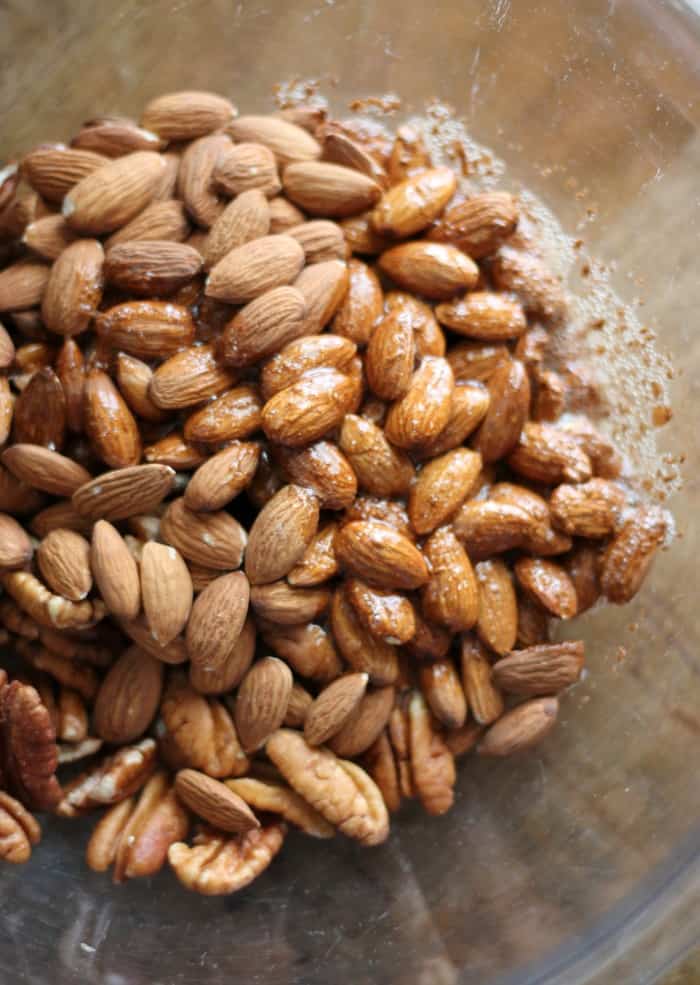 Then I set the Livenza Stainless Steel Digital True Convection Oven to bake at 325 degrees. It took hardly anytime to preheat which is awesome because my regular oven takes FOREVER! Just another reason to have a convection oven handy when you're trying to save time.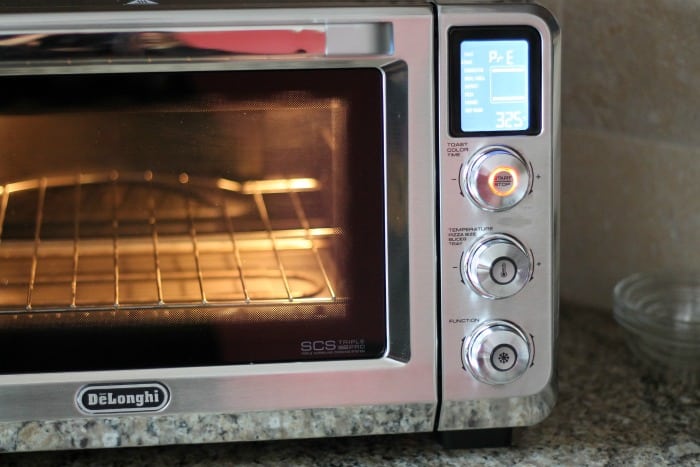 In went the nuts! I could hardly contain myself thinking about the amazing smells that will soon come out of this convection oven.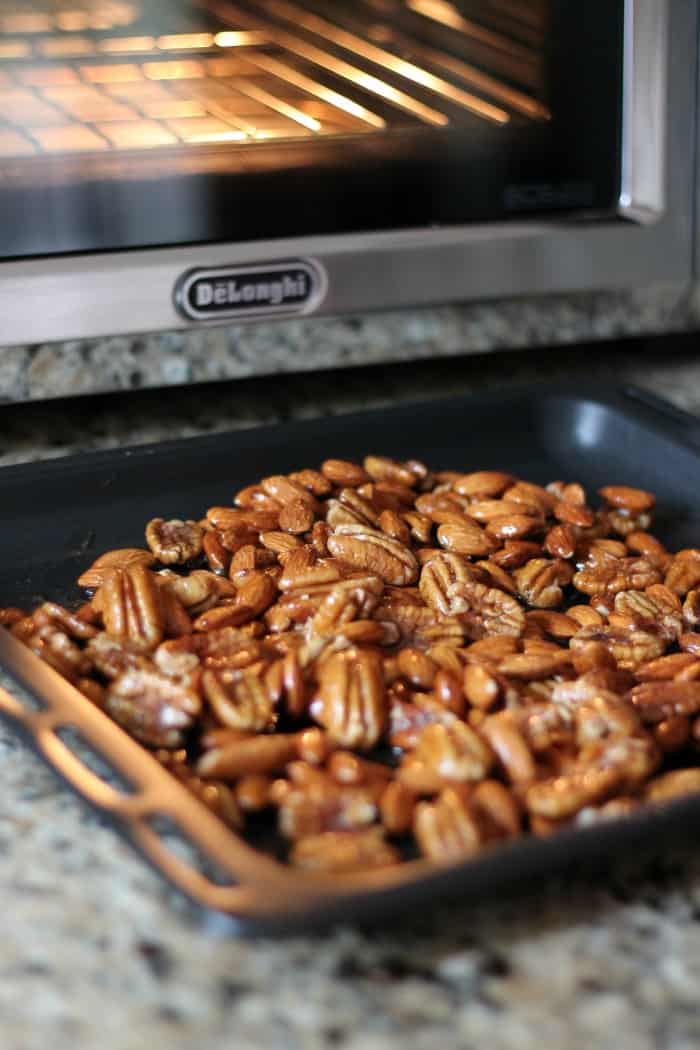 I thought it was super helpful to see the nuts through the glass and also to have them eye level. It's very easy for nuts to burn in the oven so being able to see them definitely made a difference.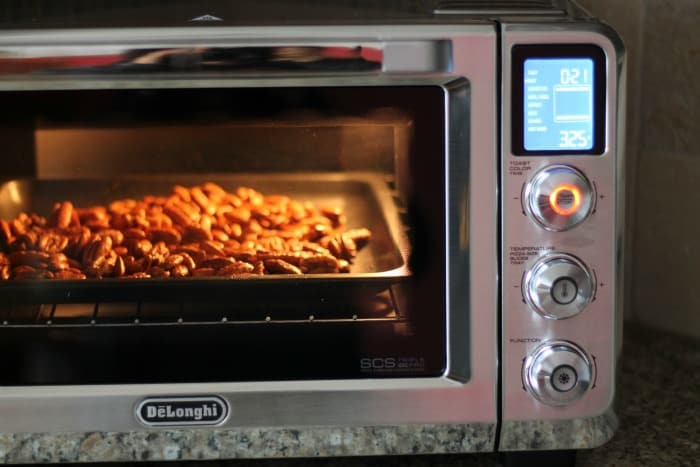 The Livenza Stainless Steel Digital True Convection Oven cooked these nuts perfectly. I set the timer for 25 minutes but it was done at 22 minutes. I stirred the nuts a couple times as they cooked to prevent burning. Each nut was nicely toasted and had great flavor – a little salty and a little sweet. YUM!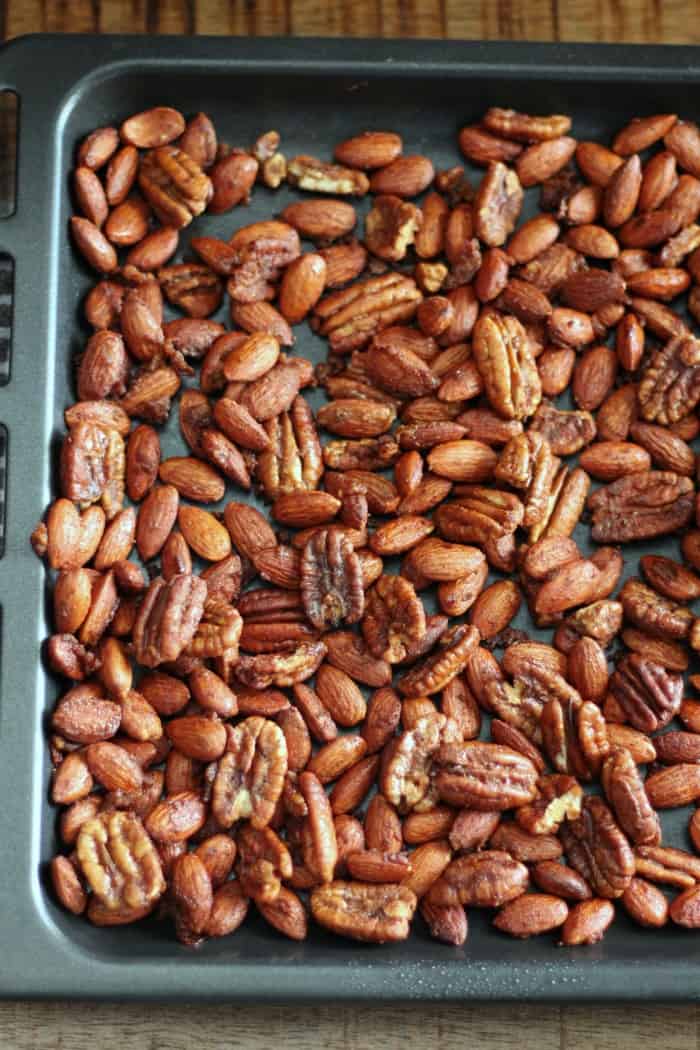 This Maple Cinnamon Holiday Nut recipe can only be described as addicting. Seriously, I had to hide this batch because I was going to eat the whole thing. That wouldn't be good for my goal of portion control.
I can't wait to have these out at my party and to give a jar or two to friends and family for the holidays.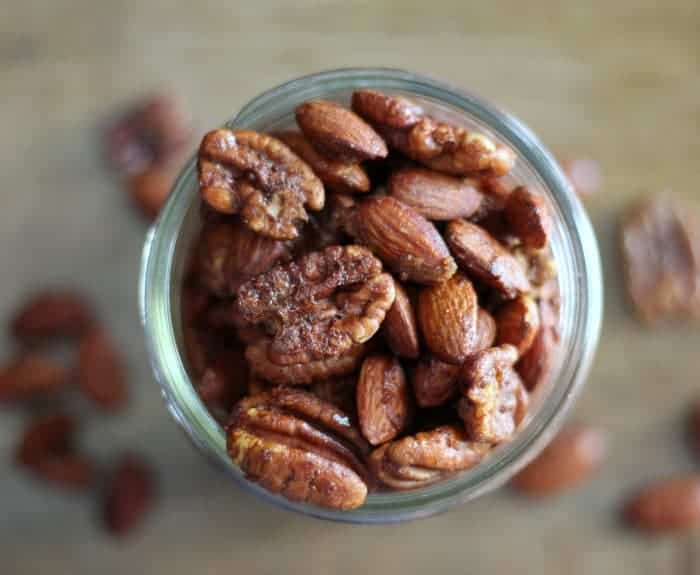 Thank you again to De'Longhi for sponsoring this post. If you're in the market for a new convection oven I recommend reading more about it on their website and deciding if it would be a good fit for you. It's a very high quality convection oven that I'm very grateful to be able to use for many holidays to come.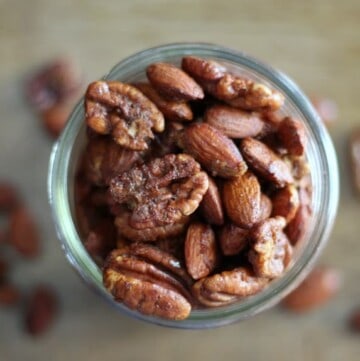 Ingredients
1

cup

raw pecans

1

cup

raw almonds

2

tablespoons

pure maple syrup

1

egg white

1

tablespoon

brown sugar

1/2

teaspoon

cinnamon

1/2

teaspoon

salt
Instructions
Preheat oven to 325 degrees

In a large bowl mix together the pecans and almonds.

In a seperate bowl whisk together the pure maple syrup, egg white, brown sugar, cinnamon, and salt.

Pour the maple syrup mixture over the nuts and mix until all the nuts are coated.

Spread out on a baking sheet sprayed with cooking spray.

Bake for 25 minutes, turning 2-3 times to make sure the nuts don't burn.

Let the nuts cool for about 10 minutes and then store in an airtight container.
This is a sponsored conversation written by me on behalf of De'Longhi. The opinions and text are all mine.