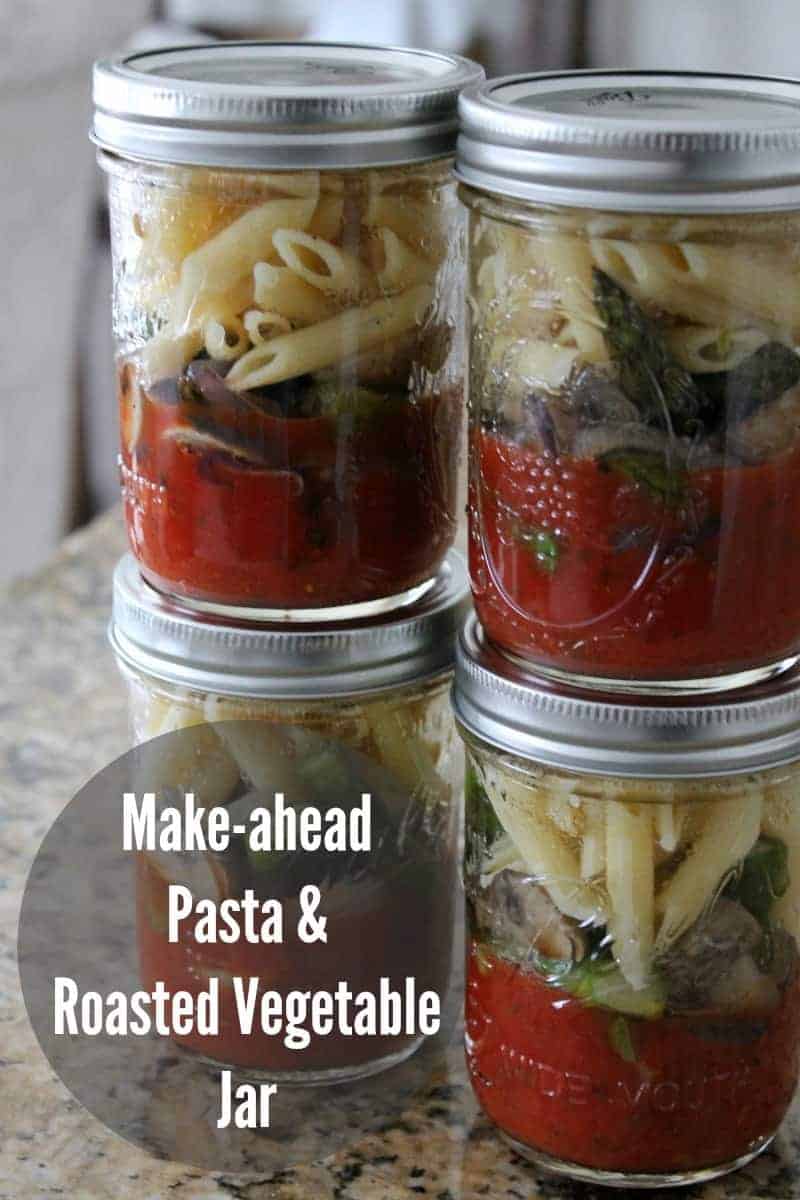 A huge THANK YOU today to Barilla® for sponsoring this new make-ahead delicious easy "you need to make this now" pasta and roasted vegetable jar! Seriously, I'm pretty sure these jars will be lunch and dinner game changes for many people, especially me! You can check out the Barilla® website for more product information and recipe ideas. Find these great recipe ingredients and more at your local BJ's. You follow Barilla along on twitter @BarillaUS and using hashtags #BarillaOrganic #BarillaMarinara.
---
I need make-ahead meals in my life. Seriously. Without my meals prepped ahead of time there's NO WAY I would EVER eat healthy. Believe me I tried. It doesn't work. My life is beyond busy and if I want to eat nutritious meals I need to plan ahead.
These pasta jars have been in my brain for months. As pasta's biggest fan let me explain why these pasta jars are a huge game changer for me and hopefully for you too. I love pasta but need to enjoy it in moderation. Of course, I still have days where I NEED a huge bowl of pasta smothered in butter and cheese but obviously that's not going to agree with my skinny jeans. However, I can enjoy pasta regularly when I portion it out and pair it with lots of vegetables. That's exactly what I did with these pasta jars.
I used 16-ounce mason jars for this recipe. Each jar has 1/2 cup of Organic Barilla® Pasta, 1/2 cup of Barilla® Natural Marinara Sauce, and lots of roasted vegetables. YUM!
Before I get to this recipe let me talk a little about the pasta. If you shop at BJs you might have notice they were offering a sampling of the Barilla® Sauce and Organic Pasta on March 5th. I don't know about you but I live for samplings. So do my kids. We're like vultures when we see a little sampling booth at the end of an aisle. And to see pasta and sauce you better believe I will be first in line.
I picked up some Barilla® Organic Pasta and a 4-pack of Barilla® Marinara Sauce and trotted home to whip up these pasta jars.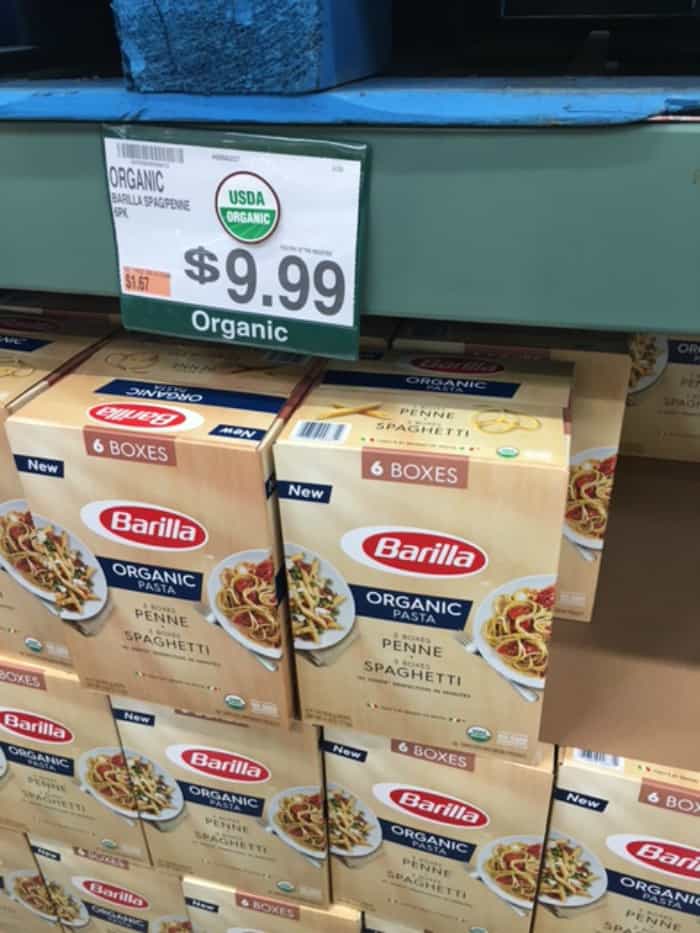 Honestly, I couldn't make these jars fast enough. I was sooooo excited to have pasta for lunch or dinner a few times this week.
Let's get to the recipe.
In addition to the Barilla® Organic Penne and Barilla® Natural Marinara Sauce I grabbed some asparagus, mushrooms, and a red onion to roast for this recipe. You can use any vegetables you like. These three are my favorite to roast. I love that the Barilla® Marinara Sauce is made real vegetables, is all natural, and gluten free. I could really taste the difference with this sauce. Also, the Barilla® Organic Pasta is delicious, uses certified organic wheat, no gmo ingredients, and is always al dente. I've been eating Barilla® pasta my entire life and this taste just as delicious as the rest.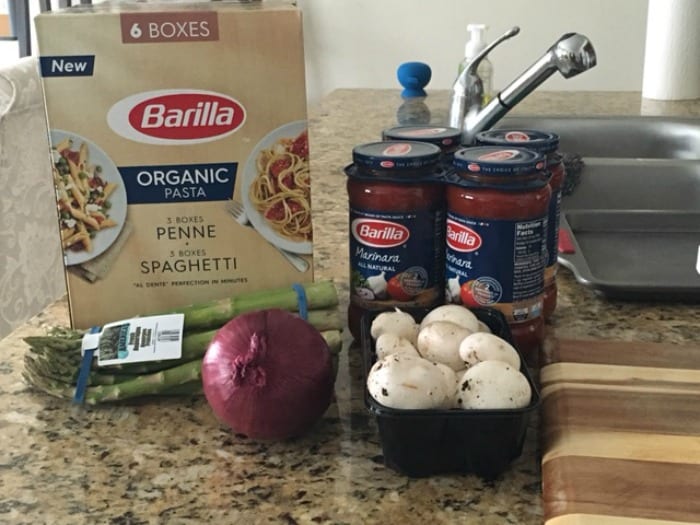 I kept the roasting simple. All I did was lay they vegetables on a sheet pan, drizzle with some olive oil, and then season with salt and pepper. I cooked in a 420 degree oven for about 20 minutes.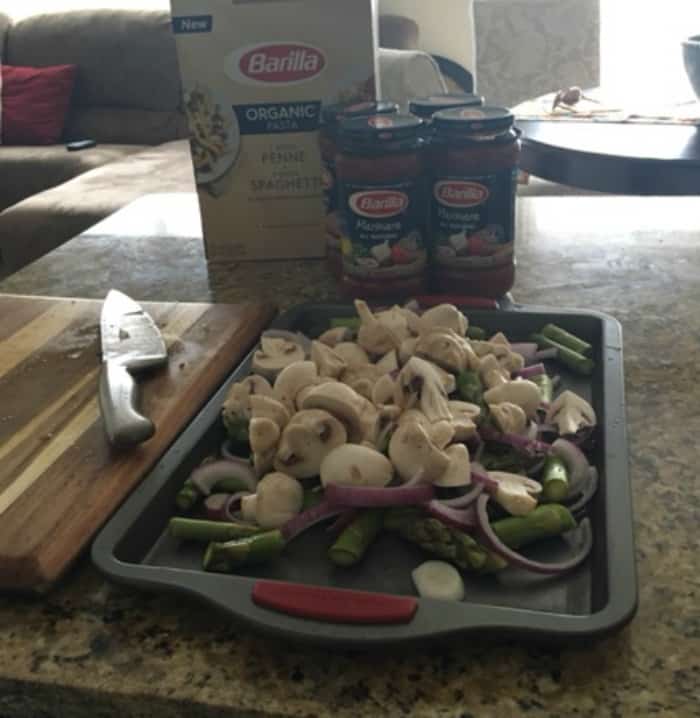 While the vegetables were cooking I poured 1/2 cup of Barilla® Marinara Sauce into each of the mason jars. I made 5 jars but you can make as many as you want.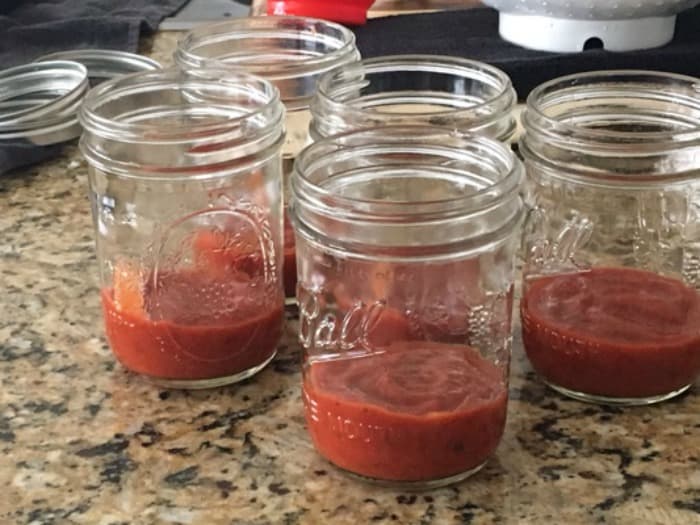 Then after the vegetables were roasted and slightly cooled I divided them evenly among the jars.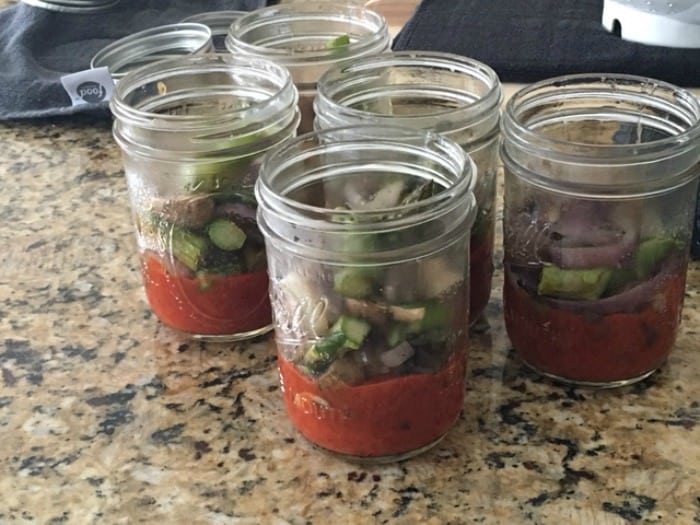 Next for the star! PASTA! I place 1/2 cup of cooked Barilla® Organic Penne into each of the jars. This pasta is soooo delicious! I kept grabbing little bites as I put these together.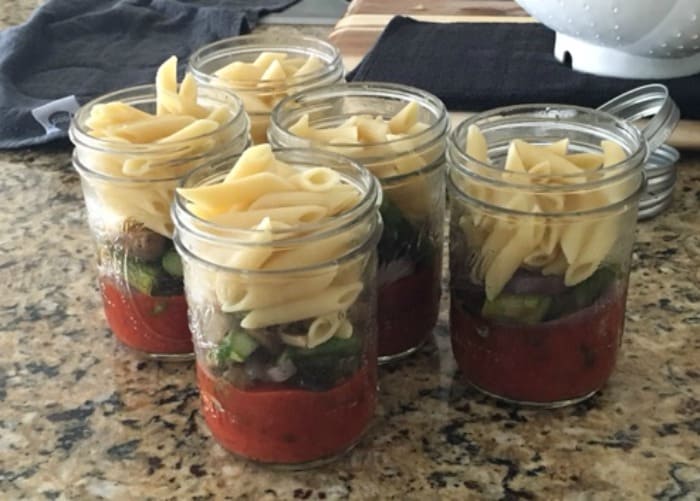 Last, I screwed the tops on tightly and stored in the refrigerator.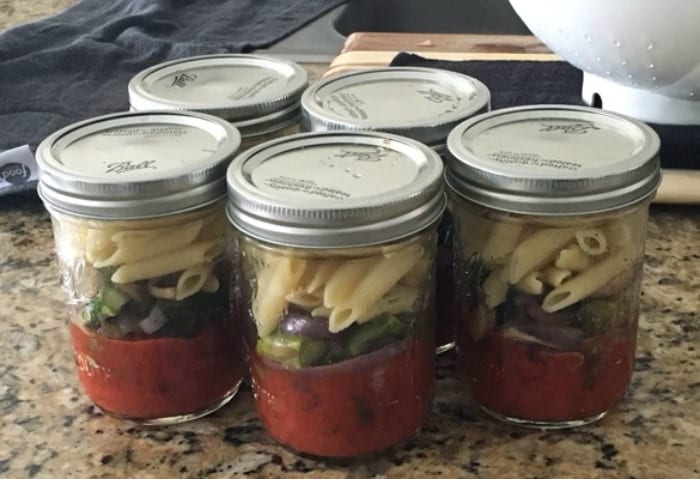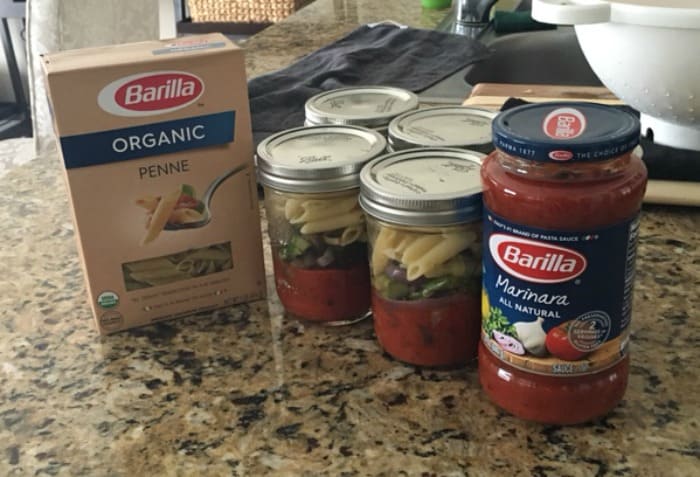 When I'm ready to eat my perfectly portioned out pasta jars I will dump the ingredients into a sauce pan and warm it up on the stove or place into a microwave safe bowl to heat up.
Here's a quick video I put together to bring this recipe to life. I also show you how I heat this up on the stove. It's only 60-seconds so I move quick 🙂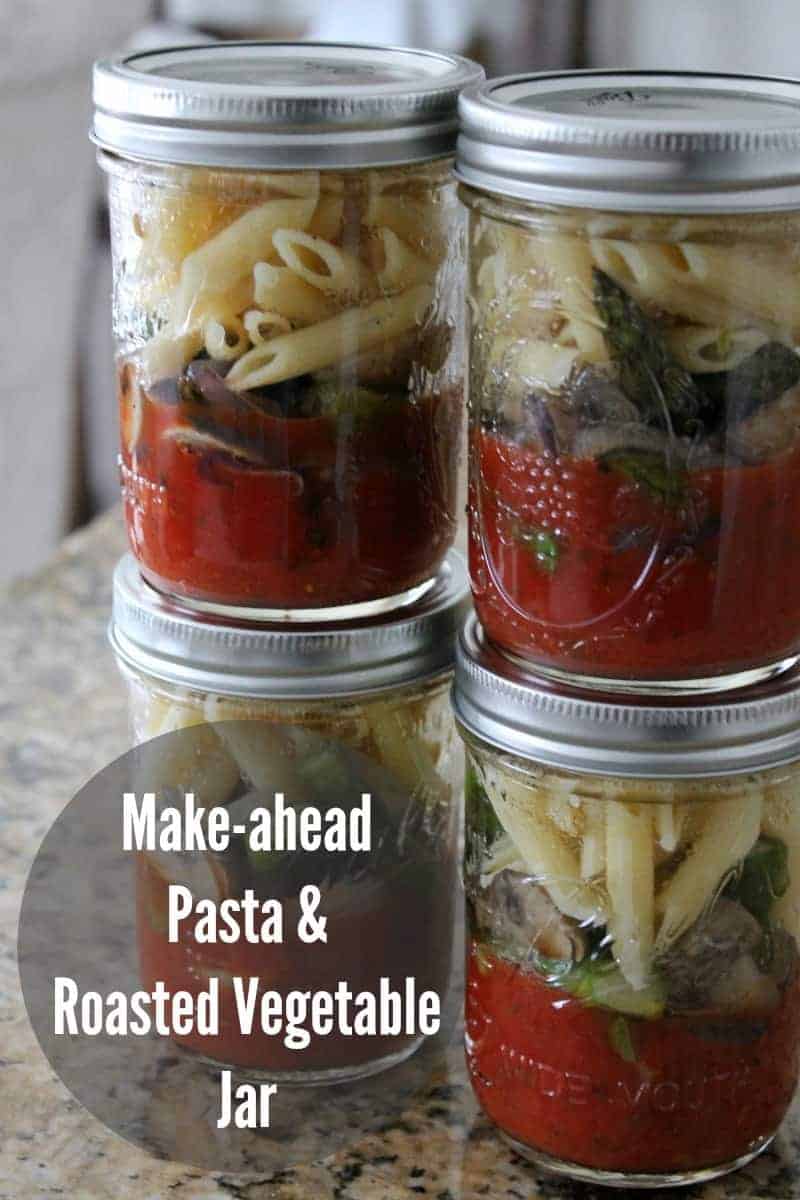 Ingredients
5

16-ounce mason jars

1

red onion

sliced

1

bunch asparagus

trimmed and chopped into chunks

1

10-ounce package white mushrooms

2

tablespoons

olive oil

salt and pepper

2 1/2

cups

Barilla® Natural Marinara Sauce

2 1/2

cups

cooked Barilla® Organic Penne
Instructions
Preheat over to 420 degrees

Place vegetables on a sheet pan and drizzle with olive oil and season with salt and pepper.

Place into the oven and roast for 15 - 20 minutes or until the vegetables are tender.

While the vegetables are roasting pour 1/2 cup of sauce into each of the jars.

After the vegetables are cooked and slightly cooled divide them equally among the jars.

Add 1/2 cup of pasta, on top of the vegetables, in each of the jars.

Place the lid on tightly and store in the refrigerator.

To heat up dump the ingredients into a sauce pan and sauté until heated through. You can also heat this up in the microwave by dumping ingredients into a microwave bowl and cooking for 1-2 minutes on high or until heated through.
This is a sponsored conversation written by me on behalf of Barilla Pasta Company . The opinions and text expressed in this posting are all mine and are not shared by the organization.