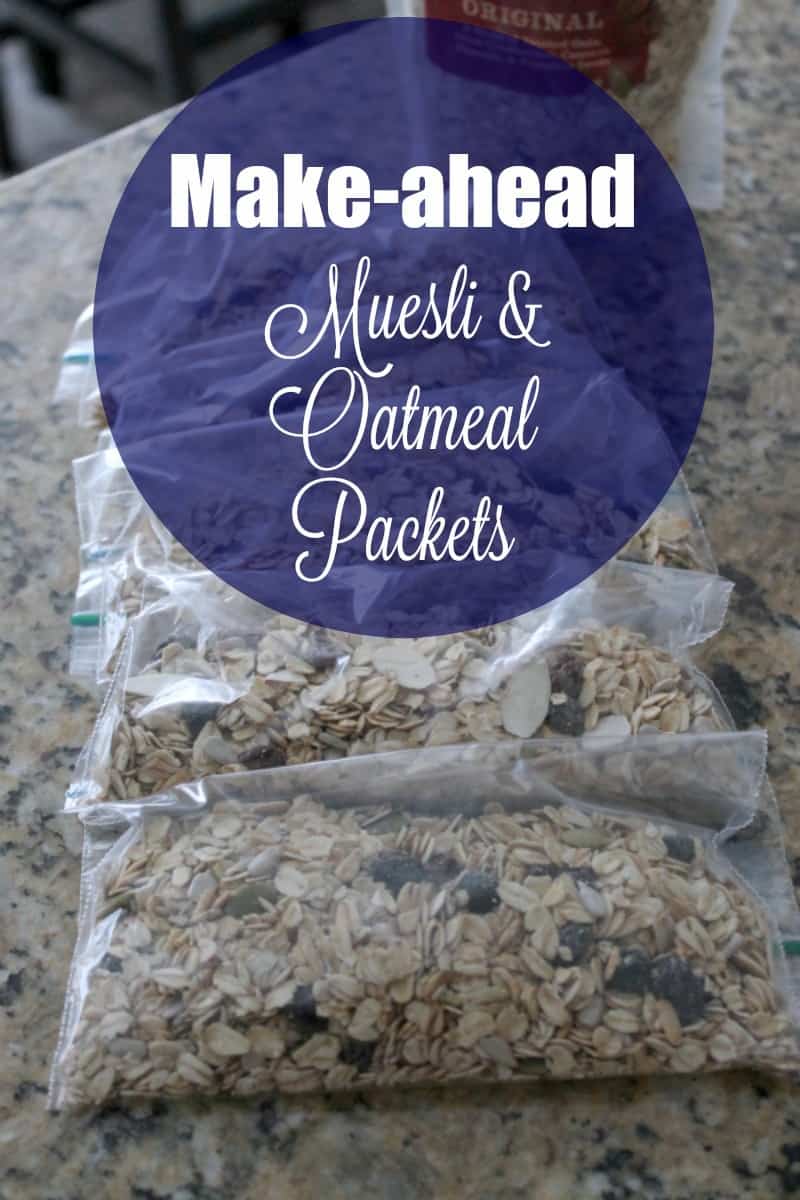 Today's post is sponsored by Nature Valley. My girls and I tested out the new Nature Valley™ Toasted Oats Muesli and we ♥ them! Anything that makes my mornings a little easier quickly becomes a superstar in my life. Read more about Nature Valley Muesli on their website, Facebook page, Twitter, and of course on Instagram. Get a coupon to try out Nature Valley Muesli here.
During my college years I used to schedule afternoon classes so I could wake up when I wanted and take my sweet ole time eating pop-tarts and drinking an unhealthy amount of coffee. The only care in the world was deciding on what to wear and figuring out what to do that night. Yup, those where the days.
Times have changed. Now my life is a far cry from the carefree college student 20 years ago.
Today I wake up no later than 6:00am (even on the weekends) so I can exercise, work, and relax before everyone wakes up and needs my attention. Once the kiddos wake up its go time. I need to make sure each one is dressed, groomed, fed and organized for the day. Of course with an 8 and 10 year old I need to play referee a couple times too. Don't let the cute faces fool you. These girls can go 20 rounds over who was playing with the Barbie shoe neither of them have touched in 5 years. You get it.
Don't get me wrong, I wouldn't change my life for the world. My kids are fun, make me laugh, and without sounding too mushy are the sole reason I wake up everyday. Even before I knew it, they were the reason I went to college, worked full-time, and started a business. They give me purpose.
In the last 4-5 years, I discovered if I want to truly enjoy this busy adult life I need to be intentional. I can't just wake up and "wing it". Trust me, nobody likes morning "wing it" mom. She is cray cray.
Instead, I plan my mornings out. Before we go to bed I make sure their clothes are clean and ready the night before. Book bags need to be organized and lunches prepared and packed. Everything is ready to go.
Another thing I do to simplify our mornings is prepare breakfast ahead of time. This is a must! Sometimes I make smoothies, breakfast burritos, breakfast cookies, and/or muffins. However, I don't always have time to break out the blender or cook so my new food prep "go to" is make-ahead oatmeal and/or muesli packets.
Last week, I made packets using Nature Valley™ Toasted Oats Muesli. These packets are simple to put together, take little time, are portable, and most importantly my girls can quickly make their own breakfast. #momwin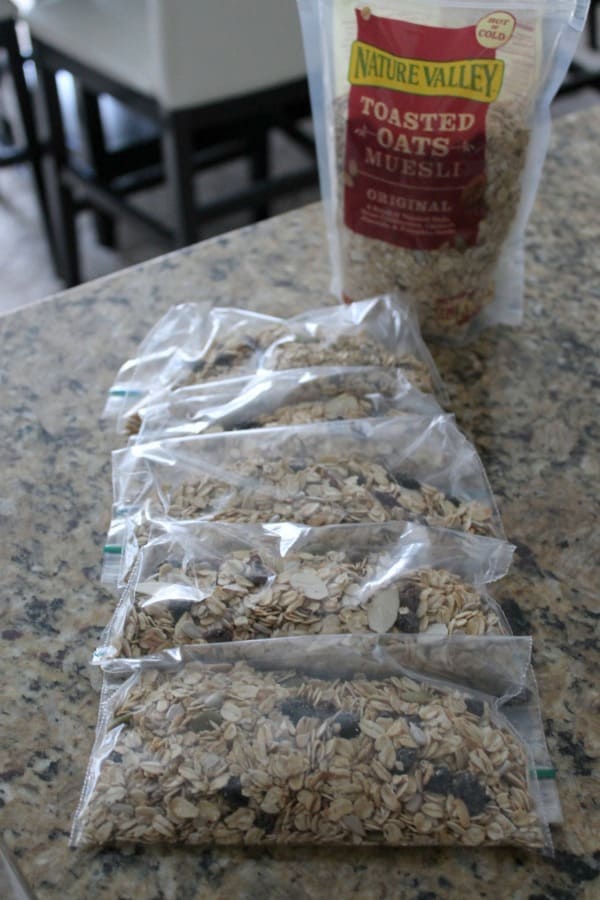 To make these packets all you need are plastic snack bags (or containers), a measuring cup, and a bag of Nature Valley™Muesli. Of course, this method will work with any cereal or oatmeal but I loved the ease of using the Nature Valley™Muesli. It's filled with a delicious blend of whole, oven toasted oats, fruit, nuts, and seeds. You can get a coupon here to try it out.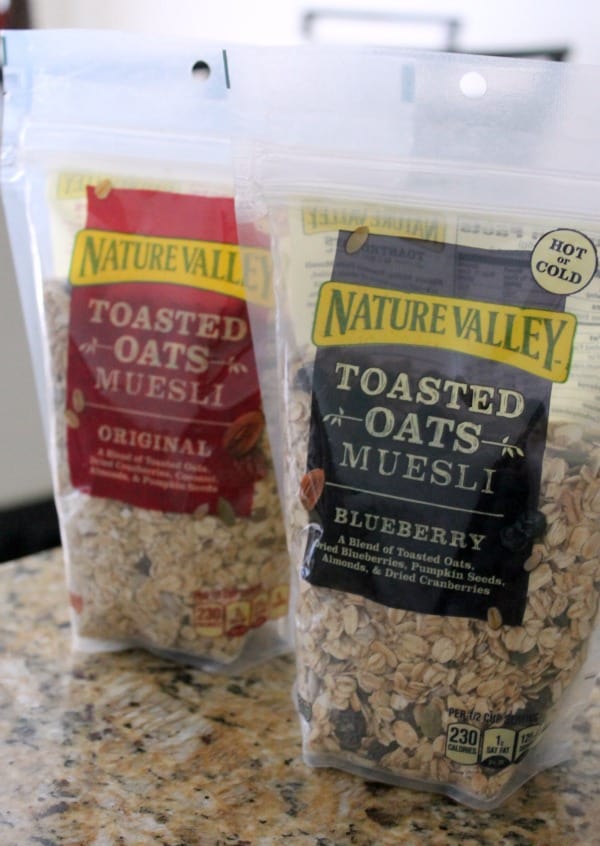 Each bag of Nature Valley™Muesli has about 5 (½ cup) servings so I portioned it into 5 bags. You can make the portions as big or small as you want. I make them a little smaller (1/4 cup) for me because I like to enjoy it with a container of yogurt.
I store the bags in the refrigerator just in case we don't eat them all within a week. The bags are kept together in a small bin. This is important because food needs to be visible for my kids. If they don't see it right away then it doesn't exist. Since my girls like to enjoy muesli with milk I try to keep the milk next to the packets. I am all about easy.
You might be wondering the reason behind packets. Why not just pour it from the bag? My #1 reason is portion-control. Both of my girls are at an age where they can make their own breakfast. In fact, they enjoy it. Obviosuly, they can't use a stove yet but we are getting there. Baby steps. But…have you seen a child pour cereal, muesli, or oatmeal into a bowl? I am pretty sure a professional football player can't eat that much.
Portioning out the muesli into bags takes the guesswork out. My girls can just grab a bag, pour it into a bowl, and call it a morning. They don't even need me to help. No more yelling "MOOOOMMMMYYYY can you pour my cereal" or coming downstairs to see half the box dumped into a bowl. Portioning it out reduces a lot of waste. I hate thinking about all the cereal, oatmeal, and muesli I have thrown out over the years.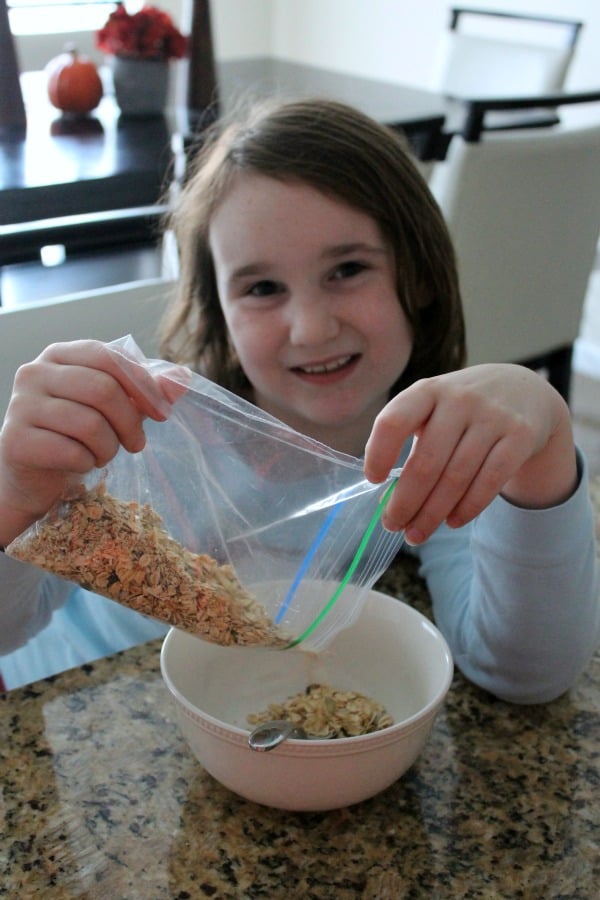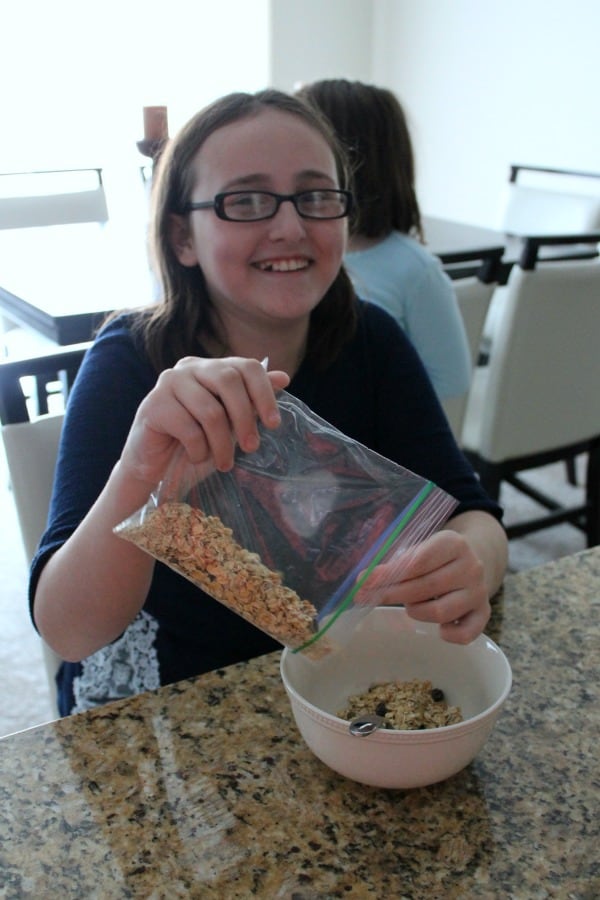 Making their own breakfast gives them a little more independence and pride in helping out in the mornings. I absolutely love it too. Mornings are very busy so knowing they can grab a packet of Nature Valley™Muesli and pour it into a bowl with some milk, all by themselves, makes me a happy mommy.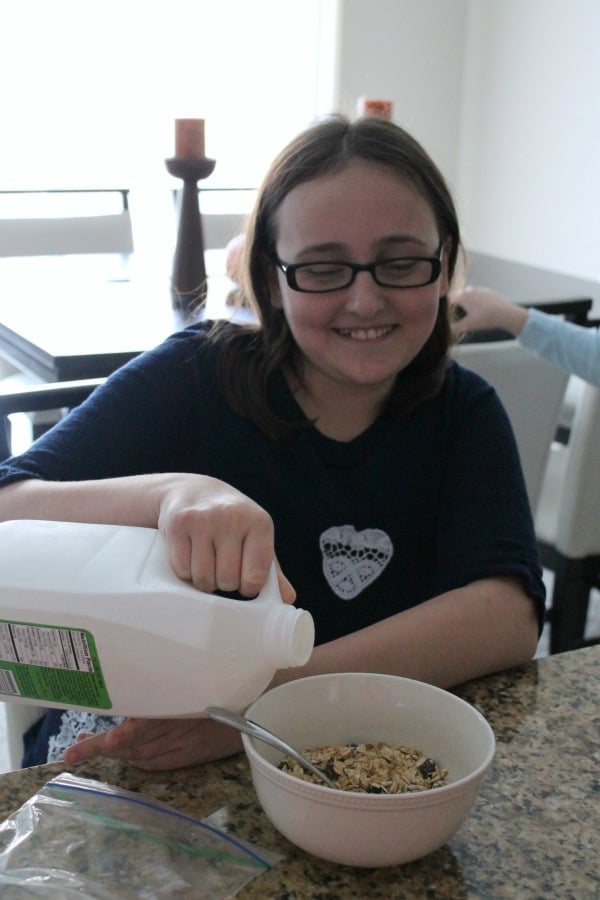 Breakfast is served and now they can relax and watch a little TV before school.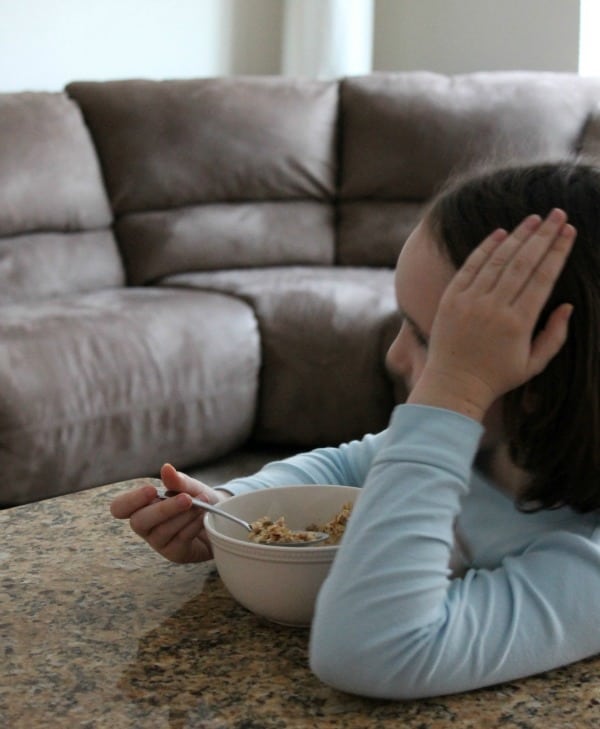 Portioning out the muesli keeps calories under control too. This is important to me because I don't have time to get my measuring cups out every single day. Okay, maybe I have time but I forget. Portioning out the muesli takes away the calorie guesswork. I know exactly the amount I getting with each bag .
Personally, I love muesli mixed with yogurt. It's hearty and delicious. I portion mine out the night before, into a mason jar container, and stick in the refrigerator. If there is time in the morning I can enjoy it at the table. If not, I can bring it with me.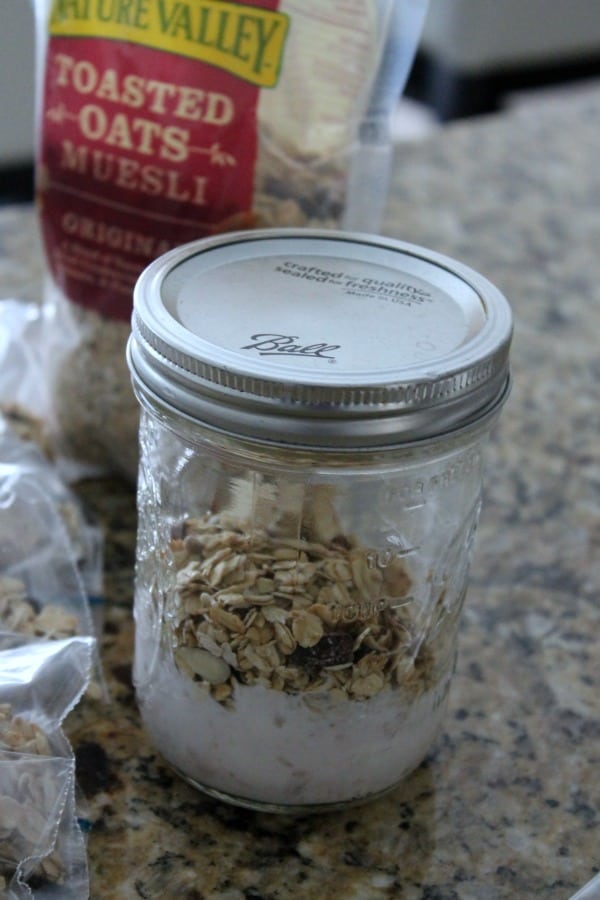 If you prefer warm Nature Valley™Muesli then pour the packet into a bowl with some milk and microwave for a minute or until hot. If you are on the run then consider using a thermos. Put the Nature Valley™Muesli in the thermos, pour some hot milk over top, and give it a stir. It will be perfect by the time you get to work.
Food prep is a strategy that keeps my healthy lifestyle moving forward. It's important to know that preparing food ahead of time does not need to be a complicated time-consuming task. Sometimes it's as easy as portioning out a bag of cereal, oatmeal, or Nature Valley™Muesli for the week. Even the little bit of food prep can make such a huge difference in keeping life simple, streamlined, and sane.
This is a sponsored conversation written by me on behalf of Nature Valley . The opinions and text are all mine.