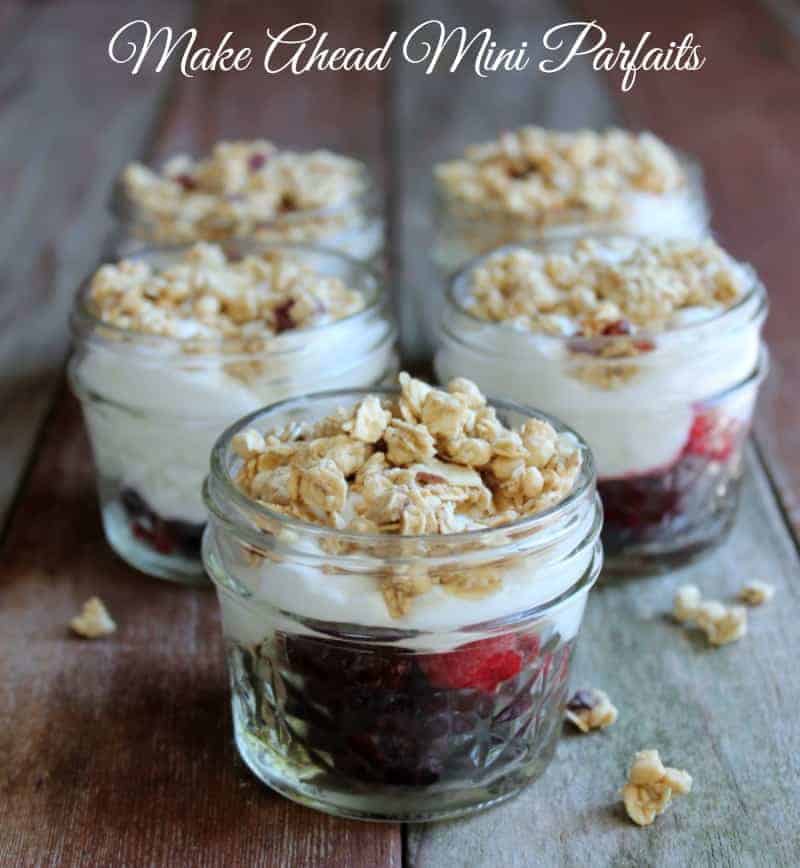 Thank you Nature Valley for sponsoring this post today!
Mason jars are my favorite containers to use for make ahead meals. They come in all sizes and – in my opinion – keep food fresh longer than plastic. Every Sunday, I use quart size mason jars to prepare mason jar salads- and they last all week. The pint size jars are perfect for overnight oats or to freeze green smoothies in. I also store fresh fruits and vegetables in the pint size containers.
Recently, I found these adorable 4 oz mason jars.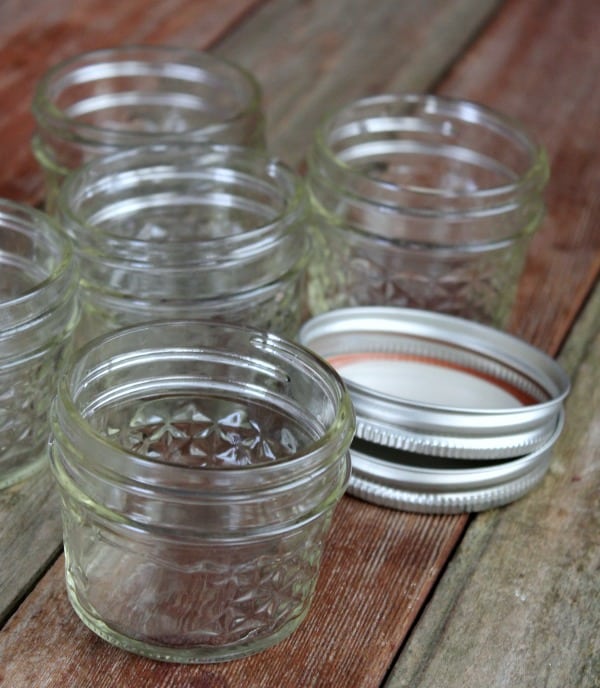 Immediately, I thought they would be perfect for make ahead parfaits. My kids love fruit, yogurt, and granola parfaits. They eat it for a snack and are always asking for it in their lunches. A couple times I used pint size containers but they ended up being too big and clunky for their lunch boxes. However, the 4-ounce mason jars worked great. They held the perfect amount of fruit, yogurt, and granola.
I decided to make a few ahead of time for lunches. My kids' pack their own lunches so having food and snacks ready makes it easier for them. All they need to do is grab whatever's made in the refrigerator and stick it in their lunch bag. Of course, they also help me prep their lunches and snacks on Sunday because – let's be honest – if they make it then they are more likely to eat. So it is a win win. They learn some independence and I get help in the kitchen.
These make ahead parfaits are super easy to make and very versatile. You can use any fruit, yogurt, or granola.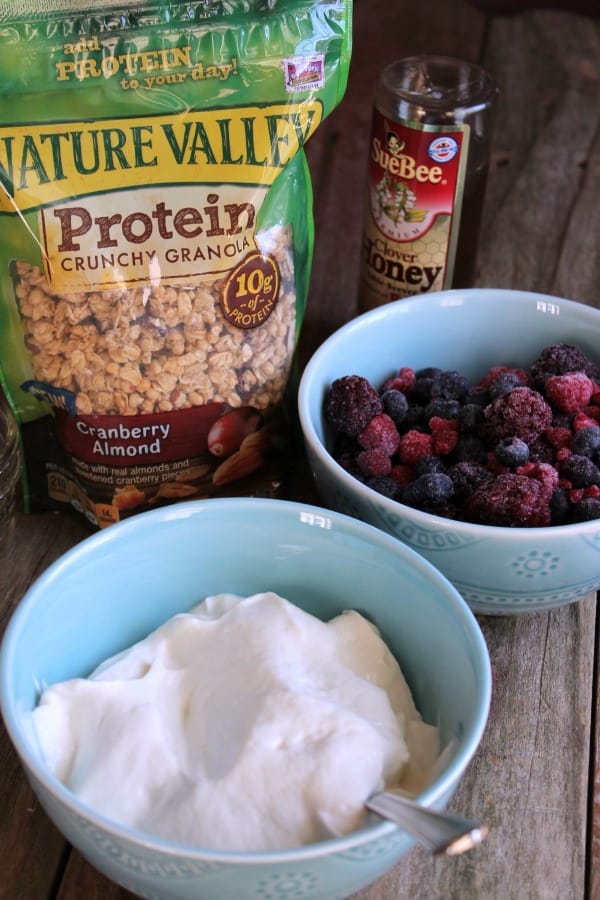 For these parfaits I used a frozen berry mix. Personally, I prefer frozen fruit. Mostly, because I use what I need then put the rest in the freezer. I never need to worry about it going bad before I use it up. Also, I find organic frozen fruit to be more affordable than fresh.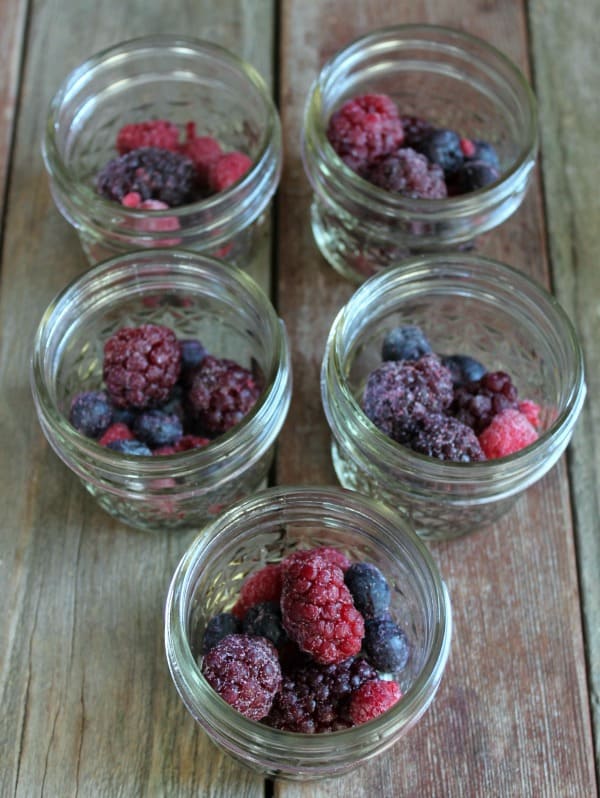 Because berries can be a little tart I drizzled a little honey on. I used about 1 teaspoon. You can also use pure maple syrup.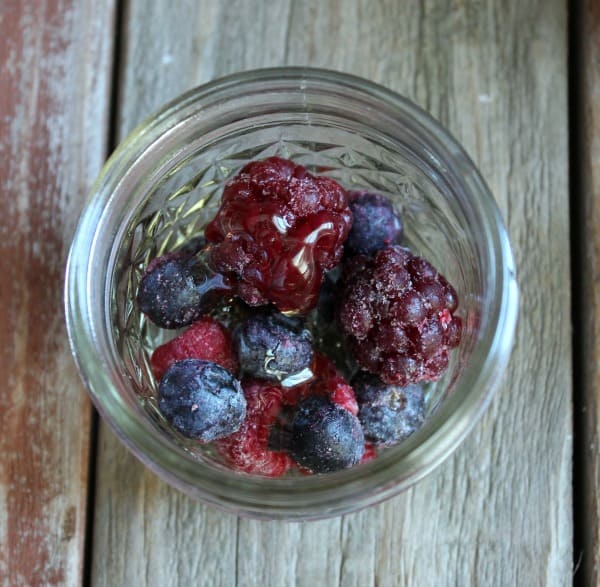 Next I put about ¼ cup vanilla greek yogurt on top of the berries. You can use plain yogurt if you wish. My kids like vanilla so that's what I used.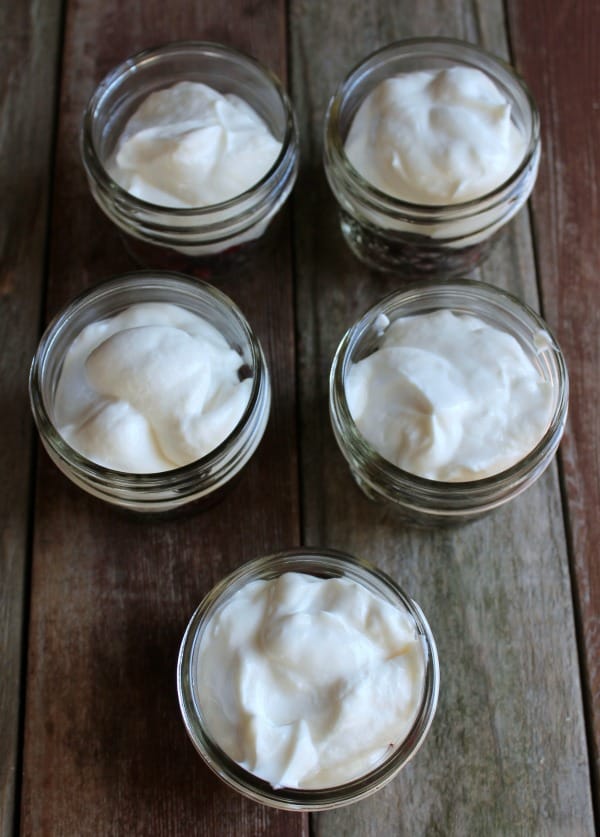 As the berries thaw the juices will mix in with the yogurt – it is delicious!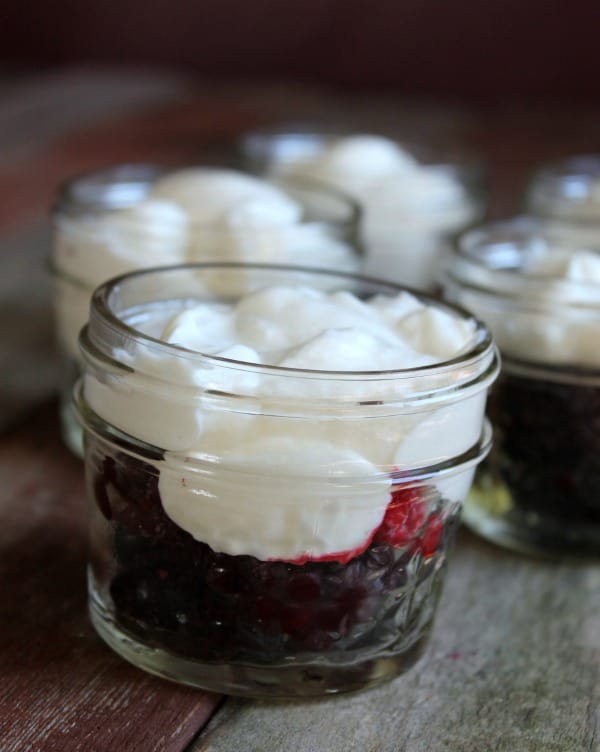 The last thing I did was sprinkle 1 tablespoon of granola on top. I used Nature Valley ® Protein Cranberry Almond Granola. My kids love this granola and so do I. It taste great and goes perfectly with the yogurt and the berries. The Nature Valley® Protein Cranberry Almond granola provide a nice crunch and texture to these make ahead mini parfaits. Having a bag of this Nature Valley granola on hand brings these parfaits together very quickly. Check out the Nature Valley® website, Facebook page, Twitter, and Instagram for more granola recipes and ideas.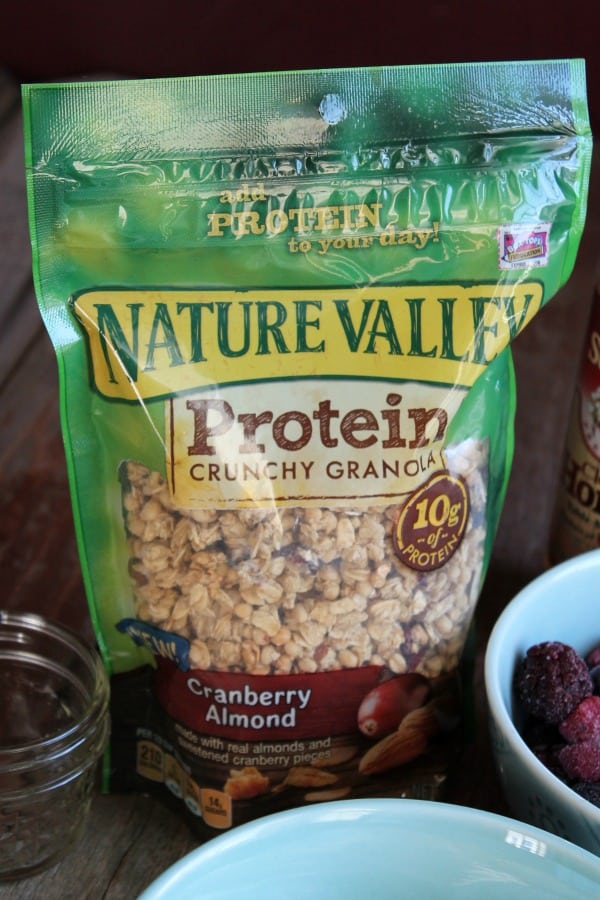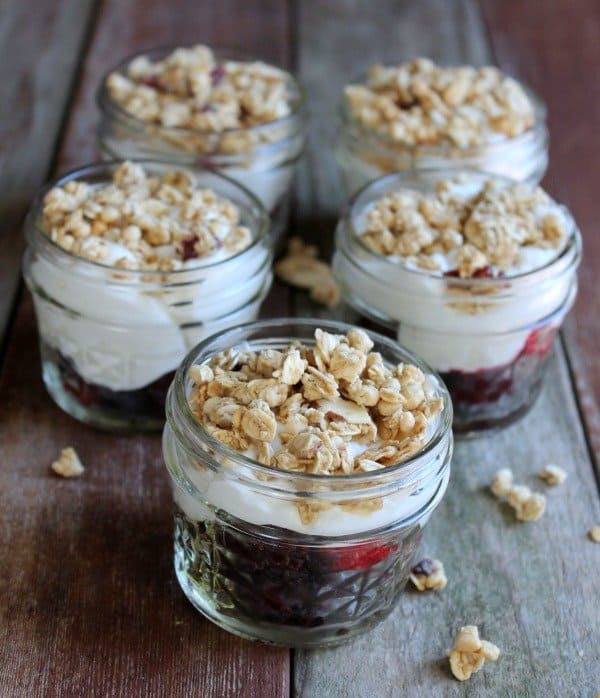 After all the ingredients made their way into the mason jar I tightly put the lid on and stored them in the refrigerator. Try not to fill the jars all the way to the top. If you leave a little room this will keep the granola from getting pushed into the yogurt. It keeps the granola crunchy. But if you don't care – like me – then fill er up.
These make ahead mini parfaits are great for lunches and snacks. I enjoyed one during the afternoon and another the following night after dinner. My kids brought them to school for lunches. They hold up well all week in the refrigerator which has now earned them a spot in my weekly food prep day. Yay for make ahead meals and food prep!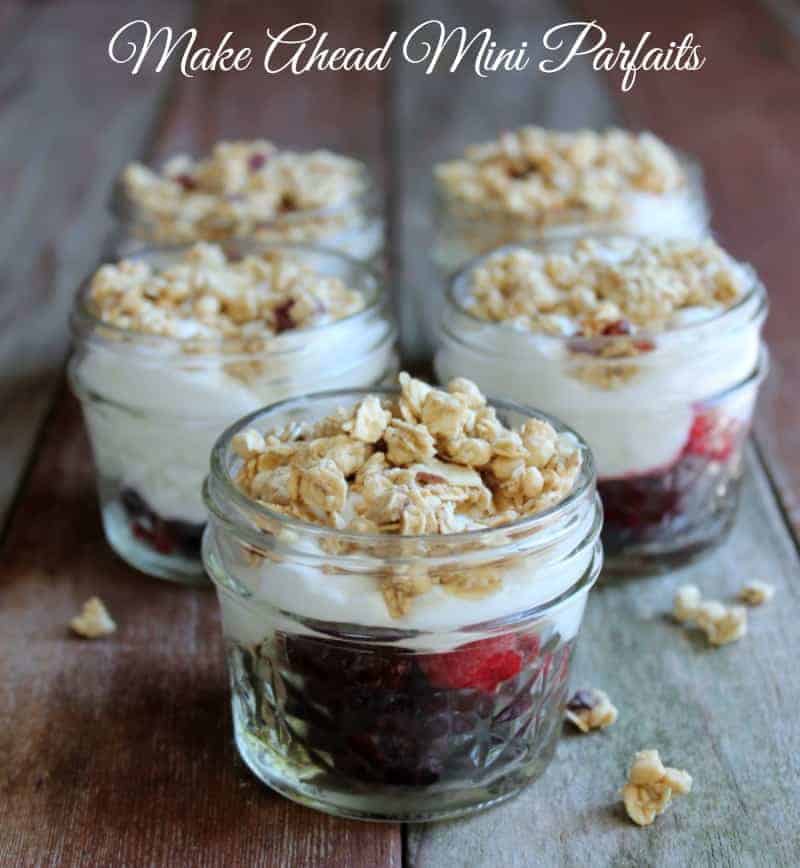 Ingredients
5

4-ounce mason jars

1 1/4

cups

frozen berries

5

teaspoons

clover honey

1 1/4

cups

vanilla greek yogurt

5

tablespoons

or more Nature Valley Protein Cranberry and Almond granola
Instructions
Divide the ingredients among the mason jars. Start with the fruit then add honey, yogurt, and finish with the yogurt. Put lid on and store in the refrigerator.
Notes
Make Ahead Instructions
These can be made 3-5 days ahead of time.
This is a sponsored conversation written by me on behalf of Nature Valley Protein Granola via Burst Media. The opinions and text are all mine.
This is a sponsored conversation written by me on behalf of Nature Valley Protein Granola via Burst Media. The opinions and text are all mine.