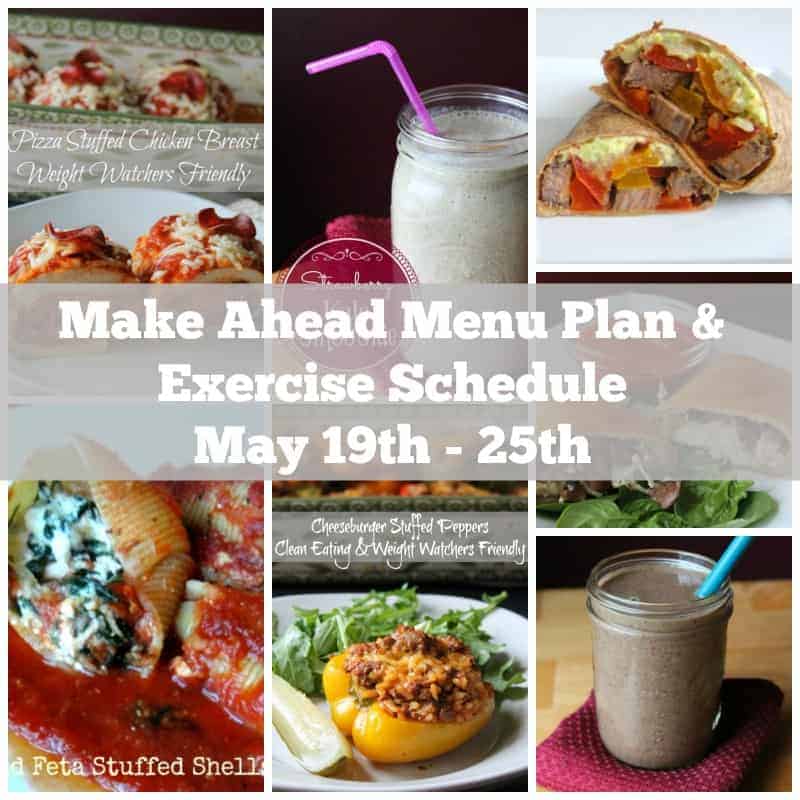 Sorry I did not get my menu plan up last night. I completely ran out of steam by 7:00pm and did not have the energy to do one more bit of typing. I really can't wait till June 1st. That is the day I am done with work for the summer! Yay! I will be off 2 months so I will have lots of time to play and have fun with all of you. Can't wait.
But first I need to get through these next couple weeks because life is about to get crazy busy. My girls are just finishing up dance season and their recital is next week so it is going to be non stop planning, organizing, fixing costumes, and everything else that needs to get done. Therefore, I know if I want to survive I need to be very intentional with my planning.
Let's start with exercise. I would be lying if I said my exercise routine has been going well – it hasn't. Last week, I woke up every day and had every intention to exercise but just could not get out of bed. I was so tired. I did manage to get in a decent workout over the weekend but I know I can do better.
This week I am determined to do better. In fact, when I woke up this morning I put my exercise clothes and sneakers on right away. I gave my myself ½ hour to shake the sleep off then went into my basement and hopped on the treadmill. I got a good sweat on and it felt awesome.
Here is my exercise schedule for the rest of the week.
Tuesday, Wednesday, Thursday, Friday, Sunday
45 minutes of treadmill (5 minute warm up, 25 minute run, 10 minute incline powerwalk, 5 minute cool down)
Russian twists for 30- 60 seconds
Planks for 30 – 60 seconds
**you can see more core exercises here
16 biceps curls
16 tricep kickbacks
**you can see more arm exercises here
25 squats
Make Ahead Menu Plan

Breakfast
Cherry flax overnight oats – new recipe
Make ahead instructions
I made a couple smoothies yesterday for this morning cause I knew I would be busy but will make them the morning of the rest of the week.
Overnight oats were put together the night before
Lunch
Turkey and cheese roll ups
Yogurt and homemade granola
Vegetables and hummus
Make ahead instructions
Roll ups will be made the night before.
Vegetables will be chopped for the rest of the week
Dinner
Spinach and feta stuffed shells
Make ahead instructions
Cheeseburger stuffed peppers and pizza stuffed chicken breasts were made over the weekend. I stored them in the refrigerator and will eat early in the week.
Tomorrow after work I will put together beef fajitas, stuffed shells, and calzones.
That's it for me, what's on your menu this week?
Get Instant Access to My Best Weight Loss Tips & Strategies!
Sign up now for a free step-by-step 7-day email course that I created exclusively for my email subscribers! That's you. I will teach the best habits, strategies, and insider tips so you can enjoy a lifestyle that encourages and supports weight loss! Stop relying on willpower and take control back over your life! You can do this. Let me help!