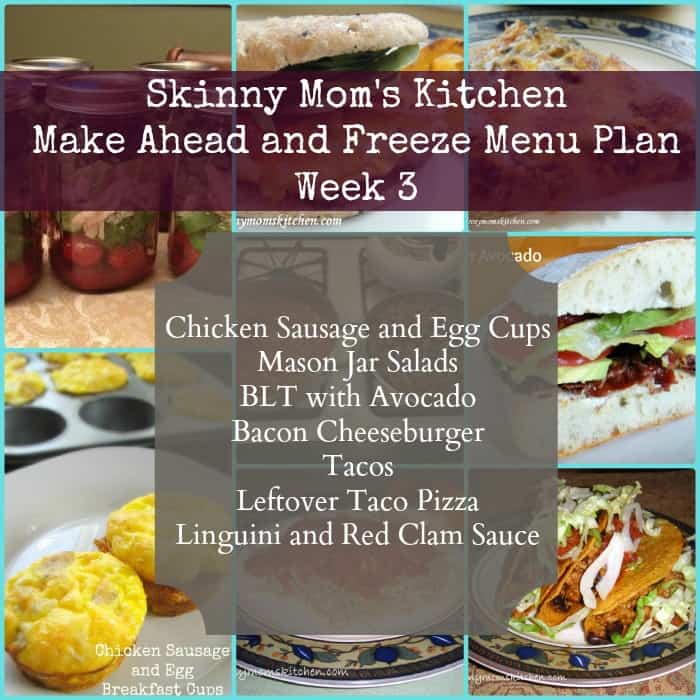 This week's menu plan is very easy to prepare ahead of time. Actually, I would call it the menu plan for those of us that know we need to menu plan but have no desire to do so. If that is you, this weekend, then this menu plan is for you.
I knew I would not have a lot of time this weekend to prepare meals in advance so I put this menu plan together with that in mind. The meals that can be prepared ahead of time are simple ones that take minimal effort to make and the others can put together the night of within a decent amount of time.
If you are running really short on time then at the very least I would recommend putting together just the chicken sausage and egg cups along with the salads. Just having breakfast and lunch ready during the week makes such a difference. Plus, dinner recipes this week are easy enough to make the night of without a lot of pressure or stress.
I do want to mention again my love for mason jar salads. Having these salads ready has made such a huge difference in easily getting more vegetables into my diet. Some of you have asked if these can be made in plastic containers. I am sure they can and some people have had luck with doing it this way however I prefer the mason jars. In my opinion, the salads stay fresh longer – my salads last the entire work week – and the dressing is easier to keep separate from the lettuce.  The goal is to get more vegetables in so do whatever works for you. If you like plastic containers and they work for you then use them.
Let's get to the menu plan. You can download the PDF here with recipes, grocery list, and make ahead instructions.
Breakfast
Chicken Sausage and Egg Breakfast Cups
Lunch
Dinner
BLT with Avocado wraps
Bacon Cheeseburgers with Sweet Potato Fries (store bought)
Make Ahead Instructions
First thing to get started is the pizza dough in the bread machine if you are making it. If you are purchasing it then skip this step.
Next are the egg breakfast cups. Turn the oven on and while that is warming up cook the sausage. Let the sausage cool slightly then mix with other ingredients and stick it in the oven. While that is cooking start the taco meat and clam sauce. Both are very easy to make and you may want to make double batches or more so you have extra to stock the freezer with.
After the egg cups, taco meat, and clam sauce are done and cooled wrap and/or place into containers and freeze. Keep 1 – 1 ½ cups of taco meat in a separate container for the leftover taco pizza. Also, I freeze English muffins alongside the egg cups because that is what I eat them with.
The pizza dough may still be going at this time. However, if it is done then stick into a freezer bag then freeze.
Shred chicken, chop vegetables, and put together the mason jar salads.
The rest of the meals (bacon, burgers, and fries) can be made the night of.
That's it! See, I told you it was easy.
Get Instant Access to My Best Weight Loss Tips & Strategies!
Sign up now for a free step-by-step 7-day email course that I created exclusively for my email subscribers! That's you. I will teach the best habits, strategies, and insider tips so you can enjoy a lifestyle that encourages and supports weight loss! Stop relying on willpower and take control back over your life! You can do this. Let me help!