Quick make-ahead shrimp bowl that includes a crunchy salad dressed with a delicious easy peanut sauce. If you're looking for a low carb high protein lunch then this recipe will do the trick.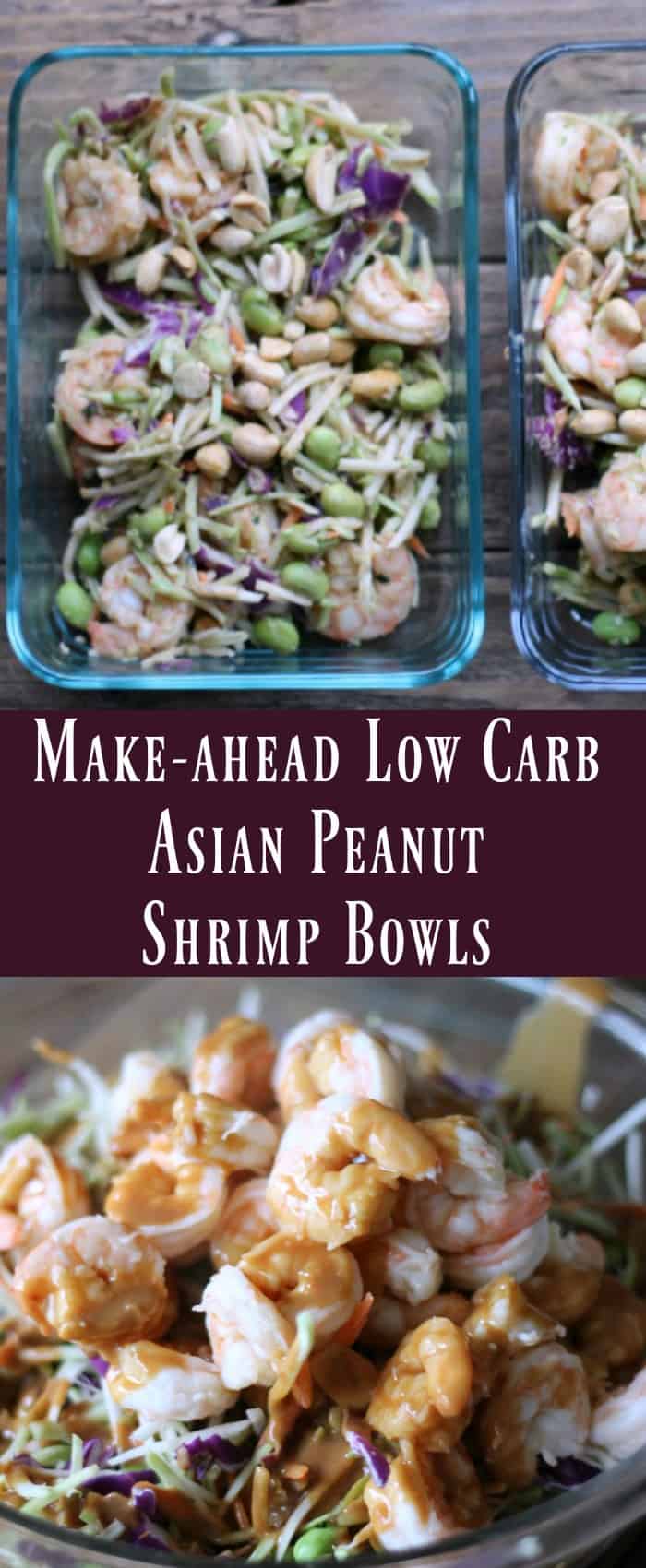 Recipes don't get much easier that this Asian Peanut Shrimp Bowl. It's kind of inspired by Panera's Thai Chicken Salad. I say kind of because as you'll see this recipe doesn't include chicken or many of the ingredients found in Panera's version. But I get that salad whenever I'm there and wanted to create a simple at home version using shrimp and simple ingredients. So the Thai Chicken at Panera was in the back of my mind as I put this recipe together.
I've made this Asian Peanut Shrimp bowl many times. It takes about 15 minutes or so to prepare and can be enjoyed all week.
Let's start with the shrimp. I decided on shrimp because I love shrimp and it's much easier to prepare than chicken. All I do is sauté 1lb of shrimp with a little olive oil and then mix it into any salad I want.
To make this recipe beyond easy I used a bag of cleaned cut rainbow salad from Wegmans. This salad includes shredded broccoli, cauliflower, cabbage, and carrots. I.LOVE.THIS.SALAD. It's so tasty and hearty enough to hold up all week in dressing. In fact, it marinates in the dressing and becomes even tastier.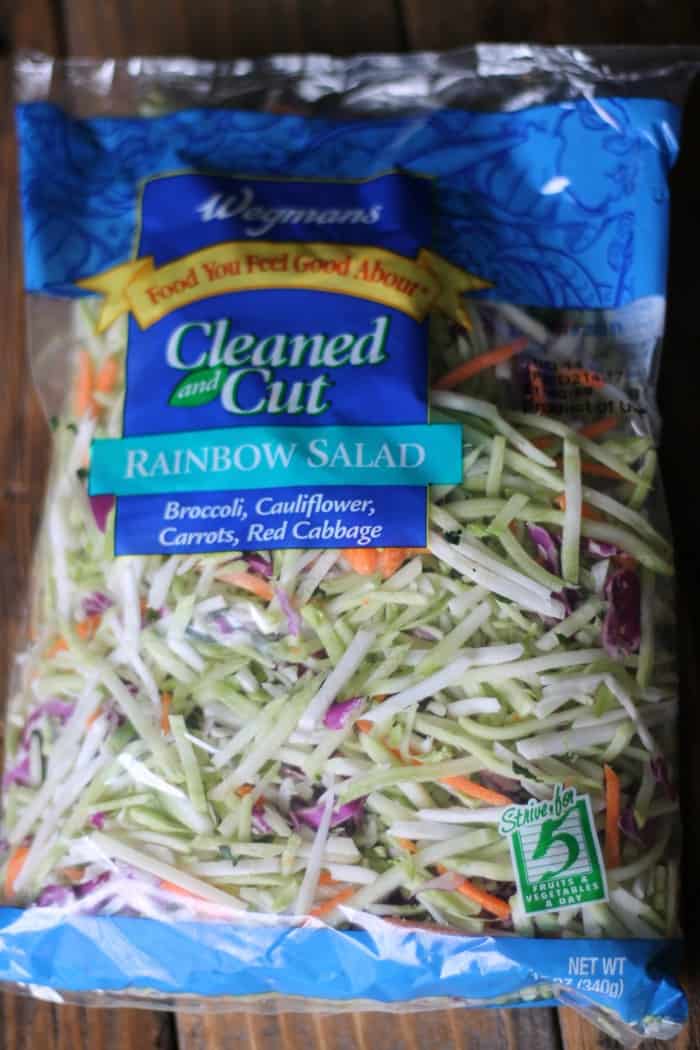 I also used frozen "steam in bag" shelled edamame. After I steamed the edamame I put them with the salad into a bowl.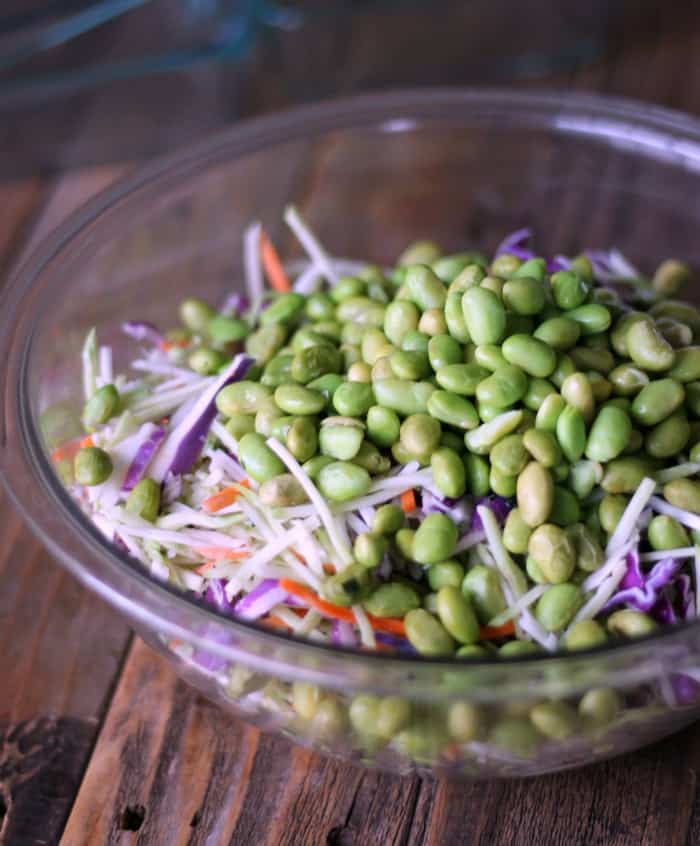 Then I placed the shrimp on top.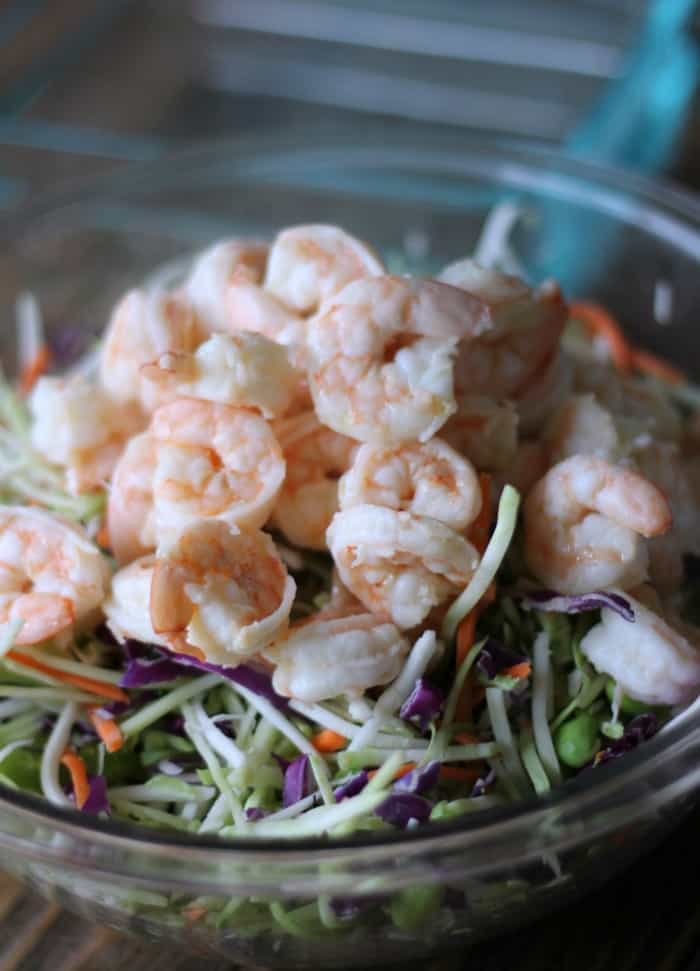 See, easy peasy. Now let's talk about the dressing. For this peanut dressing I used soy sauce, rice vinegar, sesame oil, honey, and creamy peanut butter. I recommend to soften or melt the peanut butter in the microwave prior to mixing with the other ingredients. In my experience, it makes mixing easier. Also, start with 3 tablespoons of peanut butter, give the dressing a taste, and add more if needed. Before you add salt give it a taste as well because you might not need it depending on the soy sauce. If you need to loosen up the dressing add 1- tablespoons of water and mix until you get desired consistency.
I mixed my dressing in a pint-size mason jar. I like using mason jars for dressing because you can simply put the lid on and store it in the refrigerator if you don't plan to use it right away.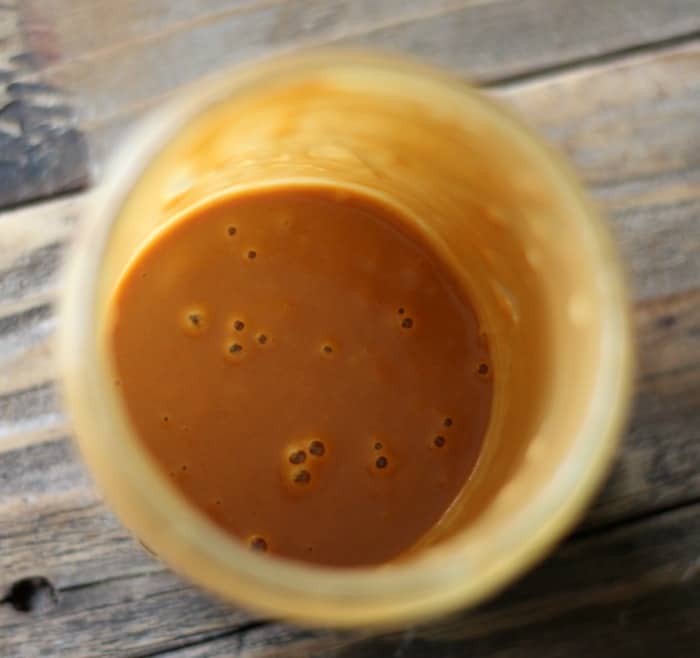 Next pour the dressing over the shrimp and salad. Please note I like to mix this salad ahead of time and eat it all week. I think it taste great once the salad marinates in the dressing. However, you can keep the dressing on the side and pour it on when you're ready to eat.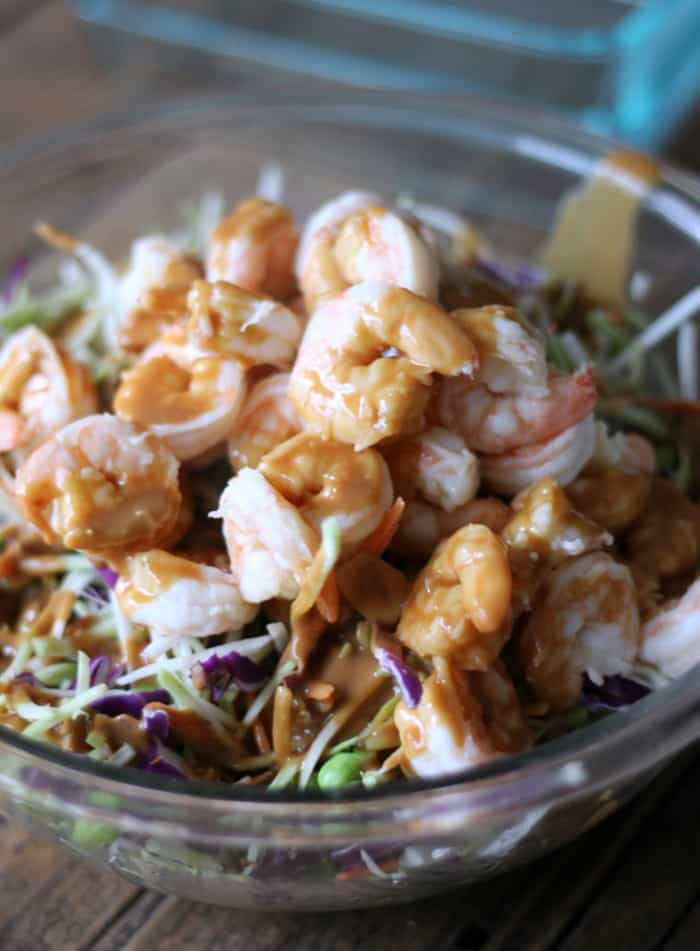 Then I mix all the ingredients together, portion out into 4 bowls, and sprinkled peanuts on top. I love glass pyrex dishes. I find glass keeps food fresh the longest.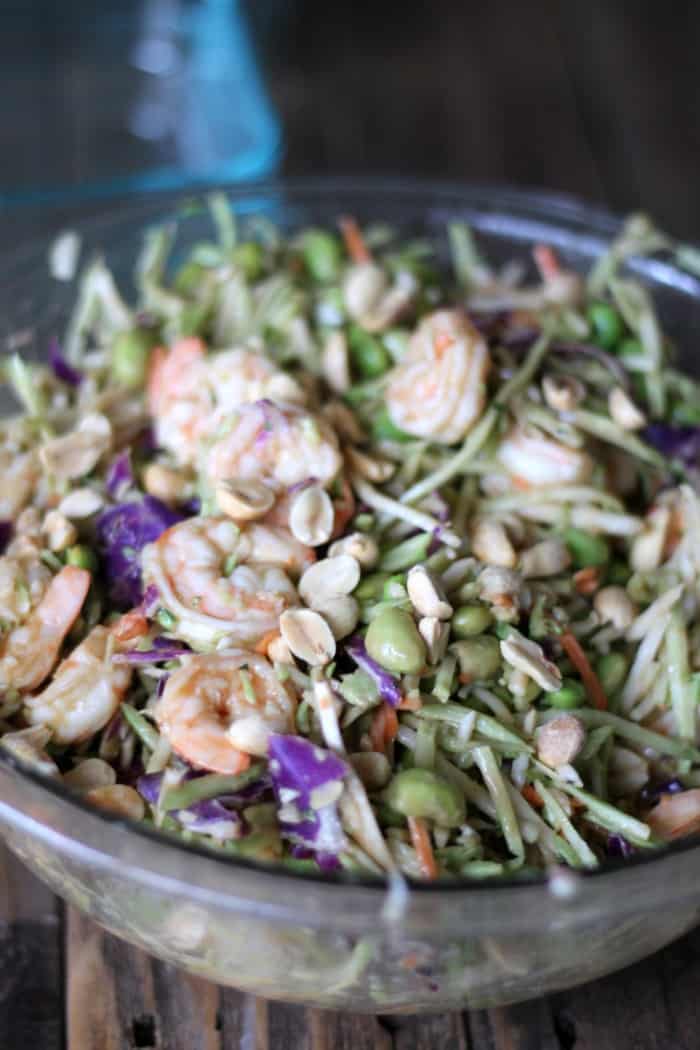 Like I said you can put the salad and shrimp in the bowls without the dressing. When you're ready to eat drizzle the dressing on.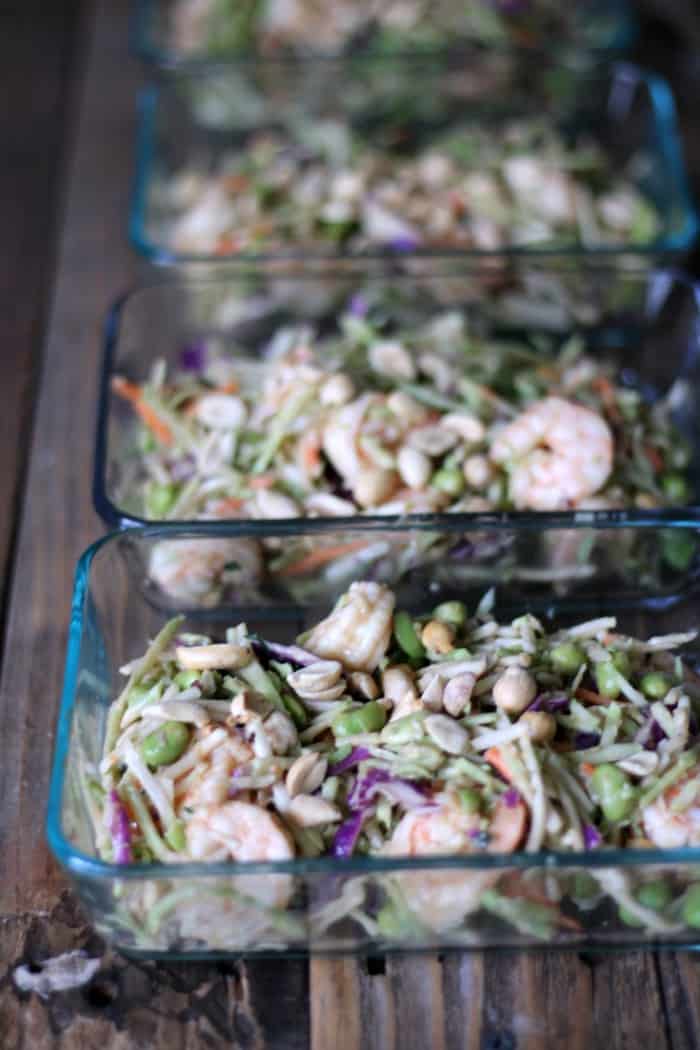 I enjoyed these Asian Peanut Shrimp Bowls all week. They kept great and were delicious. I drizzled some sriracha on top for a little extra kick and enjoyed.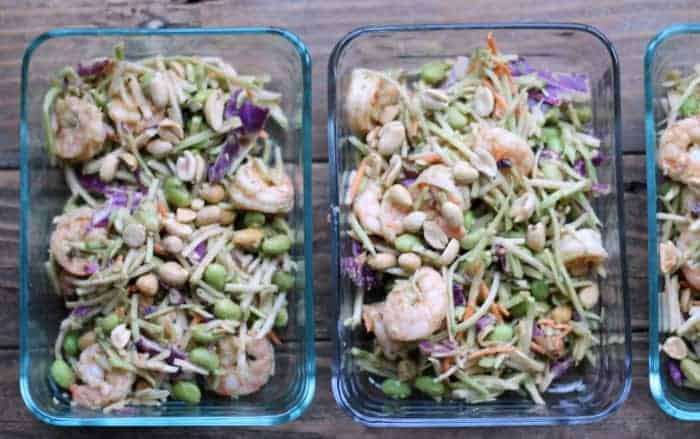 This Asian Peanut Shrimp bowl is filled with fiber and protein which will keep you full between meals. I love eating these bowls because I feel satisfied but not bloated. If you're looking for a high protein low carb option then definitely puts these shrimp bowls on the meal plan.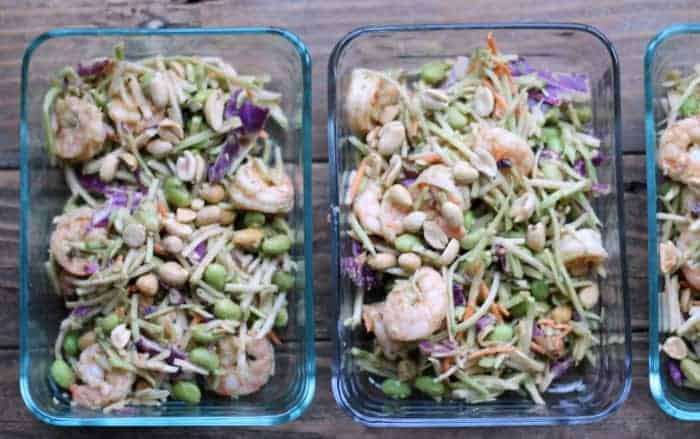 Ingredients
1

lb

medium shrimp

shelled and cleaned

1

tablespoon

olive oil

1

12-ounce package shredded rainbow salad

1

8-ounce bag "steam in bag" edamame, cooked and drained

2

tablespoons

soy sauce

2

tablespoons

rice vinegar

1

garlic clove

grated

1

teaspoon

sesame oil

3-4

tablespoons

creamy peanut butter

melted

1/2

tablespoon

of honey

1-2

tablespoons

of water

salt and pepper to taste

sprinkle of peanuts.
Instructions
In a medium pan, heat the olive oil until hot. Cook the shrimp until they are pink and opaque. This takes about 5-6 minutes. Set the shrimp aside.

In a medium bowl add the rainbow salad and edamame.

In a small bowl or mason jar mix together the soy sauce, rice vinegar, garlic, sesame oil, peanut butter, and salt and pepper. Give the dressing a good shake or wisk.

Place the shrimp over the salad and pour the dressing over top. Mix all ingredients together and serve.
Notes
Sugar: 9
Make-ahead instructions
This recipe can be made up to 4 days ahead of time. You can also keep the dressing on the side and stir it into the salad when you're ready to eat.
Nutrition
Serving:
1
g
|
Calories:
295
kcal
|
Carbohydrates:
18
g
|
Protein:
38
g
|
Fat:
14
g
|
Fiber:
5
g