Before green smoothies I struggled to get fruits and vegetables in my diet. I am pretty sure I wasn't even meeting the daily requirements. Of course, I knew eating fruits and vegetables would keep me on track with my healthy lifestyle goals, but seriously a girl can only eat so much broccoli. I tried to include a fruit or vegetable with each meal but unfortunately – more often than not – I would forget. I would try to eat salads for lunch or add spinach to my sandwich but at the end of the day it just wasn't enough. My body needed much more.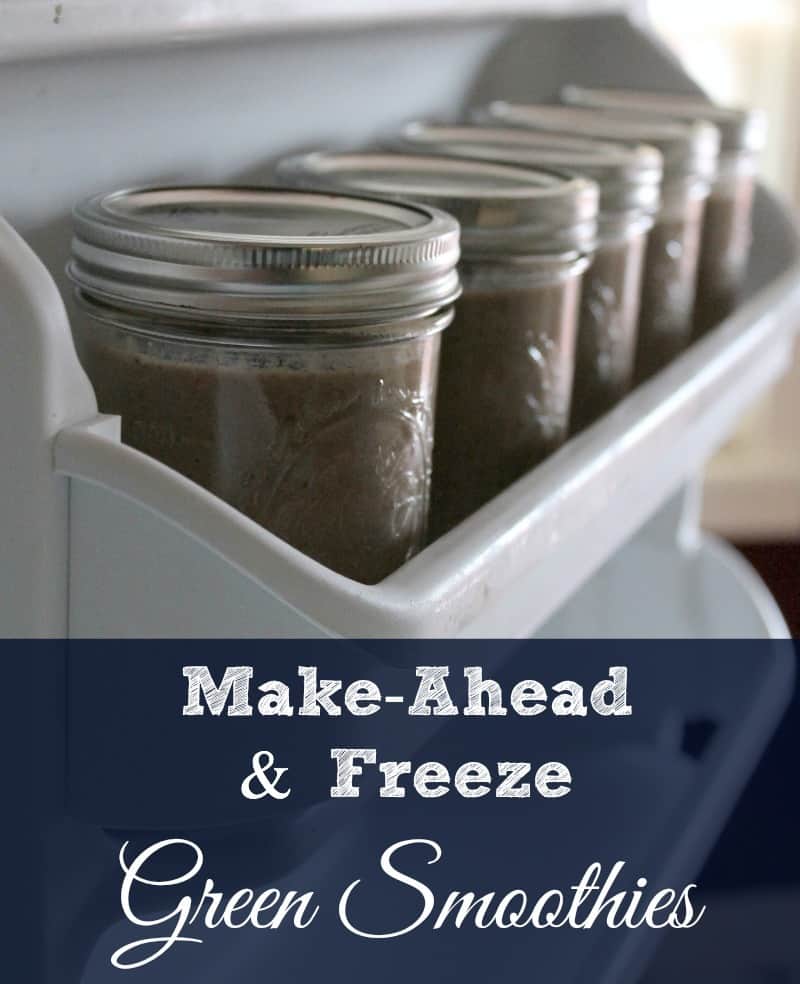 Get instant FREE access to my green smoothie recipe e-cookbook here! I share 20 of my best green smoothie recipes along with tips, tricks, and a tutorial.
Ironically, I didn't even realize I was lacking in fruits and vegetables until I started drinking green smoothies. Up until then I thought I was eating healthy. I was losing weight and starting to feel a lot better. However, drinking green smoothies brought my healthy lifestyle to a whole new level. I noticed immediately that I felt hydrated, focused, and had so much more energy. My skin glowed and my body just simply performed better. I felt amazing.
Since discovering green smoothies I now make it a priority to keep them part of my daily diet. Trust me, if I go more than a couple days without a green smoothie I can feel it. I am tired and completely lack focus. My body begins to crave fruits and veggies like no ones business. I guess that is a good problem to have – it's better than craving sugar or other processed foods.
Even though green smoothies are easy to make breaking out the blender and all the ingredients first thing in the morning can be a pain. While this doesn't bother me too much I have notice a couple mornings where I just didn't have the motivation to make a green smoothie – no matter how good drinking one makes me feel. My solution – as with many foods I love to eat – is to make a huge batch and freeze into portions.
These make-ahead and freeze green smoothies have been my saving grace many days. I am not sure why I did not think of this earlier but now that I know better I do better. Story of my life, right?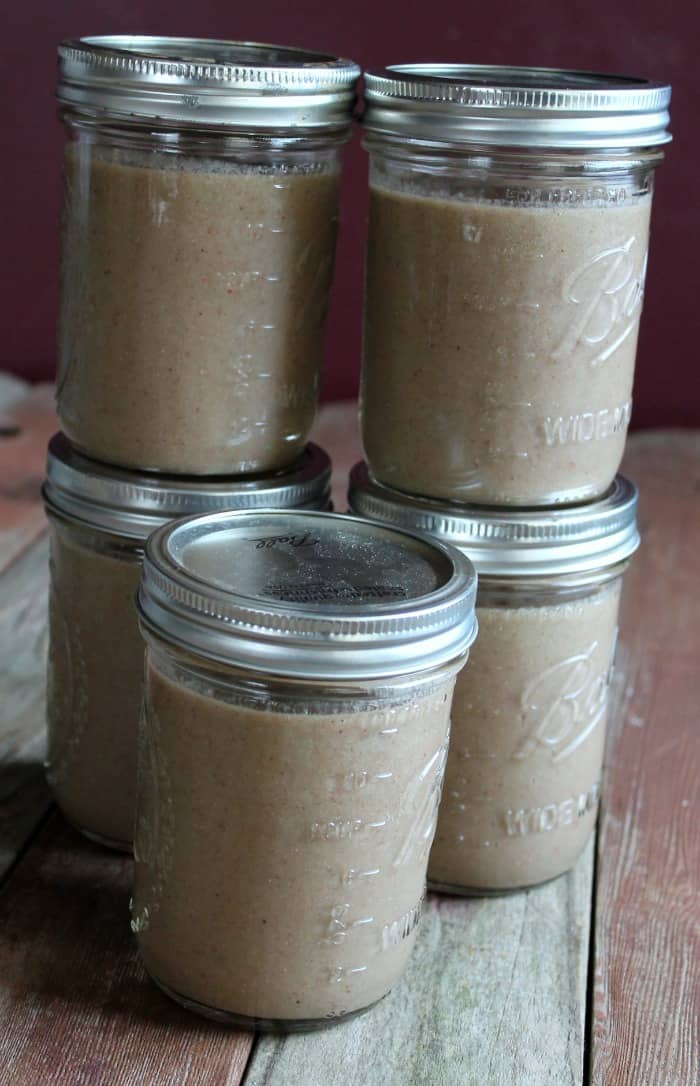 Let me walk you through these make-ahead jars of delicious green goodness.
Most likely you can freeze any green smoothie recipe. I can't think of a green smoothie ingredient that wouldn't freeze well. Green smoothie recipes typically include fruits, greens, a liquid, and a power food or two. For this recipe I used a frozen tropical fruit mix, berry mix, banana, greens, almond milk, and chia seeds.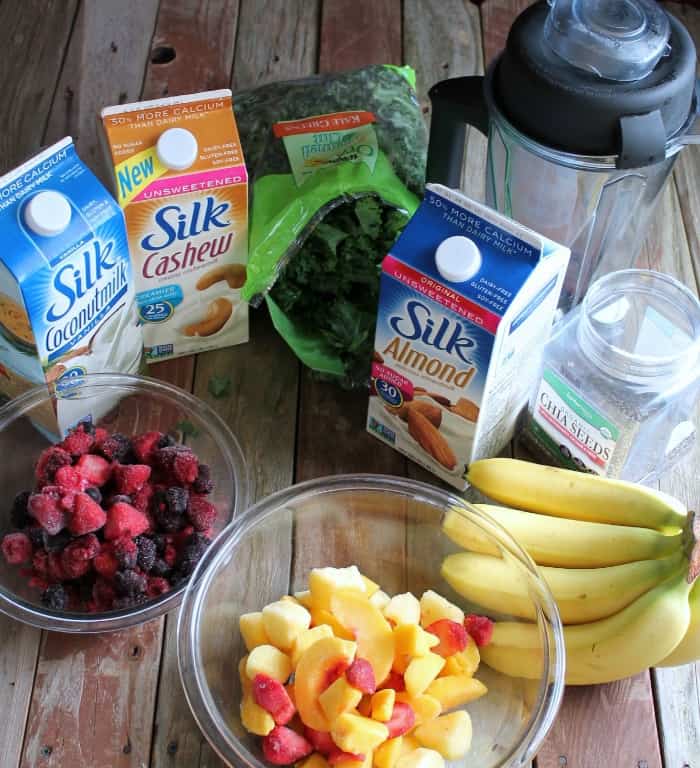 I prefer frozen fruit because it gives the smoothie that cold slushy taste and texture. If you use fresh you will need to throw a few ice cubes in.
For the liquid I used Silk® Unsweetened Almond Milk. However, I have also used their coconutmilk, soymilk, and even their new cashew milk for my green smoothies. Each one is delicious. So depending on your taste and preference there is a variety to choose from.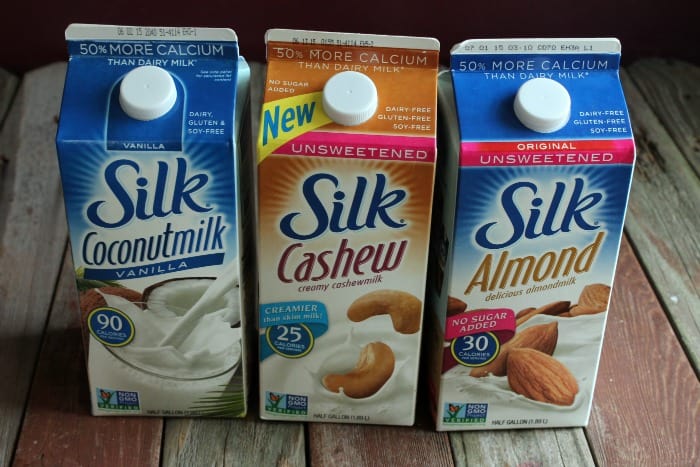 For the greens I used kale but you can use spinach, collard greens, or any leafy green you like. Then to give it an additional boost of nutrition I threw in some chia seeds. This adds fiber, protein, and omega fatty acids.
Then I put all the ingredients into my blender. I used about 4 cups fruit, 1 banana, 1 cup Silk Unsweetened Almondmilk, 2 cups kale, 2 tablespoon chia seed. I also added about 1-2 cups of water. Use as much as you need until you get the consistency you like.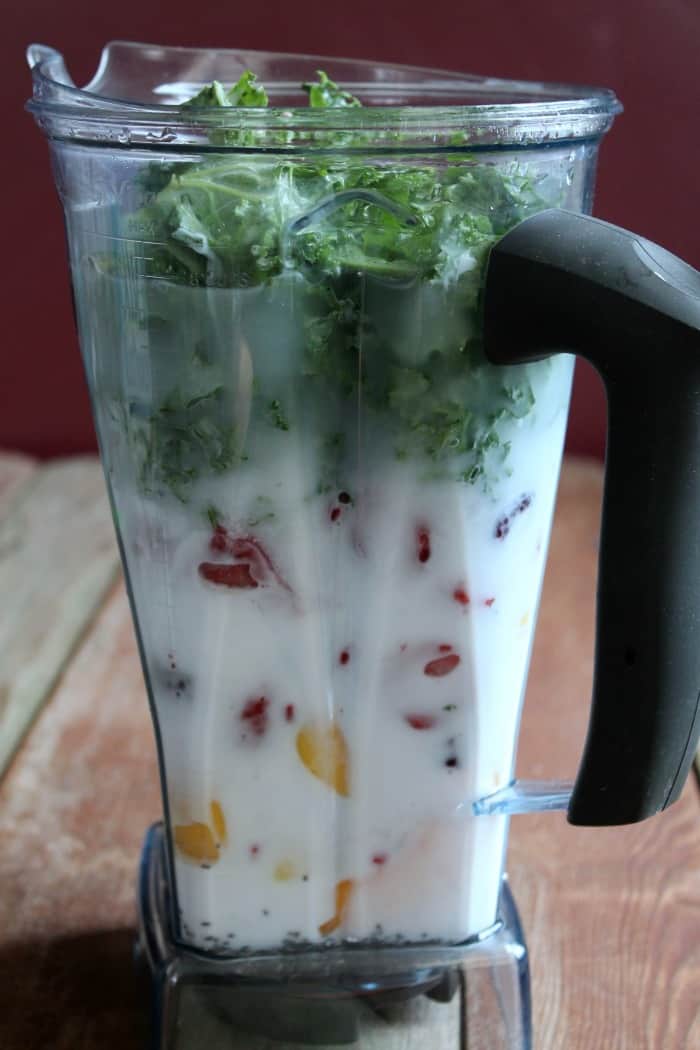 Then I blended it all up into a delicious smoothie.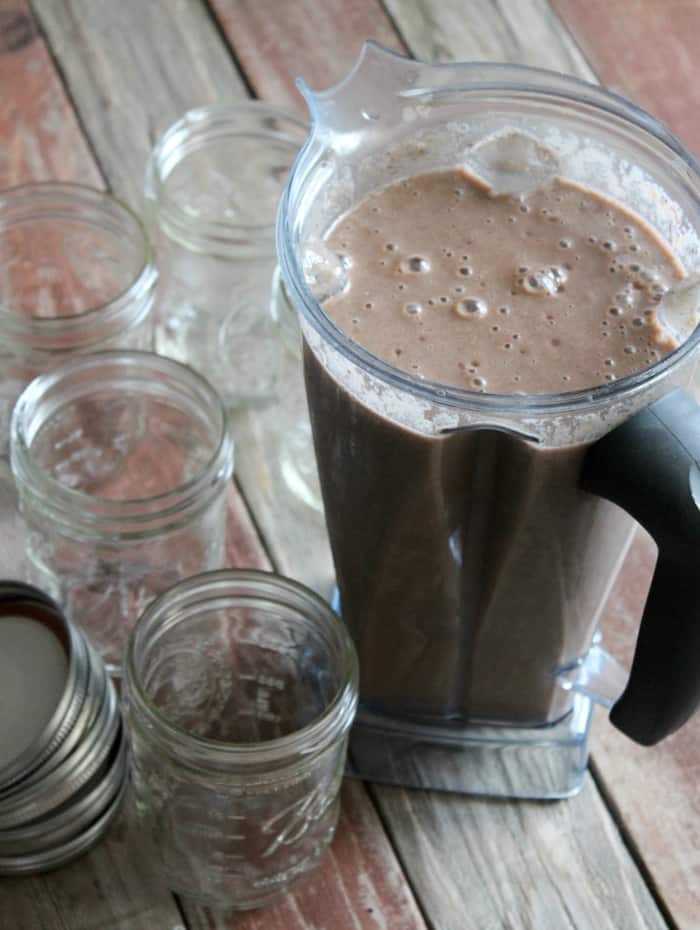 For the containers I use pint size glass mason jar containers.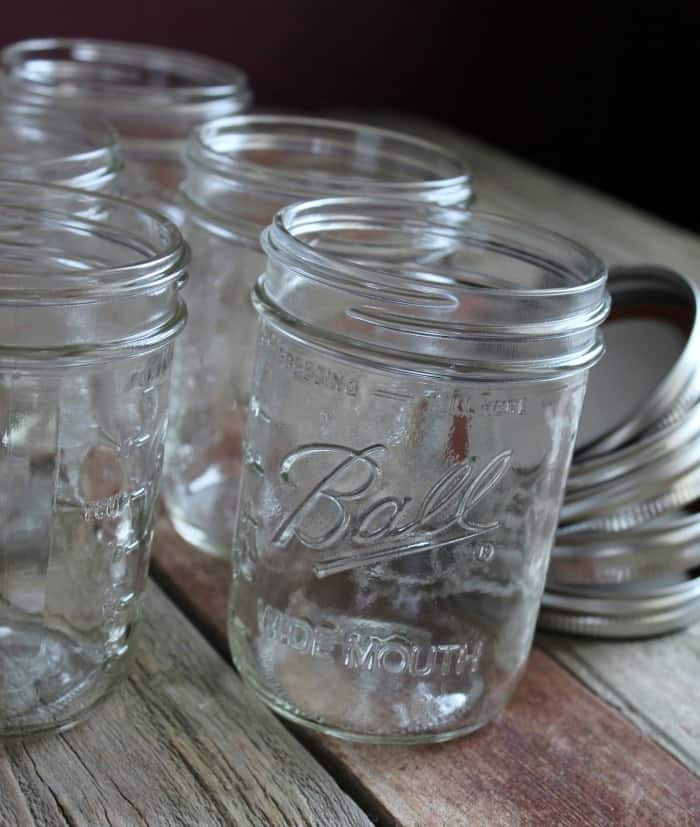 I know you might be concerned with using glass in the freezer – so was I at first. However, these work great in the freezer as long as you don't overfill them. There is even a marker on the jar that shows you the liquid limit if you are using them for freezing.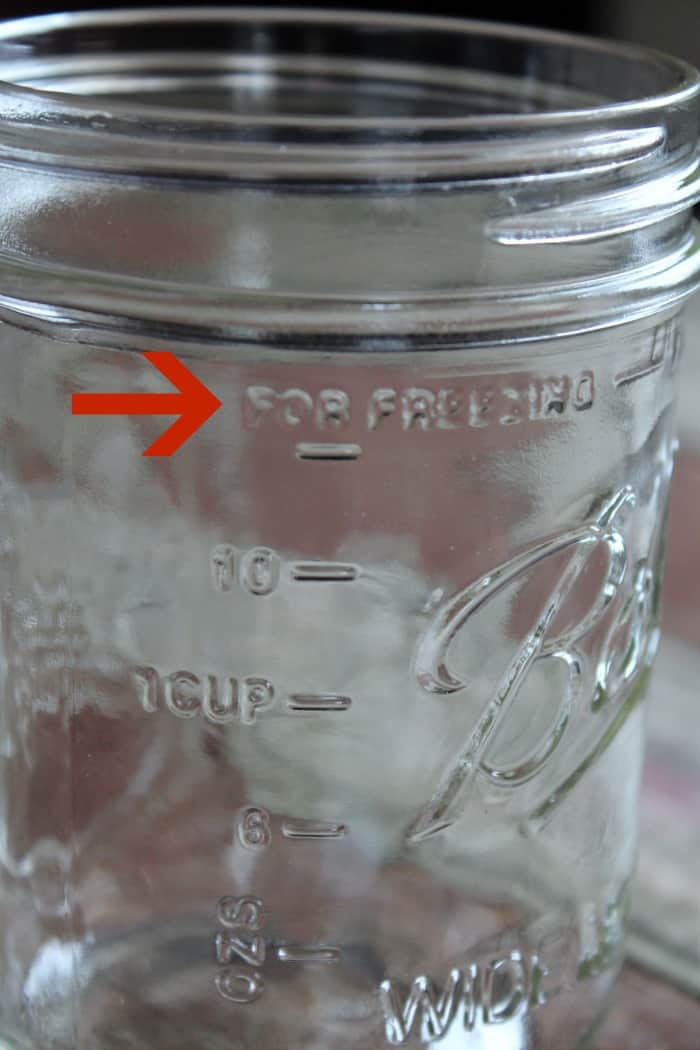 After the ingredients were blended together I poured the smoothie into the jars, put the lids on and tightly secured them, and place in the freezer.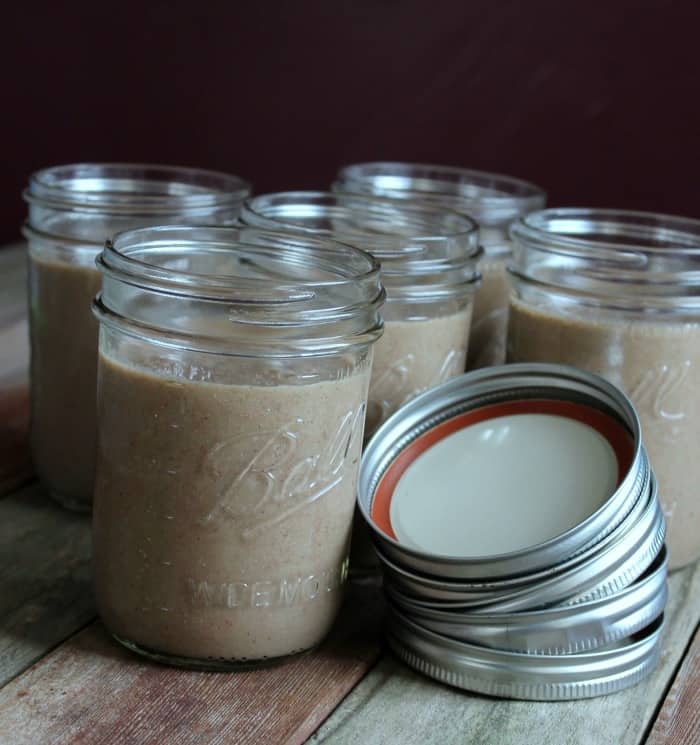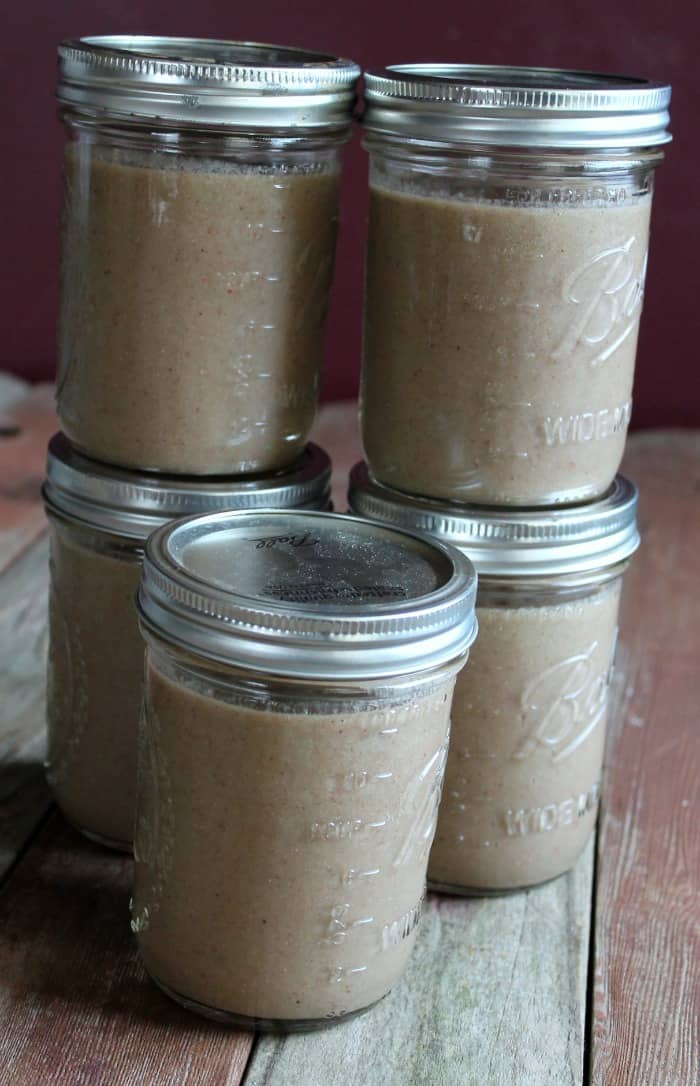 I recommend taking a smoothie out of the freezer to thaw overnight in the refrigerator. Most likely, it will still be frozen in the morning. Set the jar on the counter and it will thaw in about an hour or so. I put mine on the counter right when I wake up. After I get the kids ready and off to school I enjoy my smoothie. In fact, I am drinking one right now as I type out this!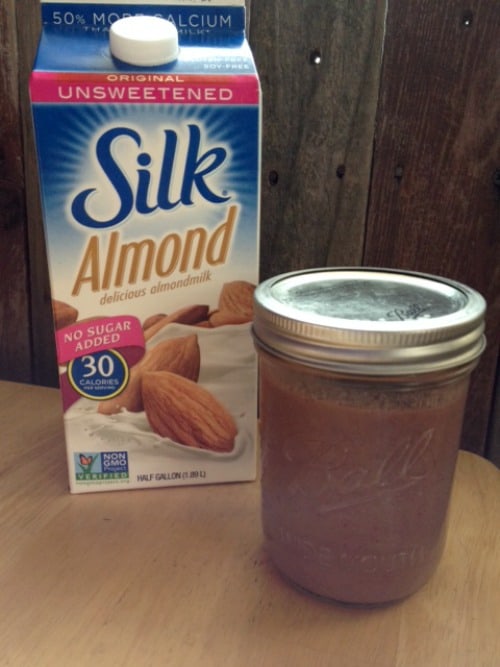 After it is thawed give it a couple shakes. This mixes up the ingredients up again. Then enjoy!
The green smoothie consistency after it is frozen is slushy and still very smoothie like. It might be a little thinner but overall it tastes no different than when first poured.
As I said earlier, any green smoothie recipe should freeze great. If you need some ideas check out my green smoothie tutorial.
If you are a smoothie lover – like me – but don't have time to break out the heavy equipment every morning then give these make-ahead and freeze green smoothies a try. I love having a stash of green smoothies in the freezer. It is very convenient to have these available, especially when you are running short on time. They transport great so you can stick one in your bag and enjoy when you get to work. I even pack these when we are going camping or on a road trip. They help keep the other food cold and make the perfect mid-day snack.
I'm often asked about the type of blender I use for my green smoothies. I have the Classic Vitamix blender 5200 Getting Started Blender– that's what you see in all my green smoothie recipes. This specific blender costs $450. In general a Vitamix blender in the Classic series range from $350 – $720. I know this is a lot of money to spend on a blender. But let me just say this. I've had this blender for over 4 years, use it 4-7 times a week, and NEVER had one malfunction with it. I can honestly say that my Vitamix blender creates a perfectly smooth green smoothie every time. I've also used it for other recipes beside smoothies.
Prior to getting a Vitamix I went through about 3 cheap blenders. Not only did they last a measly 3 months but didn't even come close to creating a perfectly blended smoothie – I was always left with chunks of fruits and leftover spinach. If you plan to make green smoothies a part of your daily diet then I strongly suggest you invest in a Vitamix.
Vitamix also come with a up to a 10-year warranty. So if it breaks they will fix it or send you a new one. Personally, I think it's totally worth the extra investment. Learn more about Vitamix blenders by checking out their website.
Another solution, if you want to fit more green smoothies in your diet, is to consider Green Blender. Green Blender is a weekly green smoothie delivery service. They offer many green smoothie recipes filled with organic ingredients and super foods. If it'd be helpful to get smoothie ingredients delivered to your door then give Green Blender a try. Here's $10 off your first box.