Cilantro jalapeño hummus, salsa, pepper jack, and avocado rolled into a lean slice of smoked turkey for a low-carb lunch or snack.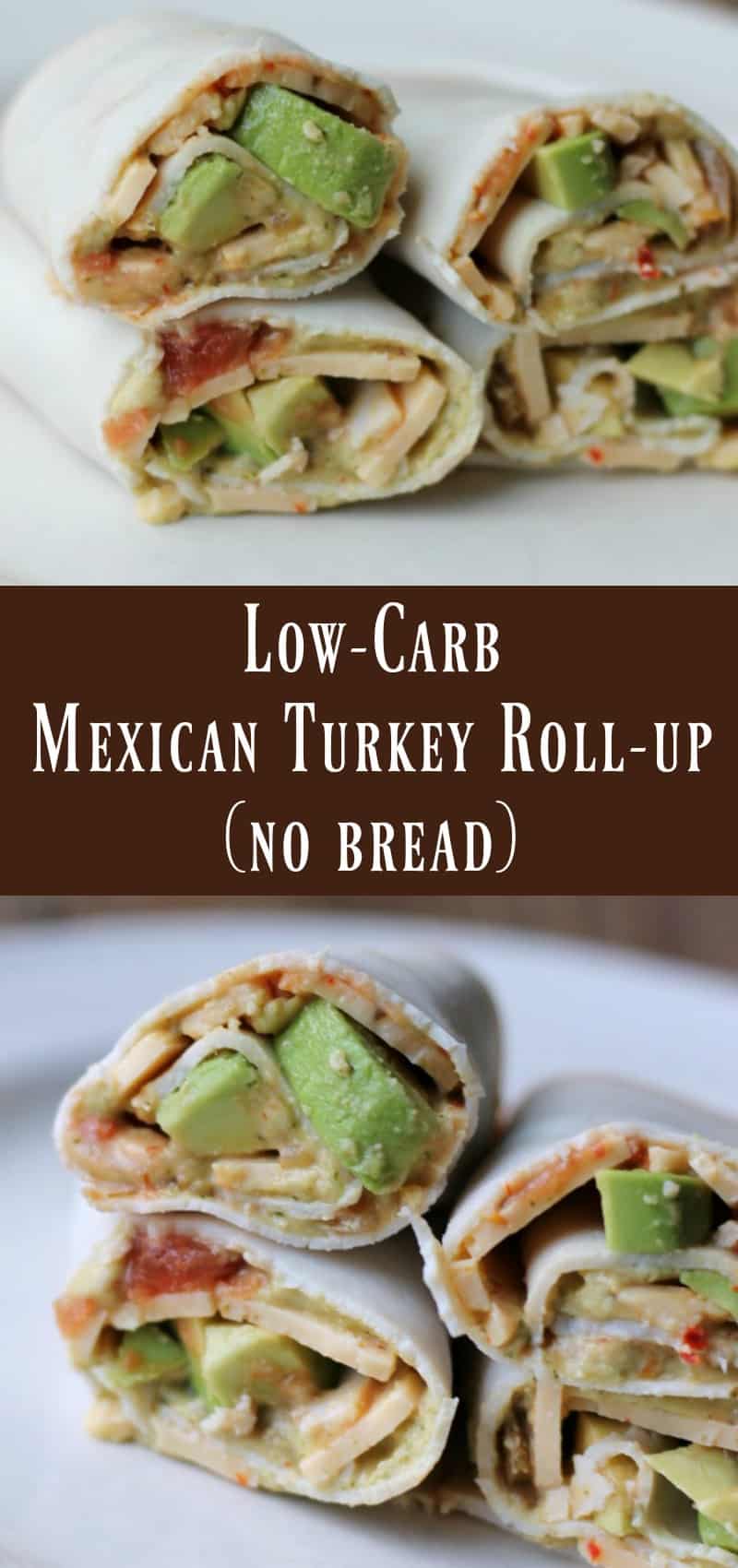 It's official. I love low-carb options. Back in the day I was a waitress at the Olive Garden and I could eat a HUGE bowl of fettucine alfredo at 10:00pm and still fit into my size 6 jeans the next day. Let me just mourn that time of my life for a brief second. Okay, done.
Today my pasta consumption looks very different. Don't get me wrong, I still love pasta and will enjoy a classic pasta dish in moderation but if I want to make friends with my skinny jeans then I need to keep pasta under control. It's just the way it is and I've accepted that. Plus, beyond weight management,  I feel so much better when I reduce carbs and my over gluten consumption. I feel full and satisfied but not bloated and tired. I also feel focused and have more energy. I've paid attention and my overall mood is related to food and exercise. Who knew? Ha!
With that said I have embraced low-carb food and enjoy putting together new simple recipes.
Over the last couple years I've created different "no bread" rollup recipes. The idea came from my mother who truthfully has been eating sandwiches without the bread for as long as I can remember. Hers were a much simpler no fuss version but as a food blogger I like to put different twists on classics.
Here are some of my favorite "no bread" rollup recipes:
Turkey, Avocado, and Hummus "no bread" Rollup
Ham and Swiss "no bread' Rollup
Beef and Cheddar "no bread" Rollup
I make one of these every week for my make-ahead protein snack/lunch kits.
This new Mexican Turkey 'no bread" Rollup is without a doubt going to be a favorite. I've been making this for a few months now but finally got around to taking pictures of it. It's kinda of funny, because these simple recipes I don't even really consider recipes but are some of the most popular on my blog. Soooo, that's why I post them. Because these are the type of recipes you want to see. I got you!
Okay, let's talk about the hummus. I LOVE the Cilantro Jalapeno Hummus from Wegmans. It's delicious. Now if you can't find this hummus then use a chipotle flavor or any Mexican-inspired flavored hummus. I've used them all and each one is great!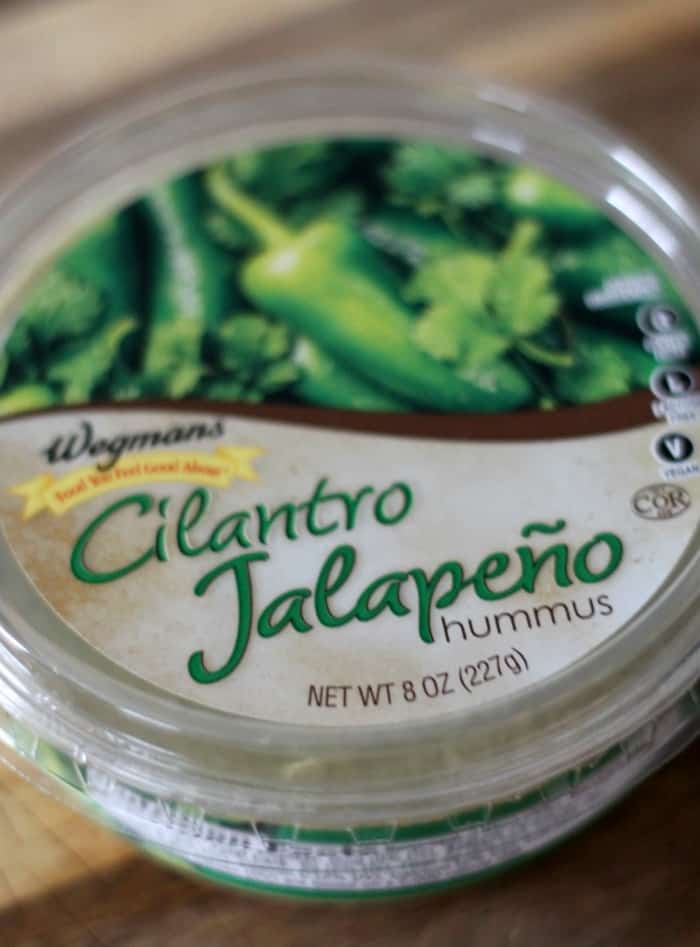 Are you ready for this simple recipe? Here we go. Take 1 tablespoon of hummus and spread it on one slice of smoked turkey. The turkey slice needs to be a little on the thicker side. Not too thick because I think thick deli meat is kinda gross. I ask for "thin but not falling apart". Basically, the slice needs to be thick enough to hold the filling. If you think the turkey is too thin then use 2 slices.
I should also mention I use organic smoked turkey breast from Wegmans.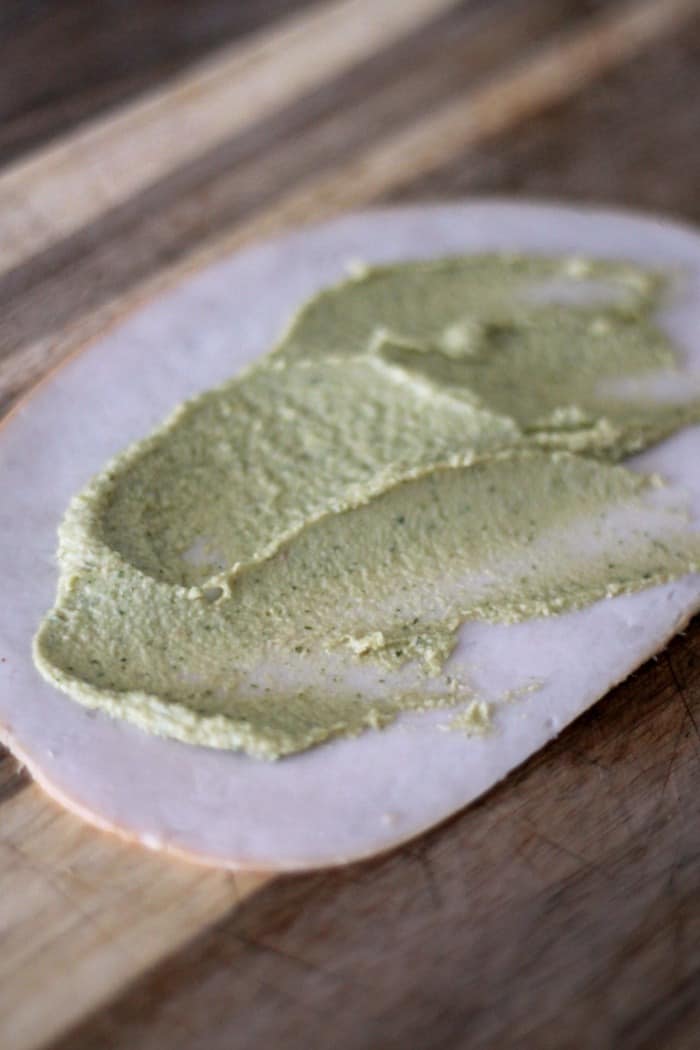 Next spread 1 tablespoon of your favorite salsa over the hummus. You can also use diced tomatoes but salsa gives it great flavor.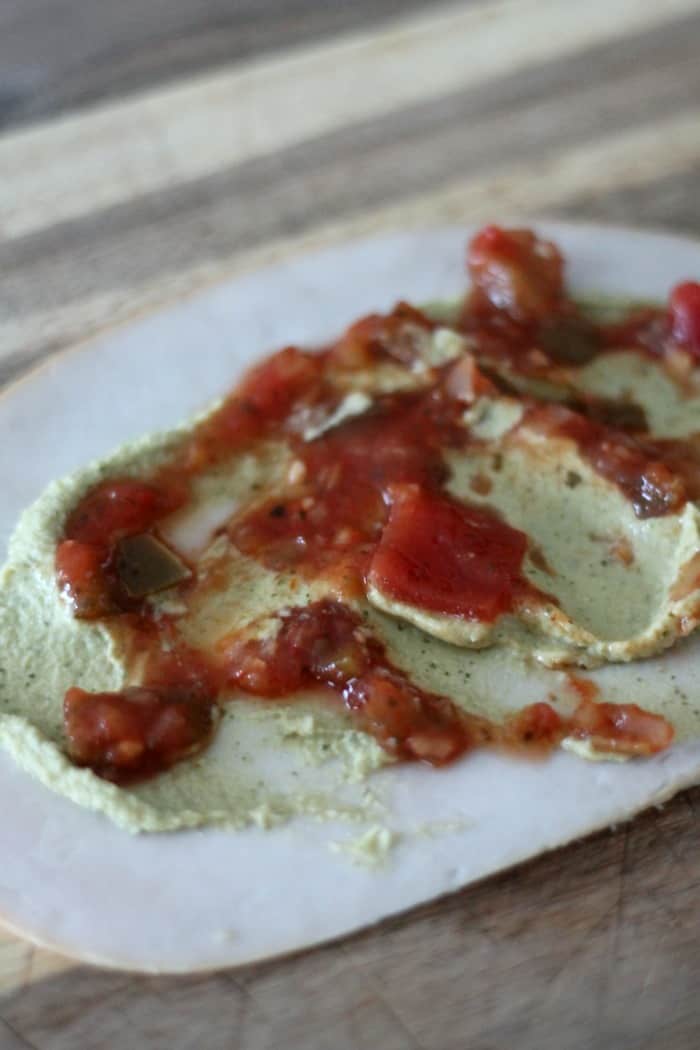 Next comes the cheese. I LOVE jalapeno cheese slices. Again, I get this from Wegmans. I've used shredded taco cheese in this wrap too. The key with cheese is to measure it out because this is where the calories start to add up. If I use sliced cheese then I will only use 1/2 of a slice.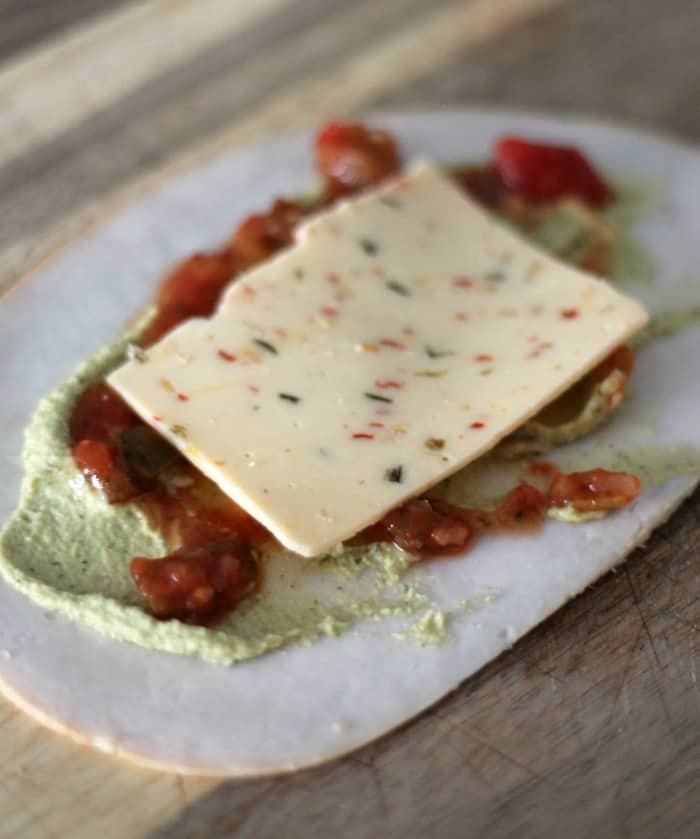 The last ingredient I used in this rollup is avocado.  For the leftover avocado I'll squeeze lemon on it to keep it from browning and plan to use it within a day or so. If you don't have avocado then no worries this rollup tastes fine without it. But avocados are very good for you and if you're moving towards a lower carb lifestyle then I recommend getting in the habit of eating more of them. Avocado provides good fat and is filling.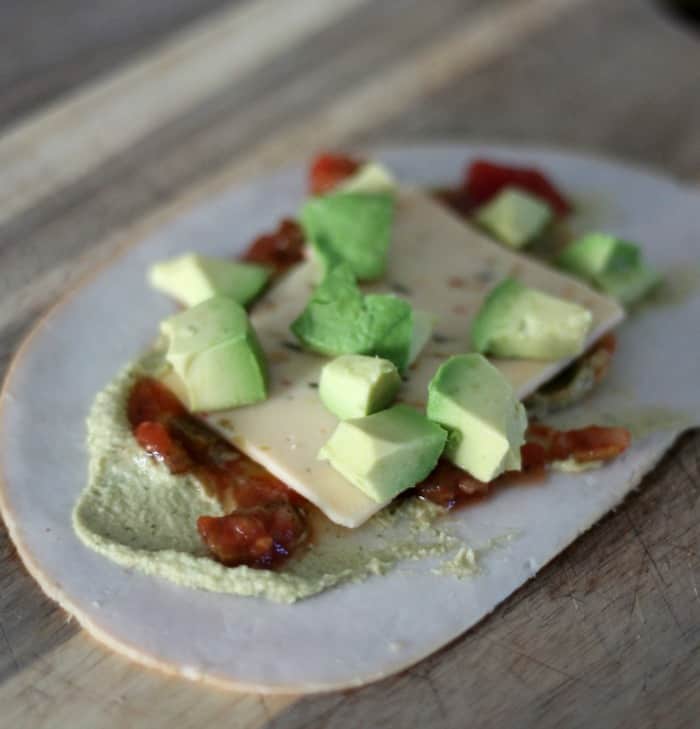 Now time to roll it up.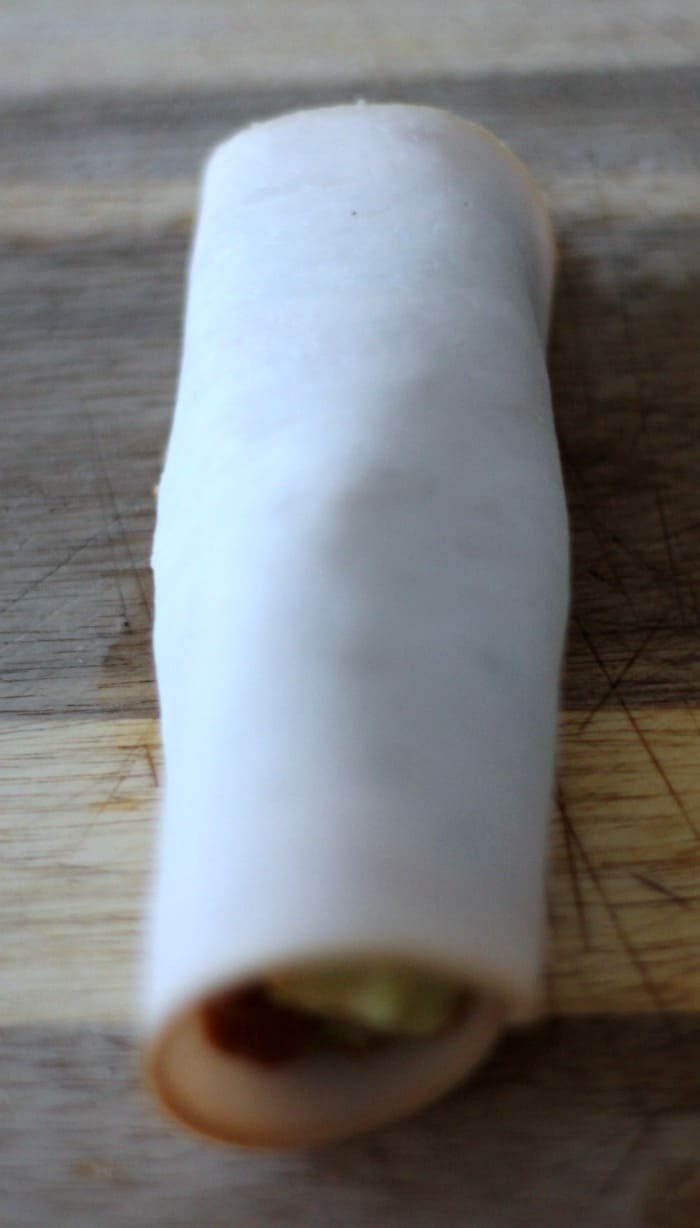 Then I cut the rollup in half and enjoy. If you want to make a few of these at a time then squeeze lemon or lime before placing into the rollup.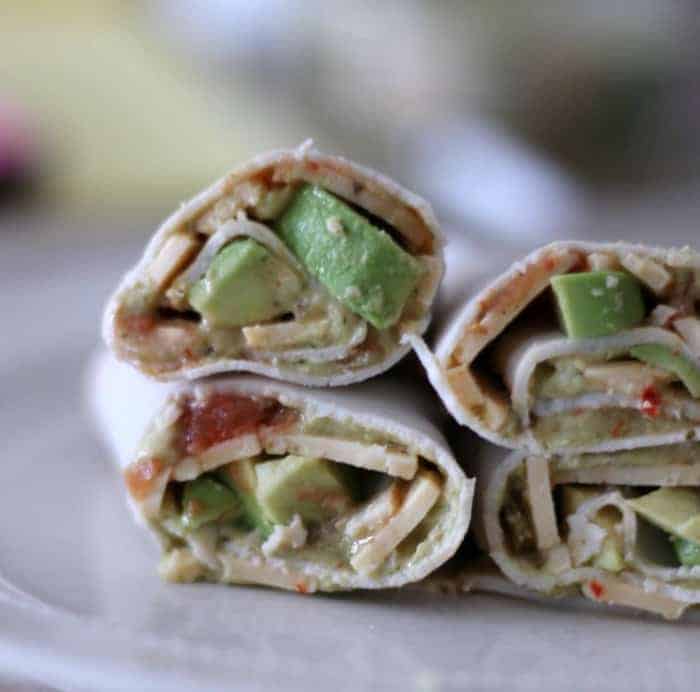 I absolutely love these "no bread" rollups. You get all the yumminess of a sandwich, or wrap, but without the bread. Of course, I love bread but when it comes to a basic lunch sandwich sometimes the bread just gets in the way. I would rather save my bread consumption for a garlic bread stick…just saying.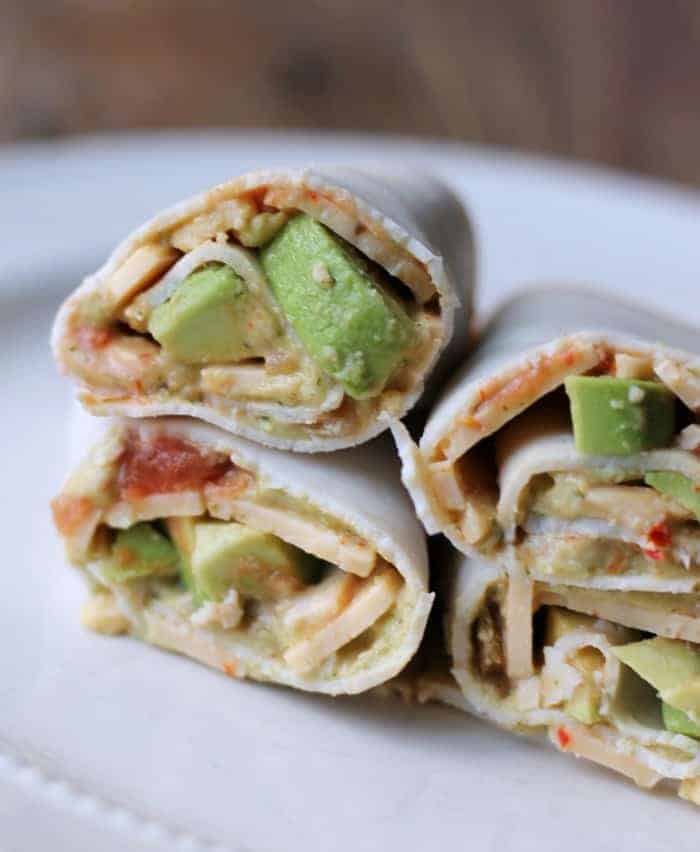 This Mexican Turkey Rollup recipe is easy to make, delicious, and will fill you up without making you bloated and stuffed. If you are looking for low-carb lunch option then I hope you give this recipe a try.
Low-carb Mexican Turkey Roll-up
Author:
Organize Yourself Skinny
Ingredients
1-2 slices of smoked deli turkey breast
1 tablespoon cilantro jalapeno hummus
1 tablespoon salsa
½ slice jalapeno cheese
1-2 tablespoons chopped avocado
Instructions
Spread hummus over top of the turkey slice. Next add salsa, cheese, and avocado. Rollup and enjoy.
Notes
Make-ahead instructions.
These rollups can be made 3-4 days ahead of time. Make sure to squeeze lemon or lime on the avocado first.
Nutrition Information
Serving size:
1 rollup
Calories:
204
Fat:
8
Saturated fat:
3
Carbohydrates:
5
Fiber:
2
Protein:
3
Get Instant Access to My Best Weight Loss Tips & Strategies!
Sign up now for a free step-by-step 7-day email course that I created exclusively for my email subscribers! That's you. I will teach the best habits, strategies, and insider tips so you can enjoy a lifestyle that encourages and supports weight loss! Stop relying on willpower and take control back over your life! You can do this. Let me help!