Starting, and sticking to, a low-carb diet can be a real challenge for some people. The good news is, it can be made easier by using a low carb meal delivery service. Today I'm going to share my top picks for choosing the best meal kit company to support your low carb lifestyle.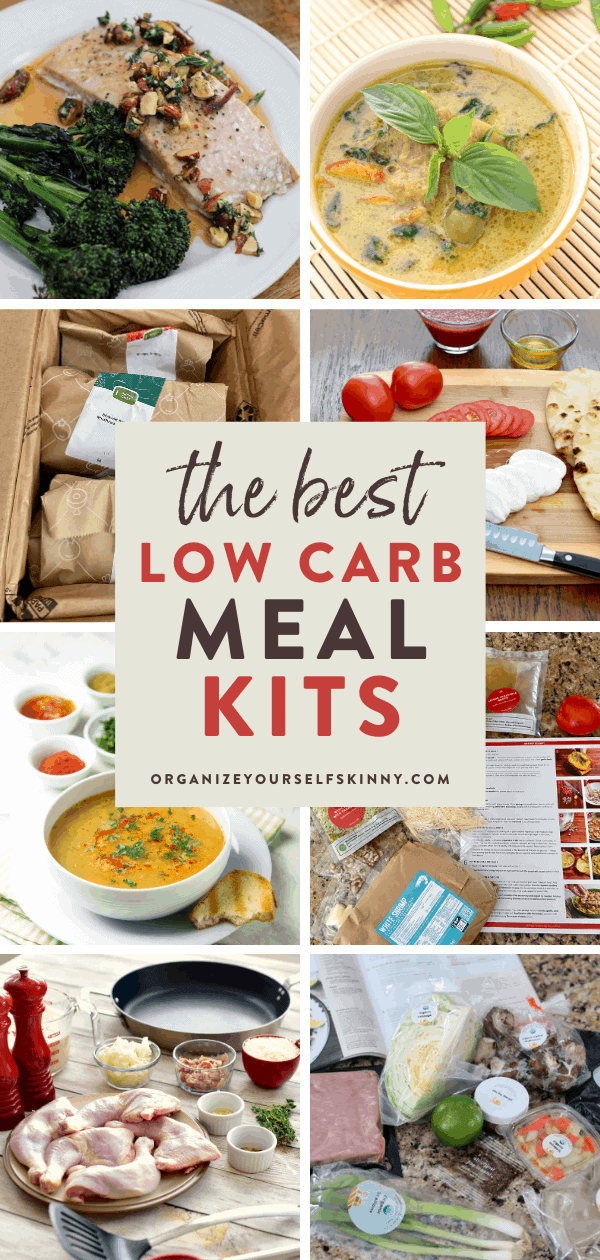 This post contains affiliate links. I am an affiliate for Amazon Associates and other brands and earn a small commission on qualifying purchases. You're by no means obligated to use my links but, if you do, thank you for supporting Organize Yourself Skinny.
I review meal kit companies quite a bit on Organize Yourself Skinny. You can see all my meal kit reviews here. While I don't think they're for everyone I do think meal kits can be really helpful for others.
Are meal kits good for a low-carb diet?
A question I get often is "can I use meal kits if I eat low carb?"
3-4 years ago I would've said no. Back then, the most popular meal kit companies focused on standard meals for busy families. The recipes were heavy in pasta, rice, and potatoes without any specific low carb options.
Over the years, things have changed, and the popular meal kit companies have taken notice that their customers want low carb healthier options.
Today, meal kit companies include more low-carb options alongside the standard classic recipes. Some companies even offer entire meal plans dedicated to a low-carb lifestyle.
In this post, I'll go over the popular meal kit companies that offer low-carb recipes.
Please note, most of these options will include more carbs than what's allowed on the keto diet. I will make note of the keto-friendly options.
However, if you're focusing on just reducing carbs then these are the best low-carb meal delivery companies.
4 reasons to love low carb meal delivery kits
Takes the guesswork out of meal planning – Figuring out what low-carb recipes to make is often the first struggle people face when changing their eating habits. With a meal kit company, they curate all the recipes and you just need to pick from the list.
The carbs and other nutritional information are figured out in advance – Calculating the nutritional information for a meal can take a lot of time. This is often another hurdle when trying to stick with a low-carb diet. A meal kit company removes that hurdle.
All the ingredients are delivered to your door – Shopping for groceries takes effort and time that most people don't have. How nice would it be to open the front door and see dinner for the week on your front step? That's what a meal kit company does.
Learn to cook new foods – I've learned to cook so many new recipes because of meal kit companies! Actually, it's one of the reasons I continue to order boxes. So, if learning to cook is keeping you from eating healthy low-carb meals then using a meal kit service can be a great solution.
The Best Low Carb Meal Delivery Kits
Green Chef
Green Chef is my favorite low carb meal delivery company. In fact, Green Chef is the only popular meal kit company to offer a meal plan focused on low carb keto-friendly meals.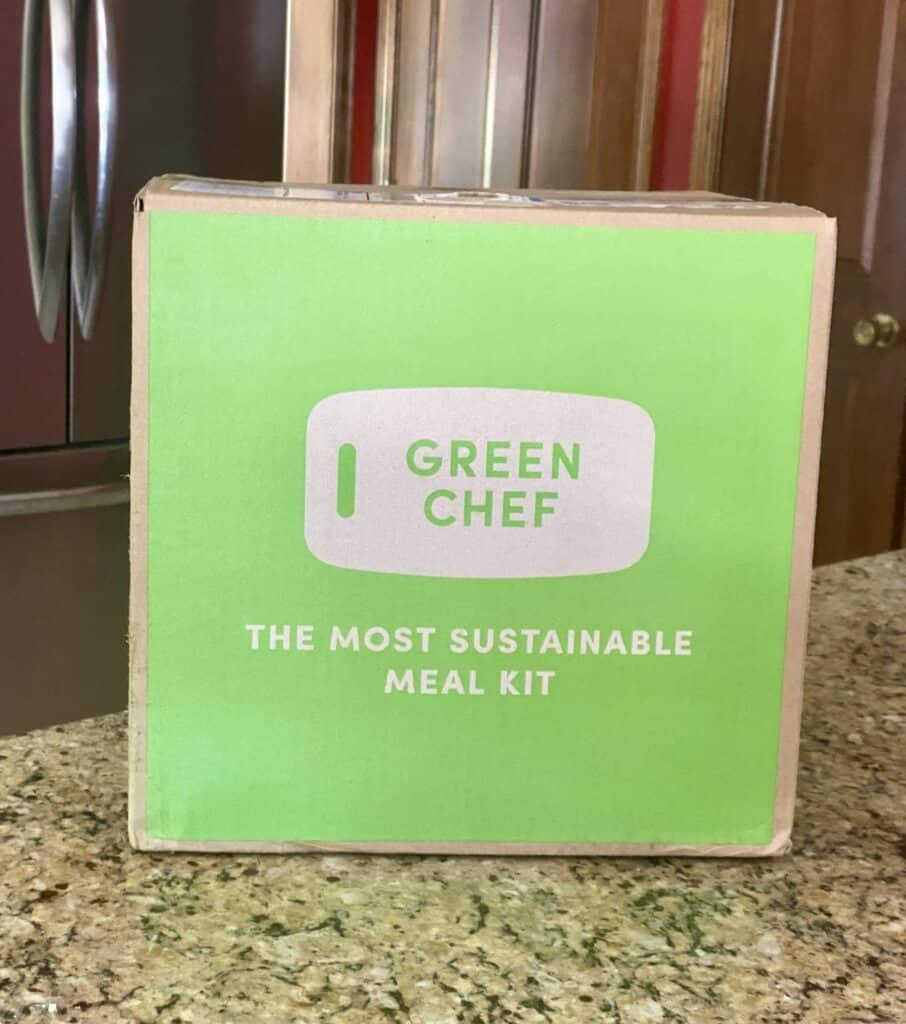 So, if you're looking for a keto meal delivery service then Green Chef is a great option. However, Green Chef also offers other meal plans that include a mix of low carb and carb-conscious recipes. You can see Green Chef's meal plans here.
Pros:
High-quality organic ingredients.
If you're following a strict keto diet then the Green Chef keto meal plan will work.
Green Chef also offers a paleo, vegan, vegetarian, and balanced living meal plan. All of these meal plans include lower-carb recipes with all of the nutritional information.
Cons:
Can only choose from one meal plan. So, if you want a mix of keto and carb dishes then you won't be able to do that.
Pricier than other meal kits because they use all organic ingredients.
Overall, if you're looking for a meal kit company that caters to a strict keto or low carb lifestyle then Green Chef is the one I'd recommend.
Check out my Green Chef review for more info. If you're ready to give Green Chef a try then here's a coupon for $90 off, including free shipping.
Sun Basket
Sun basket has carb-conscious recipes that provide a nice balance. I like the fact that most of these recipes still include potatoes, rice, or pasta but in moderate amounts to keep the carbs on the lower side.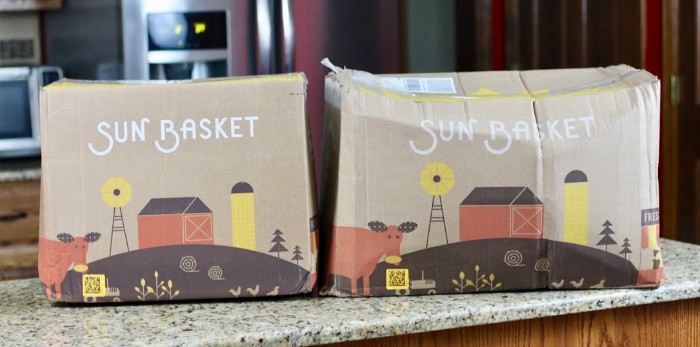 This is a great option for those that want to reduce carbs but not necessarily give up pasta.
Also, it's good to note, that the carbs included are wholegrain and/or good carbs like sweet potatoes.
Pros
A large variety of recipes to choose from.
Not all of the recipes are carb-conscious but Sun Basket does have a fair amount among the 18 recipes offered each week.
Recipes are easy to prepare and take between 30 – 40 minutes.
Option to upgrade to organic meats.
Organic produce is used 99% of the time unless noted otherwise.
Offers breakfast, lunch, and dinner options.
Offers prepared meals.
Cons
Doesn't have a specific low-carb meal plan.
Doesn't offer keto-friendly recipes. More often than not the carb-conscious recipes don't fall under keto guidelines.
Recipes are on the eclectic side. If you prefer family-friendly classic recipes then you might not enjoy the recipes offered by Sun Basket.
Overall, Sun Basket is a nice option if you want delicious recipes that keep carbs in moderation.
Check out my Sun Basket Review for more information.
If you're ready to order then here's $90 off plus 4 free gifts for new Sun Basket subscribers.
Hello Fresh
Hello Fresh isn't exactly the first meal kit company I'd recommend if you're trying to eat low carb.
When I first ordered from Hello Fresh, the meals were heavy in carbs. However, Hello Fresh has come a long way.
While they still have a lot of pasta and rice-filled recipes they now offer a nice selection of carb-conscious recipes. All of their lower carb recipes are labeled carb smart for easy reference.
For example, you can find recipes like spaghetti squash parmesan or french onion chicken on their carb smart list.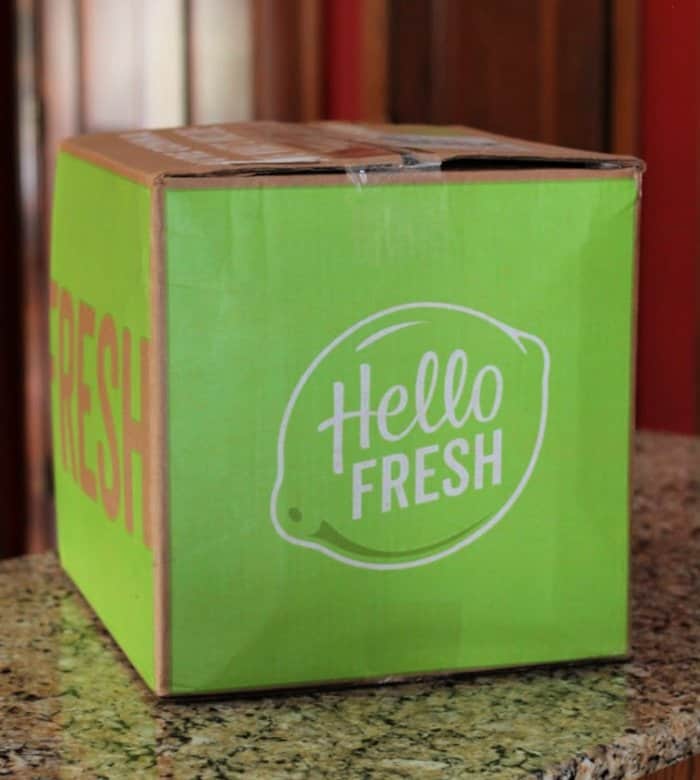 The issue is, while Hello Fresh does offer some carb smart recipes, it's not a large selection. So, if you want a large weekly selection of low-carb recipes then Hello Fresh won't work.
However, if you want an option to order low carb recipes along with some other recipes for the family then Hello Fresh will work great.
Pros
A large selection of family-friendly recipes that include some carb smart options.
Also, offers calorie smart recipe options.
Recipes are classic, very family-friendly, and easy to prepare.
Cons
There's not a large selection of carb smart recipes, so options are limited.
Ingredients are not organic.
Many of the recipes that include carbs don't use whole grains or give options for healthier alternatives.
Overall, Hello Fresh is a good choice if you're mostly looking for family-friendly recipes that include some low-carb options.
See my Hello Fresh Review for more information.
If you're ready to then here's $90 off to new Hello Fresh subscribers.
Blue Apron
Blue Apron is one of the original meal kit companies. They are very similar to Hello Fresh in the style of recipes, including their carb-conscious selections.
Some of their carb-conscious recipes include Cheesy Chicken Skillet and Japanese Tilapia.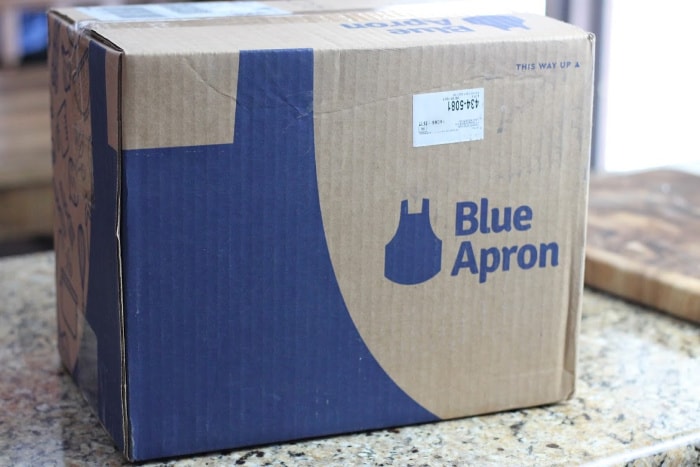 View the Blue Apron menu here
Pros
A large selection of family-friendly recipes, including carb-conscious options.
Also includes, diabetes-friendly and 600 or less recipes. Both of these options are helpful if weight loss is your goal.
Recipes are easy to prepare.
Cons
The carb-conscious recipe selection is limited.
Ingredients are not organic and there's no option to upgrade.
Overall, if you're looking for a large selection of low-carb options then Blue Apron isn't you're best choice. However, if you want a mix of carb-conscious and family-friendly meals that include carbs then Blue Apron will work.
See my Blue Apron Review for more information
The next two meal delivery companies I'm going to recommend provide fully prepared low carb meals that you simply heat and eat. If you don't want to cook then the1se are your best options.
Freshly
Freshly offers a feel-better food menu that includes carb-conscious entrees. An example of these meals include Buffalo Chicken with Cauliflower Mash, Chicken Parmesan with Broccoli, and Baked Turkey Meatballs with Butternut Spirals.
Freshly meals are surprisingly very good. When I got my first box, I expected the meals to taste like a dried out TV dinner. That wasn't the case at all. The meals were fresh and delicious.
This prepared meal service would work great for someone who doesn't want to be bothered with the cooking but still wants 1a healthy low-carb dinner every night.
Pros
Over 30+ meals to choose from with some carb-conscious options.
Ready to heat and eat meals.
Cons
Small selection of low carb meal options.
Ingredients are not organic.
Overall, Freshly is a great option for someone who wants carb-conscious heat and eat meals but doesn't prioritize organic ingredients.
You can see my Freshly Review for more information.
Fresh and Lean
Fresh and Lean is a prepared meals delivery company that specialized in low carb organic meals.
They offer keto, low carb vegan, and high protein meals. So, if you're looking for heat and eat organic low carb prepared meals then Fresh and Lean is it.
You can see the Fresh and Lean meal plans here.
Pros
Specific keto, high protein, and vegan low carb meals.
Offers breakfast, lunch, and snack options too.
12 recipes to choose from each week.
Meals are fresh and ready to eat within 3 minutes.
Cons
Pricier than the other options.
Not a great choice when feeding a large family.
Overall, I think Fresh and Lean is a great option for an individual who is starting, or needs help sticking to, a keto or low carb diet.
Final thoughts
If you're looking for a meal kit to help you significantly lower carbs, or follow the keto diet, then I recommend either Green Chef or Fresh and Lean. Both of these options have meal plans specifically geared toward a keto-lifestyle.
On the other hand, if you want to lower carbs, prioritize organic ingredients, and don't want to necessarily follow a strict low carb diet then I recommend Sun Basket.
If you want a good mix of family-friendly meals with some low-carb options then all the other meal delivery companies will work just fine.