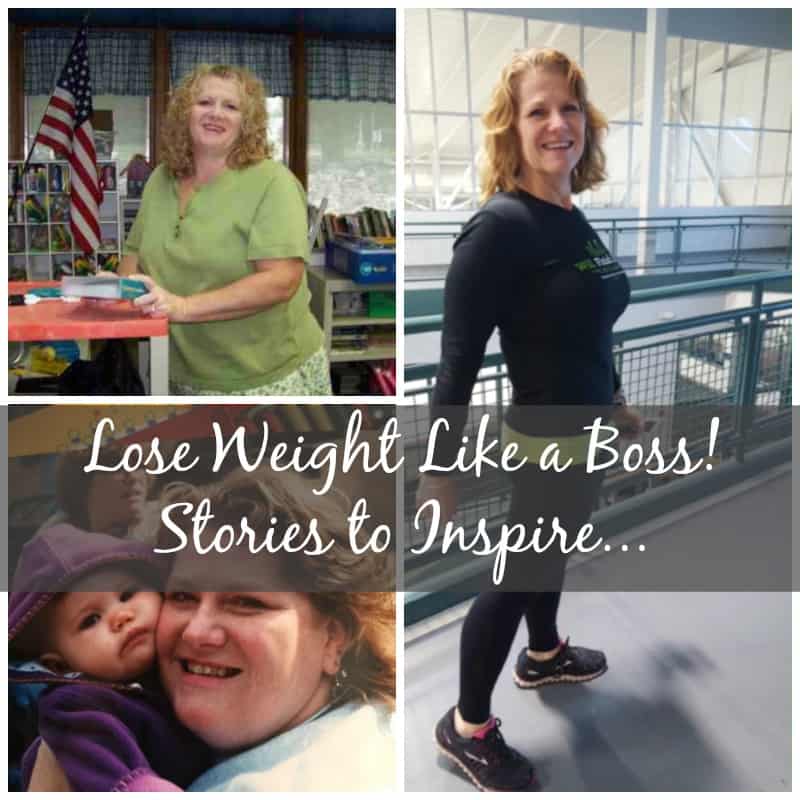 Welcome to story #4 in our new series Lose Weight Like Boss: Stories to inspire. You can read all the stories here. I don't know about you but these stories are beyond inspirational. Each one of these woman are amazing and have overcome so much. I know how difficult it can be to change your lifestyle and sustain those healthy habits. But these stories show that it can be done.
This week we have Gina. She started her weight loss journey at 267 lbs and now has settled in around 162 lbs and has become an exercise machine. I love this story. Here's it is.
Can you tell us about your weight loss journey?
My name is Gina Dupps and I am 53 years old. I am a 6th grade teacher and have been teaching for 28 years in a small town community school. I also teach Zumba and run 5Ks, 7Ks, 10Ks, and half marathons. I also enjoy doing fun runs such as the Warrior Dash and Mud Fun Runs. I am single  and have no children, but spend a lot of time with my 9 nieces and nephews and my friends' kids.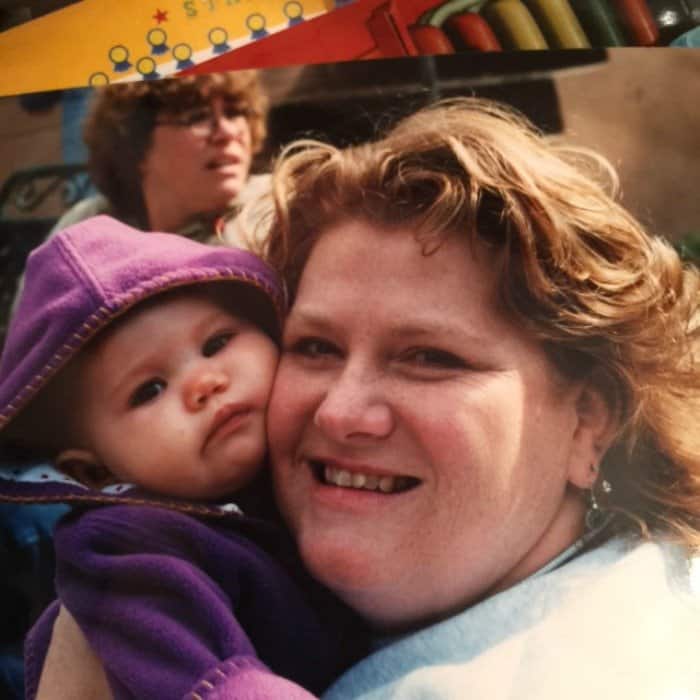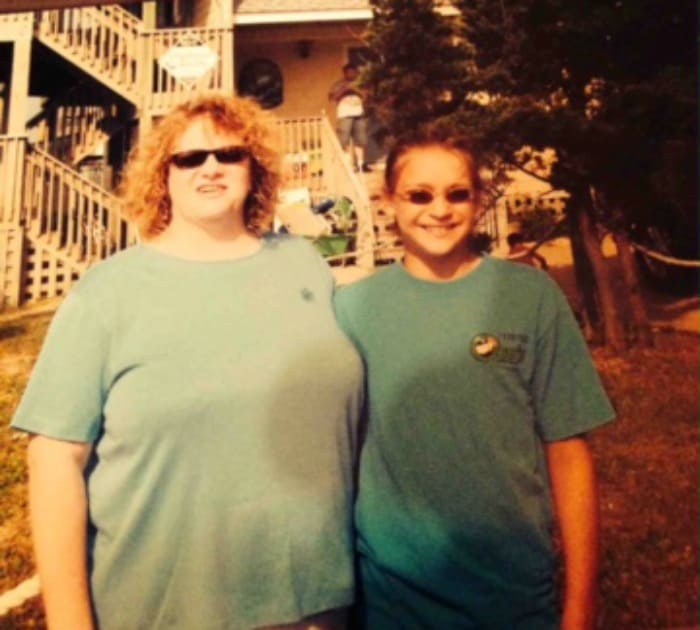 In the fall of 2009, our school corporation received a huge grant called the Heroes grant which gave money to promote good health to the students and the staff at the East Gibson School Corporation. Previous to 2009, I had started walking 2 miles most days. That was all the exercise I got.
When we got that grant, the directors (Chrissy Ash and Ryan Marvel) had walking competitions among the staffs at all the schools. They gave us pedometers and promoted friendly competition, awarding prizes to the winners. They also began building a fitness center at the main campus, and passed out various exercise equipment at the schools. We received stability balls along with a dvd. I found out about the stability balls and decided to give it a try. I didn't hate it, so a few of us stayed after school and did the dvd twice a week or so. As we got better, we started doing other exercise videos and meeting 3-4 days a week. Different staff members dropped in and out of exercise, but Debbie our secretary and I stuck with it.
I also continued walking 7 days a week. I lost about 20 lbs that year. I didn't really adjust my eating.
In Jan. 2010, I decided to log my food, I saw a spot on Good Morning America with Dr. Nancy Sniderman talking about an app called Lose It. I began logging without cutting foods out of my diet. I just ate the amount of calories the app told me I could.
In the fall of 2010, two things happened…1. we started doing Jillian Michael's 30 Day Shred to mix up our workout, and 2. I went to a Zumba class in my town, I loved it, even though I felt like a klutz and couldn't keep up. But… I went back and the instructor, Brandi Vela, encouraged me to do it at my pace and stick with it. She became a friend, and coached me on diet. She told me I didn't need to eliminate any food, just eat in moderation and use portion control.
As Brandi taught more classes, I attended more classes. As I controlled my diet, and upped my exercise in both quantity and quality, I began losing faster….My very beginning weight was 267lbs, my very highest. When I began walking, I lost about 10 lbs. At the beginning of this exercise quest in 2009, I weighed 257 lbs. At the end of 2011 at my 30 year class reunion, I weighed 195. It was a huge victory to me to be below 200lbs!!! Throughout all of this my friend Debbie worked out with me every day! I was doing zumba 2-5 times a week, and still doing Jillian and other dvds every day. Debbie and I remember celebrating when the two of us FINALLY weighed less than our male, 6ft2in ex division 1 football player boss. I remember high fiving her when we both realized it!! LOL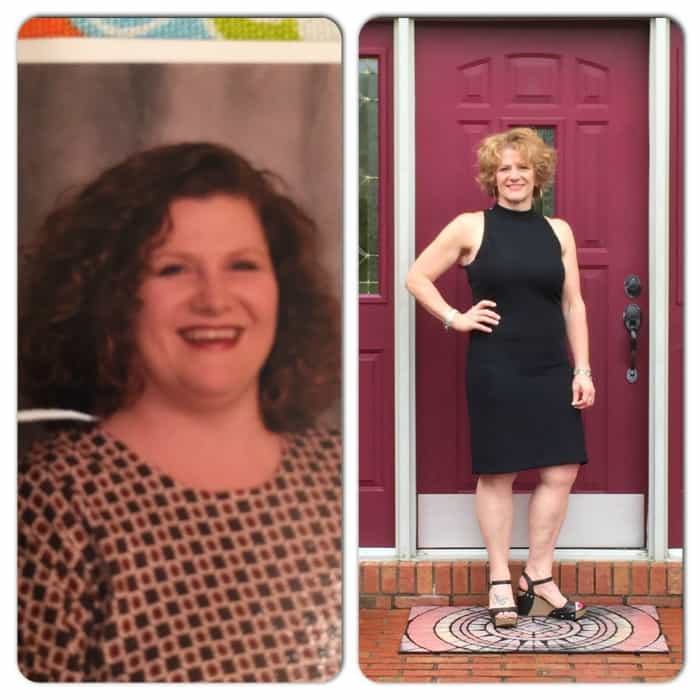 All through this time, I logged and exercised. I didn't cut out any food, I just thought about it before I ate. I would eat pizza if I really wanted it, but I no longer ate an entire frozen pizza myself, or pasta every night. I made better food choices and followed my friend Brandi's advice on what was healthy.
I never set any particular goals, because from the very beginning I never thought I could lose all the weight I wanted because I never had. I set small goals of 10 pounds at a time.  My clothes no longer fit, so I altered some, and got rid of all of the too big stuff! There was no way I was going to fit into all of that again!! It was a huge victory when I got down to a size 16 because you could buy a size 16 in regular stores!!!
In May of 2012 I hit a huge milestone…. I weighed what my license said I weighed!!! I was at 165!!! I took a picture of the scale!!! During all of this, we continued fitness competitions at school. We set goals, and gave ourselves credit or points for meeting those.
In Nov. of 2012 my friend Brandi moved and I had to find another zumba class. I started attending Amy Rees and Katie Sachetti's classes. They, too, have become great friends. I still attend Katie's zumba classes and we motivate one another in our weight loss journeys. Amy has become a major person in my running races. She runs also and encourages me to continue.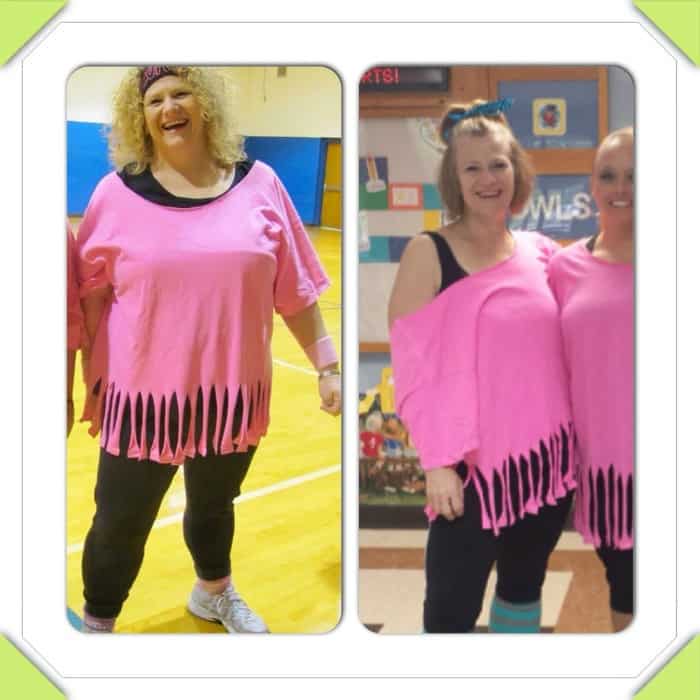 I never set a final goal, but my weight has settled in around 162, and I've been there for about 4 years, so I guess that's my final weight??? I have only recently stopped logging my food, and will only do it if I feel I'm off course.
I still exercise every day for at least 30 minutes with my coworkers, and I do about 4 zumba classes a week, sometimes 6 if I'm not working. In Dec. of 2012 I got licensed because my friend Brandi moved away and she encouraged me to teach. I teach twice a week and attend another friend's class twice a week.
About 3 years ago, I was walking with my friend Brandi and she encouraged me to run the last little part. I told her I wasn't a runner, but she pressed me to run. I did, and I didn't drop dead!! I signed up with my friend Debbie to WALK a local 5k, during the race Debbie said why don't we run up the hills and walk the rest? We did, and again, I didn't die!! That was the beginning… I signed up for more and more 5ks and could actually run (although slowly) the entire thing!!! I set a goal of running at least one race a month and have only missed the month of January the last couple of years. I have run over 35 races, including 6 half marathons. My joke is, if you give me a number, a free shirt, cheer for me, and give me a snack at the end, I'll run!! I don't run daily, but continue the monthly running. In May of this year I ran 4 races. Debbie and I have even completed a few Warrior dashes!!
I am continually amazed that my now 53 year old body can do way more than my 25 year old body every could!!! I can't run an entire half marathon, and run/walk it, but I finish in under 3 hours, and my time gets better each year and that's without training!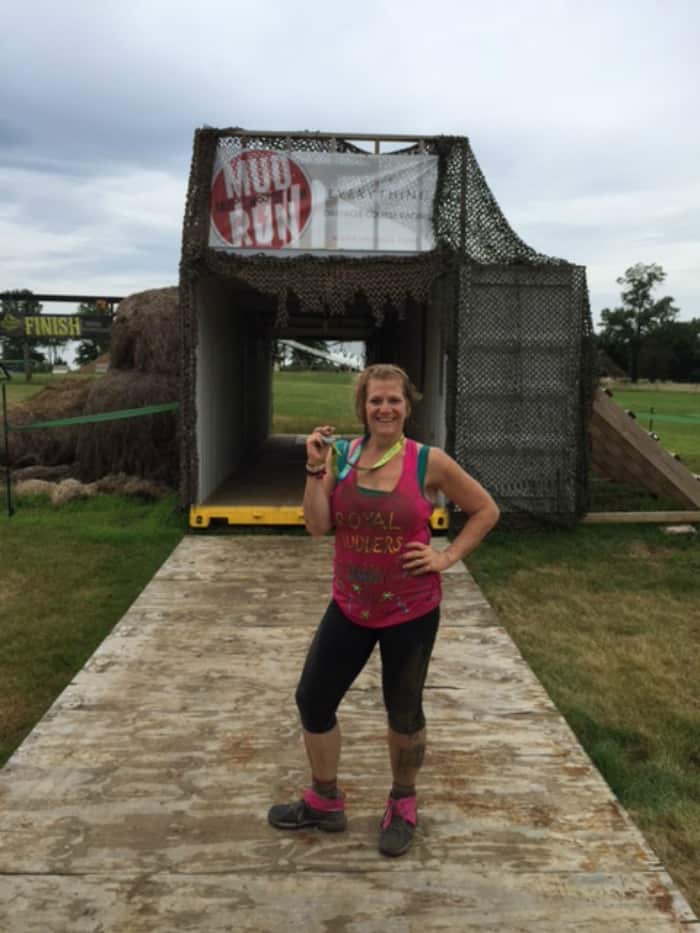 In Jan. of 2014, I scheduled a consultation with a surgeon to look into skin removal surgery. I have a lot of loose skin even though I exercised and took 3 years to lose the weight. I thought about it for about a  year, and in Dec. of 2014 I had a tummy tuck, and in March of 2015 I had some more skin removed from beside my breasts. If I could afford it, I would have skin removed from my back, under my arms, and my thighs, but I can't! LOL  There's still loose skin, but I live with what I have left.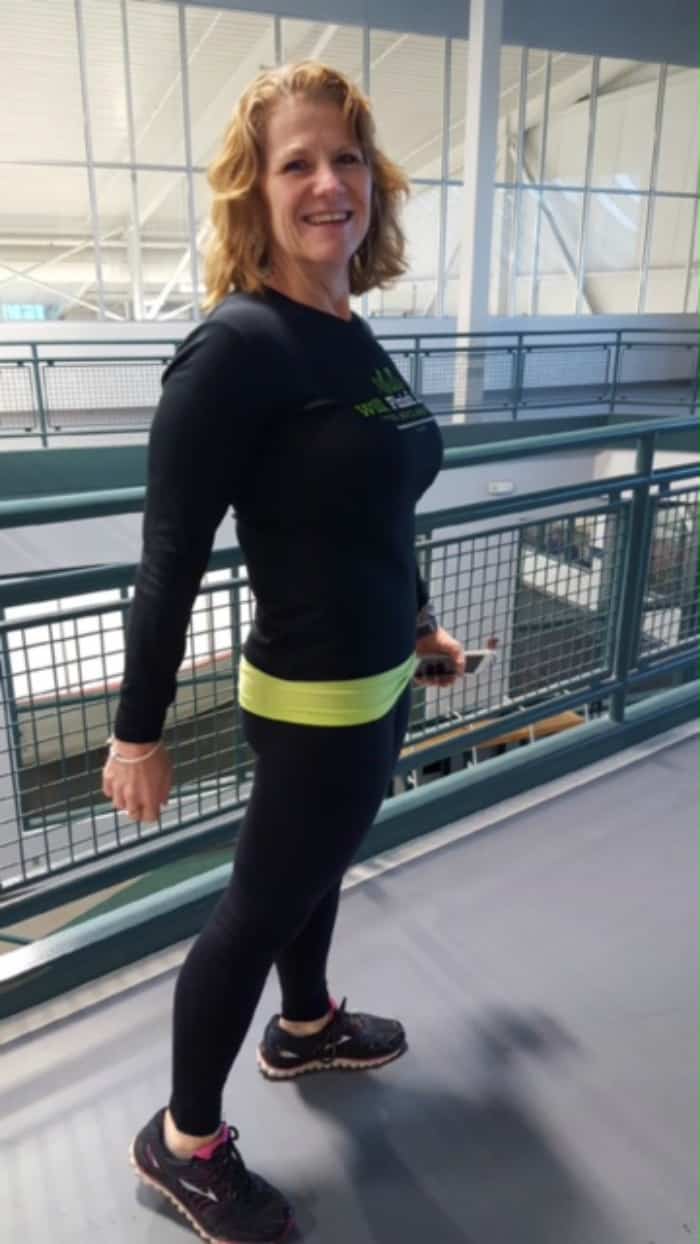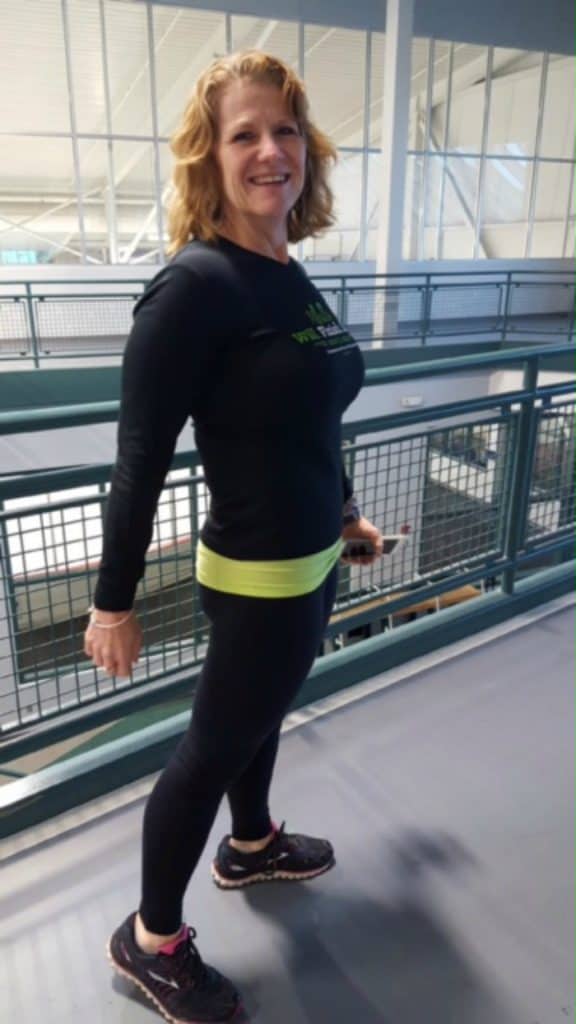 From my very top weight of 267 I"ve lost about 105 pounds, from the beginning of this journey, I've lost about 95. I've gone from a size 22/24 pant and 3x men't shirt to a 6 or 8 pant, and a small or medium shirt. Believe me, I never thought that would happen!!! I was bigger than any of my 3 brothers. After I lost weight, I handed down those 3x men's t-shirts to them!!! I've lost at least 10 inches each from my chest, waist, and hips. I am no longer a 42 H bra size, I'm a 34 DD/DDD   I can go in to any store and find clothes that fit.
There were so many non scale victories that hit me… Like….I could wrap a towel around me and it didn't have to be a beach towel!! I took the presidential fitness test at school with my students and hit the national goals! I could never do that as a child!!! An airline seatbelt comfortably fits me, I can fit on a rollercoaster without having to be shoved into the brace. My resting heart rate is in the 40's, I actually wore one size fits all pants, and I got my rear end into size small and extra small skirts!! OMG!!
My diet consists of venison, fish, and chicken and tons of vegetables   I'll eat almost every kind! Even though I live alone, I usually cook for myself and eat dinner at home except on the weekends. I like to prep my meals on Sunday and eat the whole week on what I've cooked. During the school year, I"ll eat lunch out sometimes usually a chicken taco salad with salsa for dressing.
Staple foods for me are fresh fruits and veggies, canned tomatoes, beans, chicken, and venison. I love Mexican food and the spicier the better!!!
I struggle with buffets, and avoid them whenever  possible. I can't have peanut M&M's in the house!! Although, if I really want them, I'd have some if I really wanted them. I don't really eat bread or processed foods if I can avoid it.
I think the best habit I picked up was regular exercise.   It has truly made all the difference!!!! Another habit has been drinking a gallon of water a day. I just feel better when I drink water. Now that being said, I still drink Diet Mt. Dew. I can't seem to give that up!
My life has changed because I do things I NEVER thought I could do. I have more energy than I ever did!!! I only discovered Organize Yourself Skinny after my weight loss journey, but save many recipes. I love to try new foods, like mashed cauliflower and cauliflower pizza.
I would tell my heavier self that "You CAN do hard things my friend!" I still struggle with what I see in the mirror, sometimes I still see Former Fat Gina. And I definitely still hear her negative thoughts. The emotional mental part of losing that much weight is huge!!
My weight fluctuates between 162-167 and I get stricter when it's at the upper edge of that. I exercise at least 30 minutes a day, with most days being 1 1/2 hours. I used to exercise first thing in the morning before school, but only do that in the summer  now. Zumba is always in the evenings. I really hate missing a day of exercise and continue to exercise even when on vacation. I'll take a dvd with me and if I'm at the beach, I"ll walk the beach every morning.
 So many things have happened since the fall of 2009 when I started exercising on that stability ball.
 Now, almost every one at my school has dieted, exercised, and lost weight. I am in the best shape of my entire life, I weigh what I weighed in the 8th grade. Never as an adult, have I been this weight or this size. Most people want to weigh what they did in high school, but not me!!! I was much heavier in high school!!!
There was really no AHA moment for me, I just truly believe God led me TO and THROUGH this weight loss journey. He led me to people who inspired  me and continue to encourage me. (Debbie, Brandi, Katie, Amy…)  I try to pay it forward by helping others in their own journeys. Maybe that's my purpose in life?? I also encourage my students to eat healthy and often cook new foods for them to try.
Thanks for the chance to tell my story…..I can't wait to read every one else's stories!!!