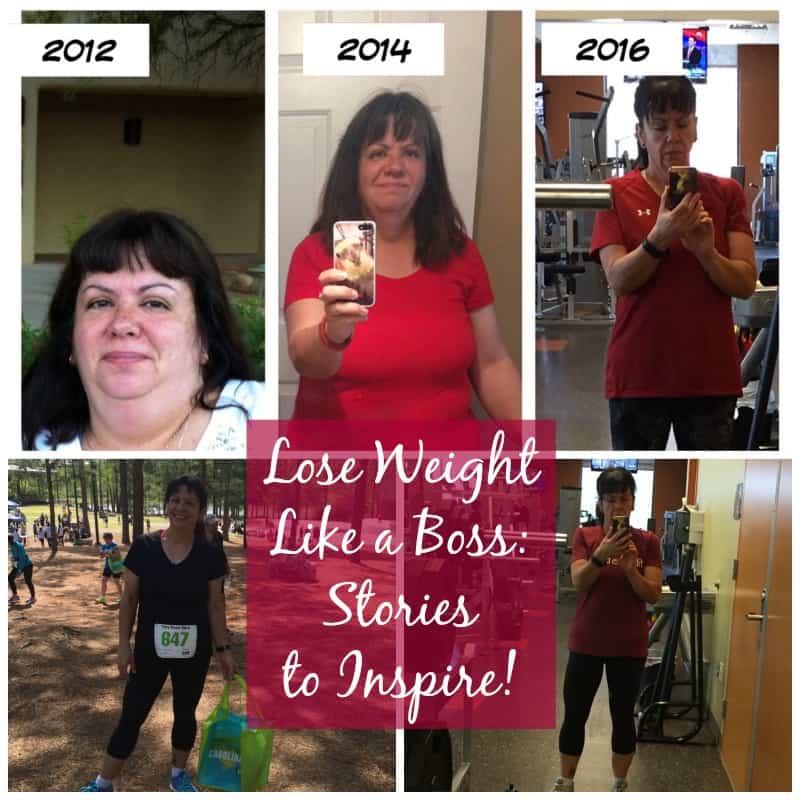 I hope you are loving this new weight loss series as much as I am. As I schedule these remarkable stories I'm beyond motivated and inspired. I know how difficult it can be to keep a healthy lifestyle and to see the hard work these people have put in to completely turn their lives around is amazing. It shows that anyone can do it – ANYONE! Read all of the stories in the weight loss series here.
Our 3rd story is from Karen and she's lost over 100lbs through using My Fitness Pal to track food and by exercising.
Here's her full story…
First name: Karen
Age: 52
Can you give us a glimpse into who you are?
I'm a registered nurse working in Labor and Delivery. No biological kids, but one feather-kid, a cockatiel named Merlin. I enjoy reading, puzzles, and way too many tv shows.
What was the a-ha weight loss moment that started you on your weight loss journey?
I don't know if I'd call it an "aha weight loss moment." I was a few months from turning 49, tired of being so big and not wanting to become the woman on the commercials who's fallen at the bottom of the stairs and can't help herself.
When did you start?
I registered an account with My Fitness Pal on December 29 2012 but officially started tracking on January 2nd 2013.
What was your starting weight?
248 lbs
 How much weight have you currently lost?
111.8 lbs
Have you reached your goal weight? How long did it take you? 
Not yet. I'm trying to get into the middle of the normal weight range for my height and still have a few pounds to go. I have a final number in mind, but that may change as the losses are slowing down a lot and my body may be deciding for me, not my brain.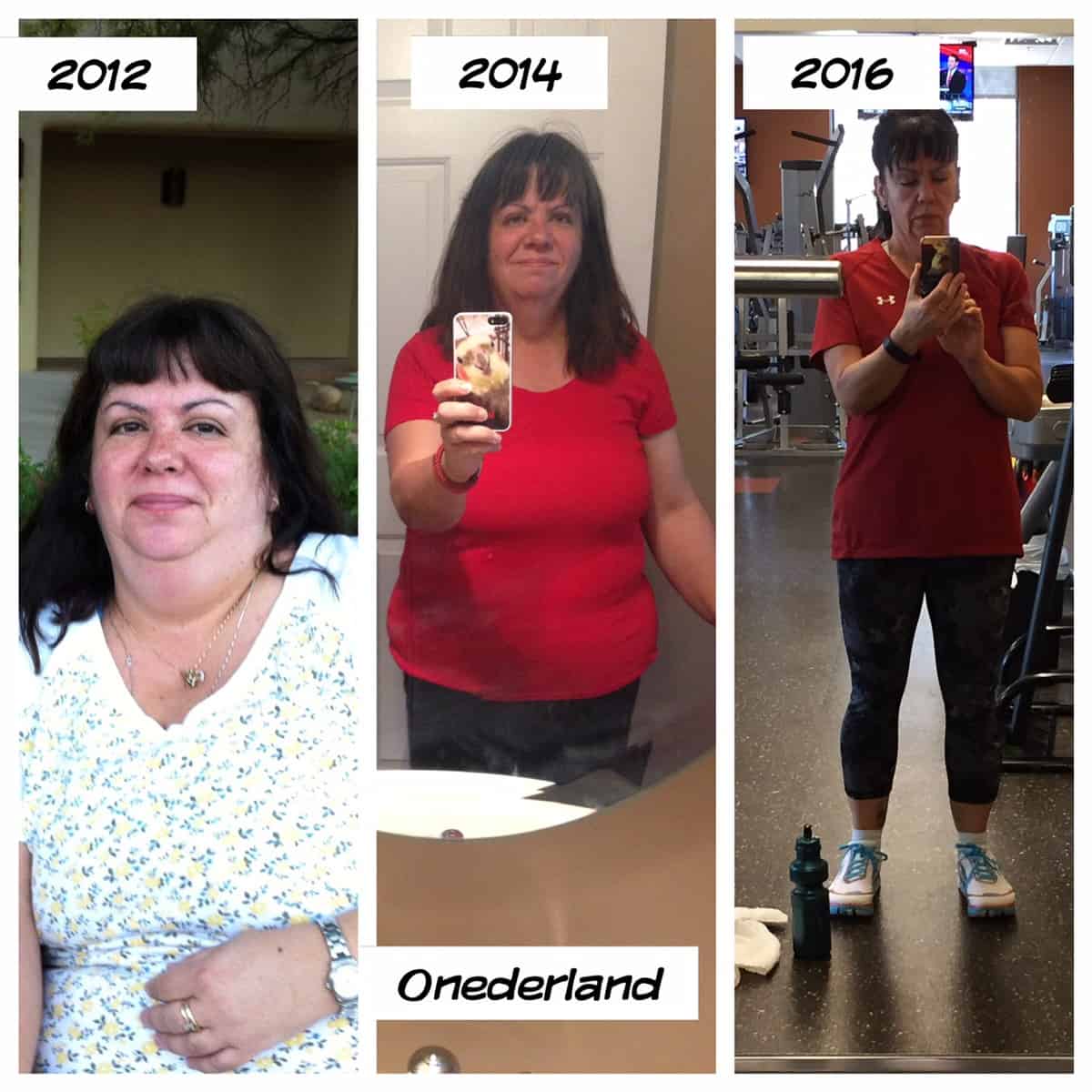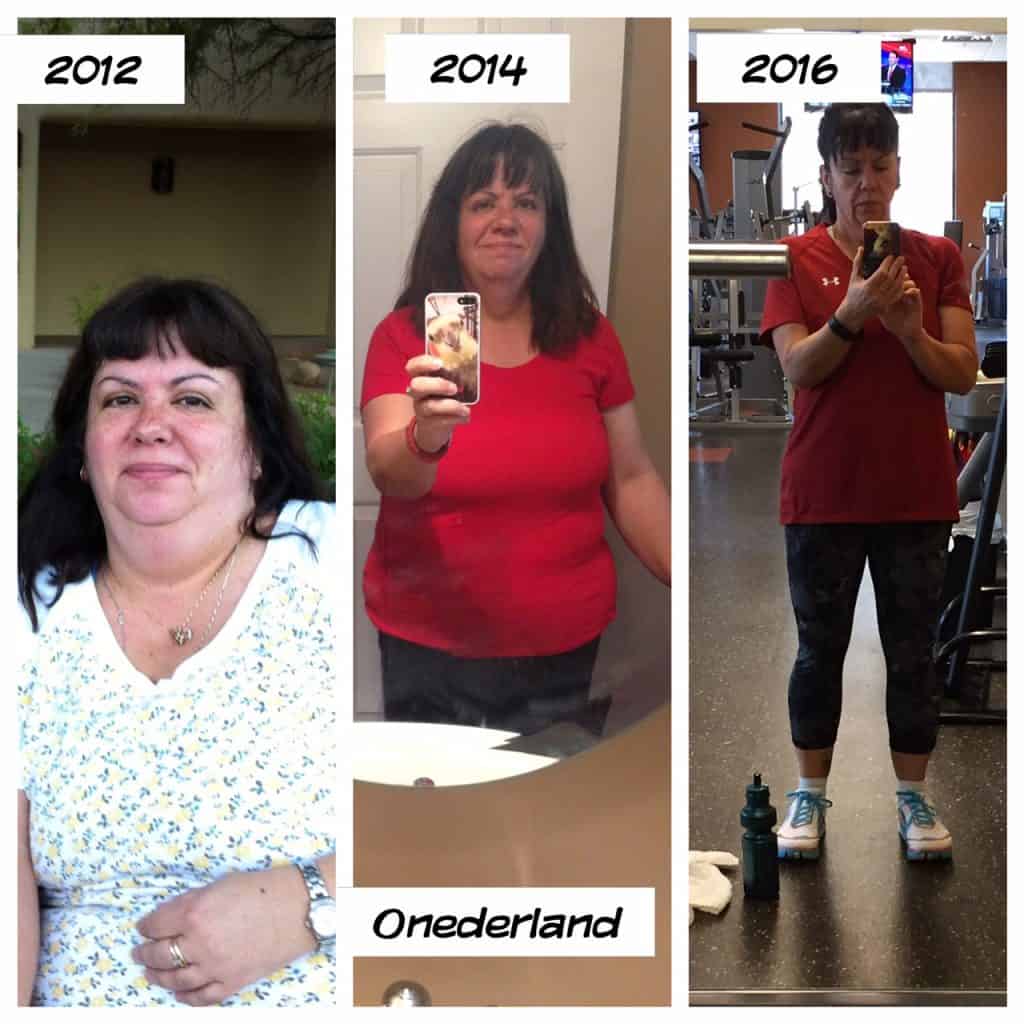 Can you give us a glimpse into your day? What do your meals look like?
My days vary as I work three 12 hour 7P-7A shifts. On normal nonwork days breakfast is usually eggs, toast and coffee. Dinner is pretty simple, I'm not much of a cook but don't do takeout anymore, so I have a few easy to fix meals, mostly I try to focus on a protein and getting some veggies in.
During the day I eat smaller snacks/meals in the early and later part of the afternoon – cheese, eggs, baby carrots. I haven't been able to break the night time snacking habit so I try to make it something like popcorn. I love ice cream, but have found it hard to control lately, so I'm trying not to bring it home at this time.
When I'm working, I make sure to eat a real dinner, usually chicken and steamed spinach, before I go. I work in a busy hospital unit where meal breaks aren't guaranteed so I make sure I get that in. I pack a bunch of smaller snacks for the shift. I follow My Fitness Pal's midnight to midnight clock for calorie counting, so I account for both parts of the shift. These foods are usually cheeses, carrots, sunflower seed butter (current addiction), eggs, chicken. I'll eat something small when I get home and before I crash, usually a hard boiled egg.
When do you exercise and what type of exercise is your favorite?
I exercise according to my schedule working nights. I love to walk out in my neighborhood, where there are several lakes and ponds. I run 1-3 miles but not on a regular basis, I've done a few 5Ks and one 4 mile race so far. I joined a nearby Wellness center and my favorite class is TRX. On a good week where my work schedule doesn't interfere, I take a HIIT class, two TRX classes, one cycling class and lift heavy weights twice.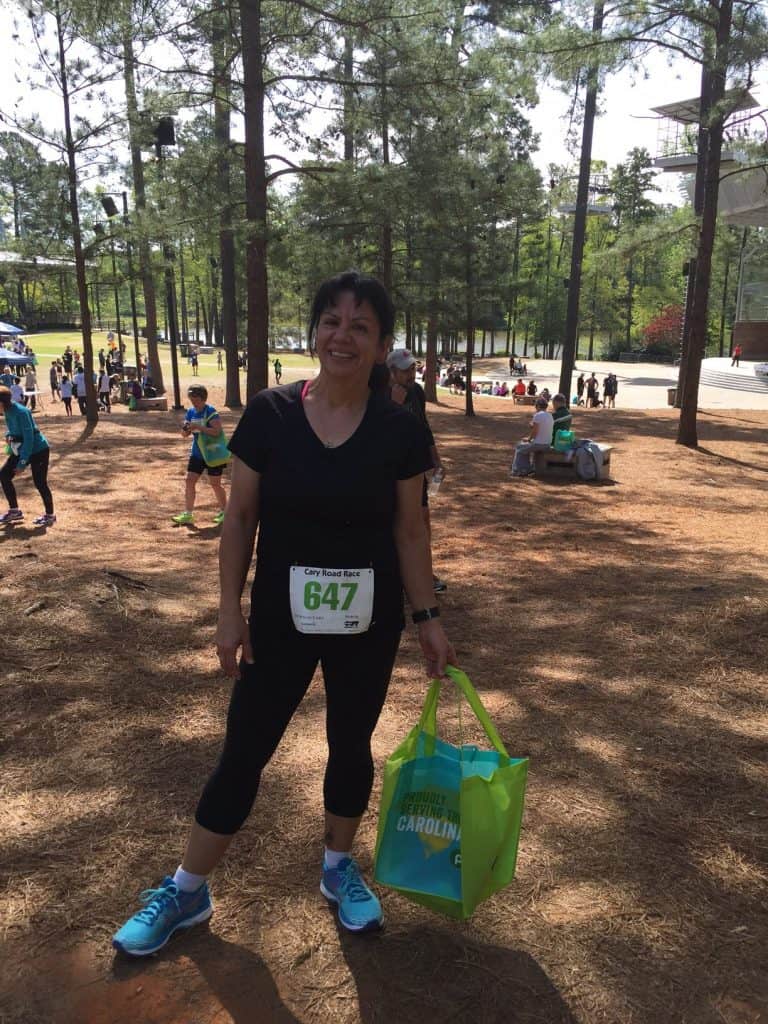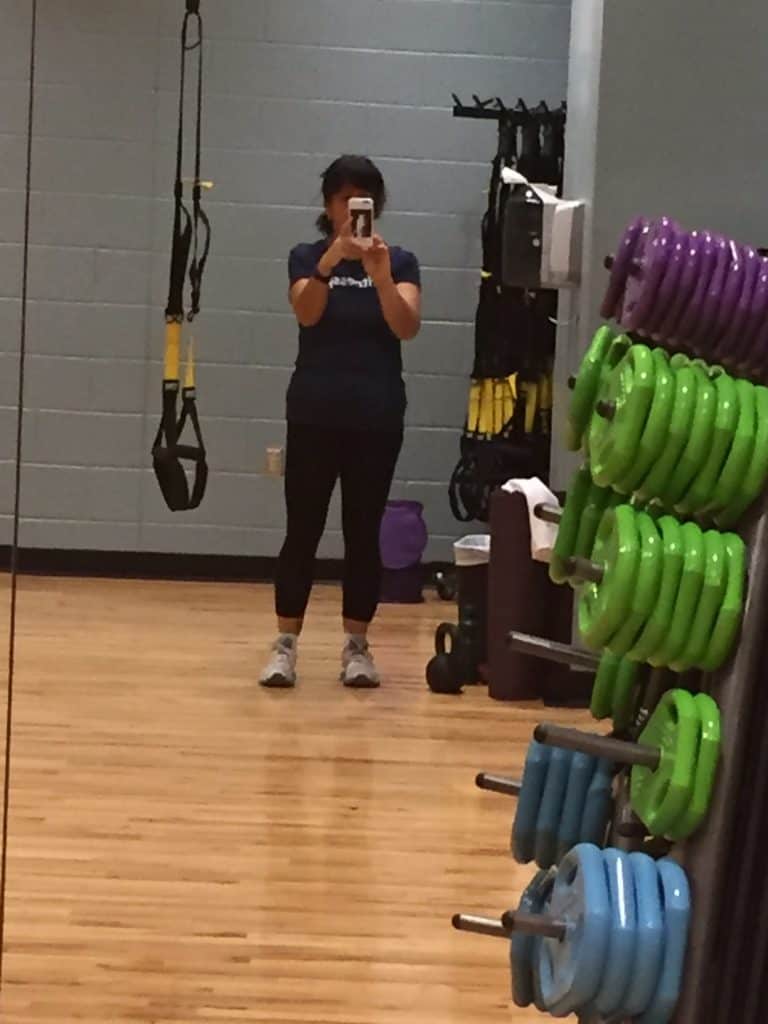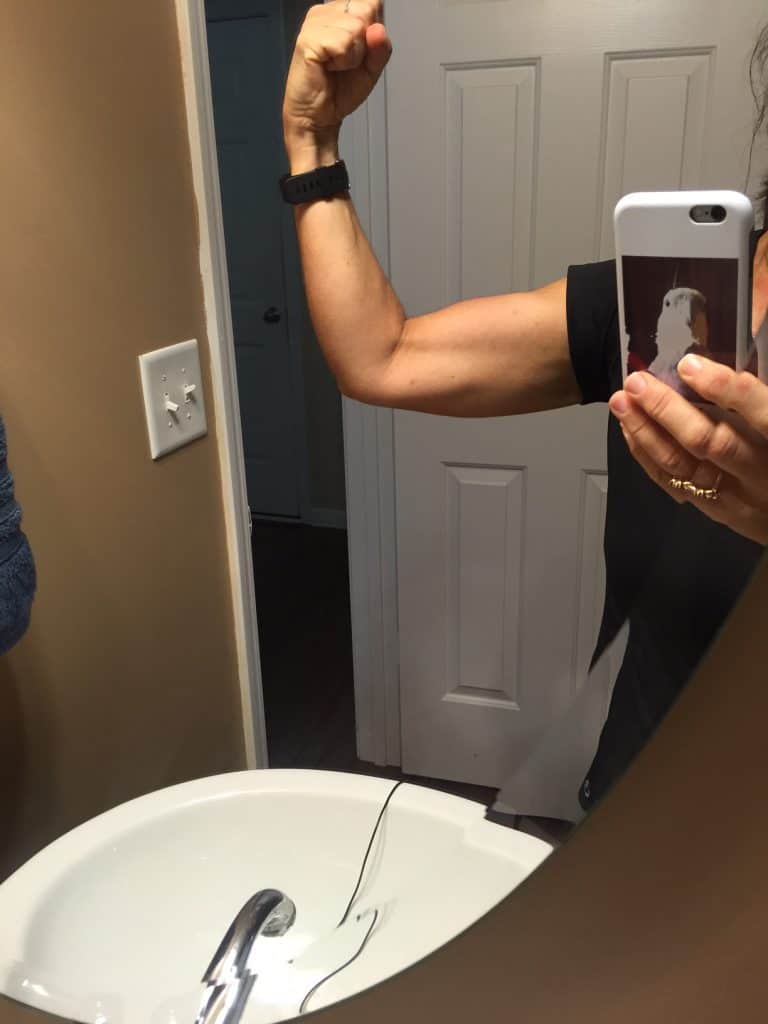 Do you prep  your meals ahead of time?
I don't prep as much as I'd like, mostly because my schedule changes weekly and it's hard to be consistent. I do prep servings of baby carrots, nuts, chicken, and always keep hardboiled eggs around.
What "must buy" foods do you purchase every week?
Eggs, chicken, popcorn, almond milk, carrots, mozzarella cheese (the fresh stuff, not packaged. I'm Sicilian, I think it's a rule).
What foods do you keep out of the house?
Right now ice cream is the main one. I've had a problem with it over the last few months, tried different approaches like scheduling it, which did work for a while, but currently it's better for me not being in my freezer. I did buy some last week and did better with it, but not ready to bring it back routinely. Chocolate can be an issue, so I've started buying some from places that have it in jars and you can measure out what you want.
Do you have trigger foods?
Ice cream, and mostly non-vegetable carbs like bagels, pizza and pasta (grew up in NY)
Can you share any favorite recipes?
I don't know that I'd call it a recipe, but I make what I call a fajita-less chicken fajita dish. I just grill chicken, peppers and onions, toss them into a bowl and mix in sour cream. Not the most pretty looking dish, but it tastes great. Also, the tacos wrapped in Bibb/Boston lettuce instead of taco shells – I do still eat taco shells but alternate with this version. I use conventional taco ingredients, cheese, tomatoes, sour cream, ground beef and taco sauce but use the lettuce instead of the shell.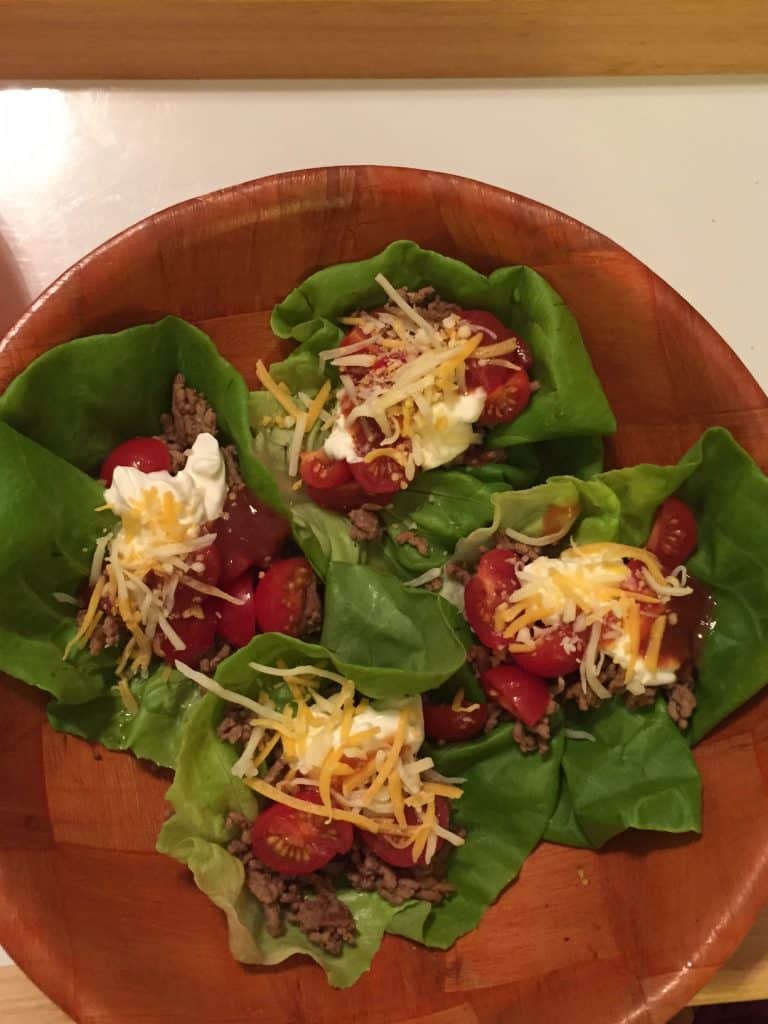 What habit has made the biggest difference in your weight loss journey?
Calorie counting and learning what normal portions are. Also weighing all my food (and measuring liquids) – very eye-opening.
How did you make that habit a part of your lifestyle?
I use My Fitness Pal and log all meals/snacks. Current logging streak is 1241  days.
What was you biggest struggle/challenge during the first few weeks of your weight loss journey? How did you push through?
The numbers. Trying to figure out calories and macros, and how to tweak the numbers so I would eat at a deficit. I have Polycystic Ovarian Syndrome, which makes weight gain easier, and weight loss harder, so I have to work on keeping the carbs under control, which would help alleviate some of the PCOS symptoms and prevent others, like insulin resistance. I call it a lowER carb plan.
I educated myself. MFP has a huge community forum section, there are lots of knowledgeable people there, links to all kinds of information and I spent a lot of time reading as much as I could, still do. I also use a dietician when I'm struggling, both for tough love and to help me see if the numbers need to change. I lost 51 lbs years ago on a well-known program, but ended up gaining it back, I think partly because I didn't learn as I went along, back then I was on a diet, not a lifestyle change. This time it's different.
What's your biggest struggle/challenge now?
The weight loss has slowed down immensely these past few months. I'm currently just over the number that would put me into the "normal" weight category which is frustrating. I didn't do all this work to be "overweight." So, trying to improve what I've done and see what will work now, and more importantly, not throwing in the towel are the biggest struggles.
How has your life changed since losing weight?
The important one is that I've learned to like myself – probably for the first time. I've got a new self-confidence in all aspects of my life, not just the weight loss. Being more physically fit and doing more has helped that as well. It's empowering and fun. I'm currently doing squats and deadlifts with 110 lbs, just about the weight I've lost so far. Holding that much weight makes me realize how far I've come.
Being able to buy clothes without an "X" on the size tag is great, although the first time I went to a regular store to shop, I got overwhelmed by all the choices and just had to leave.
Not being short of breath unless it's at the end of an exercise class or run.
Being able to look in the mirror without cringing.
Having to learn to accept compliments gracefully (still working on this one).
What Organize Yourself Skinny tip or recipe has made a difference in your weight loss journey, if any? 
I like the blog posts on meal prep, even if I don't get to do them on that scale.
If you can give one piece of weight loss advice what would it be?
Don't try to be perfect, change one thing at a time. Weigh and measure all your foods, no matter what it is, the peanut butter on the spoon, the sandwich crusts on your child's plate – it all adds up.
What would you like to say to your heavier self?
You always had the ability to do this, it just had to get to the point where you were ready for it. I'm sorry for not liking you back then, you were a good person despite the weight, but I'm glad we replaced you with the new, improved version  🙂
Any other info you want to share?
It's mind blowing to me to want to get out and walk, get my 10K steps in, lift weights and burn calories. I feel off when I don't. I also spend way too much time feeling my newly discovered bones; xiphoid process, hips, ribs 🙂 I've had to put a pillow on my desk chair since that part of me gets sore now. It's a long journey, but well worth the effort. The term "lifestyle change" is probably overused, but it's exactly what it is.
If you have a weight loss story you want to share send me an email at [email protected]
To get started on your weight loss journey check out my ebook Organize Yourself Skinny: 5 Strategies to Help Busy People Create a Healthier Lifestyle and Lose Weight.