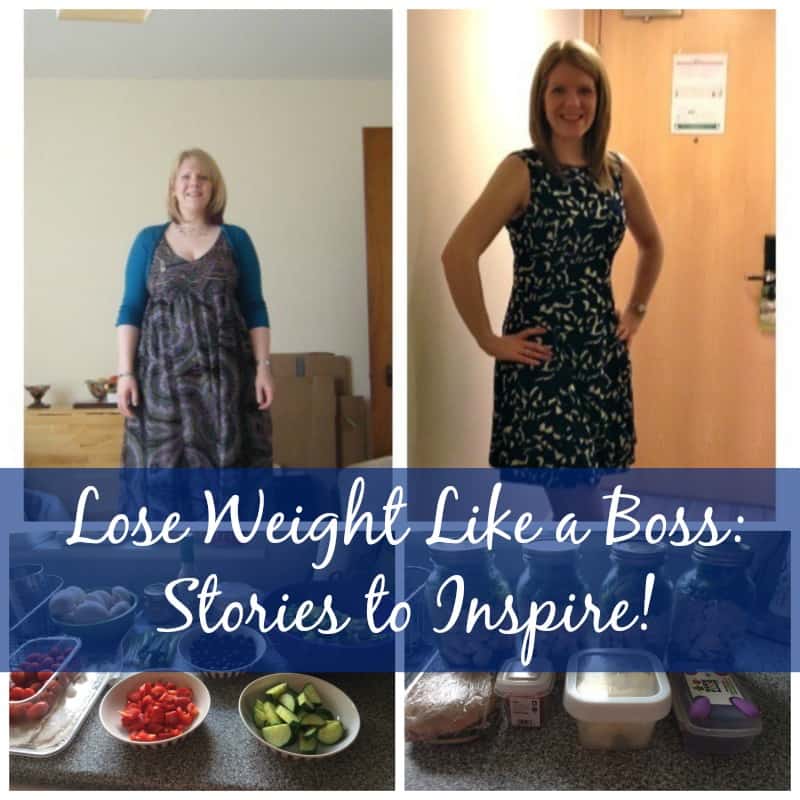 This week's "Lose Weight Like a Boss" story comes all the way from Scotland! Here I am writing away in Buffalo NY and someone in Scotland is reading it – that's super cool to me. As I was putting her story together I related to a lot of the things she struggles with. It's not easy to lose weight when you LOVE to eat.
Here's her story. You can read all the weight loss stories here.
---
Name: Fiona
Age: 34

Can you give us a glimpse into who you are:
I'm a career adviser working with school pupils. I'm engaged with no kids and enjoy going to the gym, shopping and eating!

What was the a-ha weight loss moment that started you on your weight loss journey? When did you start? What was your starting weight?
Christmas 2009 I think I'd decided that in the new year I was going to start a new weight loss journey so, according to some weird logic I decided that if I was going back to weight loss in the new year I'd better make the most of this Christmas so I think I ate and drank more than I ever have in my life!! The scales crept up to 16stones (224 lbs)and I was shocked. Then the moment I dreaded arrived… I got a wedding invitation! I can honestly say I've never felt so embarrassed and fat and it really was my 'this is it!' Moment. I joined Weight Watchers that summer and still go to meetings.
How much weight have you currently lost? Have you reached your goal weight? How long did it take you?
I've currently lost 60lbs, I'm at my goal weight although I'd like to be a wee bit under for my wedding! It took me 3 years to get to there.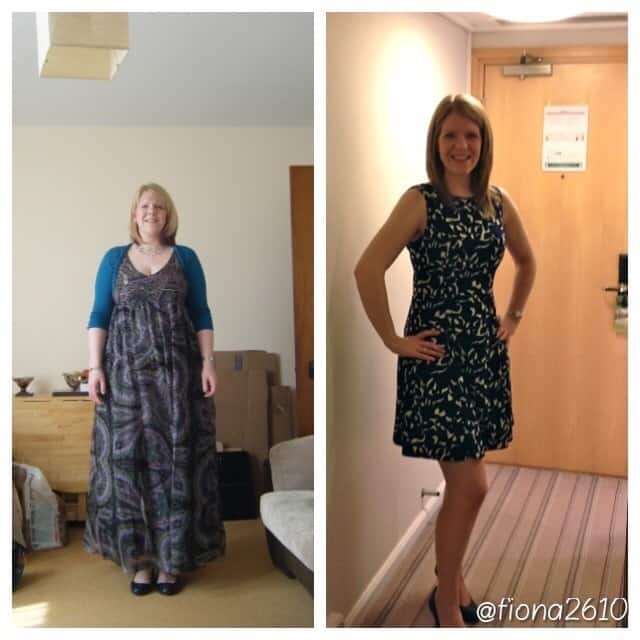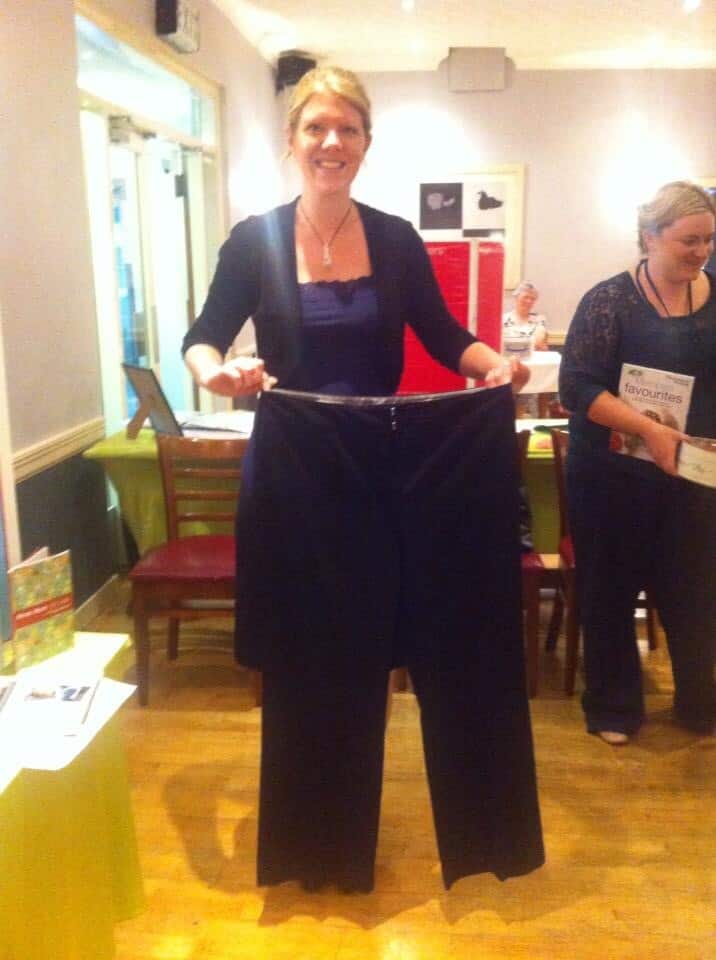 Can you give us a glimpse into your day? What do your meals look like? When do you exercise and what type of exercise is your favorite? 
So my day starts usually with a bagel thin and bacon, sometimes toast and a banana and I've been adding in a smoothie as it sees me through. I get a break mid-morning so might have fruit and a yogurt. Lunches are usually a mason jar salad, sometimes homemade soup. I go to the gym straight from work so usually I have a banana and sometimes a cereal bar or almonds. Dinner is usually chicken and pasta, stir fries or fish – I love salmon!
I go to Curves gym and love to chat with the girls, doesn't feel like a workout sometimes. On the weekends I like to get out for walks and my fiancé and I are talking about going swimming on the weekends.
Do you prep your meals ahead of time? Can you give us a glimpse into your process? 
This might sound weird but I plan my meals on a Wednesday for the next week. I get my shopping delivered on a Friday so need to know what I might need to order. I do all my food prep on a Sunday, chopping, peeling, washing and storing. I make up what I need for lunches and snacks. breakfasts and dinners I make as I go.
Food prep before.
Oscar helping with food prep.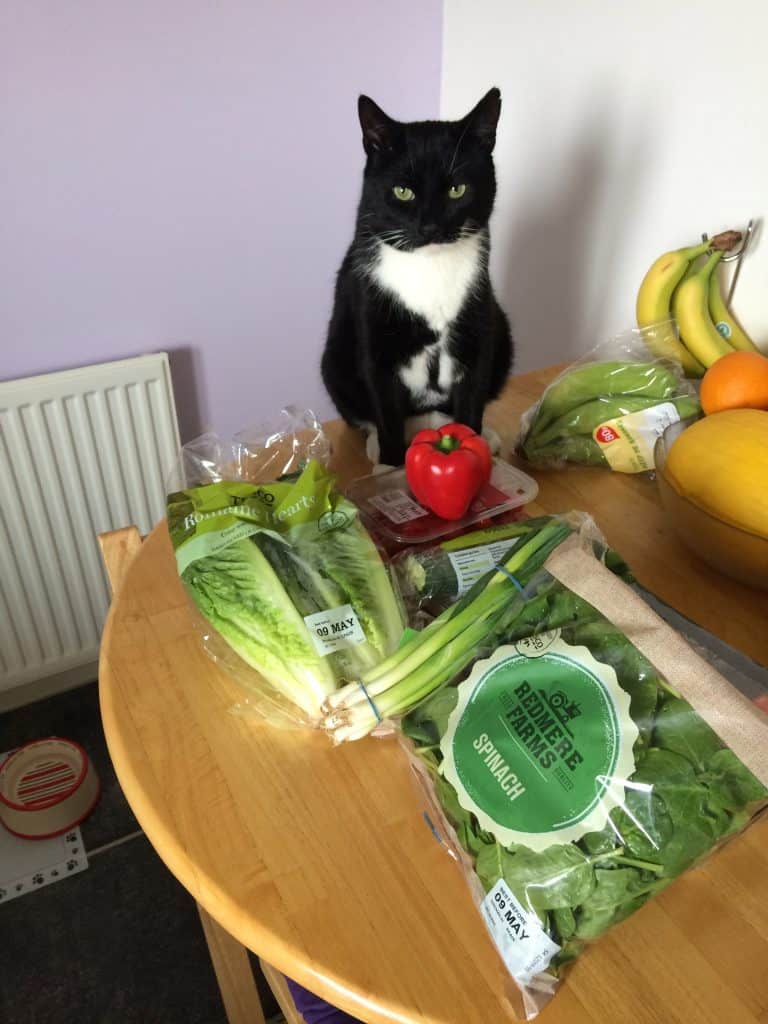 Food prep after.
What "must buy" foods do you purchase every week?
Definitely has to be fruit, that's my go-to snack food. I buy bananas, melon and grapes every week and have frozen fruit on hand too. I also stock up on Greek yogurt, mini cheeses (baby bel light), chicken/ham/meat, veggies and bread. I shop online so I can control what I buy and am less impulsive!
What foods do you keep out of the house? Do you have trigger foods?
I have no control over chocolate or cakes, if they are there I have to excercise extreme restraint to keep my hands off them. I can't keep them out of the house so much because I'm not the only one living here but I try to have alternatives. So I have my own treat tin with weight watchers bars in it. I also try and plan in treats if I know I'm going to be tempted. I also made the mistake of discovering something called Marshmallow Fluff.. OMG I ate the whole tub and could've kept going – same with Nutella. So I can't have things like that in the house… Marzipan is my ultimate sin food. Actually this list could go on but they are the major players.
Can you share any favorite recipes?
I go for simplicity, I tend to adapt recipes if they seem too complicated. I do buy jars or sauces such a pesto rather than make my own because I don't have the time.
What habit has made the biggest difference in your weight loss journey? How did you make that habit a part of your lifestyle?
I think planning has to be the main habit that has helped me. I need to have a dinner planned for that night or if I'm not in the mood to cook it's too easy to order take out or make a pizza. If I know there's something in the fridge for me to have there's no reason to think about other options. You just need to work out what is the best way for you to do it, when to do it and how to work it around your week. As I said I work out on a Wednesday what I've got on the next week, where I am at work, what I'm doing at night and look to see what I have in the fridge/freezer and what I need. Another habit I have is if I'm eating out I try and check the menu before I go so I can decide what I'm having and again avoid temptation when I'm there. It also allows me to work my day around what I'm eating out.
What was you biggest struggle/challenge during the first few weeks of your 

weight

 

loss

 journey? How did you push through? 
Probably feeling that allowing myself a wee treat, such as a bit of chocolate, is okay and not to see it as a failure. For a long time I've struggled with this concept of good and bad food and the guilt associated with it. I can now forgive myself if I have a wee slip up and not necessarily give up.
What's your biggest struggle/challenge now?
I find now that I'm at my goal I am getting irrationally upset about my weight and it's almost like I forget how far I've come? When my heads in the game a 2lb gain is nothing to worry about but when I'm feeling vulnerable it's the end of the world. Since getting engaged I've been dealing with some body confidence issues that I thought I'd dealt with but I guess fat or skinny sometimes you're never going to be happy! I'm learning that perfection is not something to strive for as you're never going to achieve it, it's an unobtainable goal so rather than that I'm accepting who I am and learning to love myself.How has your life changed since losing weight?
I feel like this is the real me. This is the person I was always meant to be, I'm enjoying life and I feel happier than I have ever felt. I made a promise to myself that when I got to my goal I was going to try and see if I could find love… Something that my 60lb heavier self always hoped for but know it would never happen because who would love someone that doesn't love themselves? I do regret that mindset, it's so sad! But perhaps it was meant to be as I met Barry and we are now engaged! I never ever thought I'd get married, that someone would love me that much to ask me!
What Organize Yourself Skinny tip or recipe has made a difference in your 

weight

 

loss

 journey, if any? 

There's two that stand out for me:
1)
Mason jar salads.
Knowing that in the morning I just need to open the fridge and my lunch is there is brilliant and the night before it's a relief!
2) you wrote an article about the 8 things to do before bed and I've been trying to do all of them! I already did some of them but particularly I'm trying to are sure the house is tidy before I go to bed, it's great waking up to a clean kitchen!
If you can give one piece of weight loss advice what would it be?
Start now! Don't wait for the right time, because it never comes. There will always be a birthday, anniversary, meal out, or other occasion but that is life and you need to learn to deal with these things all the time – you'll never have a perfect week so start now and see how you can change your choices, sort your environment and handle the things life throws at you.
What would you like to say to your heavier self?
You can do this! The result is amazing so keep going, believe in yourself and make it happen. I really wish sometimes I could bottle what it felt like to be heavier again and every time I have a wobble I could just remind myself how horrible I felt!
Any other info you want to share?
I think the pressure of 'looking perfect' for my wedding day had quite a negative effect on me and in particular it was quite stressful finding a wedding dress. I had to stop, take a step back and just remember where I'd been, where I am now and reassure myself that I am the person I want to be, my fiancé loves me no matter what and that I am much more than a number on the scale.