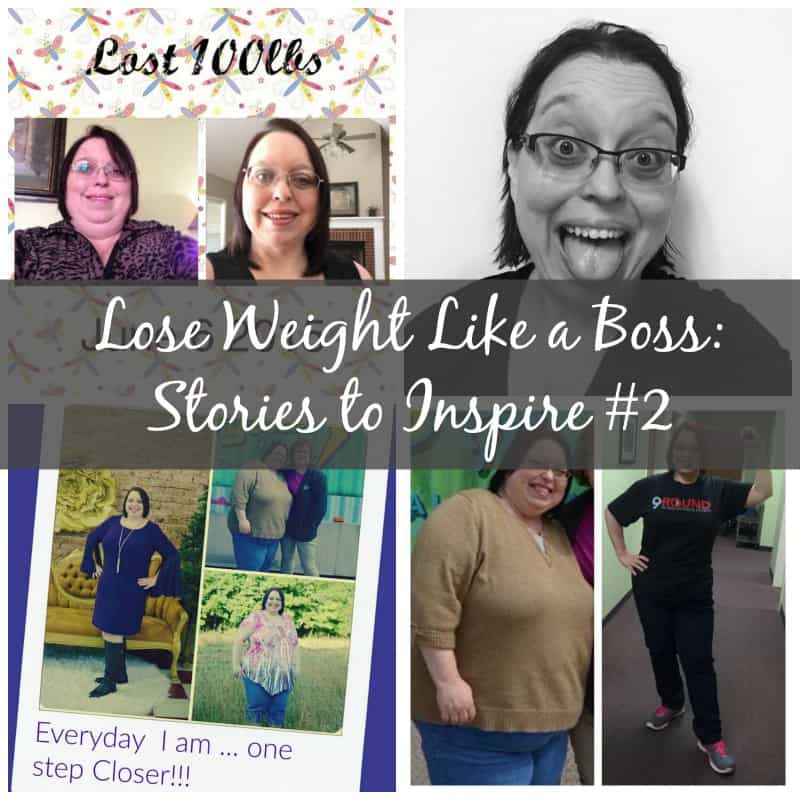 Hi there! Welcome to the second inspirational story in our Lose Weight Like a Boss Series. Last week was our first story by Joanne and I received a very positive response from all of you. I'm so happy you found her story just as motivating as I did. Read her story here.
This week we have Stacey. As I was reading her story I was blown away by how far she has come. She has lost 160lbs so far!! That's an incredible accomplishment.
I'll let her tell the rest of her story….
First name: Stacey
Age:45
Can you give us a glimpse into who you are: 
I live in Liberty SC with my loving hubby Benji  we have been married ten years no children but have a cute as a button westie named Woody. Most weekends my husband races dirt cars so we are at the race track. I was born with a heart defect so I have had three open heart surgeries. So a lot of my life has been in and around hospitals. Since I had heart problems I was always told what I could and couldn't do! This is why I believe I am a very emotional eater and I use to think food could always make me feel better no matter what was going on in my life. I'm a nurse at Vein Centers for excellence of Greenville SC .I enjoy helping people feel better about themselves. I love photography and Shopping!! My new passion is 9rounds of Easley.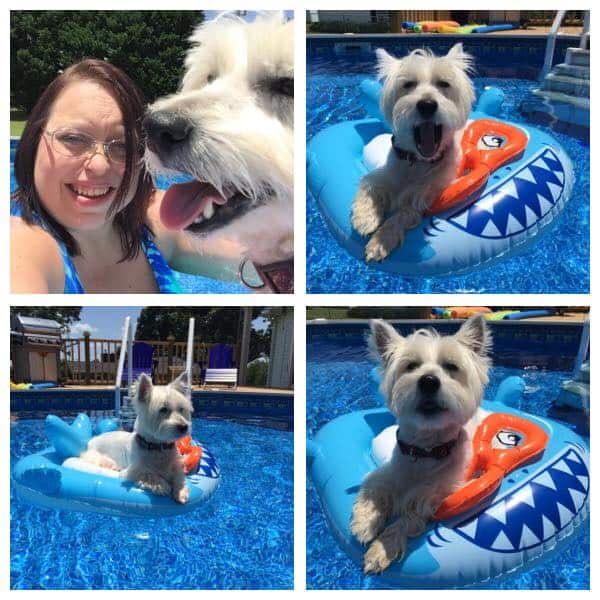 What was the a-ha weight loss moment that started you on your weight loss journey?
My  a-ha moment took alittle bit to get there . I was at my cardiologist office when my doctor looked at me and said "I think you need the weight loss surgery I can give you all the information so you can look into it". Well I was mad how dare he tell me I needed surgery to loss weight I can eat what I want .. so that was what I did. I ate and ate till one day I came home from work and I was wearing black scrubs wanted a snack so I got a bag of white powdered donuts and ate the whole bag. By the end I had white powder down the front of my scrubs and felt sick to my stomach. However, I still was not ready to give into the fact I needed to eat healthy. My hubby and I planned to go to the beach for easter 2014 and I didn't want to start a diet then. So I went to the beach ate what I wanted. It was hard walking around and I started thinking it's time to get back in shape so I told my hubby on the way home I'm going to start a diet on Monday. But before I did I want one last sweet so can you please stop at krispy kreme for a glazed and a chocolate donut. He did and to keep to my word Monday morning I started my weight loss journey at 365. It was hard to stay on track but I lost 50lbs on my own till I knew I needed extra support. My family and friends where great but I needed help so I joined Weight Watchers and so far I have lost 160lbs. I must add that my biggest supports has always been my parents Wanda and John Stewart.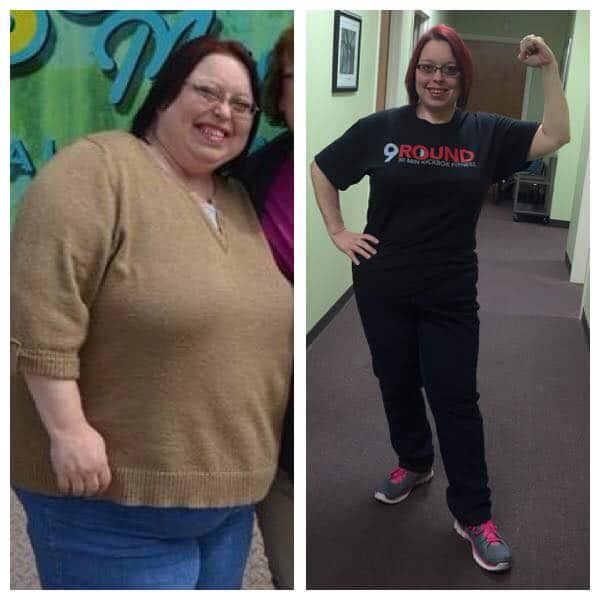 How much weight have you currently lost?
160lbs I would love to loss 70lbs more and I have been on my recover to health for 2yrs now.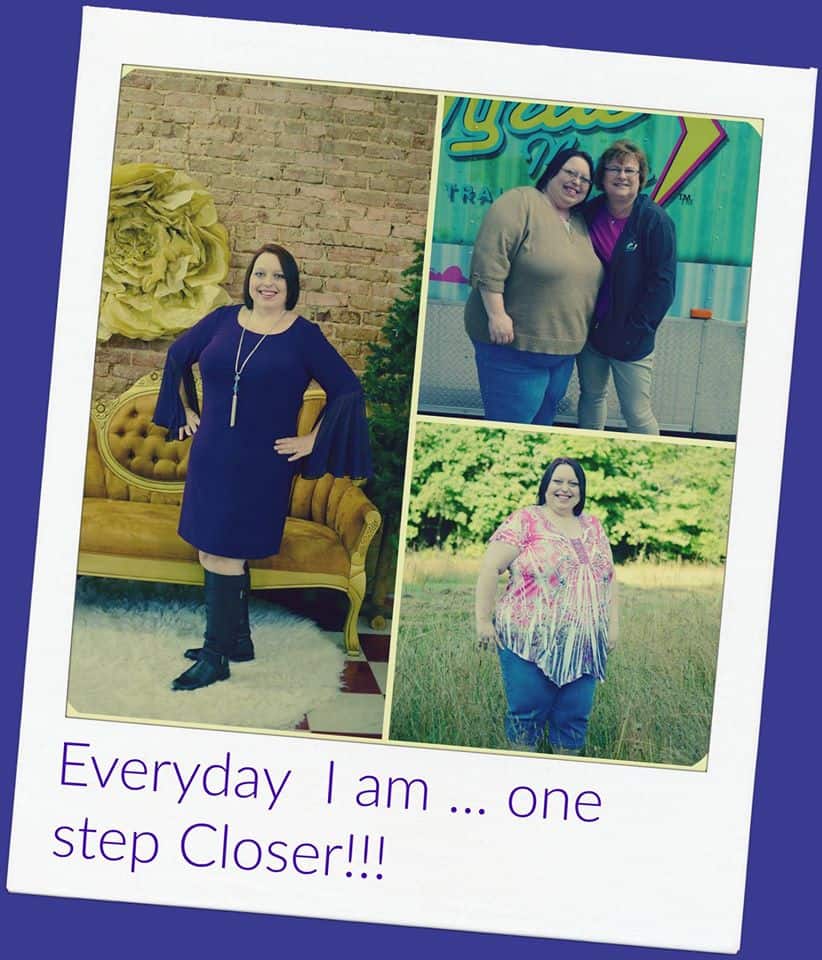 Can you give us a glimpse into your day?
Most mornings I wake up at 6am to get ready for work and fix breakfast normal. I prepare instant oatmeal with cut up apples and I don't add any sugar or salt to anything I cook anymore. Also, I use liquid egg whites for scrambled eggs and eat what apple I didn't use in oatmeal. I go to work and around 10am I try to have a snack (strawberry and blueberries) then at lunch I have grilled chicken and veggie of some kind along with a small side salad with drizzle of balsamic. Around 3pm I try to eat a banana and protein shake.
One of my favorite times of the day is 5pm when I go workout at 9rounds of Easley. I love this place you never know what kind of exercise you will do that day. I admit while I'm doing it I keep telling myself you can do anything for 3mins, each round is that long.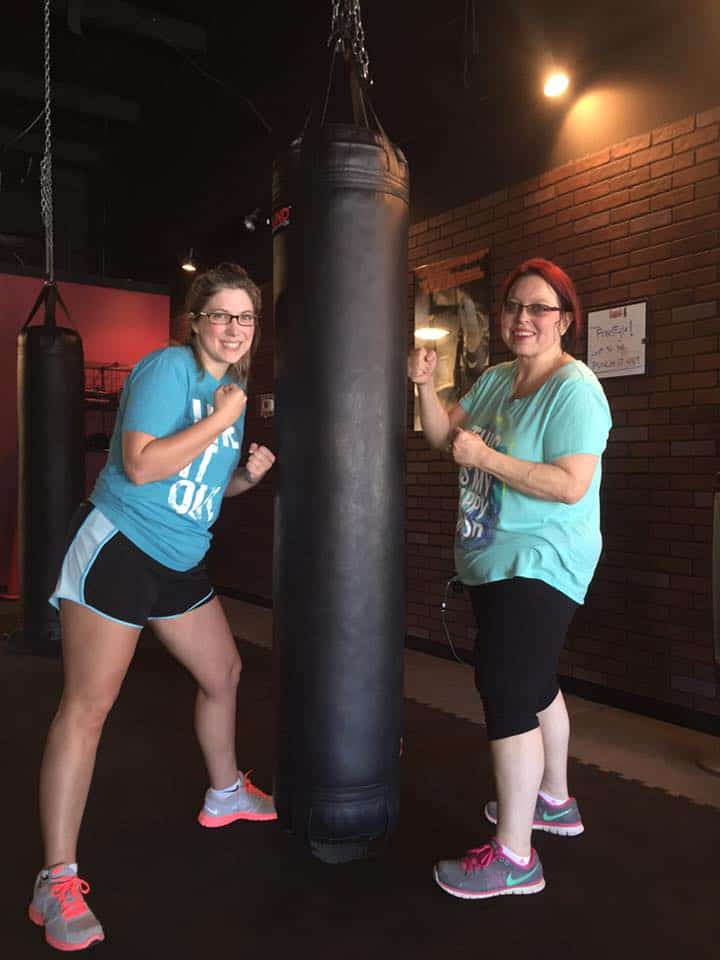 Then I start dinner around 6pm. This can be tricky sometimes because hubby works swing shifts and doesn't always like the healthy foods! So I roast my veggies and fix him mac and cheese. We both have lean meat of some type. I prefer chicken but any lean meat like pork chop, pork tenderloin, or very lean ground beef is good too. After that I clean my house and rest.
On the nights that he is working  I try new recipes. This is my Monday -Friday!
On Sat mornings I go to Weight watchers and this is where I really get a lot of support from people that understand. Sometimes you hear certain foods call your name and it's hard not to give in!
Do you prep your meals ahead of time?
I try to prep my meals but with my husband working swing shifts it's hard to plan when I have to think of him. I'm better at prepping my snacks and lunches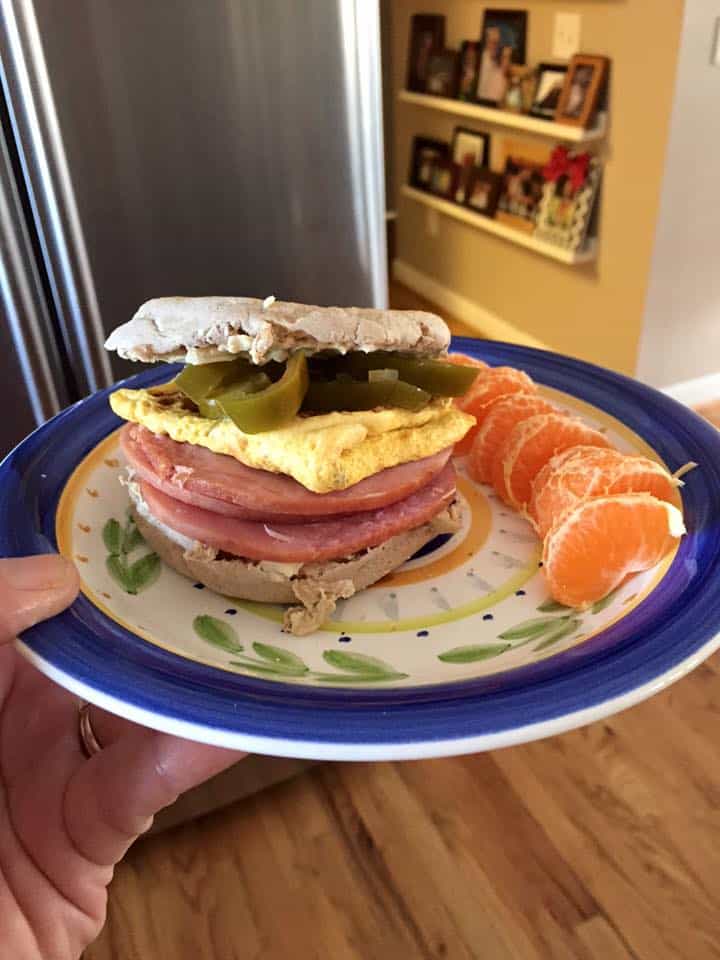 What  "must buy" foods do you purchase every week?
bananas, apples, squash, mild jalapeno and chicken
What foods do you keep out of the house? Do you have trigger foods?
When I first started all sweets where off limits .. two years in and they are safe around me now! My biggest trigger that will sent me into cheat mode is BBQ ribs
Can you share any favorite recipes?
Love the cheeseburger peppers and Buffalo wraps from organize yourself skinny, I'm not sure where I saw this but I love making nachos but instead of chips I use sweet min peppers and I use ground turkey instead of ground beef.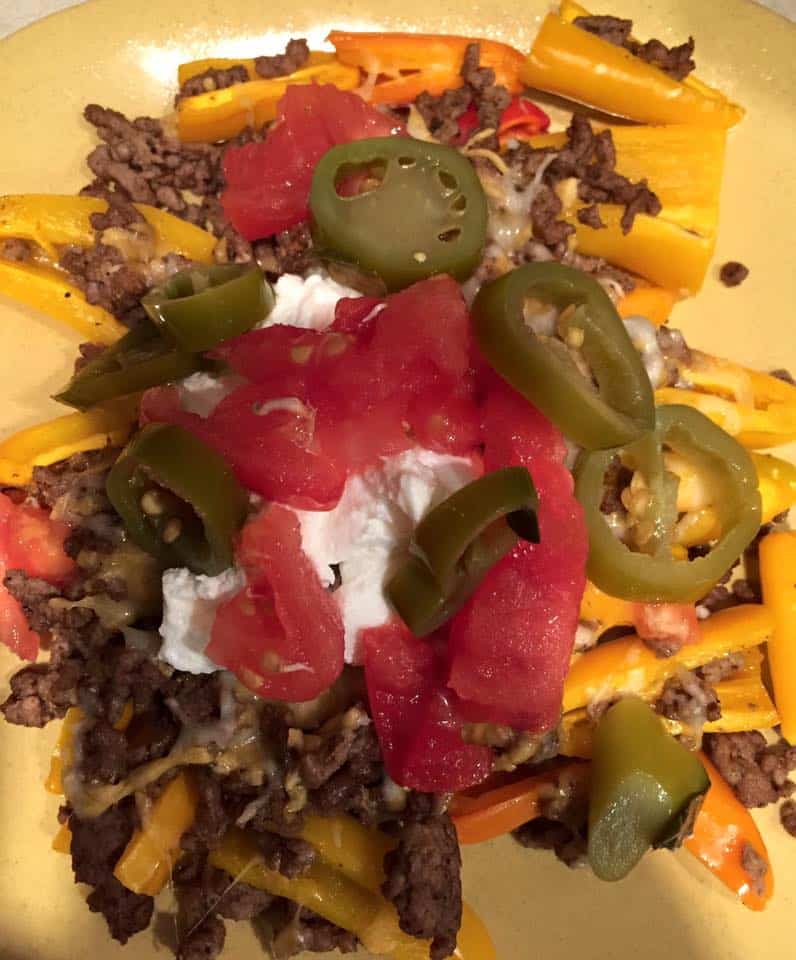 What habit has made the biggest difference in your weight loss journey? How did you make that habit a part of your lifestyle?
Weight Watchers has helped me the most by allowing me to open up about my eating habits and having people understand what I am dealing with. The habit that I'm most proud of is I work out 6days a week at 9rounds of Easley. The way this happen is my trainer Chandler kinda tricked me one week in that everyday before I left he made me promise him I would come back the next day. I complained and told him I couldn't do that and he grinned and said it's ok you can go at your own speed but just try, so I did. Before I knew it I had done the whole week and I felt better and stronger not as sore. I tried again the next week and had the same results. My body want and craves the workouts now.
What was you biggest struggle/challenge during the first few weeks of your weight loss journey? How did you push through? 
The first few weeks I tried cutting out everything at once fried foods, sweets, any fast foods, soda and chips. I planned on doing some type exercise everyday. I will admit the first day was ok but the next morning I was like I can't do this there no way I will ever enjoy eating this healthy crap. I was ready to quit. I thought this is going to be to hard why should I even try. As I threw myself a pity party I started thinking you don't have to do everything at once. Let's just cut out fried foods and sweets don't worry about anything else just this. After a week or so of not eating fried foods or sweets it became easier to say no to these things. Same with my walking. I started out slow like ten mins at a time till I could do this with no problem then just kept adding time. You just have to take baby steps to start.
What's your biggest struggle/challenge now?
I know that you can eat anything in moderation and still eat healthy but sometimes when I allow myself to give into a special treat it's hard for me to get back on track. For example after my first 5k I wanted stuffed apple French toast from my favorite restaurant. I did go enjoy it but for the next couple of days all I could think about was sweet items. I had cookie then I wanted another till I just had to tell myself stop it or you will gain back all your weight you worked so hard to get off.
How has your life changed since losing weight?
I have become more adventurous. I have tried aerial yoga, bellydance, bombshell dance, Zumba, kickboxing, and so far have done two 5k. I am planning on going skydiving as soon as I lose 15lbs.
What Organize Yourself Skinny tip or recipe has made a difference in your weight loss journey, if any?
I remember the first time I heard about your Facebook page. I was in a Weight Watchers meeting and there was a women talking about this really easy recipe on this facebook page called Organize Yourself Skinny. So the first thing I did after the meeting was look it up and found Buffalo Chicken Wraps. OMG I know for the next several months all I ate was those wraps and had everyone in the office making it! I felt like I was cheating!!! Your page really helped me look at food differently that I could have great meals that where healthy but without all the fried greasy stuff I was use to making and taste great!
If you can give one piece of weight loss advice what would it be?
Take pictures.. it my sound silly but taking pictures really has helped me when I was stuck at a certain weight and nothing I did changed the scale. When I feel fat I take a pic and compare to the old me then I feel better about how far I have come.
What would you like to say to your heavier self?
That food is not the answer to your problem it's not a quick fix!! Go Enjoy your life make everyday count don't hide behind food!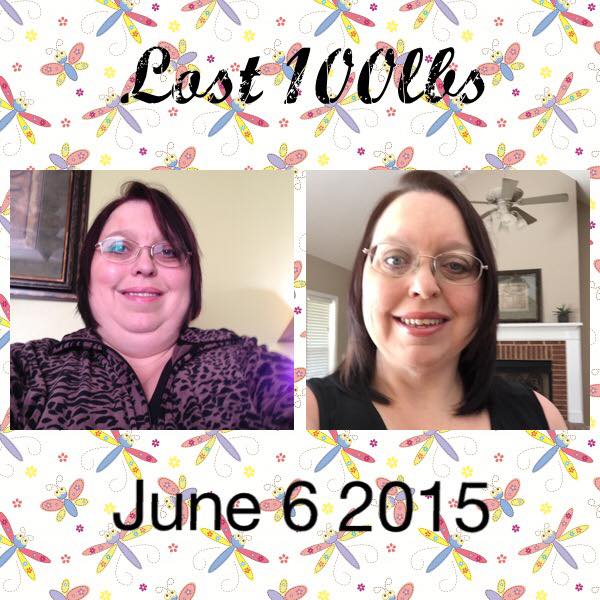 Any other info you want to share?
Something that has helped me with my portion control is I have cute small dinner plates so it looks like you have more food. Also don't be scared to tell people that you are trying to loss weight and be healthy. Who knows they may help you out on your journey!
If you have a weight loss story you want to share send me an email at [email protected]
To get started on your weight loss journey check out my ebook Organize Yourself Skinny: 5 Strategies to Help Busy People Create a Healthier Lifestyle and Lose Weight.