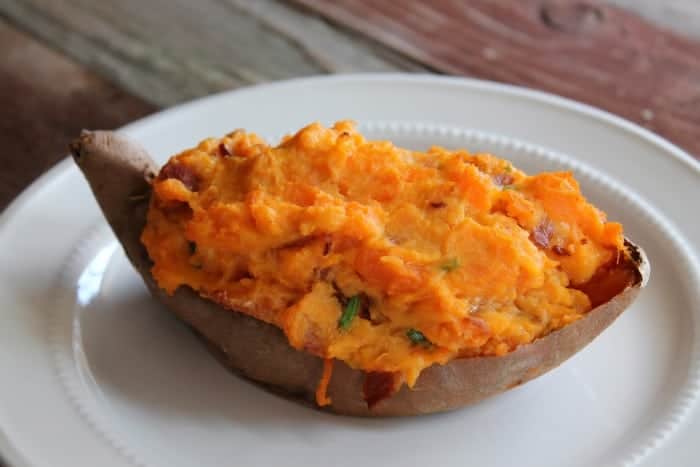 In my opinion, the perfect portion controlled meal is a single food that is stuffed. For example, stuffed chicken breast, stuffed zucchini boats, and stuffed peppers are just a few of my favorite stuffed recipes. What I like the most about these types of recipes is there's no guessing on the portion. What you see is what you get. All the portions are figured out ahead of time so when it comes time to eating that's all you need to do. For example, when you make a casserole you need to eyeball the portion as you are scooping it out of the dish. Maybe you took the right amount but maybe you took too much. Who really knows? When you want a no-guess portion-controlled meal, then turned to a stuffed "insert ingredient" recipe.
Sweet potatoes make the perfect stuffed recipe vessel. They are jammed with nutrition and taste delicious. The nutritional value can increase even more depending on the ingredients you use. For example, you can add additional fiber by including vegetables. Broccoli, spinach, or kale would taste great stuffed in a sweet potato. Or stir in some shredded chicken, pork, or beef if you want more protein. Of course, beans would work great too if your goal is to keep it vegetarian.
You can easily add good fats to a stuffed sweet potato recipe by stirring in a little olive, walnut, or avocado oil. Or put a dollop of a buttery spread like I Can't Believe It's Not Butter on top or when cooking the vegetables. It is a nice option for people that like a buttery taste but with less saturated fat than butter.
There is a lot of good in good fat so don't leave it out. Good fats are a source of energy and essential fatty acids your body can't produce on its own.
If you would like more information or ideas on increasing good fats in your diet then check out icantbelieveitsnotbutter.com
Even though they are on the sweeter side, I find sweet potatoes balance really nicely with all flavors. They taste great with spicy beans, sharp cheese, and even sour cream and chives.
This time around, I decided to take stuffed sweet potatoes to a whole new level by twice baking them. I thought long and hard about the filling I wanted to use. At first, I thought sweet like cinnamon and brown sugar. However, it seems that is how sweet potatoes are always prepared. I wanted savory, not sweet, so those are the flavors I focused on.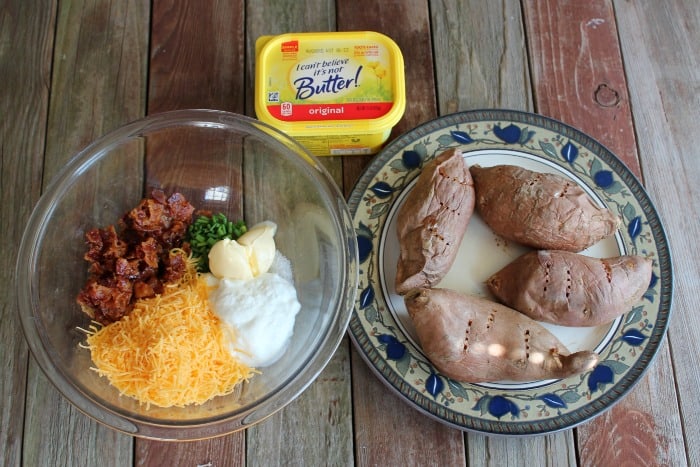 My favorite flavor combination is salty and sweet together. Yum! So for the stuffed sweet potato filling, I combined the sweet potato flesh with bacon, chives, plain yogurt, sharp cheddar cheese, and I Can't Believe It's Not Butter buttery spread.
The bacon brought a nice salty and smoky balance to the filling. Plus, I don't think it is legal to have a loaded stuffed potato without bacon. Of course, you can always use turkey bacon too, as a lighter option. I love the flavor of the chives. As soon as I started to snip them, I thought of sour cream and chive potato chips. They smell and taste so good.
Instead of sour cream I used plain Greek yogurt. I prefer Greek yogurt over sour cream because it saves on calories and I think it tastes better. I love the tang of Greek yogurt.
Of course, you can't have a loaded sweet potato without cheese. I used sharp shredded cheddar and it was great. Sharp cheddar is a personally favorite but you can use any cheese you like.
Last, I used 2 tablespoons of I Can't Believe It's Not Butter buttery spread in the filling. Again, this saves on saturated fat and calories as compared to using Butter without compromising on flavor. They improved their recipe to include simple non-GMO sourced ingredients so I feel good using this ingredient. Again, I think it is a great option for those that prefer not to use butter but still want to enjoy the butter taste.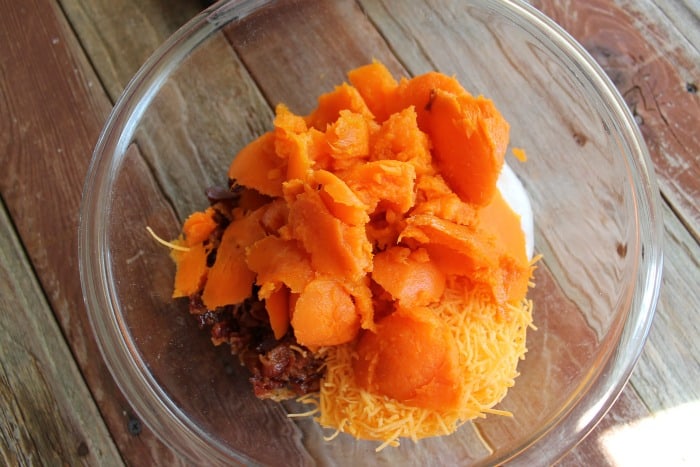 I combined all those ingredients with the flesh of the cooked sweet potato. After you bake the sweet potato, let it cool, then cut off the top, scoop out the flesh, and place it in with the other ingredients.
I mixed everything together then divided the mixture among the sweet potatoes. These were stuffed to the max. I baked them for 30 minutes and while they baked my house smelled amazing. These are probably the best twice baked potato I ever had. And I am not just saying that. These babies are amazing! The flavors are perfectly balanced and work so well with each other.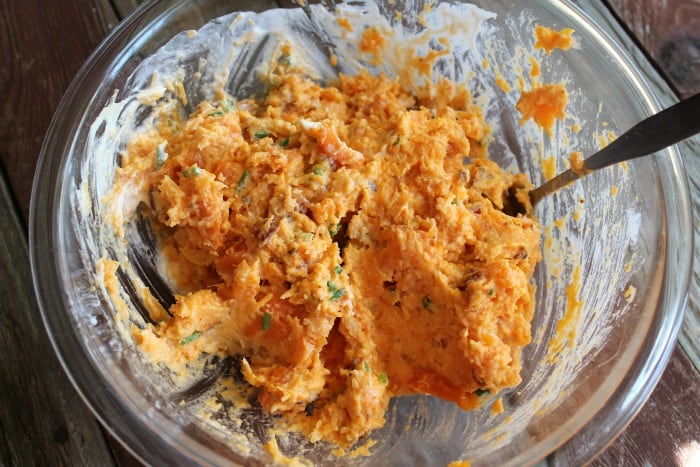 The loaded baked sweet potatoes are good on their own but you can serve it with a salad. If you would like to add some more good fats to your meal, consider serving it with a small piece of salmon or maybe sprinkle some walnuts on your salad. This sweet potato would taste great with some chopped avocado or pumpkin seeds on top. Get creative!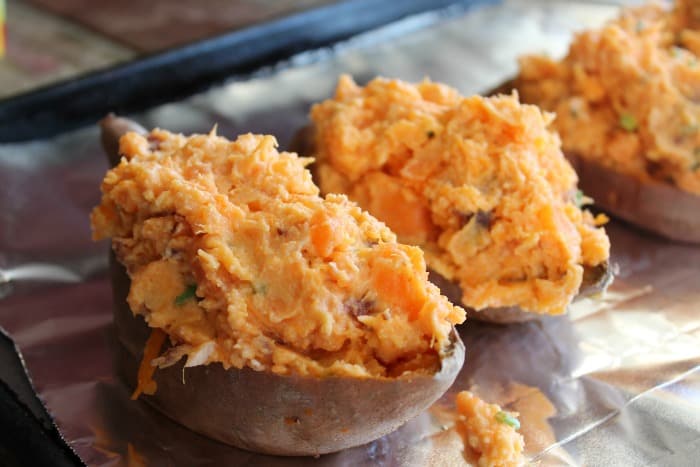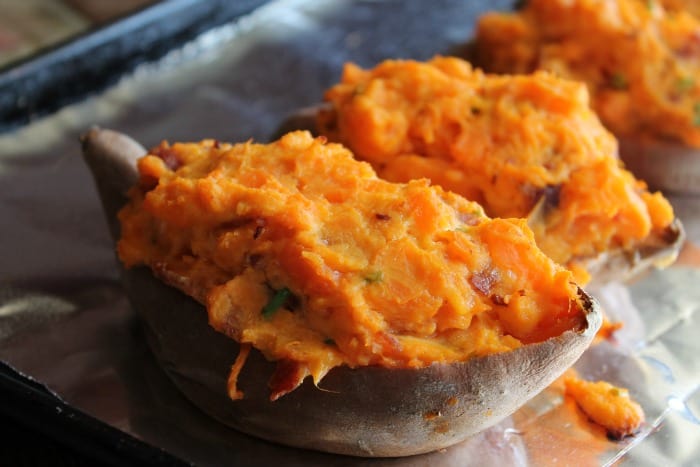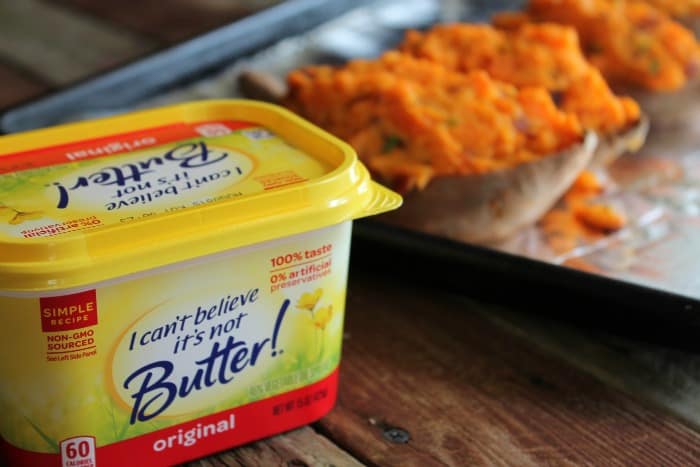 I Can't Believe It's Not Butter! sources ingredients that are not genetically modified. However, in the field-to-tub journey of making our buttery spread there is some contact with genetically modified vegetable oils, resulting in a small amount in this product.
Click here for more recipe ideas.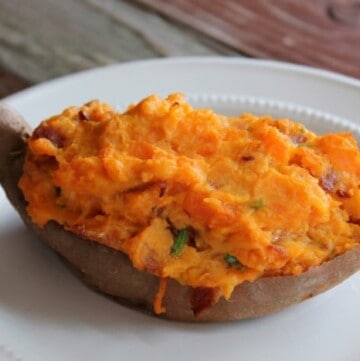 Ingredients
4

medium sweet potatoes

2

tablespoons

I Can't Believe It's Not Butter

½

cup

plain greek yogurt

3

teaspoons

chopped chives

¼

teaspoon

salt

6

slices

cooked bacon

crumbled

1

cup

shredded sharp cheddar cheese
Instructions
Preheat oven to 375.

Pierce sweet potatoes each with a fork about three times. Place on a baking sheet lined with foil. Bake for 1 hour and 15 minutes or until soft and tender on the inside. Let the potatoes cool.

Reduce oven to 350 degrees.

In a medium bowl mix together I Can't Believe It's Not Butter, greek yogurt, chives, salt, bacon, and cheddar cheese.

Cut off the tops of the sweet potatoes, scoop out the flesh, and add to the filling mixture. Mix well until all the ingredients are combined.

Divide the filling between the sweet potatoes.

Bake for 30 minutes. Serve hot.