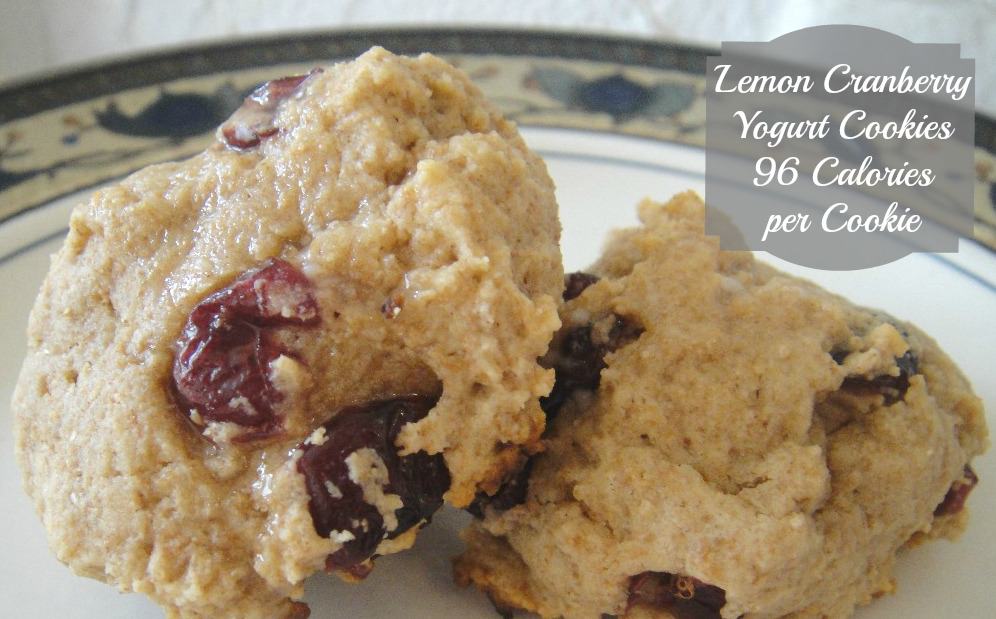 Over the weekend I was inspired, by a lonely lemon in my refrigerator, to put together these delicious lemon cranberry yogurt cookies. I love baking and cooking with lemons because in my opinion they just make everything taste fresh, happy, and better. I made these on a raining and dreary day with the hopes of lightening up the mood by infusing the air with the smell of homemade cookies. It worked! These cookies smelled wonderful and tasted great with a rich hearty texture reminiscent of a muffin.
Words of warning: Even though these cookies are only 96 calories they are addicting.

Lemon Cranberry Yogurt Cookies
Author:
Organize Yourself Skinny
Ingredients
2 cups whole wheat flour
1½ teaspoons baking powder
¼ teaspoon salt
1 egg, light beaten
1 stick butter, softened
½ cup sugar
½ cup brown sugar
1 teaspoon vanilla
½ cup Chobani vanilla greek yogurt (you can use any greek yogurt but I prefer Chobani)
1 teaspoon grated lemon rind
1½ teaspoon fresh lemon juice
½ cup dried cranberries
For glaze:
4 tablespoons of powdered sugar and 2 teaspoons of lemon juice
Instructions
Heat oven to 375 degrees
Mix flour, baking powder, and salt in a bowl and set aside.
In a separate large mixing bowl blend together egg, butter, sugars, vanilla, yogurt, lemon rind, and juice.
Add in the dry mixture slowly about ½ cup at a time mixing in between. This batter ends up being on the thicker side.
Stir in the dried cranberries.
Using a tablespoon to measure drop the batter onto a cookie sheet. Bake for 10-12 minutes or until toothpick comes out dry when poked into the center of the cookie.
After the cookies have cooled using a spoon mix the powdered sugar and lemon juice together for the glaze. Spoon carefully over all the cookies.
Nutrition Information
Serving size:
1 cookie
Calories:
96
Fat:
3
Carbohydrates:
16
Fiber:
1
Protein:
2
Freezer instructions:
Follow up to step 5. Lay wax paper on the cookie sheet then proceed to drop measured batter onto it. Instead of putting in the oven put into freezer to flash freeze for about 30 minutes. Take out and place the frozen batter pieces into a freezer bag for later use. You can also freeze the lemon juice for the glaze to be made later on.
Reheating instructions:
There is no need to defrost the batter. Take out frozen cookie batter and cook in a 375 degree oven for about 12-14 minutes depending on the oven. Check at around 10 minutes. Once cool make the glaze and spoon over cookies.
Special note:
These cookie taste good once cool however they taste even better the next day. To reduce the calories you could eliminate the glaze and use unsweetened cranberries or fresh cranberries for this recipe.
Get Instant Access to My Best Weight Loss Tips & Strategies!
Sign up now for a free step-by-step 7-day email course that I created exclusively for my email subscribers! That's you. I will teach the best habits, strategies, and insider tips so you can enjoy a lifestyle that encourages and supports weight loss! Stop relying on willpower and take control back over your life! You can do this. Let me help!