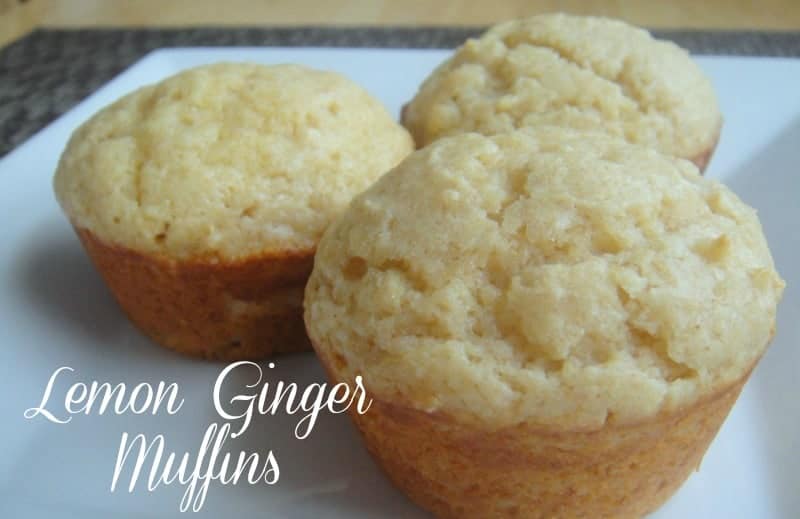 Over the weekend I was thumbing through old Weight Watchers cookbooks and came across a lemon and ginger quick bread recipe from their 2003 annual recipes for success cookbook. One of my absolute flavors to cook with is lemon with ginger coming in at a close second. I just love the brightness these two ingredients add to a meal, especially baked goods.
The recipe instantly caught my attention because I never thought to combine the flavors of these two ingredients. If you have then you already know the amazing mouth explosion it creates. Oh my it is good!
In keeping with the spirit of portion control I decided to turn this quick bread recipe into muffins. The result was a perfectly moist muffin filled with bright lemon and ginger flavors. Absolutely delightful!
They were so good that portion control did not even matter because my husband and 4 year old ate them before the weekend was up. I actually had to make another batch to have for breakfast this week.

Lemon and Ginger Yogurt Muffins
Author:
Organize Yourself Skinny
Ingredients
1⅓ cup all-purpose flour (I use King Arthur)
⅓ cup whole wheat flour (I use King Arthur)
1 teaspoon baking powder
¼ teaspoon baking soda
⅛ teaspoon salt
5 tablespoons unsalted butter, softened
1 cup granulated sugar
2 large eggs
1 tablespoon grated peeled ginger
1 teaspoon pure vanilla extract
1-2 tablespoons fresh lemon juice (if you love lemon like me then use the 2 tablespoons)
1 teaspoon lemon zest
¾ cup Greek Vanilla Yogurt (I use Chobani Greek Yogurt)
Instructions
Preheat oven to 375 degrees
In medium bowl combine flours, baking powder, baking soda, and salt and set aside.
In a separate medium bowl, using a hand mixer, combine butter and sugar until well combined. Add in eggs, ginger, vanilla, lemon juice, lemon zest; mix until well blended.
Add flour and yogurt (1/3 cup at a time) alternately to wet ingredients, ending with flour. Only mix until blended, do not over mix.
Pour batter, ¼ cup at a time, into a 12 cup muffin pan coated with cooking spray.
Bake for 16-18 minutes or until knife inserted in center of a muffin comes out clean. Remember every oven is different so your cooking times may vary.
Let muffins cool for about 3 minutes then take them out of the pan and finish cooling on a wire rack.
Nutrition Information
Serving size:
1 muffin
Calories:
184
Fat:
6
Carbohydrates:
29
WW Points +:
5
Fiber:
1
Protein:
4
Freezer Cooking Instructions
Complete steps 1-6. Wrap each muffin in plastic wrap then place in freezer bag.
If you take a muffin out of the freezer in the morning it will most likely be thawed by mid-morning snack or lunch time. If not heat up in microwave or toaster oven.
Resource:
This recipe was adapted from the Weight Watchers Annual Recipes for Success 2003cookbook. They were baked using a Wilton Non-Stick 12 Cup Muffin Pan.
Get Instant Access to My Best Weight Loss Tips & Strategies!
Sign up now for a free step-by-step 7-day email course that I created exclusively for my email subscribers! That's you. I will teach the best habits, strategies, and insider tips so you can enjoy a lifestyle that encourages and supports weight loss! Stop relying on willpower and take control back over your life! You can do this. Let me help!