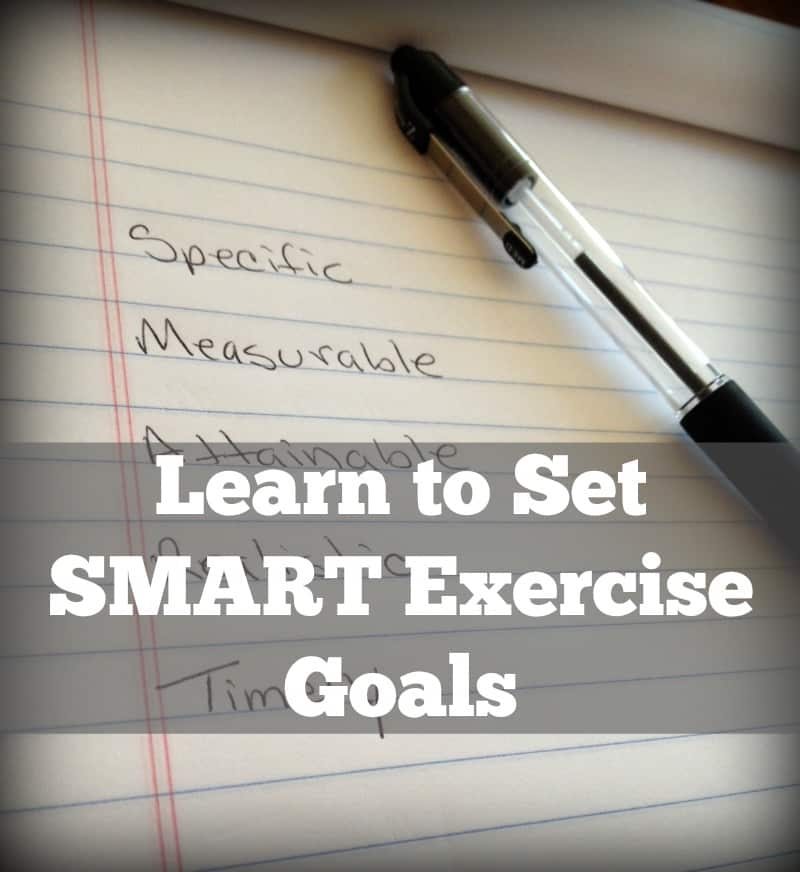 This post is by OYS writer Melissa. See here other posts here.
When trying to lose weight, most people focus their goals on how much weight they want to lose, and then build a diet of appropriate calories around that goal. This is an important place to start, but too many people leave off the exercise part. You also want to include some sort of exercise goals in your plan. For this post, I decided to turn to my full-time job as a school teacher to suggest a way to make exercise goals. We are required to write our annual goal as a SMART goal. I know that a lot of businesses and companies use this model too. It may seem like a lot of work to write one goal, but it doesn't have to be all that complicated. Keeping it simple is key, but by using the SMART acronym, you are more likely to reach your goal.
SMART stands for Specific, Measurable, Attainable, Realistic, and Timely. Each of these components of your goal plays a role in helping make your goal a reality.
Specific
Your exercise goal should be as specific as possible so that you can clearly state it. So instead of saying, "I will exercise three days a week," you should try something like, "I will exercise three days a week at the gym, each day doing 30 minutes of cardio and 30 minutes of strength-training." Notice how the more specific goal states where the exercising will take place and has a little more focus on what kind of exercise will take place. However, it's not so specific that you don't have some flexibility in your exercise plans.
Measurable
Once you set your goal, you need to be able to tell whether you achieved it or not. So with the above example of exercising three days a week, doing both cardio and strength-training, you should keep track of how often this actually happens. A great easy place to do this is on an app like My Fitness Pal. Or if you are more old-school, you can just make yourself a paper and pen chart. Check out this post Tammy did on using My Fitness Pal.
Attainable
Your goal might seem difficult at first, especially if you are new to exercise. As you start working towards your goal on a regular weekly basis, your goal will become more attainable. So if you don't succeed at first with working out as much as you would like, eventually you will. Hopefully you will realize how important exercise is to your well-being and you will start to find ways to make it easier to do. Once you get closer to reaching the goal, you may find that you even want to expand it or challenge yourself more.
Realistic
You want to set a goal that is challenging for yourself, but also one that you know you are willing and able to work towards. You wouldn't set a goal to run your first marathon next month because that would be very hard to do successfully. Think about the time and effort you need to put into reaching your goal, and make sure you can accommodate it. You can always refine your goal later to make it more challenging. You also wouldn't want to set a goal that is too low because then you really aren't going to be motivating yourself. Saying you are going to exercise once a week might be too low of a goal for you if you already have a gym membership, drive by the gym every day after work, and have an hour to spare. For others of you, once a week might be the perfect place to start. Find a goal somewhere in between easy and difficult that will make you work, but that you know you can do with hard work.
Timely
You need to have specific time parameters in your goal, including how often you are going to exercise or work towards meeting your goal, and how long you want to give yourself to reach your goal. So you could revise the above example by stating that you want to be consistently working out three days a week every week by the time two months has passed. If you reach your goal earlier than two months, make a new, more challenging goal. If two months comes and you have not reached your goal, look at all of the SMART components again and see where you went wrong or what made it difficult for you to reach your goal.
Once you have your SMART goal, be sure to write it down or print it out and post it some place where you will see it often.
Do you set SMART exercise goals? What are your tips?
Get Instant Access to My Best Weight Loss Tips & Strategies!
Sign up now for a free step-by-step 7-day email course that I created exclusively for my email subscribers! That's you. I will teach the best habits, strategies, and insider tips so you can enjoy a lifestyle that encourages and supports weight loss! Stop relying on willpower and take control back over your life! You can do this. Let me help!