Eating a hearty salad is a great way to get in fiber on a keto diet. But, not all salad ingredients are keto-friendly. In this post, I'm going to share the best ingredients to build the perfect keto salad in a jar recipe along with my favorite low carb salad recipes and dressings!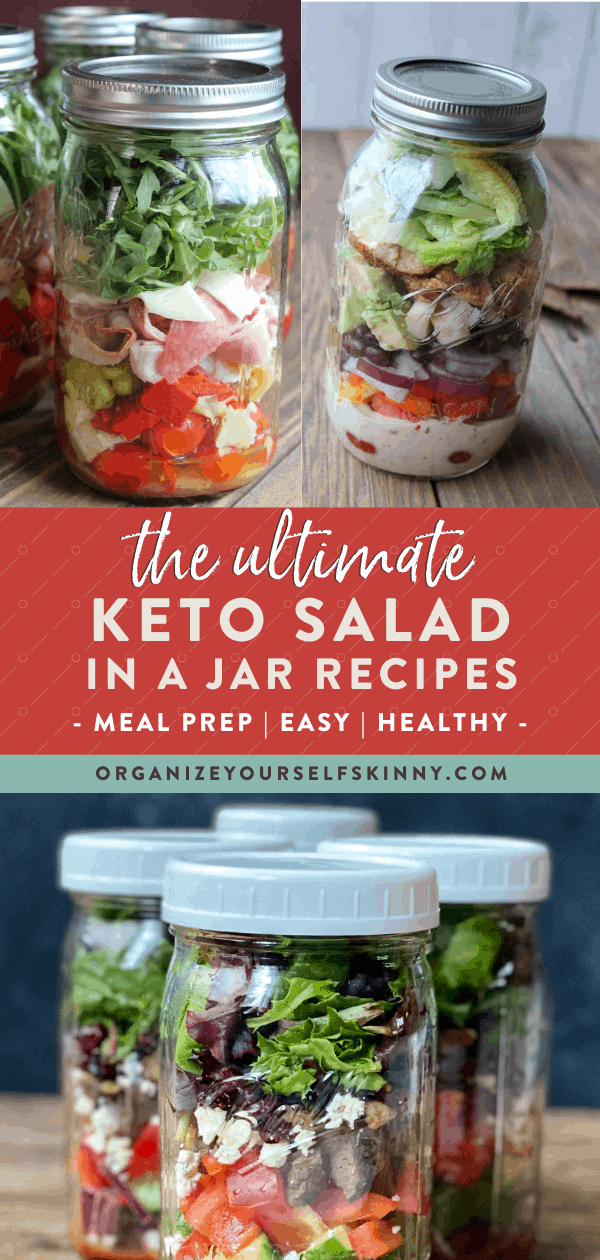 If you're following a keto-style or low carb diet, then making meals ahead of time is essential to staying the course.
I even put this whole post together with keto meal prep tips, ideas, and recipes. If you're just getting started with keto, then I highly recommend checking that post out!
One of the meal prep recipes I recommend for a keto diet (and really all diets) are mason jar salads.
It's no secret that I'm a huge mason jar salad fan. I discovered mason jar salads about 8 years ago and have made one just about every week since then.
I think mason jar salads are perfect for:
Making lunches ahead of time for the workweek. You can make 5 on Sunday to grab and go all week as you head out the door for work. Even working from home, I still make these salads every Sunday.
Portion-control. When I make mason jars salads, I know the calories and other nutritional information ahead of time so I can plan accordingly.
Getting in a HUGE dose of vegetables. Prior to mason jar salads, my vegetable consumption consisted of a sad can of beans once in a while or possibly a whole bag of carrots I purchased only to throw it out a couple of weeks later.
I think mason jar salads are perfect for a keto diet because you control the ingredients which means you can prepare the salads ahead of time using the perfect amount of fat, protein, and carbs.
Supplies Needed To Make Mason Jar Salad
When prepping these keto salads, there are a few supplies you will need to make these on a weekly basis:
How To Layer A Keto Salad In A Jar
Just like with any mason jar salad, the layering of ingredients is the same. You want to start with the dressing and then layer in heartier vegetables and then meats and cheese and end with leafy greens.
You can see my mason jar salad tutorial here for more information!
Ingredients To Use In A Keto Salad
So, while the layering technique is essentially the same for any mason jar salad, the ingredients are different. Actually, it's not that they are totally different but you need to be a lot more intentional when putting together a keto mason jar salad.
Let's go through the ingredients.
Keto Salad Dressing
When eating keto, it's important to pay attention to salad dressing because there can be a lot of hidden sugars and carbs.
Of course, making homemade dressing will be your best bet because you can leave the sugars out of recipes or use a sugar substitute. Or, if you prefer to purchase salad dressing, then you'll want to find a dressing that is keto-friendly.
One of the most popular brands is Primal Kitchen which can be found at most large grocery stores, Whole Foods, and online from Thrive Market. Thrive Market also has a Thrive Market Brand that offers keto-friendly salad dressings for a good price with great reviews!
Hearty Vegetables
The next layer needs to include a heartier vegetable that can sit in marinade without getting mushy. Think of a vegetable that tastes good marinated or pickled.
Hearty veggies that are allowed on a keto diet are:
Cucumber
Zucchini
Celery
Cauliflower
Brocolli
Green beans
Mushrooms
Artichokes
Spaghetti squash
Green peppers
Tomatoes
Protein
The next layer should include some protein.
This can be:
Chicken (white or dark meat). Chicken can be baked, grilled, or fried. Make sure not to use any breaded coating or high sugar marinade. Also, you can get a rotisserie chicken if you don't feel like cooking. Again, just make sure to get it plain or without a high carb marinade.
Beef. I prefer to use grilled filet or top round in salads because they are most tender after grilled. You can also use ground beef (or ground turkey).
Pork. Slice pork tenderloin works great in a salad. I prefer to grill but you can bake it in the oven too. Again, don't use any sugary marinades.
Salmon or other fatty fish. I do like salmon and other fish in salads. However, I tend to leave them out of a mason jar salad because I like to eat fish within 2-3 of cooking it. So if I do plan to eat fish, then I'll make it every 2 days to have it prepared ahead of time.
Deli meats. When I purchase deli meats, I try my best to buy organic. This assures me that I'm getting the healthiest deli meats available without any added sugars, additives, or preservatives. Also, you don't want to get deli meats that are "honey-roasted", "brown-sugar baked", or anything like that because that includes extra sugar. Basically, it's really important to read the label before purchasing to make sure the carbs are low. My favorite deli meat is Plainville Organic Smoked Turkey Breast. I get this from Whole Foods.
Hard-boiled eggs. Eggs are one of my favorite proteins to add to a salad! They are cheap, easily accessible, and high in protein.
Healthy Fats
The next layer is extra healthy fats. The keto diet is a high-fat diet so the standard rule for a keto diet is 75% fat, 20% protein, and 5% carbs. This is to help you stay full longer!
Here are the extra healthy fats I like to add to a keto salad:
Cheese. I love all types of cheese in my salads but my favorites are feta, fresh mozzarella, and sharp cheddar. But, really I'll use whatever I have on hand.
Nuts. Nuts add good fats and protein. You just want to make sure to portion out the nuts because they also can add a lot of calories if you're not careful. And, this might go without saying, but you want to make sure the nuts you use are free from any sweet coating. I actually prefer to use raw but you can use roasted and salted if you prefer. My favorite nuts for salads are walnuts, almonds, and pecans.
Olives. I love olives straight out of the jar! But they go great with salads too. Olives provide great flavor and healthy fats. Just like with nuts you need to be careful with calories because a little goes a long way.
Avocado. Avocado is a great way to add good fats to a salad. The problem with avocado is it can turn brown pretty quickly. If I use avocado in mason jar salads, then I'll squeeze lemon or lime juice on it and that usually keeps it from turning brown. Or, I'll just cut up the avocado the day I eat the salad.
Fruit (Optional)
The next layer could be fruit. Now, fruit is typically left out of a keto diet because it's high in carbs. However, blackberries, raspberries, and strawberries are allowed in moderation. So, if you want to add some berries to your keto salad in a jar, then you can put it in this layer.
Greens
The last layer is the greens. Spinach, kale, and other greens are either zero carbs or super low in carb so you can bulk up on these. You want to add them as the last layer because you want to keep the greens away from the salad dressing.
Those are all of the components you can use to create a delicious keto salad in a jar!
Delicious Keto Salad Recipes To Try
Here are some of my favorite low-carb and keto-friendly mason jar salad recipes. I've included instructions, if needed, for adapting the dressing to be keto-friendly!
To make this steak salad keto-friendly, you'll want to:
Choose a sugar-free balsamic dressing or leave the honey out of the homemade dressing.
Leave out the onions. Believe it or not, but onions are actually high in carbs so that's a veggie you want to stay away from on a keto diet. You can add more cucumbers to this salad or choose another keto-friendly hearty vegetable.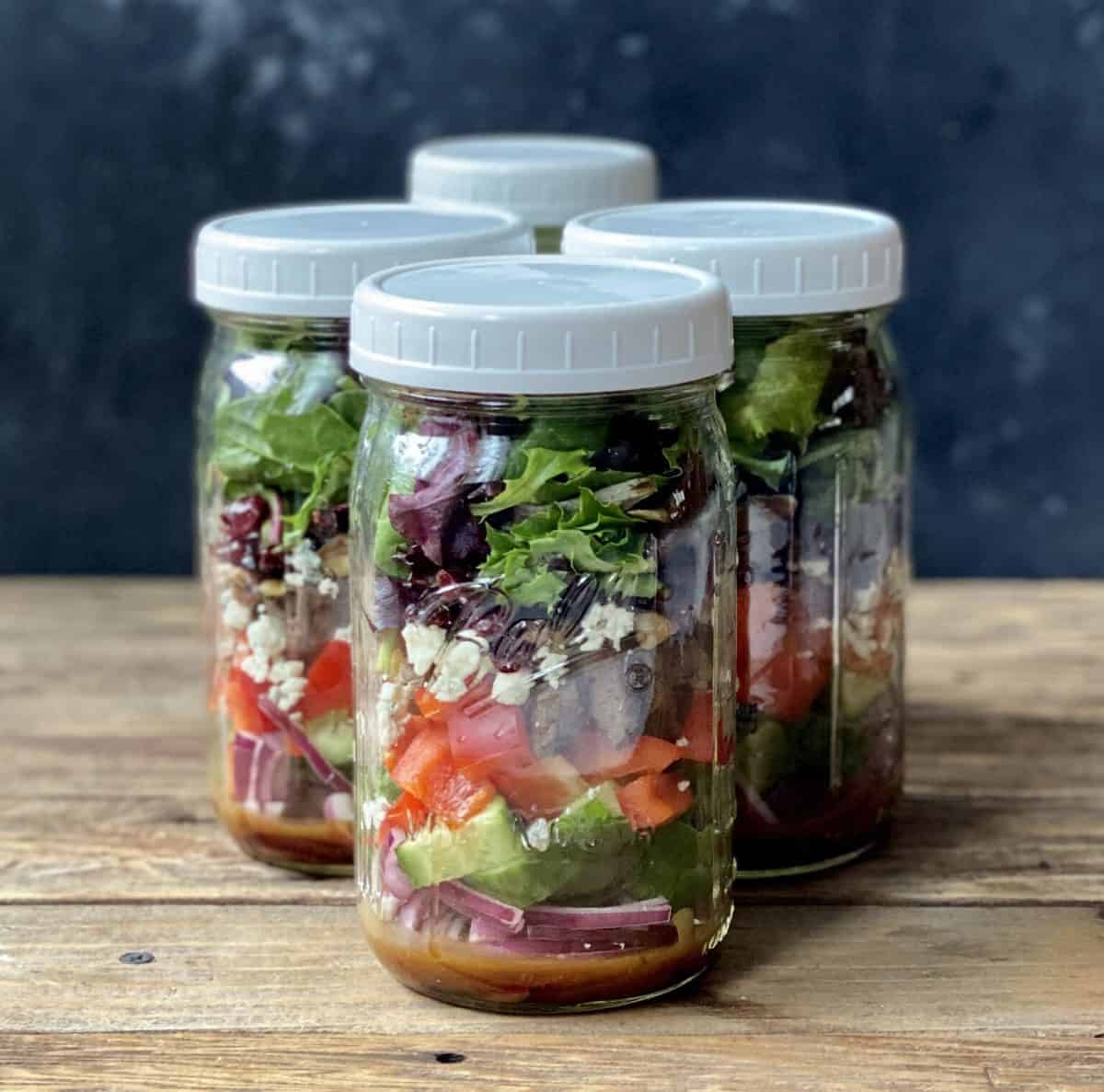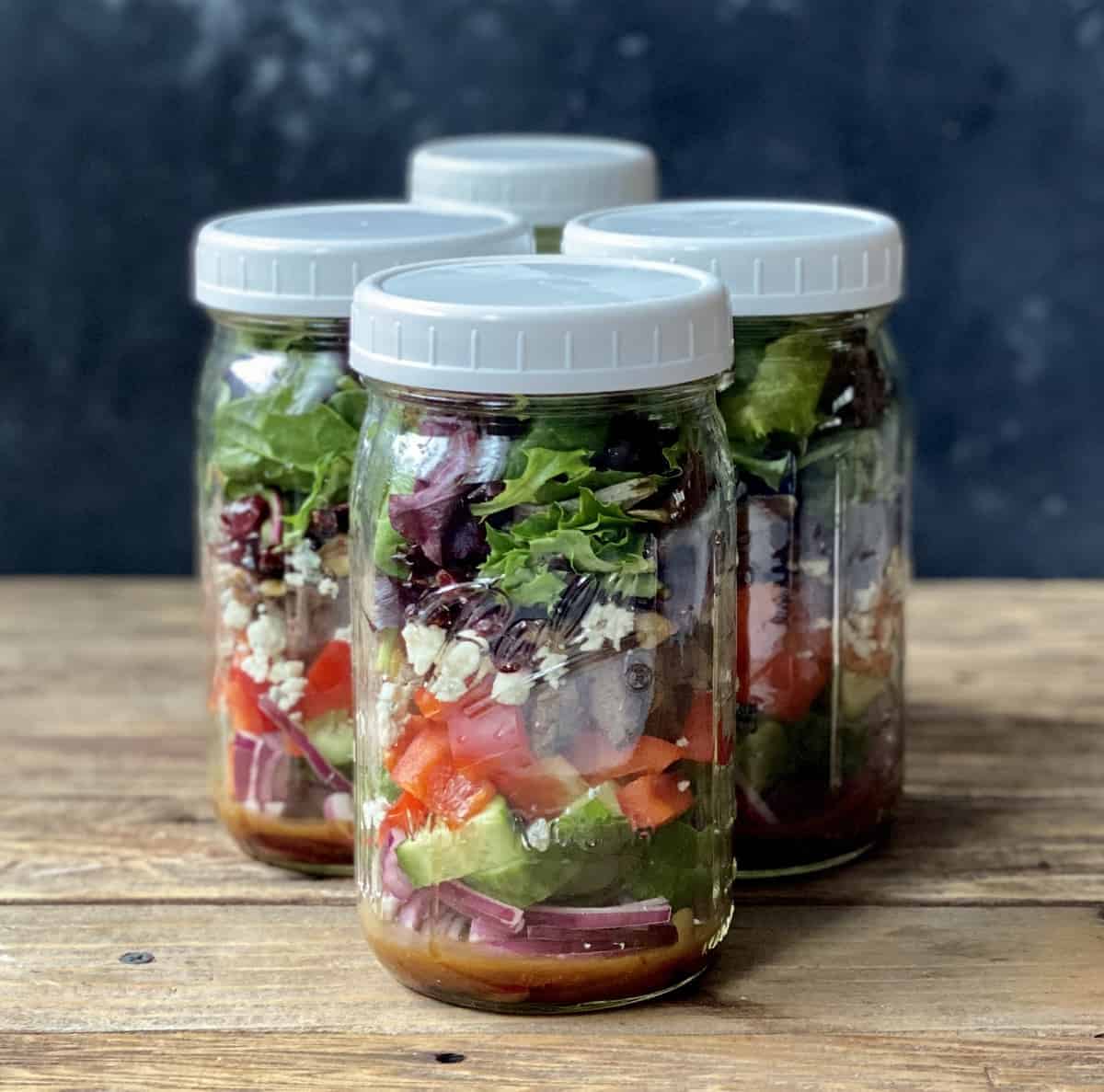 This is one of my favorite salads! It's very close to being 100% keto-friendly but to make sure:
Check the dressing. Make sure you use one that's keto-friendly or leave out the sugar (or use a sugar substitute) in homemade dressing.
Leave out the roasted red peppers. Either add some cucumbers or another keto-friendly vegetable.
This mason jar salad is low-carb, keto-friendly, and delicious! The only thing you need to make sure to stay within the keto limits is:
Check the dressing to make sure it's low-carb and keto-friendly.
Don't use onions.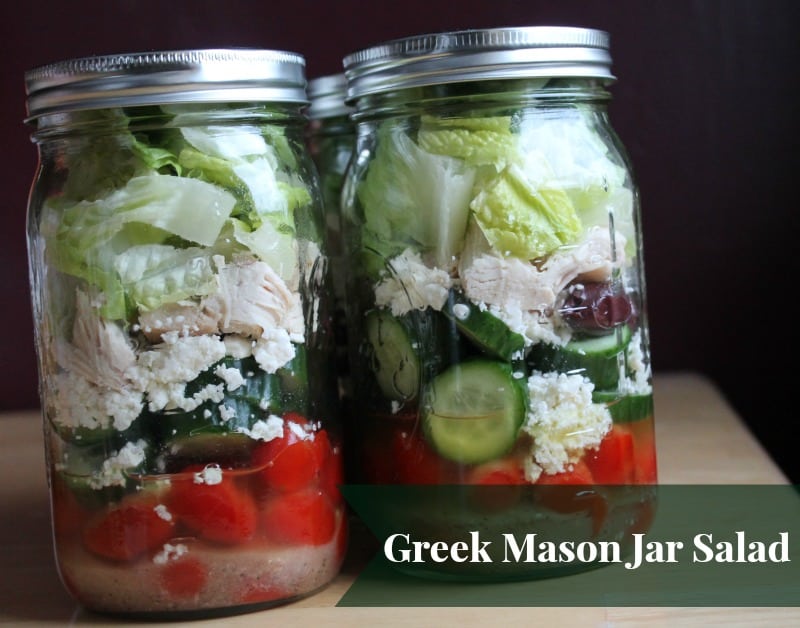 This keto-friendly salad is filled with lean protein, fat, and veggies to keep you full and satisfied. To keep this within the keto limits, I suggest just checking the salad dressing for added sugar or carbs.
You can find good keto-friendly ranch dressing from Primal Kitchen or Thrive Market.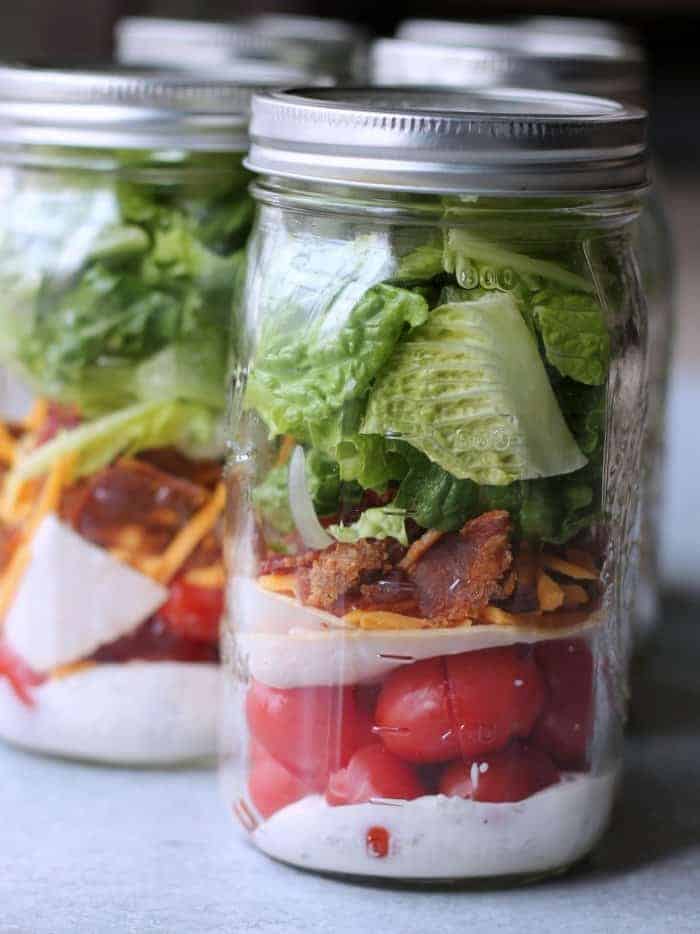 This is one of the most popular mason jar salads on my blog. Who doesn't love a good taco salad?
Here are my tips to assure this is a keto-friendly salad in a jar.
Read the label and make sure the salsa is no sugar. Or, make your own so you can control the ingredients.
Leave out the onion.
Leave out the beans in the taco meat. Unfortunately, beans have a lot of carbs and can't be consumed on the keto diet.
Check the taco seasonings for added sugars or make your own homemade taco seasoning.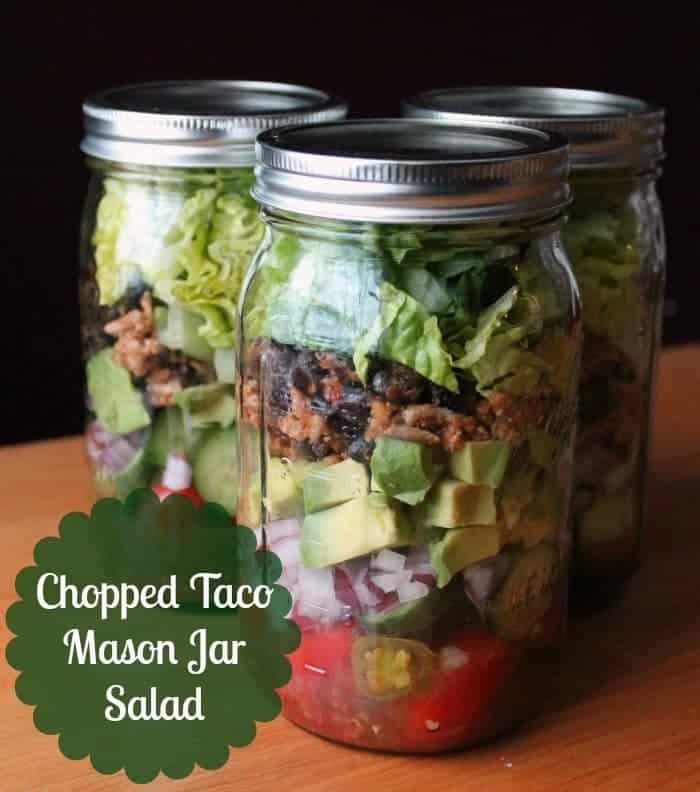 When I want a hearty lunch, I always turn to a good ole cobb salad! Here are my tips to make sure this is 100% keto-friendly:
Check the dressing to make sure it's low carb or no carb without any added sugars.
Only purchase organic deli meats free of any added sugars.
Leave out the onions.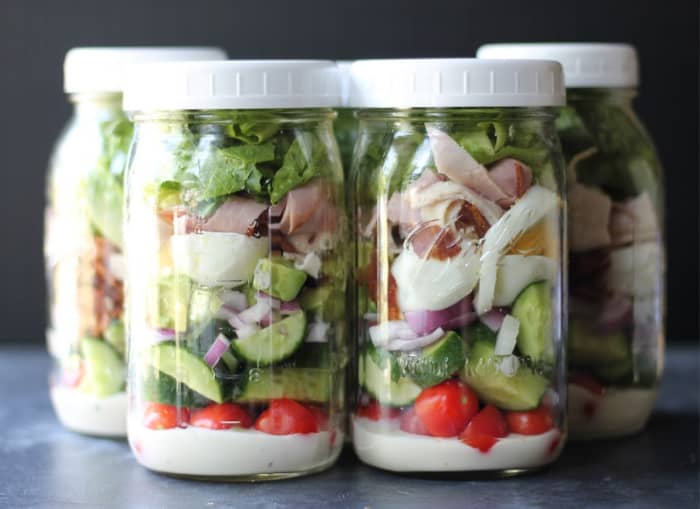 This salad is like a big mac but without the roll and filled with veggies! This can easily be layered into a mason jar salad using the technique I described at the beginning of this post or in this tutorial.
To make this 100% keto-friendly:
Check the dressing to make sure it's keto-friendly.
Leave out the onion.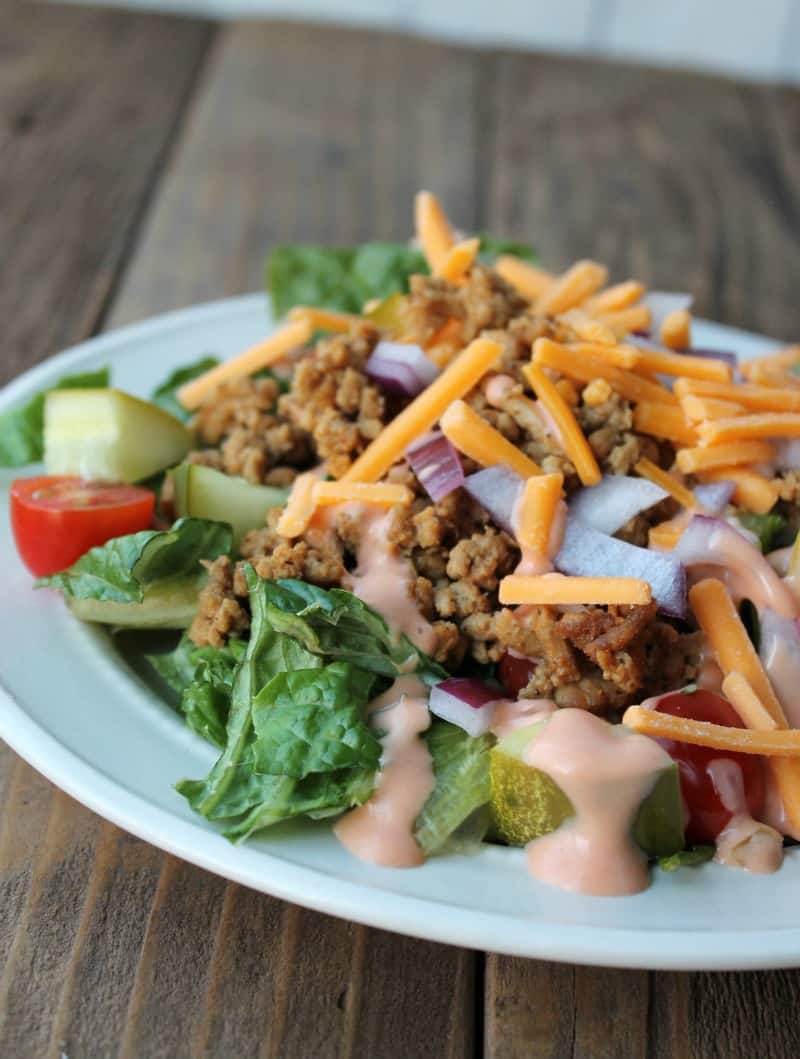 Making a keto salad in a jar is really simple and will help you stay on track with your low carb diet. Share a picture and tag me on Instagram or Facebook if you decide to try any of these keto salad recipes!