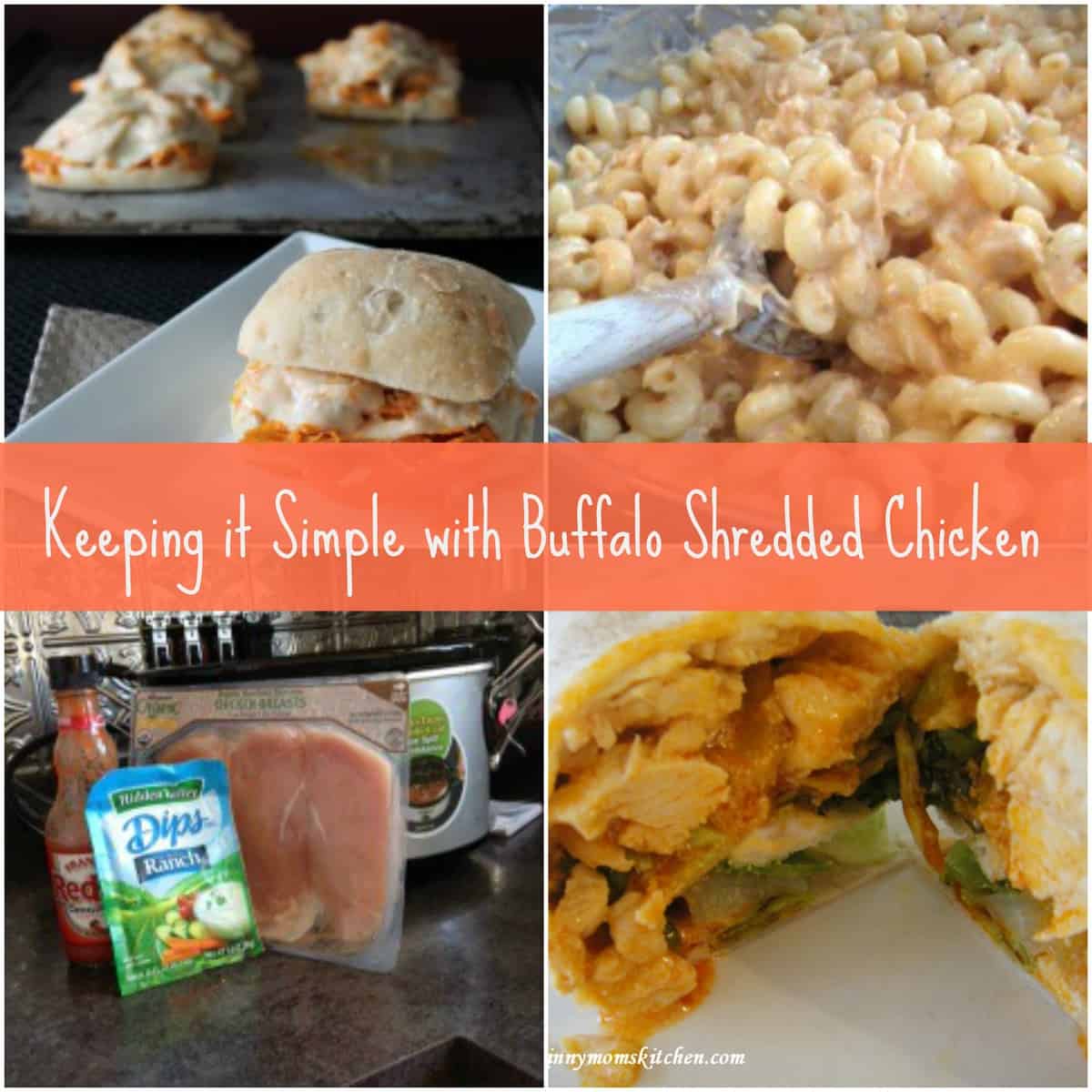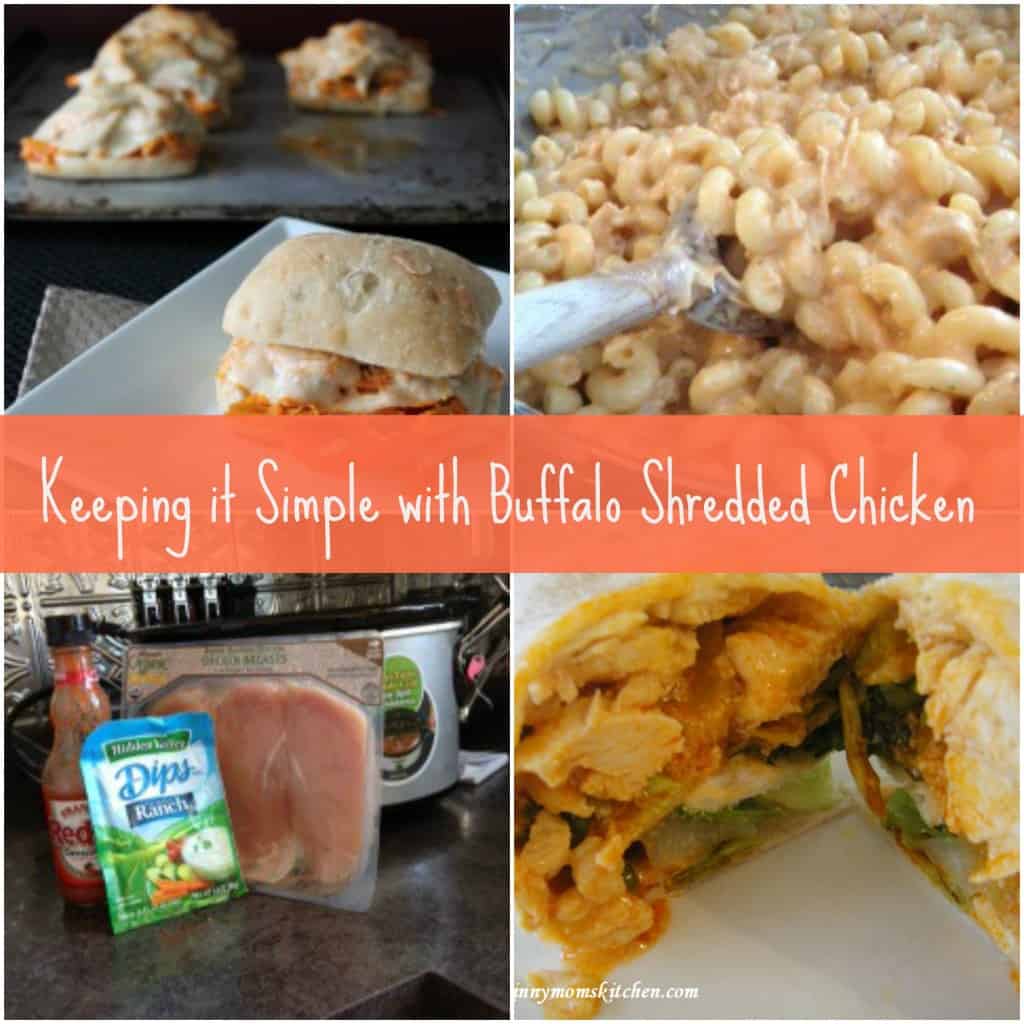 I absolutely love anything that makes my life simpler particularly by making dinner time less of a chore.  I think we can all agree there.  I like to look for basic recipes that can be used in more ways than one and can be very versatile.  So with that, let me introduce you to one of my faves, Shredded Buffalo Chicken!
I am ub-sessed with this recipe!  It calls for 3 simple ingredients and your crockpot.
4-5 skinless, boneless chicken breasts
1 bottle of Frank's Hot Sauce (although I find that less than a whole bottle will do)
1 packet of dry Ranch Dressing (you can make your own homemade version with this recipe)
Place chicken breasts, they may be frozen or thawed, in the bottom of the crockpot.  Dump the contents of the hot sauce over the chicken and sprinkle the packet of dry ranch on top.  Cover and let cook on low for 5-6 hours.  Upon the last hour of cooking, remove the chicken from the crockpot, shred with a fork, and put shredded chicken back into the crockpot.  Continue cooking for the last hour.
Once the chicken has cooled, I like to divvy up the chicken and portion it out into separate freezer bags.  I only need to pull out one bag per recipe which will make any prep that much easier.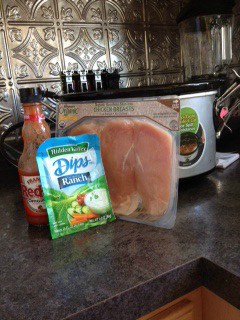 I wanted to share some of the ways I have used just this basic recipe to create many different dishes.  Simplicity defined.  First up is our very own Organize Yourself Skinny's Buffalo Chicken Subs.  In this case, the chicken is already prepared, so for me, this recipe is all about minimal prep, and voila!  A fantastically filling dinner is on the table in no time.
One of my other favorite recipes that call for shredded buffalo chicken as the base of the recipe is this, Buffalo Chicken Lasagna.   Annnnnnnd, this recipe is prepared in the crockpot.  Oh, that crockpot.  We go together like Sonny & Cher, Kim & Kayne, dark chocolate and mint…
I also like to use the chicken as the main component in a salad for lunch.  I like to top a bed of fresh, crisp greens with a pile of the shredded buffalo chicken.  Layered on top of that, I enjoy cherry tomatoes, blue cheese crumbles and a dab of yogurt ranch salad dressing.  This salad compliments everything I enjoy on a sloppy buffalo chicken sub, minus some of the hefty calories!
There seems to be this craze throughout my area of tossing the idea of a basic mac & cheese out the window and introducing it to a new, designer counterpart.  Apparently, you can manipulate mac & cheese to be anything you want it to be.  I am game for that.  I searched the internet for a basic recipe and found this one. I thought it would work well with mixing in the shredded buffalo chicken.  And I have to say, I knocked it out of the park with this one.  It was so flipping good!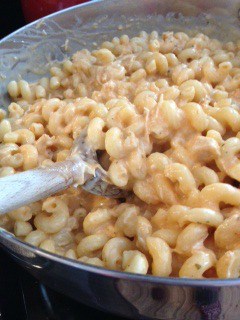 However, this recipe calls for a warning.  The calorie count was something I was not comfortable with so I substituted greek yogurt where it called for cream and used almond milk in place of regular milk.  These substitutions helped cut down the calorie content and the recipe still maintained an excellent creaminess.  One more thing I want to point out with this recipe is that the serving size states four servings.  Let me tell you, I fed a room full of 10 adults without a problem.
I made this dish to share at a get-together with friends.  In an effort to combat serving myself a heaping portion, calorie count in mind, I loaded my plate with salad leaving little room for the mac and cheese.
As I am writing about this Mac & Cheese, it occurred to be that I believe that particular segment highlights exactly what we believe in here at OYS.  We can, and do, enjoy rich, indulgent recipes once in a while.  I used whole foods in order to prepare the recipe and made an effort to be aware of the portion size.  Welcome to our world, we are happy to have you!!
Get Instant Access to My Best Weight Loss Tips & Strategies!
Sign up now for a free step-by-step 7-day email course that I created exclusively for my email subscribers! That's you. I will teach the best habits, strategies, and insider tips so you can enjoy a lifestyle that encourages and supports weight loss! Stop relying on willpower and take control back over your life! You can do this. Let me help!